2018 has been an interesting year for London restaurants. The news of prominent closures has perhaps dominated, with the likes of St. JOHN on Maltby Street, Marianne Lumb's eponymous Notting Hill restaurant, Stevie Parle's Rotorino, Jason Atherton's Sosharu and both Madame D and Gul & Sepoy from the team behind Gunpowder having ceased trading. The impending impact of Brexit has also been much discussed in regard to restaurant closures, with many big named restaurateurs having expressed their concerns over uncertainty going into 2019.
On the other side of the coin, this past year has seen a staggering number of new London restaurant openings (some better than others), alongside some successful pop-ups – which have, alas, since popped down – and street food vendors having secured permanent sites. Moreover, next year already promises plenty of additional new openings to be excited about.
From the multi-national dumpling chain reigniting the city's 'no-reservation' culture, through to second restaurants from the likes of Andrew Wong and Selin Kiazim: we pick our ten favourite London restaurant openings of 2018.
Arguably the most celebrated opening of the year, HIDE – the new multi-faceted restaurant from Ollie Dabbous and Hedonism Wines – was received with rave reviews and has since been awarded a Michelin star. Set across three floors, the 250-cover venue is home to three semi-separate venues: Above, a fine dining restaurant; Ground, a comparatively casual space which champions Dabbous' unmistakeable cooking style; and Below – a cocktail bar fronted by Oskar Kinberg, formerly of Oskar's Bar beneath Dabbous in Fitzrovia. Courtesy of Hedonism Wines' involvement, over 6,000 wines are available, digitally inventoried on leather-bound iPads, delivered within 15 minutes from Hedonism's local cellar.
As for the food, Above serves a tasting menu and set lunch menu, including the likes of Dabbous' signature "Nest Egg" – a coddled egg, served in the shell with mushrooms and smoked butter. Downstairs, a parade of elegant, seasonally-led dishes are served with less formality. Save room for the acorn cake, lashed with a choice of rums and caramel, studded with raisins and fatty acorns.
HIDE can be found at 85 Piccadilly, London, W1J 7NB.
Following the success of his Michelin-starred debut restaurant, Andrew Wong has opened Kym's in the new Bloomberg Arcade. While A. Wong has become renowned for its contemporary dim sum offering, Kym's (named after the chef's Grandmother) serves a menu rooted in refined, modern takes on Chinese classics, specifically Cantonese roasted meats. A small selection of the roasted meats on offer, 'three treasure' is a must-try, comprising slivers of soy-poached chicken with creamy flesh and bronzed skin; classic char siu favouring Iberico pork; and pork belly that's salted, cured, air-dried then finished in a furnace oven at 370 degrees Celsius. Pork and shrimp 'bao bao'- a dish of steamed and fried gyozas enriched with fried eggs, crispy chilli and black rice vinegar – is another essential, alongside the silken tofu with garlic soy, '100-year-old'egg, spring onion and crispy shallots. 
Kym's can be found at 19 Bloomberg Arcade, London, EC4N 8AR.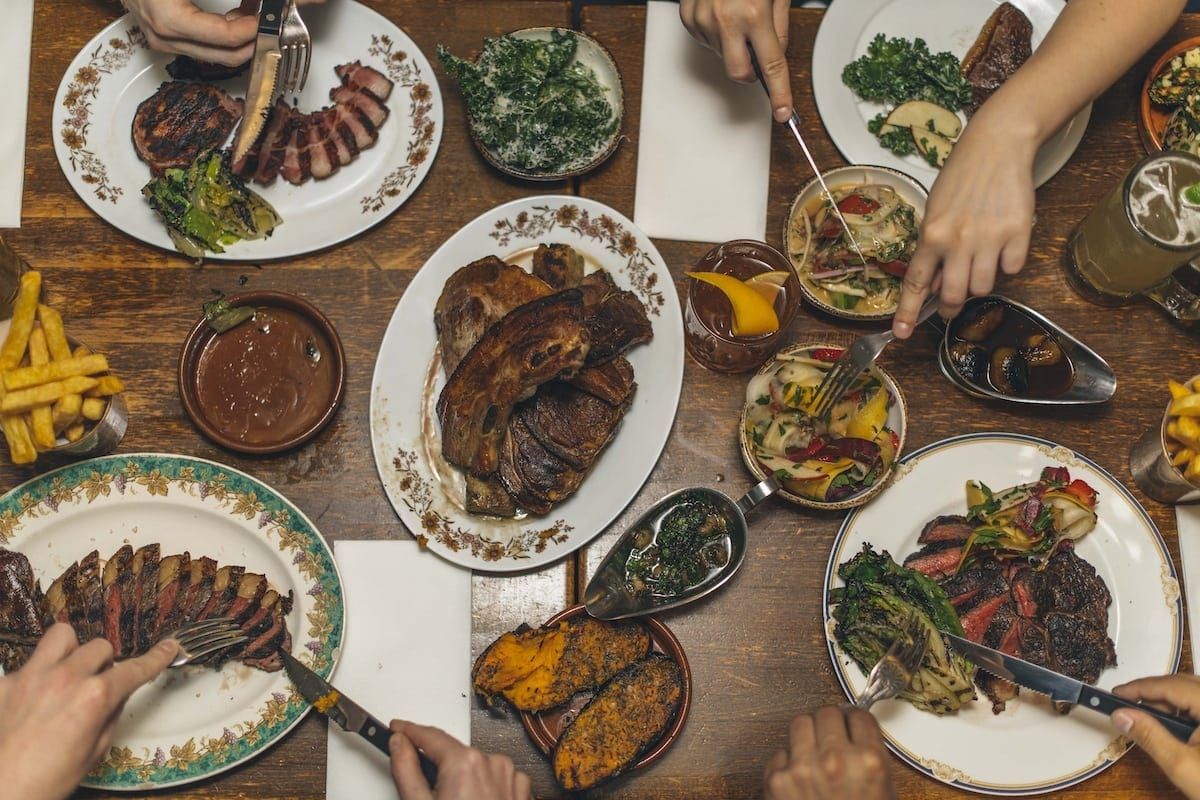 Revered chop restaurant Blacklock opened its third site this year, taking over an old furniture factory in Shoreditch. The groups biggest restaurant to date, the Shoreditch outpost is also home to a standalone bar, serving a cocktail list created in collaboration with New York bar Slowly Shirley. As for the food, the menu is much the same as at the other two sites, adhering to a tried-and-tested formula of simple, meat-focussed cookery. Various chops and steaks are offered, but the 'All-In' option is proof that money really can buy happiness, featuring a trio of pre-chop bites, followed by a platter of rump steak, lamb cutlets and T-bone, pork belly and loin all stacked on top of flatbread fingers. Undoubtedly the year's most comforting restaurant opening.
Blacklock Shoreditch can be found at 30 Rivington Street, London, EC2A 3DZ.
With the lease having expired on Scottish chef Adam Handling's first restaurant during the summer, The Frog leapt down the road to Hoxton. Occupying a large site on Hoxton Square, The Frog Hoxton is home to an ambitious new restaurant, an underground bar – Iron Stag – and a new opening of Bean & Wheat, the chef's zero-waste café utilising kitchen waste produce. Like the original restaurant, the new space is casual and festooned with street art, while the menu showcases heaps of precise fine dining technique. Expect the likes of that chicken butter with crispy skin and intense gravy; delectably insalubrious cheese doughnuts; and an elegant dish of raw apple, dates, egg yolk and Australian truffle, initially designed for Handling's vegetarian mother.
The Frog Hoxton can be found at 45-47 Hoxton Square, London, N1 6PD.
The second restaurant from Selin Kiazim and Laura Christie, the team behind Oklava, Kyseri is named after the ancient city of Kayseri, most associated with Turkish manti dumplings. Here, the menu has prominent Turkish and Turkish-Cypriot influences, with particular focus on pasta-based dishes. Highlights including a vegetarian dish of Eriște featuring hand-cut short noodles with lemon-braised greens, sage, parsley and chopped walnuts snuggling a barely-set egg yolk and potent Tulum cheese; or manti filled with beef and sour cherries, accompanied by yoghurt, tomato-chilli butter, pine nuts and fresh thyme. To finish, the pistachio and Kaymak Katmer is also highly recommended, served at the table and presented as an outrageous ice cream sandwich. What's more, Kyseri's wine list also merits indication, championing small producers from across Turkey and the Middle East.
Kyseri can be found at 64 Grafton Way, London, W1T 5DN.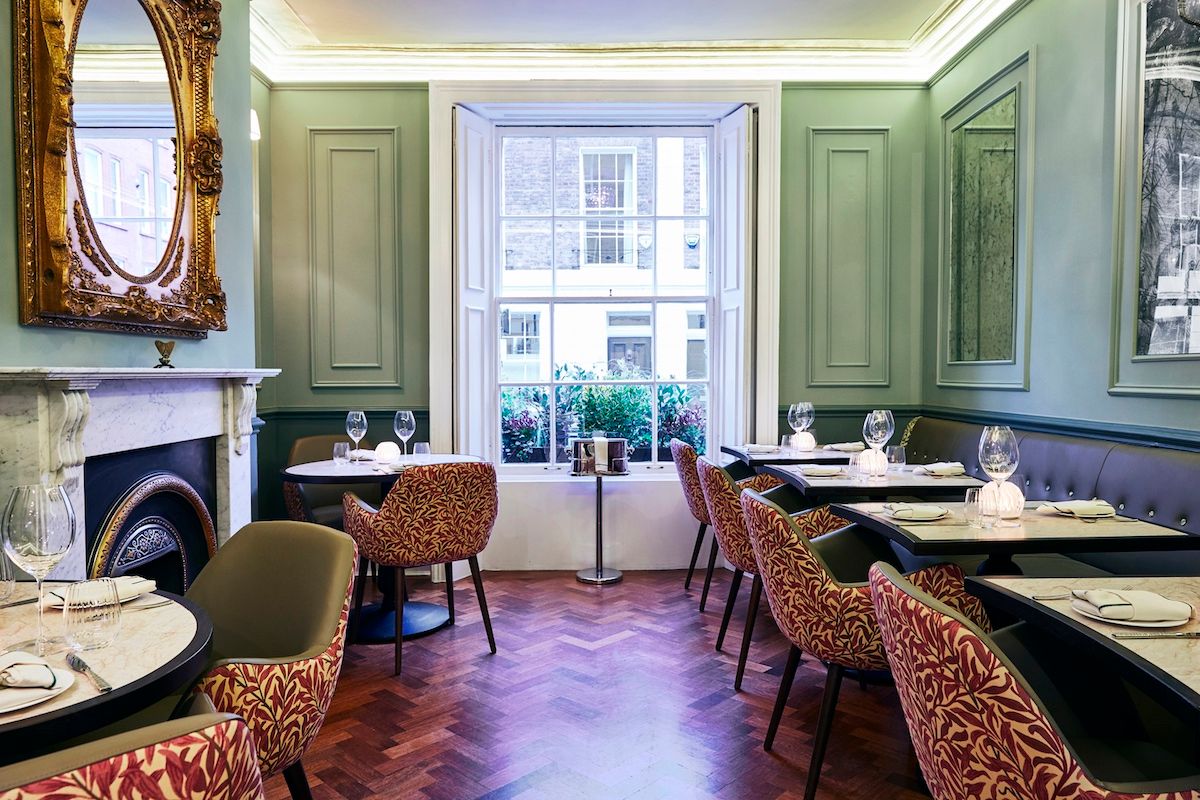 The first solo venture from Michelin-starred chef Rohit Ghai – alongside Abhi Sangwan, overseeing front of house – Kutir recently opened in the Chelsea townhouse formerly occupied by Vineet Bhatia London. Having previously worked in the kitchens of high-end Indian restaurants including Jamavar and Gymkhana, Ghai's menu at Kutir draws inspiration from the royal tradition of hunting expeditions in the Indian countryside, served in a 'feasting' style, with prominent focus on seafood and game. With an a la carte menu served alongside a set menu (also served at dinner) and an 'Expedition' tasting menu, highlights from the kitchen include Junglee Maas – a rich, spicy venison curry; a refined take on butter chicken with fenugreek, tomatoes and Kashmiri chilli; and roganjosh featuring lamb slow-cooked for 24 hours, served with a lamb offal samosa.
Kutir can be found at 10 Lincoln Street, London, SW3 2TS.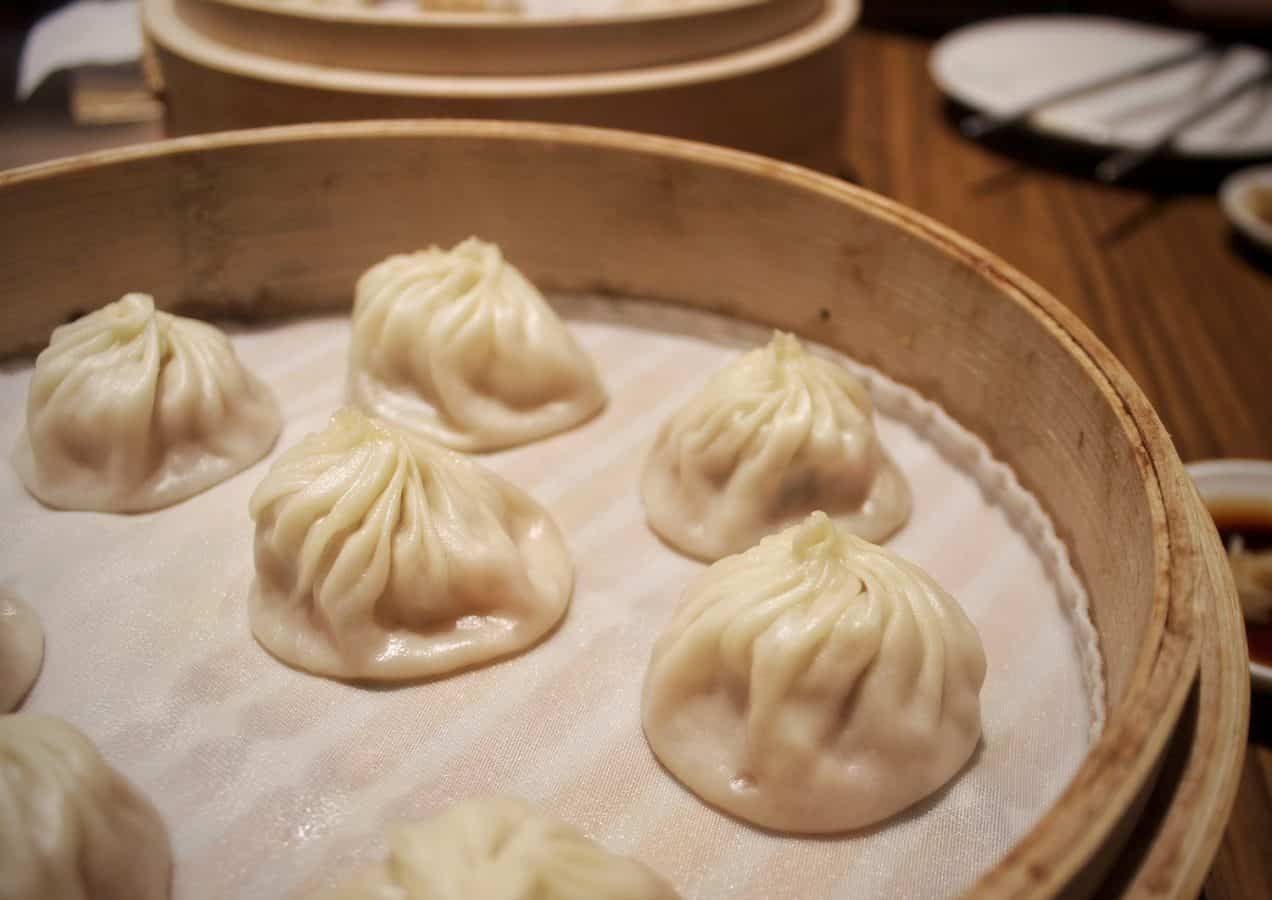 The first European restaurant from the world-renowned chain, the launch of Din Tai Fung's Covent Garden restaurant has been met with rapturous reception and excessive queues (some of which are said to last from four to five hours at peak times). Our advice? Arrive shortly after the restaurant opens at 11 o'clock to be amongst the first wave of diners seated in the huge 250-cover space.
Xiao long bao (Shanghainese soup dumplings) are the main draw here, having already become a social media sensation. In the 'open concept kitchen' – the restaurant interior's key focal point – xiao long bao are prepared by a brigade of calm and collected Dian Xin chefs, requiring a minimum of 18 folds, passing through six different stations each wrought by a different team of chefs, before being served in bamboo steaming baskets. Although considerably more expensive than the chain's Asian outposts, the xiao long bao (classic pork and chilli crab and pork, specifically) are absolutely exemplary.
Din Tai Fung Covent Garden can be found at 5 Henrietta Street, London, WC2E 8PT.
Originally conceived as a two-year pop-up, Simon Rogan opened a permanent branch of Roganic off Marylebone High Street. Joining a scene of so many critically-acclaimed contemporary fine dining restaurants, the new restaurant is a breath of fresh air, more serious than the punning name may suggest. The space isn't much of a looker, but the modern British food championed fully compensates: fiddly but not egocentric – food for foodies, earning the restaurant a Michelin Star earlier this year. British suppliers are also paid due attention with much of the produce sourced from the chef's 'Our Farm' in the Lake District, ubiquitous across the tasting menu and its shorter, abridged version served at dinner, each filled with remarkably executed, seasonally appropriate dishes.
Roganic can be found at 5-7 Blandford Street, London, W1U 3DB.
Another new addition to the Bloomberg Arcade, Brigadiers is a new project from JKS restaurants, the siblings behind the likes of Trishna, Gymkhana and Hoppers. A Square Mile pleasure palace, the venue is split into a warren of rooms. Alongside the main restaurant spaces, three additional dining rooms are on hand (one with a card table), as well as 'The Tap Room' serving various beers and 'The Pool Room' with a pool table, whisky vending machine and TV screens broadcasting live sports. As for the food, Indian barbecue fare is championed throughout the menu split into various sections. Order the samosas packed with slow-cooked ox cheek vindaloo and the beef chuck and bone marrow keema, embellished with a soft-boiled egg. Brigadiers' exclusive Tropical Cyclone IPA, brewed by Harbour Brewing, also pairs particularly well with the majority of food served. 
Brigadiers can be found at 1-5 Bloomberg Arcade, London, EC4N 8AR.
First opened in 2016 by owners Imogen Davies and Ivan Tisdall-Downes, Native's original Neal's Yard site was forced to close earlier this year after the council rejected its permanent lease application. Soon after closing in May, however, the restaurant quickly relocated to a larger space near London Bridge, thanks to a successful Kickstarter crowd funding campaign. Utilising ingredients which may otherwise be discarded, Native's competent cooking aims to reduce food waste while championing British produce and plenty of game. Expect the regularly changing menu to feature the likes of wild rabbit ragout with celeriac and Lincolnshire Poacher cheese; wild Mallard with squash and pickled kohlrabi; and the restaurant's signature dessert – Marrowmel – featuring an unorthodox combination of white chocolate and bone marrow-enriched caramel.
Native can be found at 32 Southwark Street, London, SE1 1TU.
RELATED
https://www.thelondoneconomic.com/food-drink/restaurant-review-st-john/08/05/
https://www.thelondoneconomic.com/food-drink/lunch-with-jay-rayner-britains-most-notorious-restaurant-critic/23/06/
https://www.thelondoneconomic.com/food-drink/review-london-in-the-sky-2018/06/07/