When Hoppers opened in 2015, the tiny Sri Lankan restaurant became an instant success.
In the heart of Soho, the excitement behind the launch can be attributed to a number of factors; notably the welcome introduction to a South Asian cuisine previously quite unexplored in London. JKS Restaurants' rich portfolio also helped, I'm sure, also including Gymkhana and Trishna. Then there's the whole 'no-reservation' policy, allowing the restaurant to turn tables quickly and keep costs down, alas removing certainty of procuring a table. I've still never visited the original – not through disinterest, but belligerence, dissuaded by the 'no reservations' policy. Some people enjoy queuing for dinner, but I'm just not one of those people.
Subsequent to Hoppers' rapturous success, another branch opened in September, on the corner of Wigmore Street and James Street. Between Marylebone High Street and Oxford Street, the choice of location is curious, but reservations are accepted (for parties of two or more for lunch, four at dinner) and that's all that really matters. Larger than the original, Hoppers 2.0 is split across two floors, with a complete disconnect between each. The ground floor dining space is bright and plush, designed with a nod to the Jungle Modernist movement associated with late Sri Lankan architect Geoffrey Bawa. Downstairs, is a cosier affair, separated by the bar area: a morgue of a room that acts as a holding area for incomplete parties, louder than Jim Carrey's Ace Ventura wardrobe. The ground-floor is more comfortable, granted, but seems mismatched to the food served, and the blueprint set by the Soho restaurant.
Also new to the St. Christopher's Place restaurant, a 'Taste of Hoppers' menu is available alongside the a la carte offering, highlighting an ample repertoire of 'favourites' (£28.50, per person). A Sri Lankan feast, the tasting menu (of sorts) begins with a cornucopia of the operation's best-loved dishes. These arrive quickly and eventually pile up. While the service is charming and knowledgeable, dinner does feel rushed – odd considering a quick turnaround (to make space) isn't quite as important given the new booking system.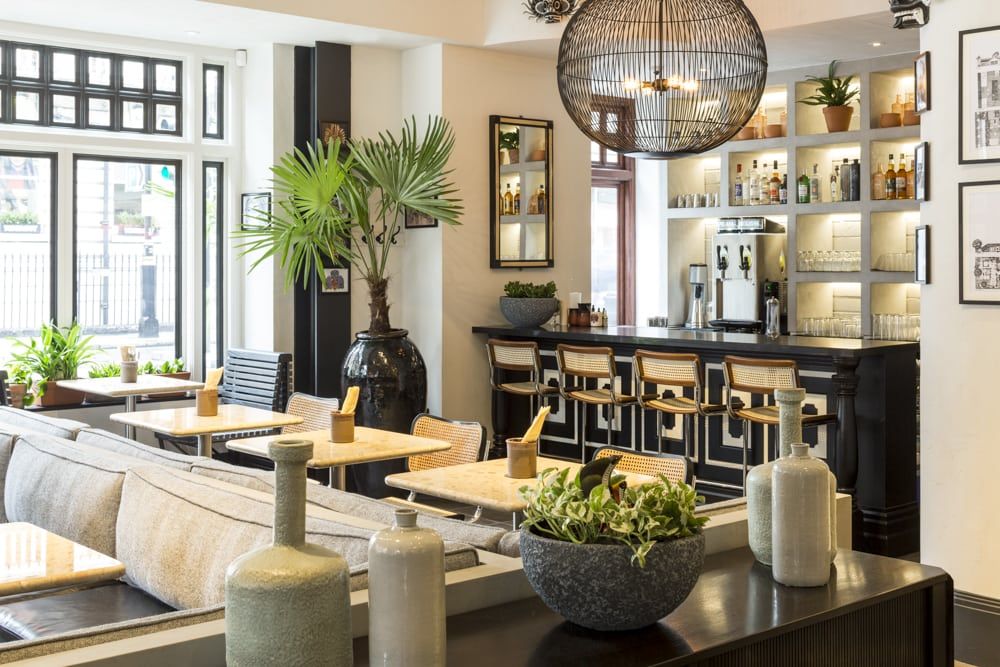 First to arrive, a snack of banana chips is magnificently unpleasant, but a classic Chettinad dish of bone marrow varuval is far better. Centre-cut furrows of lamb bone feature impeccably cooked bone marrow, insalubriously steeping into the curry sauce rampant with coconut. The flavour of bone marrow gets lost in the sauce, but the texture contributes to a soothing decadence, enchanting mopped with buttery roti – like a flattened croissant – unsurprisingly adored as one of Hoppers' greatest hits. Two cigars of mutton (deep-fried like palatable spring rolls) harbour intense flavour of spiced mutton, lanolin-rich and earthy, to be dipped into the convoying sauce of tomato and hot chilli. Then hot butter devilled chipirones vaunts lightly battered baby squid with complex spicing. A humble bowl of lamb kothu roti has divided opinion since opening, comprising finely-chopped roti bread, strips of lamb, scrambled egg and coriander; low on ostentation, big on flavour.
Hoppers' namesake dish is available with the 'main course', the deep pancake is moulded into a bowl, crafted with fermented rice batter and coconut milk. Based with a fried egg (here slightly overdone) to be torn off and eaten with the karis (Tamil for 'curry') and Pol Sambol relish of fresh coconut, Maldive fish, onion and red chilli. Alternatively, a dosa is served wrapped like a crêpe, made using fermented lentils and rice. Hoppers' karis, on the other hand, are soul food of the absolute highest order. Prawn curry is rife with more coconut milk and subtle spicing, rewarding enough to forgive the firm, overcooked prawns; while cauliflower kari flaunts sauce I'd willingly drink. Gluttonously ordered as an extra, lamb shank kari is comparably mild, though the slow-cooked meat melts on the tongue, with opulent cooking juices bleeding into the tomato-based sauce.
Just one dessert is available here – a 'love cake ice cream sandwich' – but has just sold out, which is probably for the best. From the 'Taste of Hoppers' menu, the 'Short Eats' deliver (yes I know it's a deplorable term), but it's the karis with their pungent, aromatic sauces that resonate. For its few imperfections, dinner is appeasing and experiential; the restaurant is unpretentious, loveable in fact, and there's now no need to queue. Believe the hype: Hoppers' unbridled success is completely justified.
Hoppers St. Christopher's Place can be found at 77 Wigmore Street, London, W1U 1QE.
RELATED
https://www.thelondoneconomic.com/food-drink/restaurant-review-padella/28/09/
https://www.thelondoneconomic.com/food-drink/restaurant-review-frog-by-adam-handling/01/11/
https://www.thelondoneconomic.com/food-drink/restaurant-review-polpo-soho/19/10/