When Selin Kiazim and Laura Christie opened Oklava in 2015, I vividly remember finding unexpected pleasure in some of the menu's humbler dishes. The pide was fine, as was the breast of lamb with yoghurt and pomegranate molasses; but neither were as unforgettably vivid as the modest pearl barley side dish. Cooked similarly to risotto, with sour cherries, the dish was finished with pul biber-infused butter, yoghurt, kale crisps and a blizzard of pecorino cheese. I've attempted to recreate the dish at home on countless occasions, but have never managed to recreate it with such dexterity – even while following the recipe.
While the rest of the modern Turkish cooking at Oklava was technically well executed, much of the menu seemed specifically engineered for unadventurous British palates of yesteryear, often lacking spice, seasoning or ground breaking vitality. Given the location, on the precipice of the Square Mile, this was perhaps unsurprising when considering the local demographic of customers generally in search of an overpriced steak washed down with a bottle of Argentinian Malbec. At the pair's second restaurant, Kyseri, a similar level of competent cooking is displayed, yet the flavour of dishes across the board have been dramatically amplified.
Named after the ancient city of Kayseri, most associated with Turkish manti dumplings, the menu at Kyseri has prominent Turkish and Turkish-Cypriot influences. Occupying a small corner house location on Grafton Way and Whitfield Street, the 35-cover restaurant is bright, modern and comfortable – relatively busy during an early evening visit soon after opening. The majority of food served is designed to be shared, which goes hand-in-hand with the friendly, convivial service. Moreover, the restaurant's wine list also merits indication: curated by Laura Christie (who also runs Linden Stores in Islington), focussing on small producers from across Turkey and the Middle East.
Dinner began with a dish of toasted pitta shards with candied watermelon, sheep's milk feta and a traditional ezme salad – made with green chilli in place of tomato. The feta had sharp lactic presence, agreeable with the subtle watermelon strips, yet the green chilli element transformed the dish's overall taste into a riff on (whisper it) jalapeño-studded nachos with sour cream.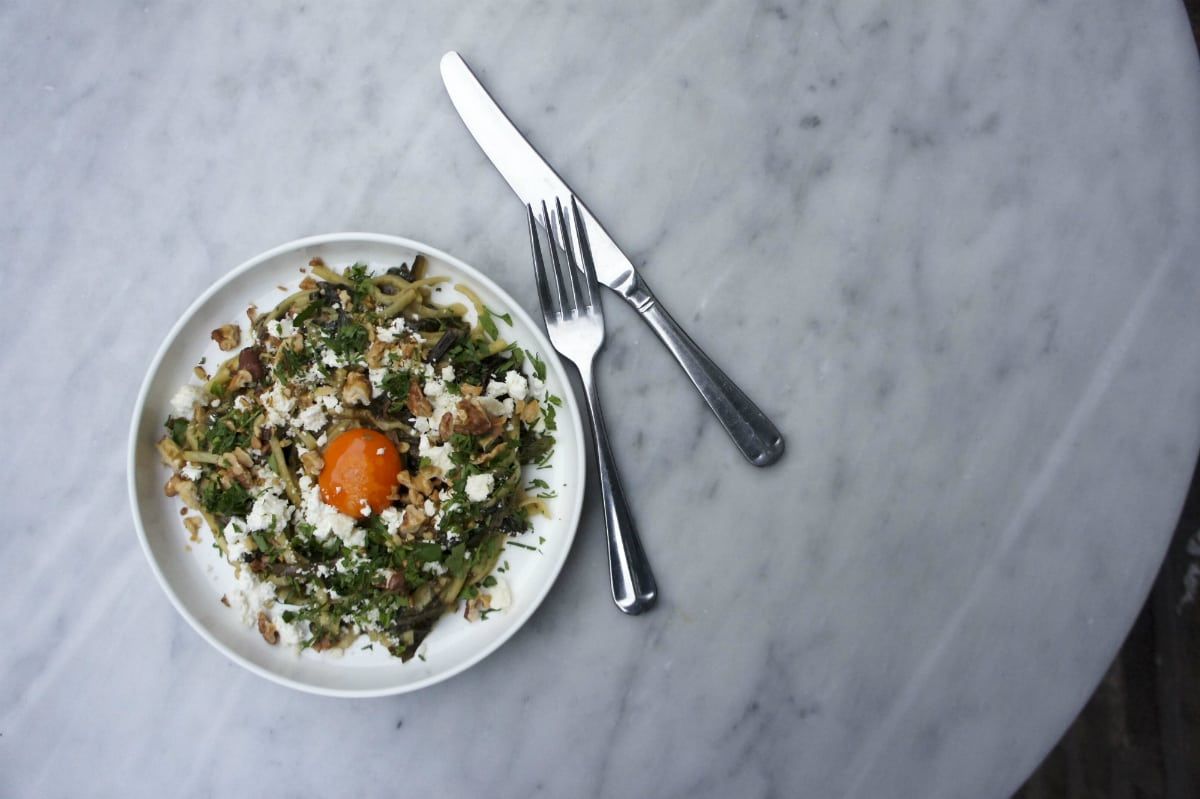 Far better were the two pasta dishes featuring dough that's hand-made on site – displayed in the window like at Padella. A vegetarian dish of Eriște featured hand-cut short noodles. Although typically eaten during the winter months in Turkey, Kyseri's iteration wasn't particularly pretty, yet well made, harbouring profound depth of flavour. Lemon-braised greens, sage, parsley and chopped walnuts snuggled a barely-set egg yolk, finished with fistfuls of potent Tulum cheese. Kiazim's manti, on the other hand, were larger than usual. Thick sheets of dough contained large meatballs of beef spiked with sour cherries, accompanied by lashings of yoghurt and tomato-chilli butter. As if any extra bolstering were necessary, these were served with toasted pine nuts and a whisper of fresh thyme.
A main of lamb featured four cutlets, simply served over a bed of wilted parsley and various sautéed mushrooms. As for the main event, the lamb was cooked to that marvellous degree of blushing rouge, verging on rare. While the fat could have been rendered a little further, the flavour was gratifyingly insalubrious, joyous alongside the otherwise disappointingly small scrap of all-spice stuffing, of which I'd happily devour an entire plateful
While many restaurants overpromise and under-deliver with their dessert menus, this is far from the case at Kyseri. Pistachio and Kaymak Katmer is theatrically prepared at the table, with kataifi-style pastry spiked with pistachio acting as the 'bread' in this outrageous ice cream sandwich. Coarse, fibrous and rampant with underlying honey sweetness, this is one of the best desserts currently available in London. A remarkable conclusion to an enjoyable dinner in one of the city's most discussed new openings.
Kyseri can be found at 64 Grafton Way, London, W1T 5DN.
RELATED
https://www.thelondoneconomic.com/food-drink/restaurant-review-oklava/20/01/
https://www.thelondoneconomic.com/food-drink/restaurant-review-yosma/20/02/
https://www.thelondoneconomic.com/food-drink/londons-best-new-restaurant-openings-july-2018/02/07/