A restaurant for people who simply love food, St. JOHN is a rare Michelin starred gastro temple without redundant affectation.
Established in 1994, St. JOHN is the brain child of Fergus Henderson, Trevor Gulliver and ex The French Dining Room Manager Jon Spiteri. Nine years later, the team opened St. JOHN Bread and Wine opposite Spitalfields Market, followed by a 100-foot long bakery in a Bermondsey railway arch – serving bread and Justin Gellatly's famous doughnuts. The opening of another nearby restaurant, St. JOHN Maltby, quickly followed as another brick in the wall of the St. JOHN empire.
The restaurant was awarded a well-deserved Michelin star in 2009 and has – understandably – been the focus of constant praise over the past quarter century. With so much to love at breakfast, lunch and dinner, these assets contribute to St. JOHN's unrivalled brilliance. A strong contender for the title of London's best restaurant.
Substance over style
A stone's throw from Smithfield Market, St. JOHN naturally champions nose-to-tail cooking. Above the bar (serving a good number of beers on tap) and the in-house bakery, the main dining room strips the ostentatious fineries from fine dining. Walls are white-washed and the space is without art or music. Wooden chairs sit at tables dressed with paper table cloths which lend a canteen ambiance, rendering the space a blank canvas for the food to stand out. Service is equally down-to-earth.
As for the food, simplicity is crucial, with each dish generally containing no more than three key ingredients. Meat occupies a vast portion of the menu, though fish dishes and baked goods are fêted. Plump Madeleines, for instance, are served hot from the oven and reasonably priced at £4.50 for six: perfect alongside an unstinting balloon of Cognac, for dipping. Six smoked sprats, on the other hand, are modestly served with a quenelle of crème fraiche and a fistful of moderately pickled red cabbage. The symphony of gloriously harmonising flavours is paramount, without a shred of wanton wankifery.
St. JOHN's simple, seasonally-led salads are also of note; namely a melange of dandelion leaves and roasted shallots, embellished with shard of brittle pig skin in place of croutons. The kitchen's superlative Welsh Rarebit also demands to be ordered as a decadent side dish, necessarily irrigated with Worcestershire sauce.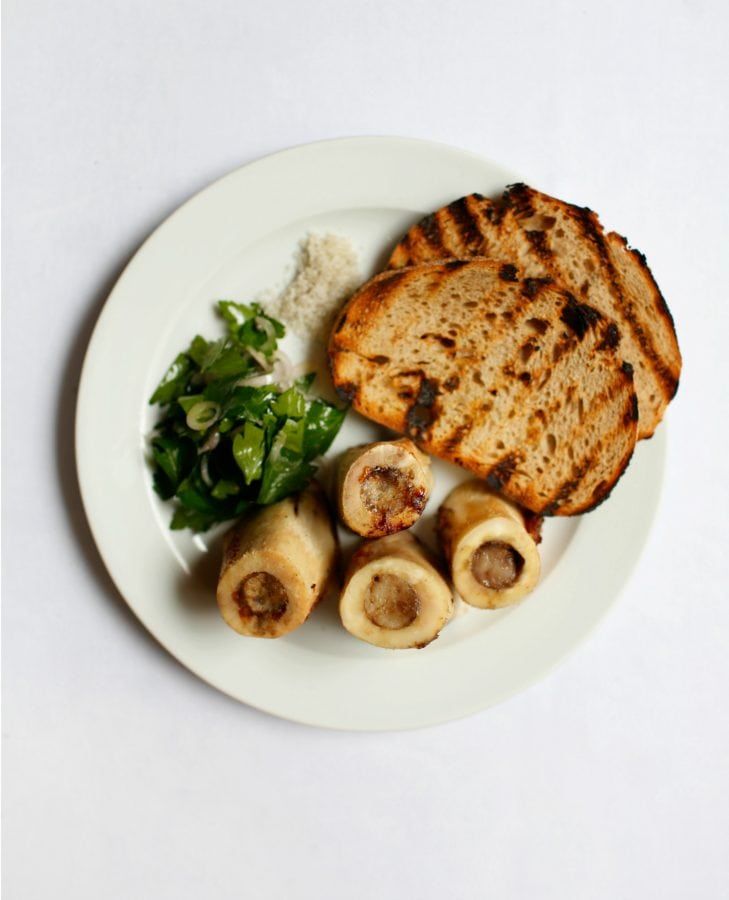 A revolution in nose-to-tail cooking
Speaking to Esquire last year, Fergus Henderson said: "Mentioning 'trend' in the same breath as 'food' is a disaster. Trends don't last, which is why trends and food is not a good thing."
The chef has a point, but it would be churlish to completely dismiss the fact that nose-to-tail cooking has become massively popularity in recent years. It would be fair to argue that the movement, as it is known in London today, was largely spearheaded by St. JOHN and the restaurant's dynamic approach. All carcasses are bought in whole and butchered onsite, leaving plenty of offal to experiment with. Prime cuts are cherished, but lesser-loved components are particularly eminent, also allowing the restaurant to charge reasonable prices. Mains rarely surpass £25.
The bone marrow and parsley salad, for instance, has remained on the menu for the past 24 years, having become world renowned as the restaurant's signature dish. The term 'iconic' is thrown around with such recklessness in 2018 that nearly all meaning has been lost; but it's a justified adjective to precede this particular dish.
Four bones from the middle of the calf's leg are roasted and served on an ordinary white plate, towered like the Ferrybridge power stations. These are served with a lobster pick as a tool for scraping the oily bone marrow onto slices of toast (baked in house), topped with a simple salad of "disciplined" parsley, capers, shallots and lemon juice. Finally, a pinch of salt is recommended as one final piece to the puzzle: again, it's a concerto of corresponding ingredients, perfectly balanced without bullying. A revelation in taste.
Bath Chaps are seldom seen in London restaurants, but glorified at St. JOHN (an occasional special). A speciality of the West Country, a Bath Chap is a slice of pig's head, rolled so the tongue is at the centre, surrounded by the cheeks and protective fat. Here, the Bath Chaps are served hot from the oven and accompanied by an agreeably sprightly salad of shallots, watercress, capers and radish. A grilled ox heart dish features strip of marinated ticker, sliced (not unlike a genuinely appetising Doner kebab) and quickly grilled then served with chips cooked in dripping and a subtly tart homemade ketchup.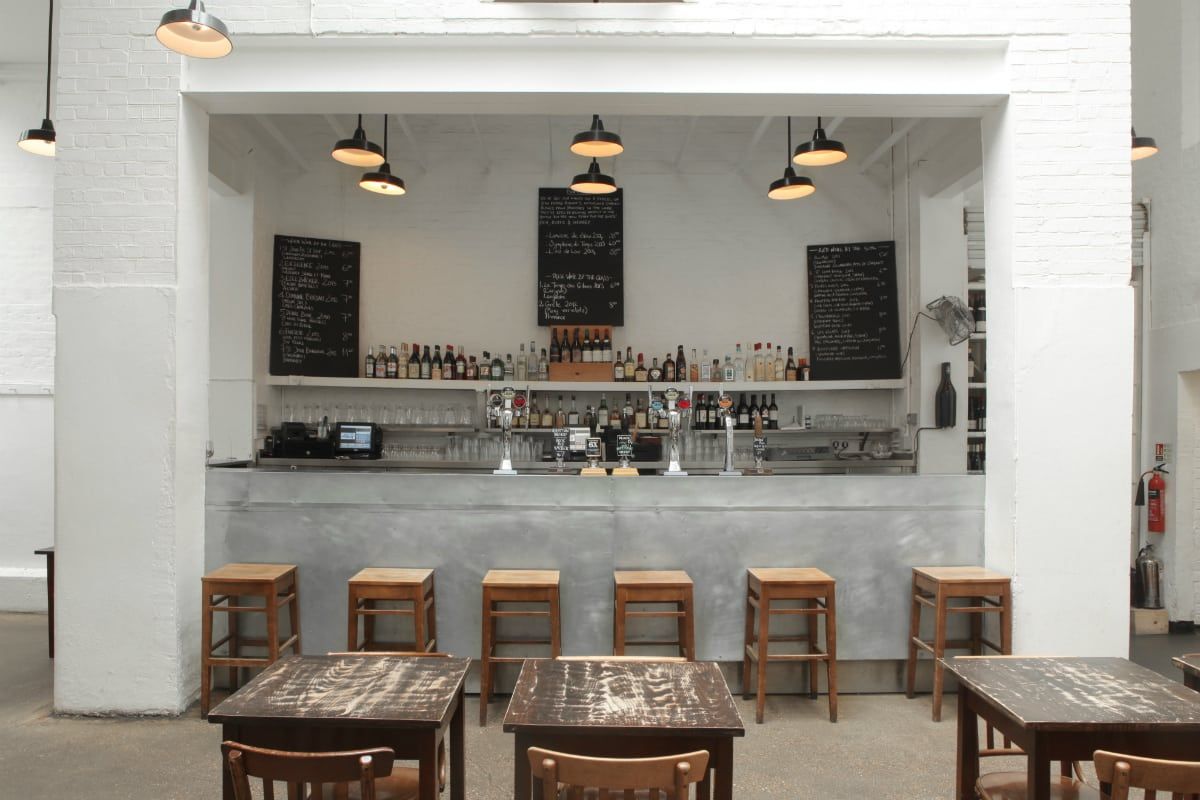 St. JOHN Wines
In keeping with the food and décor, St. JOHN has a relatively stoic approach to wine. The wine list is exclusively French, championing a strong variety of big names alongside all sorts of generally lesser-known regional wines. To focus on one wine producing country is a bold move, but here supports relative locality. The restaurant's own label wines are generally remarkable, also available as off-sales. Produced in Languedoc, St. JOHN Rouge 2016 is a blend of Cabernet Sauvignon and Syrah grapes: plush with warm fruitiness and soft dry tannins; easy to drink. Dangerous, even.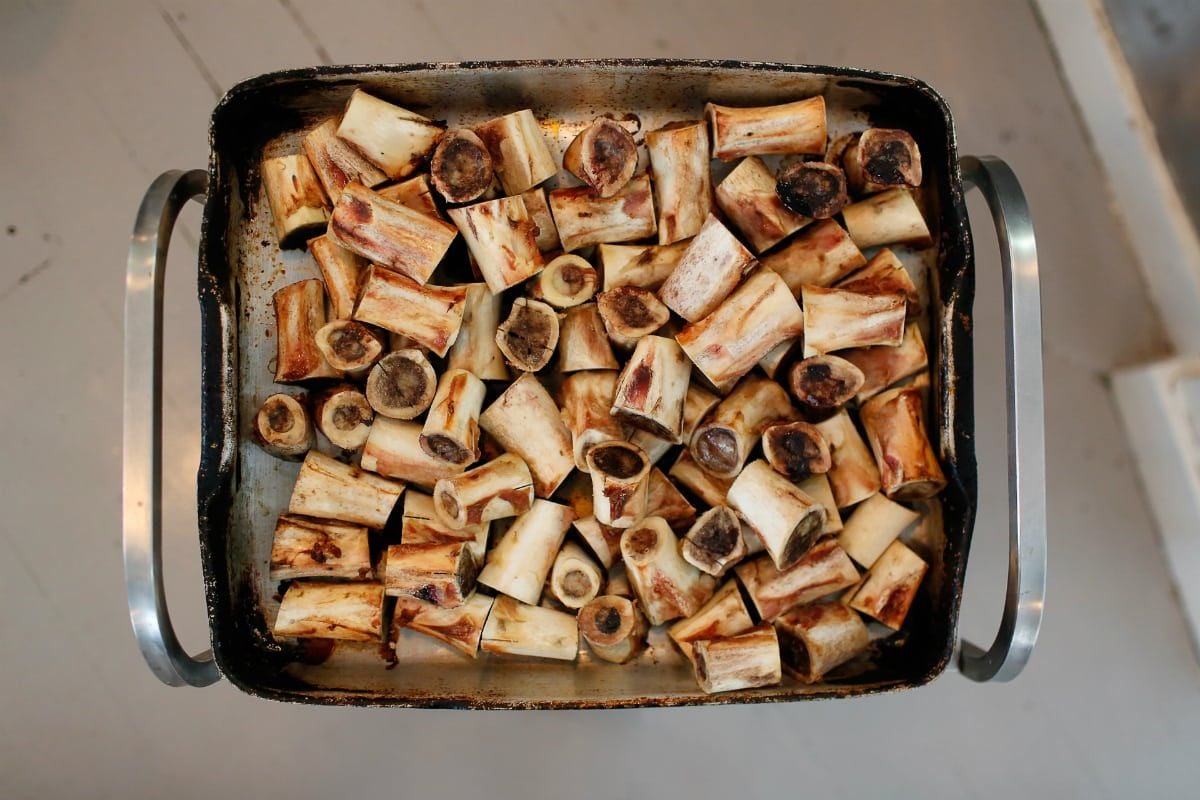 The legacy
While so many real-life heroes wane in relevance, eventually forgetting that "with great power comes great responsibility"; Fergus Henderson remains a bona fide icon in relation to British food. Diagnosed with Parkinson's disease during the late 1990s, Henderson doesn't cook during service any more (although he continued, undeterred, for quite some time post diagnosis) but his presence is still omnipresent at St. JOHN.
First published in 1999, Fergus' debut cookbook 'Nose to Tail' has received rapturous acclaim, inspiring a generation of home cooks to rush out to the local butcher's with formerly inexplicable requests. A staggering troupe of remarkable chefs also cut their teeth at St. JOHN, before departing in order to open their own restaurants. Most notable of these include Lee Tiernan (Black Axe Mangal), Tim Siadatan (Trullo and Padella), James Lowe (Lyle's), and Tom Harris and Jon Rotheram (chefs and co-owners of The Marksman), amongst others.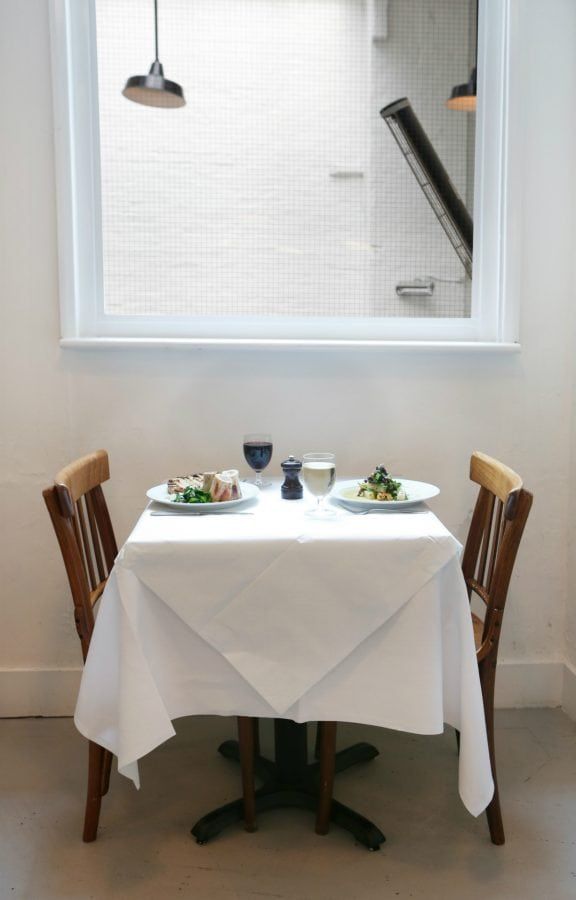 "Please turn off your portable phone whilst in the dining room"
How many otherwise great evenings have been ruined by mobile phones at the table?
I'm not sure exactly how strict St. JOHN is on the no phones rule, but the sentiment is refreshing – stimulating the oft forgotten art of conversation, at the very least. While shouting into a block of glass and circuitry is generally frowned upon at dinner, it's all but outlawed in the dining room. Subtle Instagram photographs are permitted, I believe.
Descending the iron stairs to leave the restaurant, I'm conversely desperate to whip my phone out of my pocket: not to check emails or Instagram, but to text the people I love most.
"Just had the best experience at St. JOHN! Let's go for dinner as soon as possible?"
St. JOHN can be found at 26 St John Street, London, EC1M 4AY.
Header Photograph: Stefan Johnson