Usually when Theresa May makes an important speech the pound tends to plummet scarily on international markets and confidence in Britain falls even further.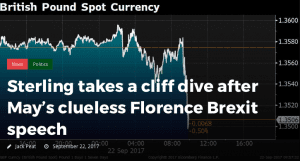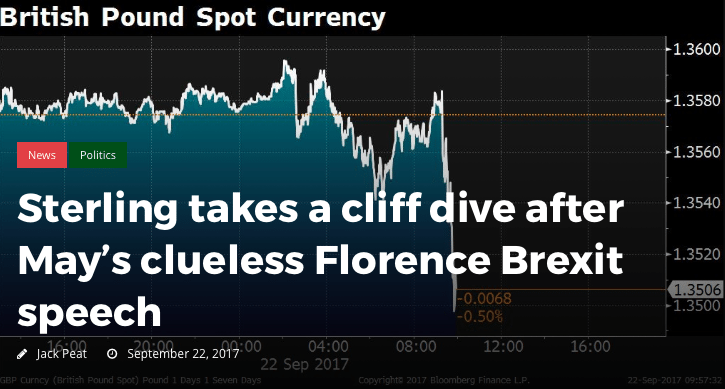 But you know it's been a good speech when everyone's favourite political farce The Thick Of It starts trending on social media before the speech is even over.
Still it's not like this lot have anything more complex to negotiate apart from getting through a week in Manchester without any more gaffes…
In a crisis-ridden Conservative Conference with a poll of Tory party members revealing that only 30% of Conservative Party members believe Theresa May SHOULDN'T quit, and revelations that party membership is at an all time low, the pressure was on our beleaguered Prime Minister to deliver a corker of a keynote speech to Conference.
Especially with all the resentment of her party over the snap election that she arrogantly called that has left the Conservatives in a fragile minority government relying on an pro-life anti-gay creationist party they had to bribe £1bn.
(Notice nobody said "strong and stable" any more at the conference.)
But as the beleaguered Prime Minister battled with coughing fits to deliver a rather underwhelming speech the loudest response from the party faithful gathered was when prankster Lee Nelson somehow managed to walk up to her and hand her a P45 form.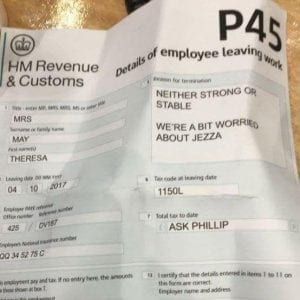 The comedian said "Boris asked me to give you this," and as he was being escorted out of the building, people were already starting to compare the omnishambles of the Tory Party Conference to political satire The Thick Of It.
So here are some of the highlights, or rather lowlights, that have turned a calamitous Conservative Conference into more of a farce than actual farce The Thick Of It:
Just when you thought Treeza's address to the Conservative Party Conference couldn't get any more embarrassing,  Amber Rudd was forced to tell off giant man baby Boris Johnson for not standing and applauding:
Amber Rudd telling Boris Johnson to stand for May pic.twitter.com/VGYeb5CroR

— Mollie Goodfellow (@hansmollman) October 4, 2017
This unfortunate letter falling off :
This is the best episode of The Thick of It in years pic.twitter.com/uPUzTmvI7i

— David Lewis (@davidclewis) October 4, 2017
Conservative message falling apart LITERALLY, as MORE letters fall off: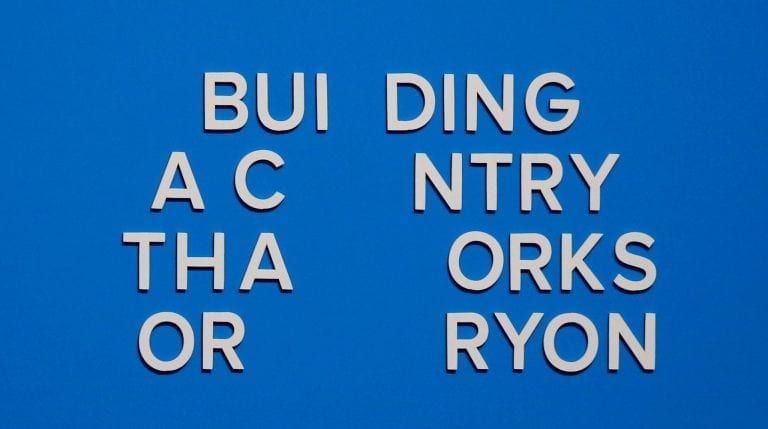 (Bring back "strong and stable"!)
Banging on about how brilliant Capitalism is in a Communist bracelet:
Can I just point out that Theresa May is wearing a bracelet of Frida Kahlo, a member of the Communist party who LITERALLY DATED TROTSKY pic.twitter.com/CR13geaO7n

— Hannah Jane Parkinson (@ladyhaja) October 4, 2017
Boris Johnson's own party colleagues calling for his resignation after the Foreign Secretary quips about clearing Libyan dead bodies to make a nice beach resort:
Hear Boris Johnson tell sick joke about Libya at Conservative …

Theresa May faces new calls to sack Foreign Secretary Boris Johnson after his latest gaffe.Listen to him address a Conservative Party Conference fringe meeting, talking about how British business men want to invest in Sirte, Libya where Gaddafi was brutally killed, along with thousands of others, the coastal city only recently liberated from ISIS:"They've got a brilliant vision to turn Sirte, with the help of the municipality of Sirte, to turn it into the next Dubai."The only thing they've got to do is clear the dead bodies away and then we'll be there."You can hear shocked Tory peer Philippa Stroud who chaired the meeting, trying to distract from the sick joke by shouting "next question." Shadow Foreign Secretary Emily Thornberry tonight insisted BoJo "does not belong in the office of Foreign Secretary," adding his "crass, callous and cruel" joke was a "disgrace." Lib Dem Foreign Affairs spokeswoman Jo Swinson insisted: "Diplomacy is a basic requirement for the role of Foreign Secretary" and said that Johnson should be sacked. Even fellow Tory MP Heidi Allen agreed, tweeting: "100% unacceptable from anyone, let alone foreign sec. Boris must be sacked for this. He does not represent my party." #Diplomacy #CPC17 #ConservativePartyConference #BoJo #BorisJohnson #TheresaMay #EmilyThornberry #Labour #LibDem #Tory #Conservatives #Tories #Manchester #Libya #TLE

Posted by The London Economic on Tuesday, 3 October 2017
Damien Green trying to defend Boris Johnson quipping about clearing Libyan dead bodies to make a nice beach resort:
The Tories have completely ruined The Thick of It. They're so unbelievably preposterous, the series looks tame when you watch it back. https://t.co/IIDOXDf5BN

— Owen Jones? (@OwenJones84) October 4, 2017
Philip Hammond warning Boris Johnson is "sackable" in the same interview he admits "the more we can show unity, the stronger our negotiating position" for Brexit.
Philip Hammond tells Boris Johnson that 'everyone is sackable' after his latest Brexit inter https://t.co/T2UmYrfDE5 pic.twitter.com/IZeSNG2ffn

— BI UK Politics (@BIUK_Politics) October 2, 2017
Jeremy Hunt trying to pretend to the Conservative Party that they founded the NHS they actually voted against and he is doing his best to destroy:
Yes he actually said that: https://t.co/o5bAnC4EeE

— Ben Gelblum (@BenGelblum) October 4, 2017
The tumbleweed reaction of the Conservative Party as the sound clip Jeremy Hunt has dug up to evidence his bizarre claim breaks as he unconvincingly pretends that they founded the NHS they actually voted against:
Hunt: "Tories founded the NHS" they voted against 22 times

#SHARETHIS – "We founded the NHS, not Labour." – Jeremy Hunt re-writes history.The Tories voted against the creation of the NHS 22 times.That fact didn't stop Tory 'Health Secretary' Jeremy Hunt from claiming credit for it today. The white paper he talks about was put forward during the Government of National Unity that served during World War 2.As Prime Minister, Churchill dealt with the 'War Front.' As Deputy Prime Minister, Labour leader Clement Attlee ran the 'Home Front' so well, the people elected him, not Churchill, after the War.This statement is a shamefully Orwellian rewriting of British History for which Jeremy Hunt should be forced to apologise.#ConservativeConference #JeremyHunt #Tories #TheresaMay #Labour #JeremyCorbyn #NHSThe reason we refuse to use ads is because we value our independence.If you like what we do at Nye Bevan News, and would like to support us, please order one of these T shirts. ("Lower than Vermin" T shirt + "Born in the NHS" Badge + lucky dip = £20)To place your order, please message the page.|Please Sponsor #NyeBevanNews|Contribute and help us grow paypal.me/NyeBevanNewsPatrons|

Posted by Nye Bevan News on Tuesday, 3 October 2017
Jeremy Hunt due to swig drinks on Boeing's while our Bombardier workers worry about thier jobs. Whose side Tories on? #backBombardier pic.twitter.com/NA2cZisZLY

— Unite Politics (@UnitePolitics) October 1, 2017
Eton-educated worm eater Bear Grylls turns up to Tory party conference, leading to speculation that he is there to show "an endangered species how to survive the forthcoming winter".
Bear gets social media "Grylling" for appearing at Tory Party Conference
Scottish Conservative leader Ruth Davidson appears to be the only person coming out swinging at conference, only she's swinging for her own party accusing it of having a "nervous breakdown" and telling it to  "man up."
Ruth Davidson tells Conservative party to "man up" and get over "nervous breakdown"
Jacob Rees-Mogg appearing to have a nervous breakdown:
We won Agincourt. We won Waterloo. We won Trafalgar. Jacob Rees-Mogg in peak Brexiter/Empire delusion mode. #cpc17 pic.twitter.com/k1gSVAdvZr

— James Melville (@JamesMelville) October 4, 2017
This is the queue to get into the Jacob Rees Mogg fringe at #cpc17 pic.twitter.com/AKvUP9jeDF

— Andrew Sinclair (@andrewpolitics) October 3, 2017
This afternoon is clearly expected to be riveting. The swathes of blackness are empty seats.. #CPC17 pic.twitter.com/5YRumNEBW5

— MagsNews (@MagsNews) October 2, 2017
"Why it's not I but Nicola Sturgeon who is out of touch with the common people!" screams David Mundell to an empty room. #CPC17 pic.twitter.com/8bzLGtruHA

— Steph(en) Paton ? (@stephenpaton134) October 2, 2017
Maybe next year they should hire a smaller venue:
Tories don't go either. #CPC17 pic.twitter.com/dUAmAO2Cnz

— Empty Blue Seat (@EmptyBlueSeat) October 2, 2017
https://twitter.com/60Billion/status/914896748933472257
Oh, and it turns out that speech that Theresa May got handed a P45 in was plagiarised from hit TV show The West Wing:
What could make the worst car crash speech ever even worse? Finding out they nicked lines off TV shows for the speech!#CPC17 #TheresaMayP45 pic.twitter.com/T4kmof1Ue4

— Devutopia (@D_Raval) October 4, 2017
Remember the one bit of Theresa May's speech that wasn't coughing, hateful or P45-related?
Yup, it was stolen from #WestWing#CPC17 pic.twitter.com/G0qxTADuBM

— El Christo (@ElCorbynista) October 4, 2017
Oh and I also think you owe a Mr Miliband an apology for plagiarising the main policy announcement from a policy you always derided him for: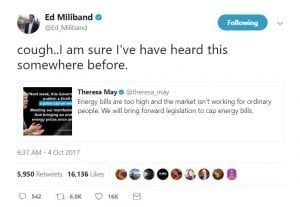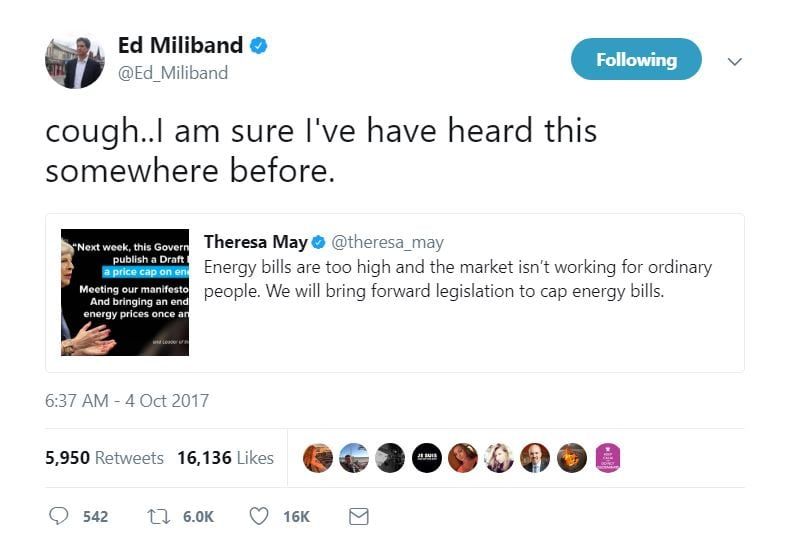 I'm sure I've missed some omnishambling out – there's just too much – please comment below with any Conservative Party Conference 17 highlights I missed !
NB: UPDATE:
Even the theme tune – somehow very ironic !!!
Today's use of 'You've Got The Love' at the Conservative party conference was not approved by us nor would it have been had they asked.

— florence welch (@florencemachine) October 4, 2017