As Labour Party membership soars over 596,500, above Tony Blair levels, the Conservative Party is facing up to fears that its membership will soon fall below 100,000.
Since 2013 when the Conservative Party last publicised membership numbers of 134,000, the party has refused to publish the true numbers amid fears of dwindling rank and file support. And in the last couple of years, while Labour membership continues to rise there have been no reason for the Conservatives to lift their secrecy over true membership levels.
Especially with much anger over Theresa May's snap election in which she undemocratically imposed candidates on many constituencies rather than allow them to select one and wasted time and money diminishing the Tory party as it should be concentrating on negotiating Brexit.
As Theresa May attempts to turn around her and her party's fortunes at the Conservative Party Conference in Manchester, the influential Conservative Home website reports that it had been told that  the party's membership has actually fallen by around a quarter in the past year.
"The calculation is based on an assessment of four large areas, three of them in the so-called Tory heartlands.  It may be that the drop is bigger, since it could be bigger where membership is less established," reports Conservative Home, adding, "John Strafford of the Campaign for Conservative Democracy estimates that membership is now "around 100,000".  His assessment and our information run pretty much in tandem.  Which leads to the inevitable question: as Labour membership soars upwards past 500,000, will 2018 be the year when Tory membership drops to below six figures?"
John Strafford, chairman of the Campaign for Conservative Democracy in an eve of conference interview in Tribune magazine: explained: "The party is facing oblivion. If you take the fact only 10 per cent of the membership is likely to be very active they will not have enough people on the ground to fight an election – they won't even have enough people to man polling stations on the day.
"They are keeping council seats because often the families of the councillors are campaigning with party members to get them re-elected. They simply don't have the local resources to do this in a general election."
Conservative Home also has more bad news for Theresa May after its survey of party members on whether the PM should resign returned a resounding 61% in favour of the prime minister quitting, with only 30% saying she should not.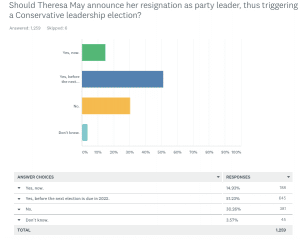 Yesterday the PM celebrated her 61st birthday with a car crash interview on the BBC with Andrew Marr in which she struggled to defend the Conservatives' economic record.
"Only 17% say 'Capitalism is working for them'

" Average earnings have gone down on your watch – Only 17% of people say 'Capitalism is working for them' – only 17%." – Andrew MarrTheresa May struggles to defend her economic record.#JeremyCorbyn #TheresaMay #Conservatives #Labour #toryconference #Manhester

Posted by The London Economic on Sunday, 1 October 2017