Forget arid roast turkey, prosaic Christmas pudding and sprouts boiled to the point of complete submission. This year, so many of London's incomparably diverse restaurants have created special, unique Christmas dinners. From classic German goose with dumplings to Indian spiced goose breast; Australasian-inspired fusion to South African Braai – we pick the best international Christmas dinners to eat in London this year.
Hammer & Tongs
Available until 23rd December, Farringdon restaurant Hammer & Tongs has launched a South African braai Christmas menu (£20 for two courses, £25 for three). Slow-cooked entirely over Sicklewood and Blackthorne, on an open braii, the menu features a starter of braai'd butternut soup, rich with sweet squash complementing the braai smoke. Next, a Cape Malay marinated Barnsley chop harbours flavours of coriander, cumin, fennel, cinnamon, clove, chilli, mustard and ginger, and is served with braai roasted Brussel sprouts (a far-cry from the opinion-dividing Christmas dinner classic) and dry roast chips. To finish, dessert consists of Cape Brandy pudding steamed over the embers of the kitchen's three-meter long grill, fired-up each morning with Namibian Sickle Bush to impart a smoky flavour.
Further information can be found here.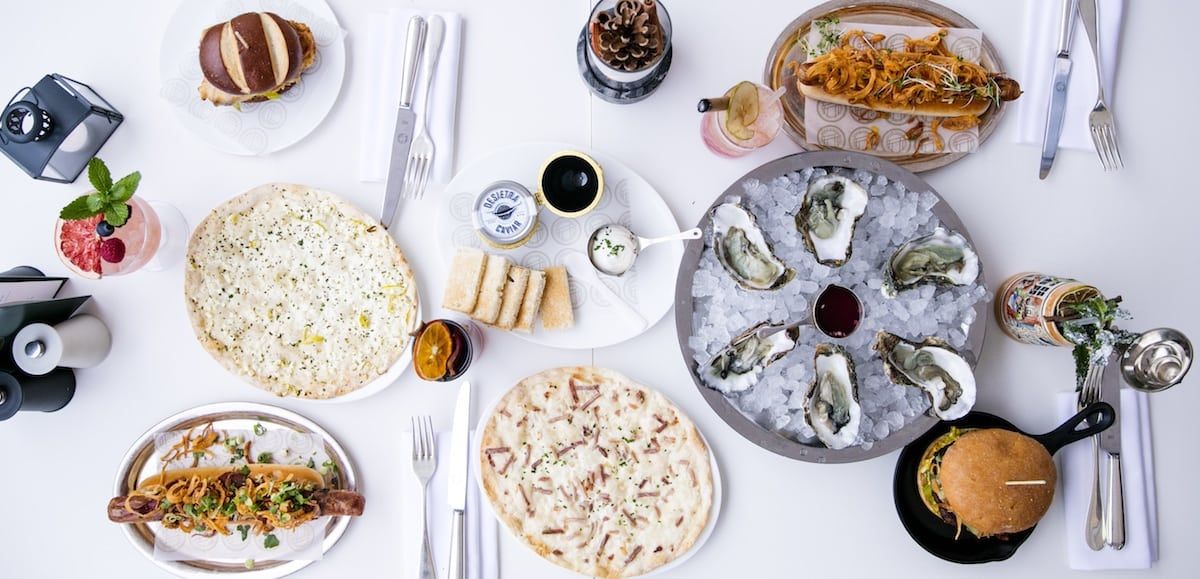 German Gymnasium
Inspired by stories told by The Brothers Grimm, German Gymnasium has transformed its terrace into a winter wonderland. Here, cocktails inspired by 19th century folklore will be joined by a collection of typically German winter classic dishes such as roasted chestnuts and Currywurst or Bratwurst hotdogs. Also open on Christmas day, the restaurant will serve a three-course Christmas menu (£85 per person). Starters include the likes of chestnut cream soup, or smoked duck breast with cranberry and truffle relish and candied orange zest. Mains, on the other hand, include roast turkey, halibut, or quintessentially German roast goose with dumplings and a spiced orange sauce.
Further information can be found here.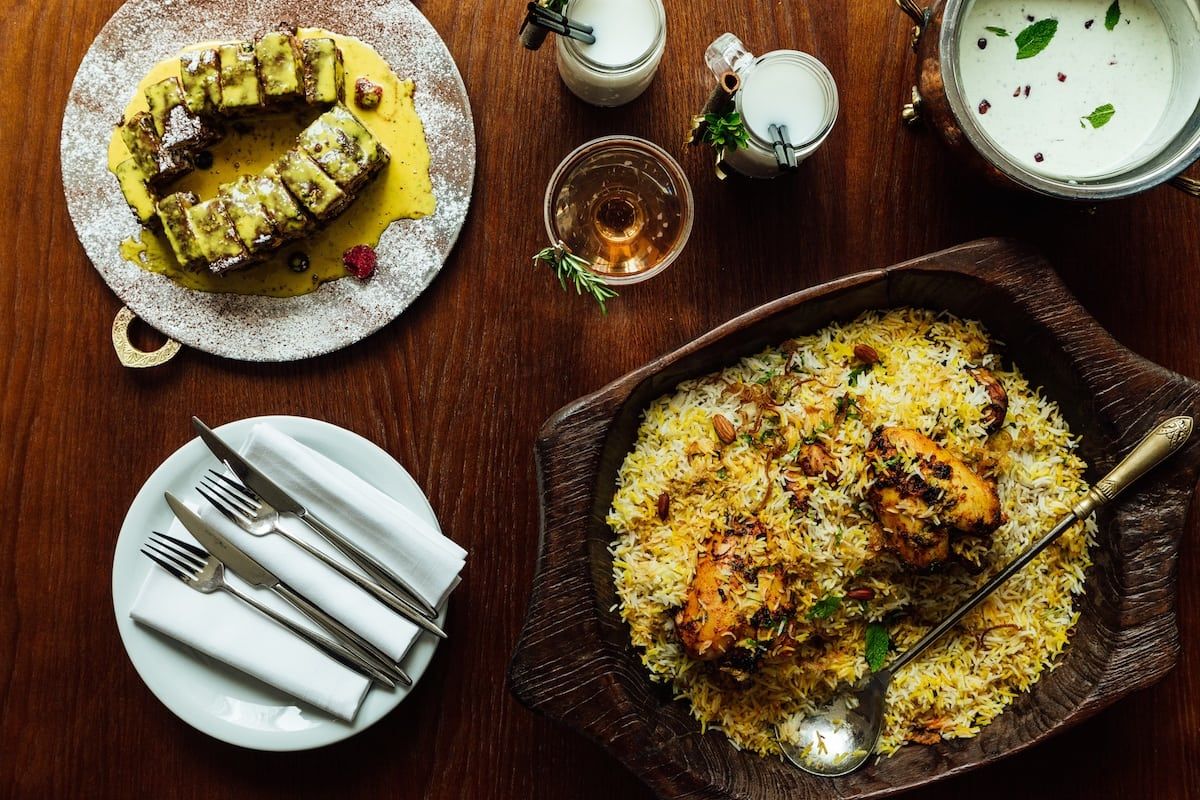 Darbaar
On the edge of the Square Mile, Darbaar will offer a royal Indian feast for Christmas Day, inspired by the flavours and traditions of India's Royal Courts. Darbaar's Christmas lunch (£85 per person) will swap turkey and cranberry sauce for Goan spiced goose breast, or a vegetarian main of Malai koftas with saffron and royal cumin. Elsewhere, sharing dishes of tandoori paneer or basil chicken are accrued by the restaurant's famous butter chicken. Throughout December, the restaurant is also offering a festive special of Hyderabadi roasted poussin Biryani to share, available for groups of four or more.
Further information can be found here.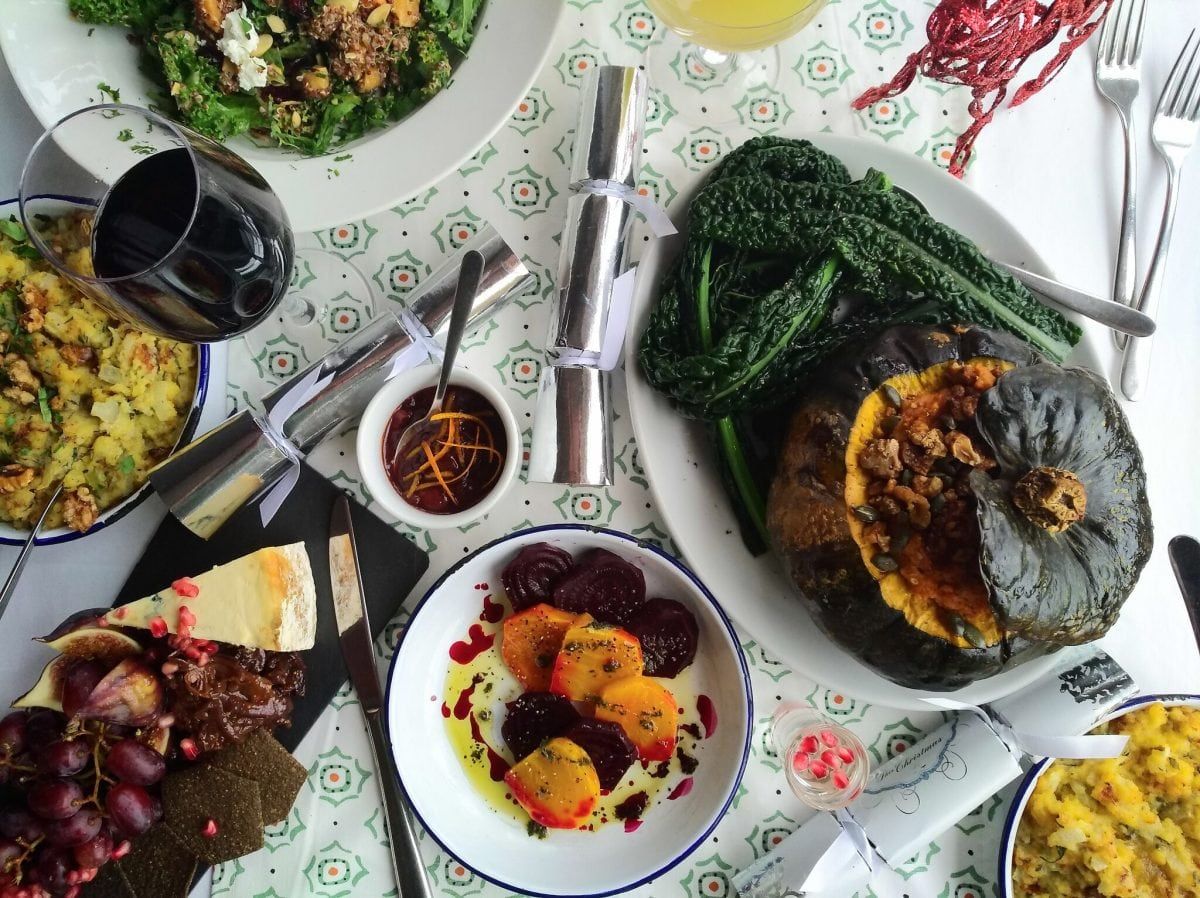 The Lido Café
With nods to Chicago-born Head Chef Chef Lily Ferguson-Mahan's American roots, The Lido Café (overlooking Brockwell Lido) will serve a seasonally-led Christmas menu, made with a focus on exceptional British produce. Priced at £29 for three courses, or £35 for four courses, the pool-side dining space's menu will feature dishes such as whole roast acorn squash with whipped maple sweet potato stuffing; or roast free-range Suffolk guinea fowl in garlic and herb butter. Three sharing dishes will also be served alongside the mains, with a choice between beer mac and cheese; cheesy potato soufflé; buttered cavolo nero; or red and candy beetroot carpaccio with horseradish. Pecan pie with brandy crème fraiche, or ginger sticky toffee pudding and pumpkin ice cream will be available for dessert.
Further information can be found here.
Hakkasan Mayfair
In China, the Dongzhi Festival (Winter Solstice) is generally celebrated at around the same time as Christmas in the West. A time for the family to come together, the Chinese festivities revolve heavily around food, with the customary giving of apples on Christmas Eve. This year, high-end Chinese restaurant Hakkasan in Mayfair will celebrate the festive season with an exclusive menu designed to be shared with friends and family. Priced at £58.88 per person (for groups of three or more), Hakkasan's Mayfair Festive Signature menu begins with a trio of dim sum (lychee and lobster, Alaskan king crab, dover sole and black truffle), followed by the likes of crispy duck salad; roasted silver cod with Champagne and honey; wok-fried guinea fowl with dried chilli and taro; and the restaurant's 'signature' Jivara bomb dessert.
Further information can be found here.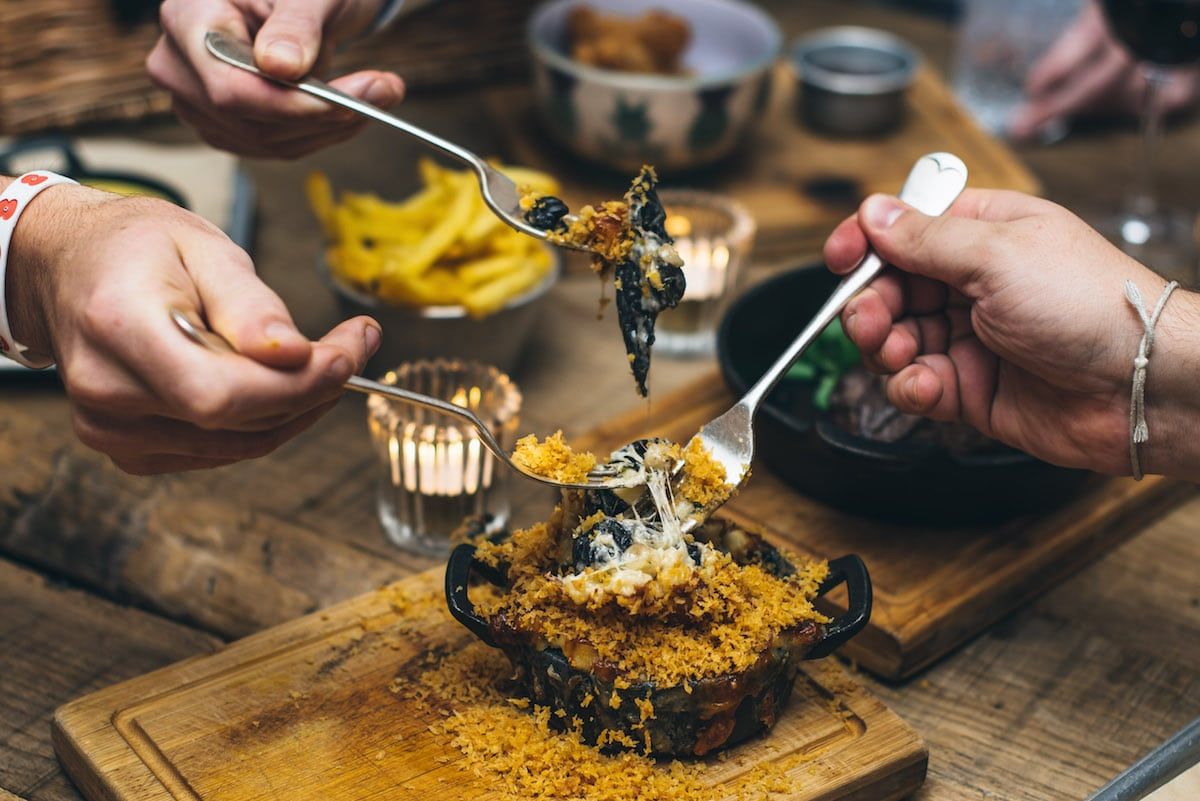 Mac & Wild
"We wish you a Merry Christmas ya wee cracker!", Mac & Wild's Christmas menu reads. This year, London's best Scottish restaurant has collaborated with The Botanist gin to launch winter Hunting Lodges at their Devonshire Square restaurant. Inspired by the shooting lodges in the Scottish Highlands, the lodges are festooned with pine, candles and twinkling lights, plus fur blankets and tartan rugs (obviously) to wrap up in. Here, the menu includes Mac & Wild favourites such as Haggis Pops and the restaurant's famous Veni-Moo burger. The restaurant's main Christmas menu (£35 per person), on the other hand, features a Christmas burger (pork stuffing, venison patty, Morangie brie, red cabbage and shredded sprout tops) or 'home-style' turkey with all of the necessary trimmings.
Further information can be found here.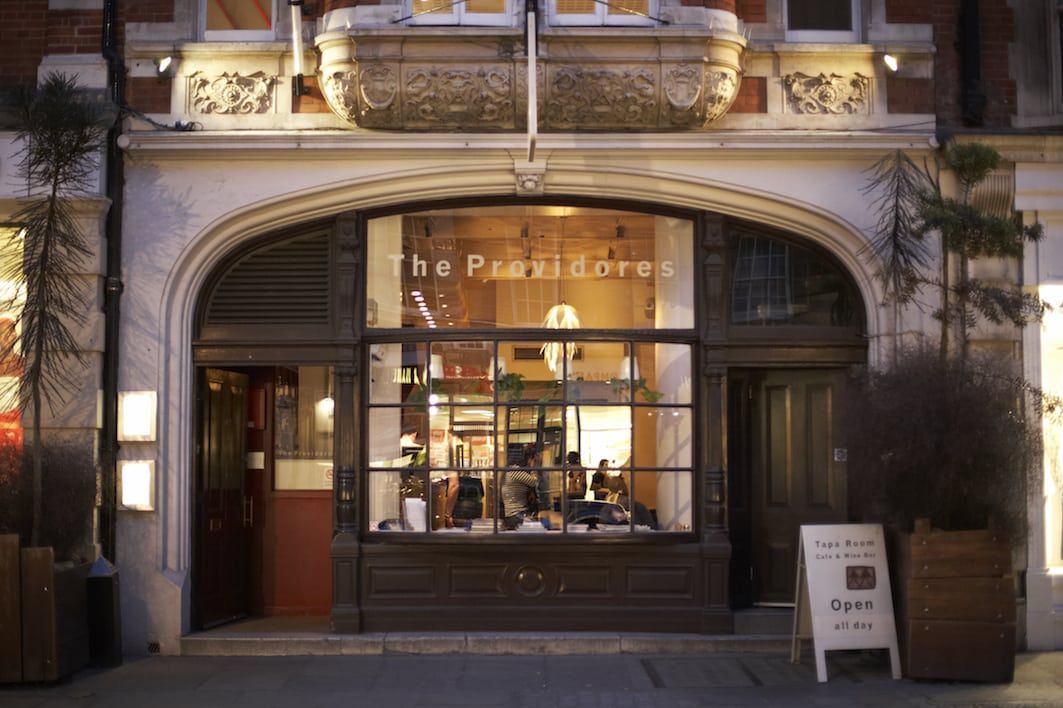 The Providores & Tapa Room
And now for something completely different, chef Peter Gordon has created a unique fusion menu (£52 three-courses) for Christmas at The Providores & Tapa Room. The chef's New Zealand origins will be honoured, using a global pantry to produce a selection of dishes such as panko-crumbed Tamworth pork butt croquette with green mango, green papaya, yuzu and coriander; or blackened mackerel with turnip cashew puree, clementine, pomegranate and watercress. Mains include pan-fried market fish with crispy polenta; or slow-roasted Paley Farm mutton shoulder, courgettes, beetroot, chard and spiced jus. A sweet-miso brownie is also available to finish.
Further information can be found here.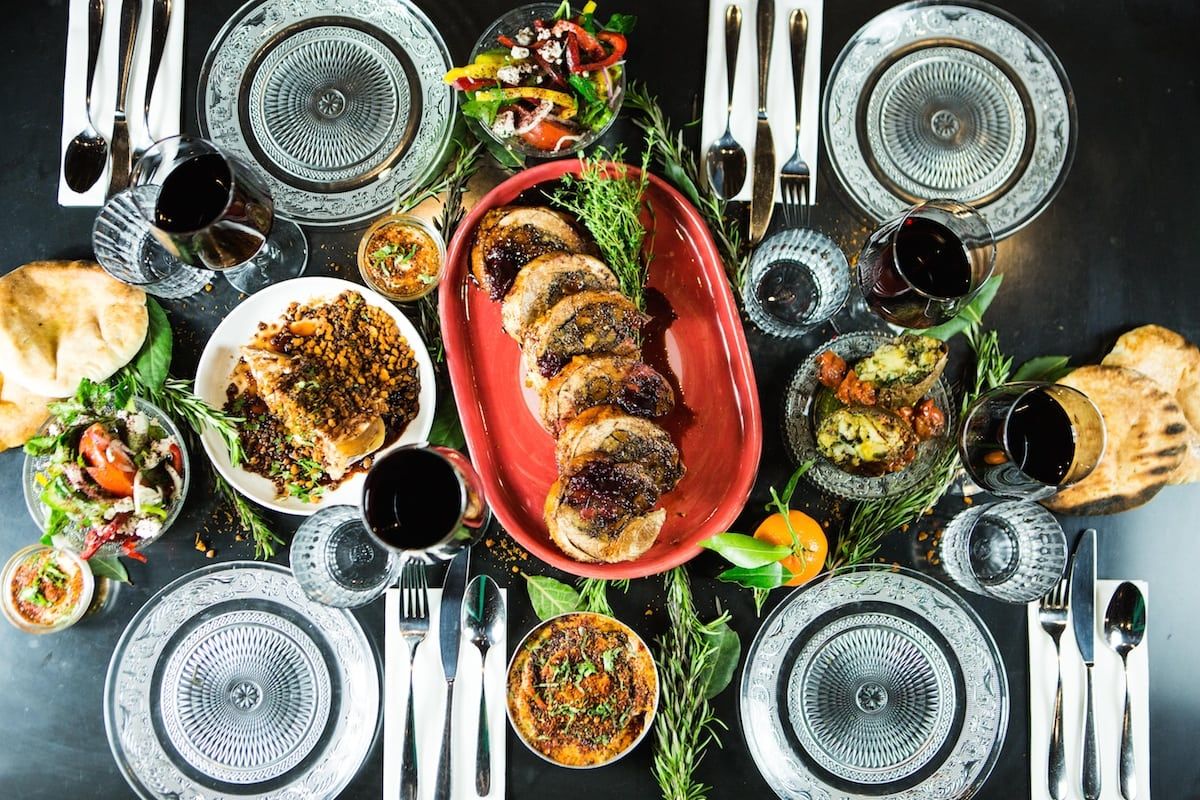 Bala Baya
Beneath the Union Arches in Southwark, Tel Aviv-inspired restaurant and bakery Bala Baya promises to offer 'not just another Christmas Dinner'. For Christmas 2017, Chef Eran Tibi has created his own unique Christmas sandwich: a freshly baked pitta with slices of spiced turkey leg, truffle smashed potato and Taleggio cheese. In addition, Bala Baya is also offering two Middle Eastern Christmas menus ('feast' and 'party') with dishes such as beef and fig with horseradish tahini; vegetarian acorn squash with veggie stuffing and cranberry; plus house-cured salmon and Tunisian harissa. Moreover, the restaurant's Minced Babkas provide a fiery alternative to classic mince pies, lashed with cream and flaming brandy.
Further information can be found here.
Rosa's Thai Café
Serving a profusion of Thai dishes for Christmas, Rosa's Thai Café has created two festive sharing menus (one vegetarian), priced at £25 per person. Split into 'Small Bites' and 'Curries & Stir Fries', the menu includes the likes of Thai calamari; fried vegetable spring rolls; chicken wings; chilli and holy basil stir fry with mixed seafood; and black pepper beef. The vegetarian menu, on the other hand, features fried tofu; vegetable tempura; green curry; and thick red curry with tofu. To finish, Christmas pudding is available on request, as well as home made ice cream with flavours such as green tea or Thai iced tea.
Further information can be found here.
Rudie's
Authentic Jamaican restaurant Rudie's in Dalston has launched two Jamaican Christmas dinners. Priced at £23.50 and £29.50, respectively, both menus offer pork ribs glazed with Appleton rum and sweet molasses, plus a 'Yeah Mon!' festive platter of stuffed jerk turkey, rolled jerk pork belly, and roast yam. Each menu also offers Rudie's favourite goat curry, plus a vegetarian platter of sautéed ackee, sweet peppers, spinach, fried plantain, rice and peas. To finish, Rudie's rum cake is served with nutmeg and Chantilly cream spiked with rum.
Further information can be found here.