When The Frog E1 opened last summer, I was quick to declare it one of the year's best openings. One of the absolute best restaurants in east London, in fact.
Sadly, so many brilliant restaurants fail to live up to the initial 'hype' and ultimately slump into a routine of serving terrible food with slow service, even though booking a table remains harder than Trigonometry. 365 days later, many of these places eventually fail, closing their doors to make space for a new branch of Burger & Lobster. One year on at The Frog, however, Chef owner Adam Handling's hours of hard graft have paid off, leading to the announcement of another huge restaurant set to open in Covent Garden later in the year. The original space, just off of Brick Lane, has also begun to serve a boozy, bottomless brunch.
With an unstoppable tide of restaurants serving unadventurous brunch blueprints across the capital, The Frog's offering manages to stand out. Yes, the menu features a form of smashed avocado on toast. Of course it does: the restaurant has a Shoreditch postcode. But other dishes include the likes of chorizo with potatoes and a kimchi baked egg; buttermilk pancakes with maple bacon; and an ox cheek hash that's almost as sensational as those cheese and truffle doughnuts. A sanctuary from the chaos of Brick Lane on a Sunday afternoon, the restaurant still visually resembles a temporary pop up. The semi-alfresco space in front of the main building, however, is an oasis of calm, complete with plenty of seasonal foliage and (somewhat romantic) garden swing seating.
At £35 per person, the brunch offering includes two dishes and unlimited cocktails for 90 minutes, with the Portobello gin-based cocktails worth mentioning. The 'Frog Cooler' is, essentially, a gin sour – served here with ribbons of refreshing cucumber. 'BBQ Bloody Mary' swaps classic vodka for gin and has a spice mixture oddly reminiscent of 'Flamin' Hot' Monster Munch (a good thing, I think) while 'On the Streets of Kingston' is also spiced, refreshing with plenty of ginger beer. The Frog's 'Gin n Juice', on the other hand, is a touching homage to the soundtrack of mostly 1990s hip-hop. Passion fruit and grapefruit juice are combined with gin, decorated with a smattering of citrus zest, which smells exactly like Beavertown's 'Gamma Ray' APA. Simply, it is a dessert in a glass.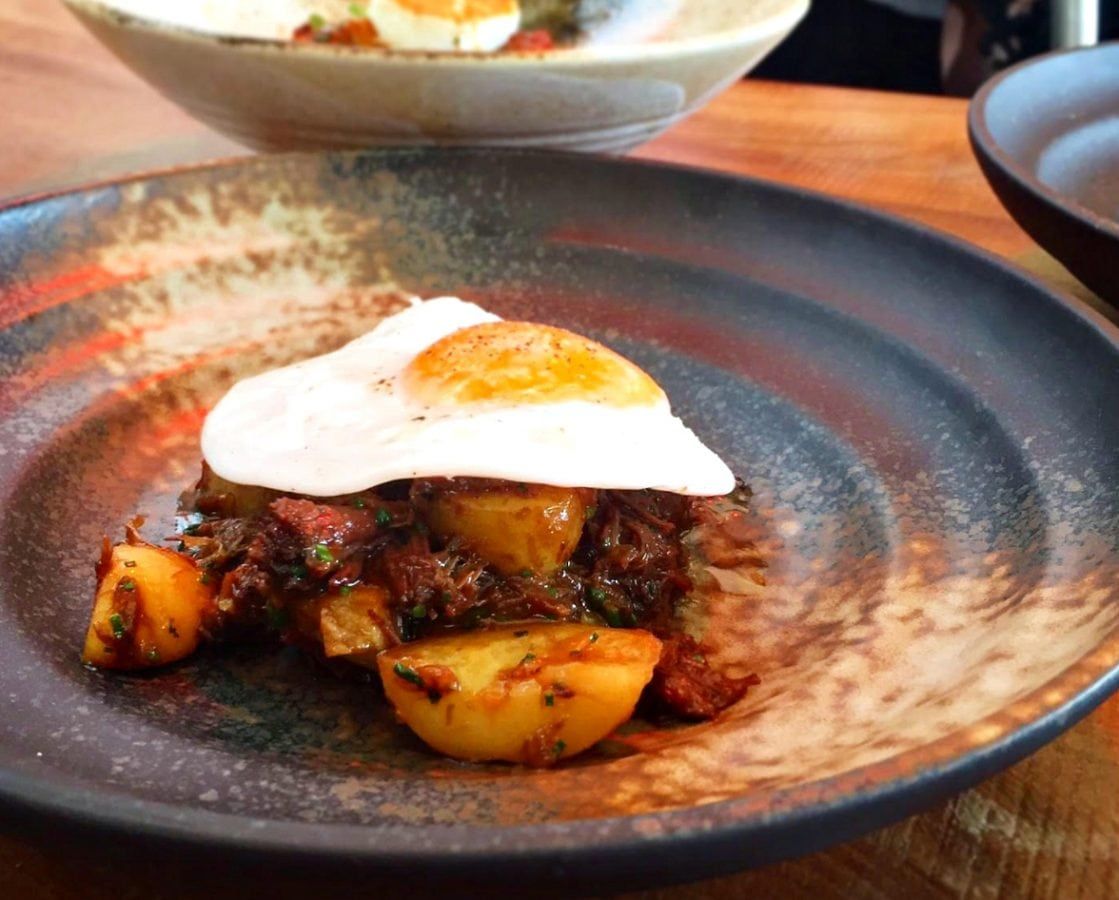 Of the brunch dishes, the chorizo dish features fried skin-on new potatoes, luscious with the paprika-laden oil from the chorizo. The egg topping, on the other hand, is baked and has a golden crust with merely trace notes of kimchi, thankfully. Even better are the curried chick peas, subtly spiced and cooked perfectly – soft, but not to the point of complete submission. Crispy slivers of fried carrot add texture, while the boiled egg soaked in tea is fortunately subtle (although overcooked) in keeping with the rest of the dish's exceptional balance of complimentary flavours.
Ox cheek hash, we agree, is the best thing eaten. Making use of the cow's tastiest cut, all-too-often criminally discarded, the ox cheek is soft enough to enjoy without teeth. More fried potatoes add bulk, but fail to distract from the insalubriously rich beef and fried egg with a yolk that oozes across the plate. This is the embodiment of those rare dishes that leave me feeling happy to be alive. To finish, the waffle is fortunately very thin, though the salted caramel sauce is burnt to excess, marred further by more bitterness in the form of dark chocolate sprinkles.
Dessert aside, brunch at The Frog is a perhaps unsurprisingly enjoyable experience, boasting excellent value for money – especially when considering the drink offering. After a remarkable launch, The Frog has gone from strength to strength: still amongst the best of so many restaurants in east London at the moment.
The Frog E1 can be found at 2 Ely's Yard, Old Truman Brewery, Hanbury Street, London, E1 6QR.
RELATED
https://www.thelondoneconomic.com/food-drink/restaurant-review-the-frog/08/08/