During 1898, diamond magnate Woolf Joel hosted a dinner for fourteen guests at The Savoy – one of London's most iconic hotels. Just before dinner commenced, one of Joel's guests cancelled, reducing the party size to thirteen. Against the behest of more superstitious guests, the host decided the dinner should go ahead, already warned that death would befall the first person to leave the table, according to an old wives' tale regarding dinner parties of thirteen. Woolf Joel defiantly decided to take the gamble himself, retiring before his guests. A few weeks later, he was shot dead in Johannesburg.
On hearing the news, The Savoy's owners grew anxious, hoping to avoid such ill fate in the future. In a superstitious attempt to avoid a repeat events, the hotel provided an extra guest for every table of thirteen. Initially, a member of hotel staff would join parties of thirteen, yet this proved unpopular with guests feeling uncomfortable, unable to freely discuss private matters. Some years later – in 1926 – architect Basil Ionides created Kaspar the cat, sculpted from a plane tree. From thenceforth, Kaspar would occupy the fourteenth seat amongst dinner parties of thirteen, with a napkin tied around his neck and a full place-setting for each course served. Winston Churchill, a regular guest of the hotel, became so fond of Kaspar, he would seat him at his table regardless of his party size. The wooden cat also inspired Michael Morpurgo's children's story Kaspar, Prince of Cats.
In 2013, The Savoy celebrated the wooden cat further, re-launching the River Restaurant as Kaspar's Seafood Bar & Grill (now Kaspar's at The Savoy). To coincide with the launch, South African artist Jonty Hurwitz was commissioned to create an anamorphic sculpture, paying tribute to Kaspar. This sculpture remains on display in the opulent restaurant, featuring theatrical design inspired by the decadence of the 1920s and '30s. Cut glass mirroring, a silver lead ceiling and chequer-board marble floors frame the striking bar, taking centre stage with its display of oysters, cured and smoked fish. Alongside inviting natural light to flood the room, large windows boast panoramic views of the Thames. Although outstandingly glamorous, the room does tend to lack in atmosphere during dinner earlier in the week. Service was friendly and unobtrusive.
Launched at the beginning of the summer, the restaurant's brand new menu is centred around the notion of being 'not bound by the seasons, but inspired by them'. Marking a new direction for the restaurant, the menu has a prominent focus on provenance and relationships with suppliers, with menu descriptions featuring sourcing details. Smoked mackerel is obtained from Fraserborough, Dover sole from Cornwall, lobster from Harris, oysters from Maldon and King Crab from the Bering Sea. Unsurprisingly, the menu has an undiluted fine dining slant, but isn't doused with as much wanton flummery as so many local purveyors of haute cuisine. Various meat dishes are also available, but produce from the sea is the jewel in the new menu's crown. Kaspar would agree, I'm sure.
Dinner began with a Cornish Hen crab and Native lobster bisque (£18), dramatically poured over a pretty display of lobster flesh, Espelette pepper and fronds of micro coriander. The golden liquid harboured flavour which danced on the precipice between ideally decadent and unexpectedly light, not quite standing up to the bold flavours underneath. Two plump Keltic Seafare scallops were perfectly cooked, served alongside spears of lurid pink rhubarb and marbles of deep-fried black pudding (expensive at £19). Although attractively presented, each of the key flavours were remarkable, alone, but the black pudding bullied the scallops and rhubarb, disrupting overall harmony.
Main courses demonstrated that the kitchen team understands the value of familiarity. Newlyn Dover sole (£40) was simple, superlatively cooked and served on its own. A decadent sauce of brown butter and capers bolstered the dish, as did accompanying mashed potatoes – silky with cream, flecked with black truffle and chives. Westmorland lobster linguine (£30), on the other hand, featured a generous portion size and boasted comparative value. Hunks of lobster flesh were tangled with ribbons of al dente linguine, embellished with a whisper of parmesan, lashed with a delectably elegant lobster emulsion. A rare example of a dish favouring premium ingredients without cutting corners elsewhere. Phenomenal. Dessert, simply titled 'Malt' (£10), offered the meal's most 21st century flourish. Sourdough ice cream was well-matched with a slab of malted barley crème brûlée, dusted with a powder nostalgically reminiscent of Horlicks (a good thing), yet finished with an unsightly sheaf of sugar work.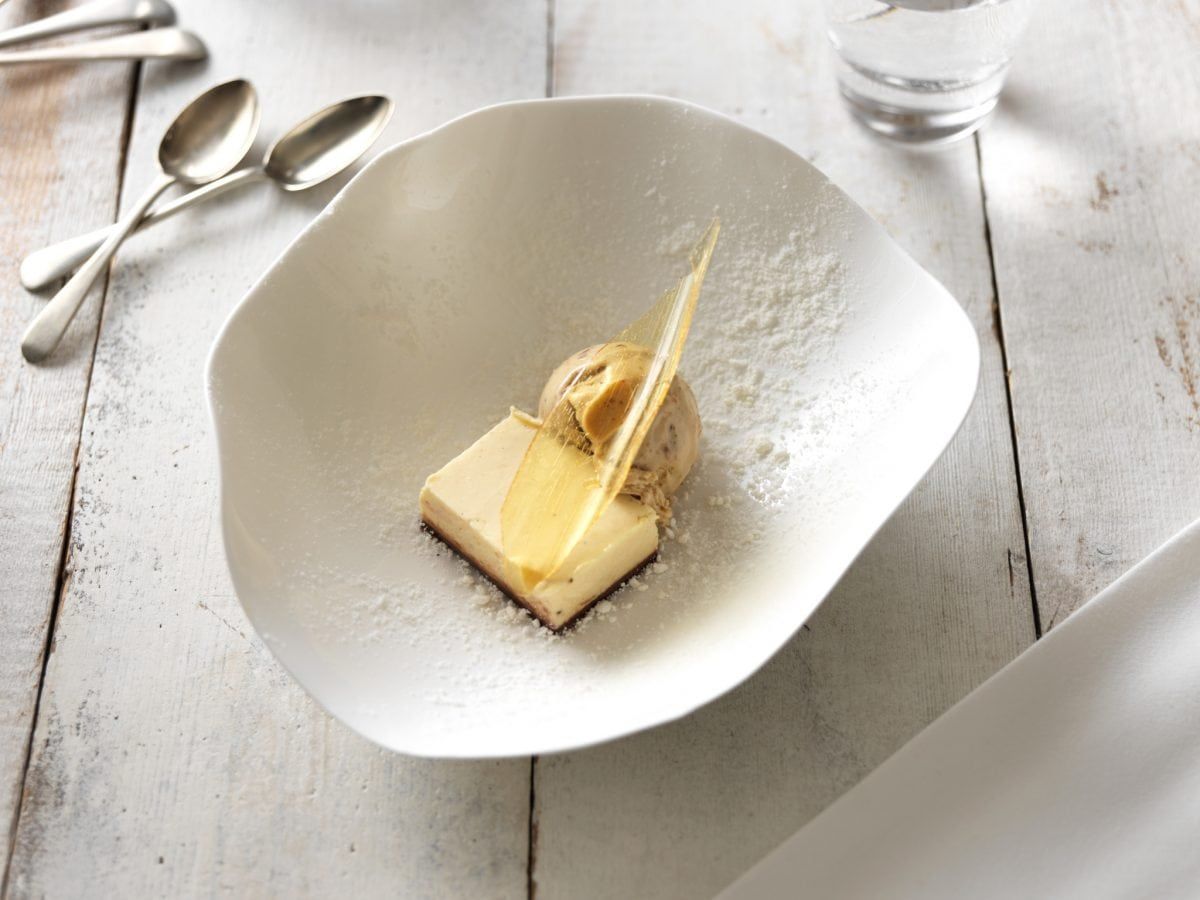 Kaspar's is by no means innovative. Although expensive, the food is fine, but the real reason to visit lies with the experience: the magic of one of London's most opulent, historically-rich hotels. Visit for dinner with somebody you love dearly and celebrate the majestic simplicity of it all. (Begin with a drink in the hotel's Beaufort Bar). Relish the glitz, the glamour, the retreat from the relentless chunter of phone cameras, and – above all – the best of British hospitality.
Kaspar's at The Savoy can be found at Strand, London, WC2R 0EZ.
RELATED
https://www.thelondoneconomic.com/food-drink/bar-week-beaufort-bar-savoy/02/06/
https://www.thelondoneconomic.com/food-drink/restaurant-review-st-john/08/05/
https://www.thelondoneconomic.com/food-drink/bar-review-american-bar-at-the-savoy-hotel/25/02/