Among the most horrifying details to come out of the Independent Inquiry Into Child Sexual Abuse in England and Wales (IICSA) so far– and there have been many appalling accounts of horrific and systemic abuse – are the incidents of what appears to be collusion between the institutions given care of vulnerable children, local councils and their insurers when it comes to acknowledging what happened.
The IICSA was established to examine how institutions in England and Wales handled their duty to protect children from sexual abuse and has been chaired by Alexis Jay since August 2016.
In her interim report Professor Jay warned that: "all too often institutions are prioritising the reputation of political leaders or the reputation of their staff, or avoiding legal liability, claims or insurance implications, over the welfare of children and tackling child sexual abuse."
In a new set of Accountability and Reparations hearings into the aftermath of child sexual abuse, witnesses are to be called to detail how the abuse suffered was compounded by denials, cover-ups and co-ordinated attempts to put organisations' interests over that of those who had survived child abuse.
Household name insurance companies are to be called upon to answer questions about whether their shareholders' interests were put before the children cared for by the authorities they insured.
"The possibility of litigation may create a conflict between an institution's duties to the children who may have been in their care and its financial interests, or, as is often the case, those of its insurers," explained leading counsel to the investigation, Peter Skelton QC, opening three weeks of public hearings of public hearings on accountability and reparations for victims and survivors of abuse.
One survivor who wanted to testify, but like many others, sadly did not live long enough for this inquiry to bring the justice he had been deprived of since enduring horrendous abuse as a child gave a statement to his solicitor as he battled cancer, a fight he finally lost not long before the hearings began this week.
The survivor known by the inquiry as F17 to preserve his anonymity, had long campaigned for justice for the survivors of Forde Park School, where predatory abusers ran a cruel regime as well as abusing the children in their care sexually and physically.
Children at the Home Office-run school in Newton Abbot, which harboured a particularly sadistic paedophile ring before it closed in 1985 – then under Devon County Council control – were subjected to horrendous physical and sexual abuse by staff emboldened by a Home Office which permitted corporal punishment of some of Britain's most vulnerable children at its schools.
Pupils were used as slave labour and too often left Forde Park more traumatised than educated. The counsel representing core survivors at the IICSA, David Enright, described how many children ended up trapped there through minor misdemeanours, poverty or just having no parents to look after them.
Enright will be presenting F17's full testimony to the inquiry on Friday, but having attended his client's funeral the week before, yesterday he read out the final paragraphs of his client's emotive statement:
"I had my childhood stolen from me.
"The abuse I suffered was never investigated and I have never received an explanation for why staff at Forde Park were able to abuse children without anyone stepping in to stop it.
"I know that I am not the only person who reported abuse at Forde Park when it was going on. The physical abuse was no secret. It was done openly. The police and Social Services knew of it, but allowed it to continue.
"I now know that I am not the only person who made a report to the police at the time. I know that other men reported abuse at the time to the police, Social Services, their families and others.
"I want this inquiry to find out why, when the physical abuse, at least, was so well known about, did no-one in authority do anything.
"I also want the authorities responsible for Forde Park to acknowledge openly that I and so many other boys were treated like animals at Forde Park and I want a public admission that the responsible authority knew of it, or should have known of it, and an apology."
David Enright concluded: "F17's concluding comments could speak for any one of the victim and survivor core participants in this investigation. From the grave he reaches out to demand: "Why was my childhood stolen?
"Why did the authorities allow me to be abused?
"Why was there never a proper investigation?
"Why did those responsible for my care never acknowledge what happened?
"Why did they never apologise?"
This stage of the IICSA investigation will look at notorious cases of institutionalised child abuse at the Home Office established approved schools of Stanhope Castle and Forde Park, children's homes in North Wales, including Bryn Alyn, St Leonard's, St Aidan's and St Vincent's children's homes.
Opening statements told how the civil justice system wasn't "fit for purpose;" how reparations for victims of child sex abuse were severely limited by time limits. Also police failures to believe children and stop the abuse that led survivors to turn to drugs and crime to cope with the trauma and the lack of justice, meant their convictions were later used to deprive them of compensation for their stolen childhoods.
Under pressure not to accept any liability, the organisations that should have looked after them as children continue to refuse the apology they deserve.
Some of the top insurers would have been liable for hundreds of millions of pounds for all the children affected if they had not contested claims. The potential liability of just one of the insurers – Municipal Mutual Insurance (MMI) was assessed at £876 million in 1992.
Representatives for MMI, Zurich, Royal & Sun Alliance insisted that the insurers had acted lawfully.
But solicitors for abuse survivors were scathing about the decades of injustices endured by their clients.
Insurers are still able to use their "deep pockets to create a hostile environment" for anybody coming forward said David Greenwood, representing a survivor of the Stanhope Castle abuse scandal.
The inquiry also heard how the passage of time was used to limit prosecutions of those responsible for horrifying sexual and physical abuse of children in the North West Nugent Care child abuse cases as well as compensation for what they endured. – This despite the fact that children put in complaints about the abuse at the time.
The victims of the John Allen North Wales children's homes scandal were also left high and dry by the actions of insurers.
"Child abuse is endemic," insisted Stephen Simblet, counsel to core participants. "It is often perpetrated against those who are already vulnerable. And those vulnerabilities are exploited by those seeking to evade liability, whether under criminal law or some other form of civil or other liability."
Vulnerable abuse survivors are pitted against "powerful financial interests" he added, and "an insurance company has a financial interest in either avoiding claims, hoping they are either not brought or not pursued; disputing and contesting allegations of abuse; disputing and contesting the extent of the abuse; disputing and contesting the significance of that abuse on the complainant's life; and an interest in denying legal responsibility for it. Those are the stark facts."
"Evidence will be seen in this investigation demonstrating that insurance companies have directly and indirectly caused the suppression of knowledge relating to child sexual abuse and have raised every conceivable obstacle to survivors of abuse accessing the civil justice system," David Enright added.
"Insurers are financial, not moral, organisations. Then there is national and local government. Claims relating to abuse are simply passed to insurers who insist that councils defend, defend, defend.
"It is clear also that national and local government have lost sight of their primary duty, their duty to protect the public, to learn lessons from mistakes of the past and particularly their duty to children they have in their care."
Enright slammed the response of local authorities responsible for the care of the inquiry participants, as well as insurers who instead of helping compensate those who suffered horrendous abuse, blocked them even receiving a mere apology.
"Of course, their primary response, as a public authority, to an allegation of child abuse should be to investigate it and to learn lessons from it.
"A civil justice system that allows local authorities and insurance companies to cover up sexual abuse of children, to protect reputations and save money, is neither civil nor is it just," added Enright, insisting not one of his clients across the different case studies of the IICSA "ever achieved an acknowledgement of abuse they suffered, an admission of liability or an apology.
"- Not one."
His clients searching for records of their childhood found them missing, taken by the authorities, as we have previously reported.
Shockingly, Enright said, rather than investigate allegations of abuse on children in their care, Devon County Council, by their own admission, passed on claims to their insurers and used the limitations available to limit any reparations for survivors.
Enright's opening testimony is a difficult read – but must be read to understand just how children as young as ten had their childhoods brutalised in institutions where authorities were aware of abuse, and then let down further over the intervening years as they were denied justice.
He was particularly scathing of authorities who he said were continuing to let survivors down – even now.
Here is Enright's shocking testimony on Forde Park School, where F17 was sent as a young child through no fault of his own:
"At the preliminary hearing in this investigation on 8 May, Devon County Council described its involvement in this investigation as "limited". Middlesbrough County Council said almost nothing. Devon and Cornwall Police said there was "not a sufficient basis for it to continue to be a core participant, or indeed to commit scarce resources to attendance at public hearings".
"The Home Office are not even represented here today.
"Well, if Devon County Council, Middlesbrough Council, Flintshire Council, the Nugent Care Society, Devon and Cornwall Police, Durham Police, North Wales Police and the Home Office don't know why they are involved in this investigation, or are too busy to even attend, then let me tell them why they are here and why they should be here.
"Over decades, your organisations profoundly failed children in your care.
"On your watch, children were battered and sexually abused.
"Thousands of children were failed by you.
"Your organisations have rarely, if ever, acknowledged your failure, apologised for your failure or made any attempt to make good for that failure.
"That is why you are here, and those who have not had the good grace to turn up, such as the Home Office, should hang their heads in shame…
"My clients, including F17 and F22, when taken together, spent over 30 years in Forde Park Approved School. They were sent there as boys as young as 10. Some for the most minor offending, others simply because they were poor and their parents couldn't look after them.
"Another had been in care since he was six months old. – What was he doing in a child prison?
"Those 30 collective years at Forde Park were 30 years of state-approved lashings, 30 years of being battered, punched, kicked, humiliated and demeaned by Home Office employees and employees of Devon County Council.
"These were 30 yearsof the most appalling child sexual abuse, rape, buggery and the whole imaginable and unimaginable range of abuses that could be perpetrated against boys by men, including Brian Ely and Derek Hooper, who were convicted in 2000 and 2001 on multiple points of indecent assault.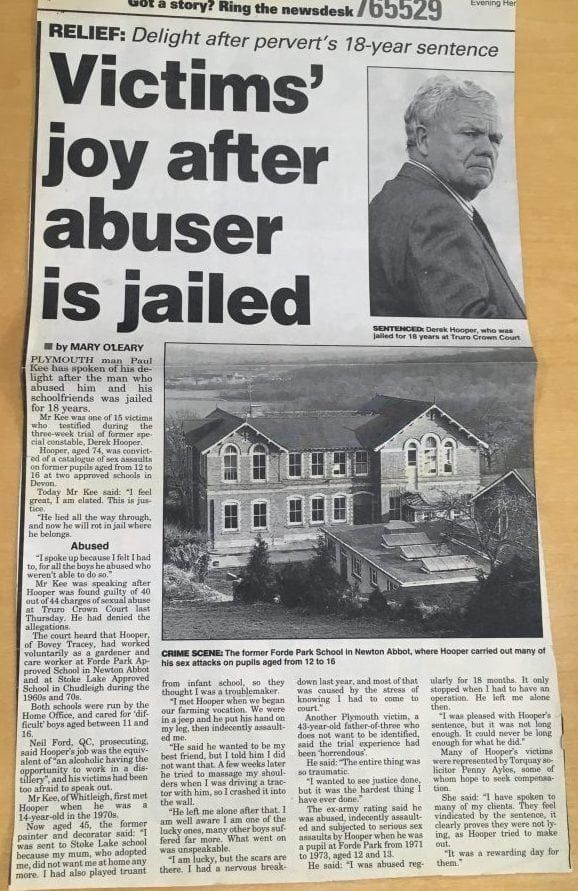 "Not only was it 30 years of violence and indescribable sexual abuse, it was 30 years of little boys lying awake at night waiting for the floorboard to creak or for being caught alone in that dark, dark place. It was also 30 years of a denial of education and forced labour.
"It has been 40 years since most of my clients were there. Not a day has gone by when the effects have not been felt and felt deeply. Collectively, that represents 520 years of anger, hurt and loss: over half a millennia of injustice.
"It is a testament to their astonishing resilience, fortitude and bravery that they sit now before you not just representing themselves, but representing the thousands of other boys who went through those dark gates.
"Like Stanhope Castle, St Aidan's and St Vincent's, Forde Park was an approved school which was operated by the Home Office until 1973 when it passed to the local authority. My clients were present at Forde Park variously from 1970 to 1978.
"As a result, they were at Forde Park when it was Home Office controlled and also when it was controlled by Devon County Council.
"Approved schools like Forde Park, St Aidan's, St Vincent's and Stanhope were brutal places for children. Let's be clear. This was not a secret."
"This was right out in the open. The Home Office-approved, savage, physical abuse was the subject of letters in The Guardian, for example, front page news reports. On 2 March 1967, a teacher at an approved school wrote:
"'School discipline is entirely negative, reinforced by the savage use of the cane that would horrify anyone not inured to it. It is not pleasant to hear a boy screaming. This is not an exaggeration. It happens at the school every week, sometimes day by day. After such treatment, boys' buttocks are covered with green and black bruises extending from one side to the other in a band perhaps eight inches in width. I have known such bruising to still be visible six weeks after the caning, although in most cases it may have gone within a month.'
"Now, this was not an aberration. It was a nationwide Home Office policy.
"The Home Office published reports about corporal punishment in approved schools … they analysed with charts and graphs how useful lashing was to stop boys from running away.
"Nobody asked why the boys were running away…
"Well, yes, there were ethical considerations about lashing young boys, and, yes, there were harmful psychological effects, and the Home Office knew it then… This was state-approved and sanctioned child abuse and it was universally known of.
"The Home Office, who have not even deemed fit to come here today, well, I invite the Ministry of Justice, who are here, to speak to the Home Office and invite them to read my clients' statements and to see the extraordinary levels of violence they were subjected to by, and with the approval of, the Home Office…
"Violence is the handmaiden of child sexual abuse: battered, terrified children are easy targets for abusers, particularly when it is the abusers who can implement the corporal punishment upon them."
"This was the case at Forde Park and all other case studies: sexual abuse was accompanied by physical abuse.
"The Home Office and Devon and Cornwall Police undertook a large-scale investigation into child abuse at Forde Park School in 1958, just a few short years before my clients were sent there… it was known by Devon and Cornwall and the Home Office that violence was used on children at Forde Park and that children were at risk, or certainly had been at risk, of sexual abuse just a few years before my clients were there.
"The epidemic child abuse at Forde Park was the triggering event for Operation Lentisk undertaken by Devon and Cornwall Police between 1999 and 2002, which led to allegations being made against 190 persons by 302 victims at 41 institutions across Devon and Cornwall.
"The operation led to eight convictions, with sentences ranging from six months to 18 years,including rape, buggery, indecent assault, grievous bodily harm and gross indecency.
"Now, we do not know what other reports or records that the Home Office have, Devon Council has or the Devon and Cornwall Police have, although we have pressed and pressed on this issue.
"Many of our clients took part in the group action against Devon County Council from the late 90s to the 2000s. They were deeply dissatisfied with their legal representation, with the civil justice process and the settlements they received… Devon County Council defended all of the claims using limitation.
"From Devon's statement to this inquiry, it seems the council simply passed the abuse allegations over to insurance solicitors and did not independently investigate them themselves…
"To this day, Devon Council have not acknowledged the abuse my clients suffered in care, they have not apologised for that abuse, and they have failed to provide the support my clients need and deserve now, such as counselling support…. it is astonishing that Devon County Council are not even going to turn up to give live evidence.
"They should be called or they should volunteer to come. They should offer a fulsome corporate apology, they should offer to meet my clients and other children abused in their care, they should commit to provide the children they failed with the support they need now as adults."
Enright invited Devon Council to do so, as well as detailing how the other authorities in other case studies this investigation will look at let abuse victims down.
The hearing continues in central London for the next three weeks.
More: