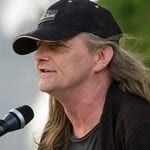 Nigel O'Mara is a veteran campaigner for child abuse survivors. He has waived his right to anonymity as a core participant in the Independent Inquiry into Child Sexual Abuse.
---
I have been helping survivors of child abuse since 1986 when I started working at Survivors UK the first, and only helpline and support service for male victims and survivors of sexual abuse.
Over the years I have been very concerned at various investigations, particularly those investigating MPs, which seem to have been halted without any real reason given.
The lack of proper procedures and the way that investigations have all but disappeared, has led me to believe that there has been misuse of the Official Secrets Act to the detriment of victims and survivors of child sexual abuse.
This is the only explanation I can find for the fact that there were no criminal charges ever laid at the doors of some influential people and why very often these complaints went unreported for many years. 
When a former police officer told BBC Newsnight that an investigation into horrific child abuse by the late MP Cyril Smith and other public figures was scrapped and he and his colleagues threatened with prosecution under the Official Secrets Act if they spoke out about it, Labour MPs demanded that the Act shouldn't be used to prosecute whistleblowers in such cases.
Responding to calls that police and intelligence officers who give evidence on an alleged Westminster paedophile ring must be protected from prosecution, the then Home Secretary Theresa May said in 2015 that she "hoped" that they wouldn't be.
Theresa May said she would "not expect them to be" prosecuted under the Act for giving evidence to independent or police inquiries into abuse, but that is not the same as guaranteeing immunity.
Evidence of complaints covered up came out in the Michael Cockerell documentary on parliamentary whips Westminster's Secret Service broadcast by the BBC in 1995. 
In the documentary it was revealed that the Chief Whip kept a little black 'dirt book' which contained information about MPs, and this was used as a method of political control.
In an interview from the documentary, you can see Tim Fortesque, Conservative Party Whip under PM Edward Heath from 1970-1973, astoundingly reveal that Whips "would store up brownie points" in order to control the voting of MPs that they had shielded from scandal.
"Anyone with any sense, who was in trouble, would come to the whips and tell them the truth, and say now, I'm in a jam, can you help? It might be debt, it might be… a scandal involving small boys, or any kind of scandal in which a member seemed likely to be mixed up in, they'd come and ask if we could help and if we could, we did," said the senior Whip who died in 2008, adding, "and we would do everything we can because we would store up brownie points… That sounds a pretty nasty reason, but it's one of the reasons because if we could get a chap out of trouble then, he will do as we ask forever more."
There was no empathy shown with the victims of these crimes just a desire to control MPs and influence their voting decisions.
What guarantee do we have that they are no longer doing this?
Would you accept the assurances of Theresa May or the Whip's office, or would you think it needs to be prevented by law in order for us to trust that our governments, from whatever political persuasion, will not allow the abuse of children to be used as a means of securing votes in the Houses of Parliament?
There are various ways that child abuse has remained hidden and one of the most effective ways this would be done would be to declare it a matter of national security and therefore not in the public interest to be revealed or pursued.
This would involve using if not the actual Act, then at least the threat of the Official Secrets Act.
To date, no changes have been made to the Official Secrets Act to prevent it being used as a political tool to protect members of parliament from charges of child abuse or rape.
Where is the outcry from the public?
Do people really believe that it is reasonable for this situation to continue to be allowed within our political system? Can it be right that party whips can control the voting of our MPs by hiding the most heinous of crimes carried out against the weakest and most vulnerable in our society?
 It is said that a measure of civilization is how its most vulnerable are treated. If we don't make a change to this legislation we are just fuelling a new generation of elitist abuse that will happen because there is nothing in place to stop it happening.
We must learn the lessons which are being played out in every hearing in the Independent Inquiry into Child Sexual Abuse. One of those lessons must be that if we don't close the loopholes which are used by the powerful to abuse our children then we are consigning another generation of children to relive the horrors that have been given as testimony time and time again.
If we fail to make these changes, we are saying that there are circumstances where it is acceptable to allow children to be sexually abused for political motives.
I don't believe this is acceptable and that is why it's time to change the law.
I have set up a petition to call for an amendment to the Official Secrets Act. This would prevent its use in cases where child abuse is involved and would mean that child abuse could no longer be used as some kind of grubby political football, to keep MPs and ministers in line.
Please consider this and sign this petition if you agree: