While being herded like cattle through Gatwick airport recently, one member of a particularly raucous stag weekend roared: "England – the only country with queues longer than the entire flight home."
Like the birth right to complain about literally everything, and to make terrible decisions at the Polling Station; queuing is so ingrained into our culture and every day lives, it's almost as British as the Monarchy, the 'stiff upper lip', or wholly unnecessary apologies.
To use the most well-mannered term, London's unwavering no-reservations culture is infuriating, but has become rapturously popular throughout some of the city's best acclaimed restaurants. Opened earlier this year, Padella is the latest project from Tim Siadatan and Jordan Frieda, the team behind Trullo – an Italian neighbourhood restaurant in Islington. A casual offshoot quite disconnected from Trullo, Padella is a tiny, no-reservations space that's quickly become massively renowned for it's wallet-friendly pasta dishes. Even at five o'clock on Monday afternoon, queues snake around the block like at a Guns 'N' Roses concert. To secure a table at a reasonable dinner hour is almost as onerous as actually finding a meal worth queuing for. So why on Earth did I decide to even chance eating at Padella on a clement Friday evening at the end of summer?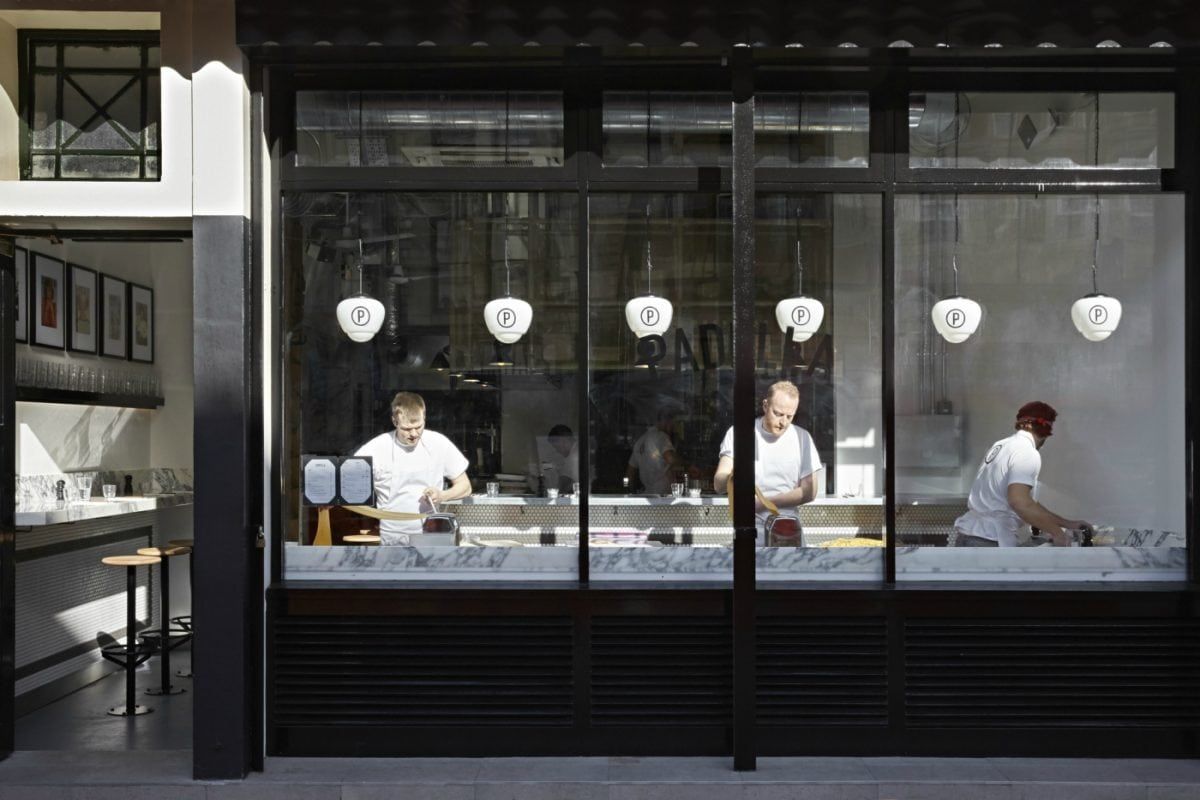 Surfacing from the Borough High Street exit of London Bridge underground at six o'clock, Padella's queue is instantly recognisable: an immediate advertisement that doesn't call for anybody to humiliate themselves dressed in a spandex Spiderman costume. Forty-five minutes later we're added to a waiting list and informed the earliest table will be ready at half-past nine. After much incessant grumbling I cannot bear to admit defeat, so we await the table with a bottle of wine at Bedales just inside Borough Market.
Three months after the 'London Bridge attack', the majority of Borough Market is disconcertingly vacant for a warm Friday evening – a devastating reality for local (mostly independent) traders. Padella, fortunately, is absolutely heaving, with an enchanting, blithe atmosphere. Inside, the split level space with room for just 60 isn't without charm: subtly chic with white-washed walls, Art Deco light fittings and unassuming dark wood furniture. It's soon clear, though, that Padella is all about the food.
As for the daily changing menu, the selection is relatively concise, filled with humble dishes (mostly pasta) that refrain from employing any wanton wankifery to hide behind. Simply, the result is absolutely sublime. Appropriately, the service is unfussy, casual and swift. We order almost everything on the menu without judgement, eat, drink and leave in just over an hour after taking our seats in the hampered basement. Following two classic Italian café cocktails (a Negroni Sbagliato and Americano) a mound of milky burrata (£5.50) is modestly served with a drizzle of olive oil. The dish is the complete embodiment of Italy's best dishes, allowing the ingredients to glisten with unfussy preparation. Roasted cannellini beans and piquant Salsa Rossa-topped Bruschetta (£5.50), on the other hand, is essentially a glorious interpretation of beans on toast.
A plate of gnocchi (£4) is chaotically presented, but these velvety dumplings of potato taste sensational with butter sauce flecked with crispy sage leaves, nutmeg and a heap of parmesan that crowns the dish. Pappardelle with shin of Dexter beef ragu (£9) has, unsurprisingly, become remarkably popular since Padella opened. Thick ribbons of egg-rich pasta are topped with a generous ration of ragu, showcasing beef that's slow-cooked for eight hours to achieve an unctuous texture and ineffably rich flavour, slowly melting on the tongue. Better still, more pappardelle is accompanied by a ragu of sausage and fennel (£9.50). Here, al dente pasta contrasts the yielding consistency of well-spiced sausages with prominent fennel seeds that slice through the pork's fattiness. Again, the dish is completed with an opulent torrent of parmesan cheese.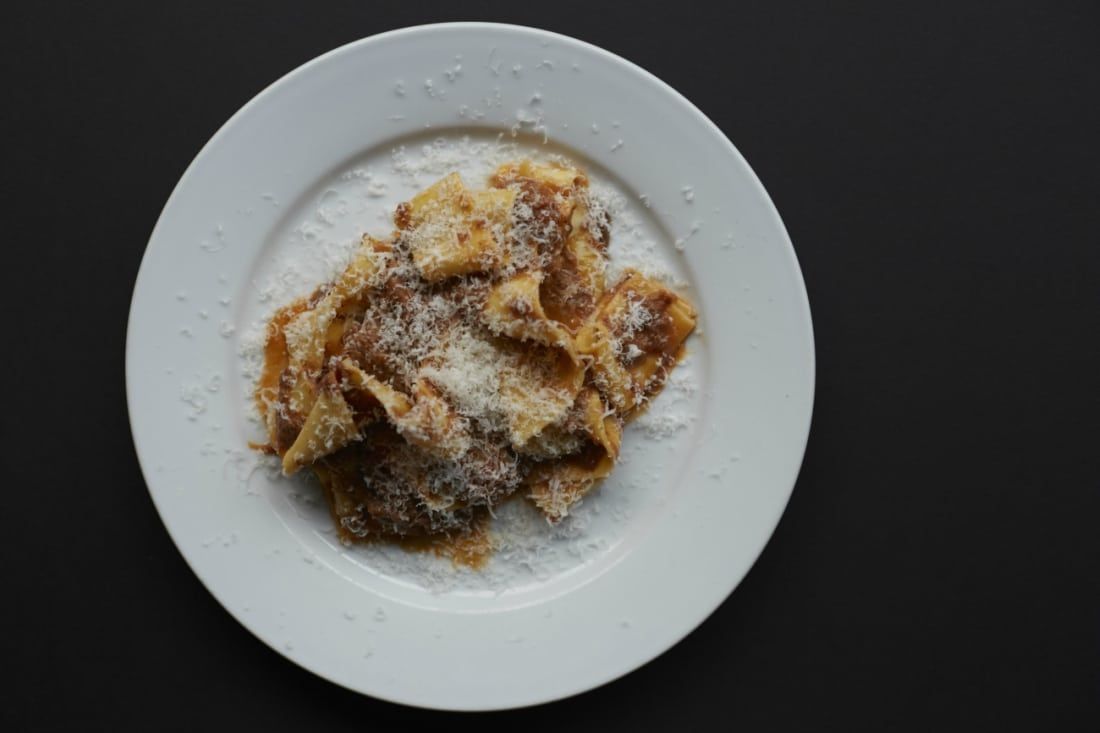 Comparatively, 'nduja and mascarpone tagliatelle (£7.50) is the only duff dish ordered. Devilish both in colour and in taste, the cooking of everything on the plate is fine, while the high quality of produce is also inimitable. An overzealous helping of fiery 'nduja, however, knocks the entire dish's balance. The lactic creaminess of mascarpone does all it can to impede some of the bombastic spicy sausage, but sadly fails. Two desserts are on offer, though with the dining room quickly emptying as the kitchen closes, we settle for a quick round of espressos before warbling back onto Borough High Street, joyfully sated by an unhealthy profusion of cheese and carbohydrates.
To order almost everything from the menu here isn't only recommended; it is an absolute necessity. Moreover, the remarkable, humble pasta dishes served proves that Padella is of London's extraordinarily few restaurants actually worth queuing for.
Padella can be found at 6 Southwark Street, London, SE1 1TQ. 
RELATED
https://www.thelondoneconomic.com/food-drink/restaurant-review-bababoom/22/08/
https://www.thelondoneconomic.com/food-drink/restaurant-review-roast-restaurant/22/01/
https://www.thelondoneconomic.com/food-drink/restaurant-review-palatino/19/04/