Beneath The Dorchester – one of London's most unanimously luxurious hotels – China Tang is not a modern Chinese restaurant; nor does it attempt to be. Opened by the late Sir David Tang in 2005, the grand basement restaurant's a la carte menu is embedded in Cantonese standards: deeply comforting and shrouded with warm familiarity, yet ultimately expensive.
Accessible via a separate entrance on Park Lane, or through the hotel's opulent lobby (try to avoid losing your shoes in the deep, lavish carpets), China Tang occupies a vast, windowless space with art-deco interior specifically designed to evoke the romanticism of the 1930s. Mirrored pillars, plush banquettes and the intricately woven carpet join large tables – some table-clothed, others refreshingly uncloaked – surrounded by an eye-catching underwater fresco. Each table is set with silver chopsticks in a silver rest, evocative of the aristocratic custom of the 14th Century, in which poison was believed to blacken silver. During early dinner service on a recent Thursday evening, the dining space quickly began to fill with locals, hotel patrons and Chinese families, contributing to a riotous atmosphere unfamiliar with starchy fine dining. In accordance, the service is upbeat but professional, eminently unfussy.
As for the food, Cantonese dishes are celebrated, executed using premium ingredients: the regional cooking which set the foundations for London's constantly expanding hub of remarkable Chinese restaurants. In addition to the vast a la carte menu, an all-day dim sum menu is also available – a rarity which bucks the customary trend of serving full dim sum menus exclusively during lunch service. Consequently, our dinner begins with a round of Shanghainese siu long bao (£7): delicately crafted but filled with not-quite-enough of that joyous soup rife with ginger. Classic taro cake (£7) comprises chicken, prawn and scallop, deftly fried with trademark crispy yam puff; while barbecue pork pastries (£7) are sweet and loaded with umami – notably without the aid of added MSG.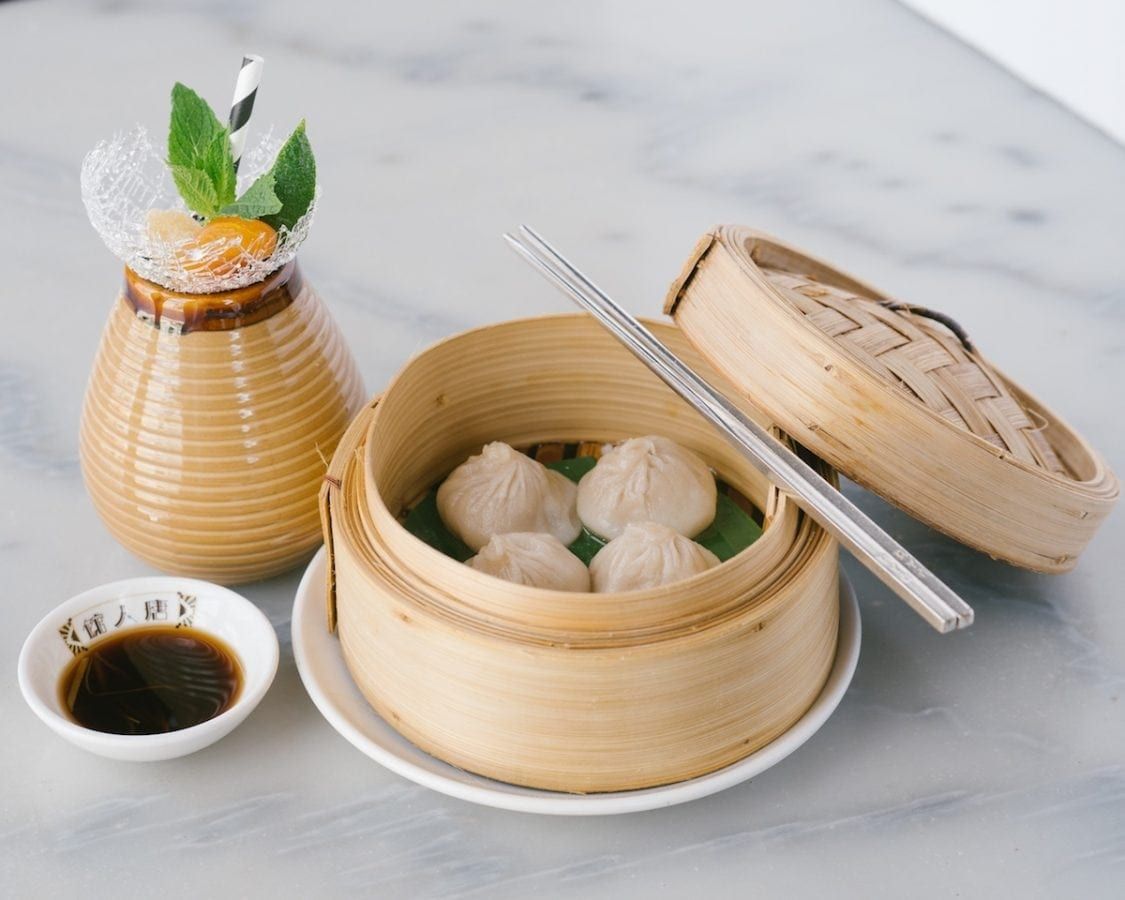 One of the menu's more adventurous gems: chunks of cold chicken are lashed with alcohol, veiled with flaccid skin which does little to compensate for the challenging texture of terse, accompanying jellyfish (£22). Better are nuggets of crispy golden tofu (£13) – soft, deep-fried and simply served with lurid sweet and sour sauce; or slices of the char siu pork shoulder (£22), red as sunrise and awash with sweet honey.
The 1970s are recalled once again with sweet and sour prawns (£27), deep-fried and again convoyed by that garish sauce, adeptly cooked and further embellished with some finely chopped chilli, agreeable with the ascetic steamed rice. A side of morning glory (£13), with plenty of fried garlic, arrives towards the end of the meal and thus gets pushed around the plate until cleared. Various desserts are available – including a preposterous platter of everything, alongside banana and apple fritters (£9) coated in caramel and sesame seeds for one final blast of yesteryear nostalgia.
The Cantonese fare at China Tang is fine, but the ubiquitous sense of occasion is the biggest factor in contributing to they enjoyable dinner experience. Much of the menu will be familiar to even the most unadventurous of British Sinophiles, but the often astronomical prices will not.
China Tang can be found at The Dorchester, 53 Park Lane, London, W1K 1QA.
RELATED
https://www.thelondoneconomic.com/food-drink/review-alain-ducasse-dorchester/22/03/
https://www.thelondoneconomic.com/food-drink/lunch-with-jay-rayner-britains-most-notorious-restaurant-critic/23/06/
https://www.thelondoneconomic.com/food-drink/restaurant-review-a-wong/04/07/