"Fine dining is just a load of bollocks; don't you think? When I eat out, I want to be filled-up with something hearty," yapped an unfamiliar barber – oxymoronically complaining about Angela Hartnett's recent suggestion that Brits aren't a nation of foodies.
Like a cat agitated by next door's belligerent Pit bull, I instinctively arched my back and gritted my teeth, primed to curmudgeonly defend haute cuisine. But suddenly conscious of the razor being dragged across my gullet, I recoiled in typical British fashion, smiled politely and rerouted the conversation. After all, if you're able to overlook such barefaced ignorance, had a point. Fine dining is fine, but so many high-end restaurants are grossly overrated, overly expensive, technically brilliant but less exciting Saturday evenings spent watching paint dry. I'm grateful to live in (arguably) the restaurant capital of the world, and to have eaten at some of the best restaurants in the country – all within three or four miles from my home. But it's easy to become irked by supercilious, stuffier-than-thou menus that haven't changed since 1997.
For every terrible 'good' restaurant, though, there are at least three that serve exceptional food, with an alluring dining experience to match, often within spitting distance – but discovering the latter breed isn't always uncomplicated. Established in 1991, The Square in Mayfair was acquired by Marlon Abela in 2016, joining the restaurateur's portfolio of London restaurants such as Umu and The Greenhouse. After closing for refurbishment last summer, The Square reopened at the tail end of 2017 with a facelift and new Head Chef Clement Leroy. Previous to his appointment at The Square, Leroy has worked in the kitchen of Guy Savoy in Paris for over a decade, as well as gaining experience at Auberge de Jeu de Paume in Chantilly.
Unlike so many underwhelming fine dining establishments, The Square is now a brilliant restaurant disguised as a bad one. Through dinner service at The Square, the grey morgue of a dining room has funereal atmosphere, quiet as the grave. In stark contrast to the round tables cloaked in white table cloths, the dreary walls are evocative of prison cells: splashed with a punishing shade of Guantanamo grey, unaided by low lighting and a complete lack of background music. It is a room that even the mother of an axe-wielding psychopath would struggle to love. The food, no less, is interminably better, as is the service typical of two Michelin-starred restaurants.
At £95 for four courses, the a la carte menu sections each include five choices. A wheel of fleecy French bread streaked with Comte and showered with sesame seeds is followed by a fried violet artichoke. The deep-fried artichoke's petals are surprisingly greaseless, acting as passable crudités for the escorting confit quail's egg and a scoop of Parmesan ice cream that tastes far better than its name suggests. A kaleidoscopic carnival of smoked Lincolnshire eel, Agria potato and striking green watercress sponge comes with blackberry-sized clusters of caviar and an additional £25 supplement. In terms of execution and balance of flavour, the dish is near perfect, but the caviar doesn't supply nearly enough clout to warrant the crotch-kicking mark up.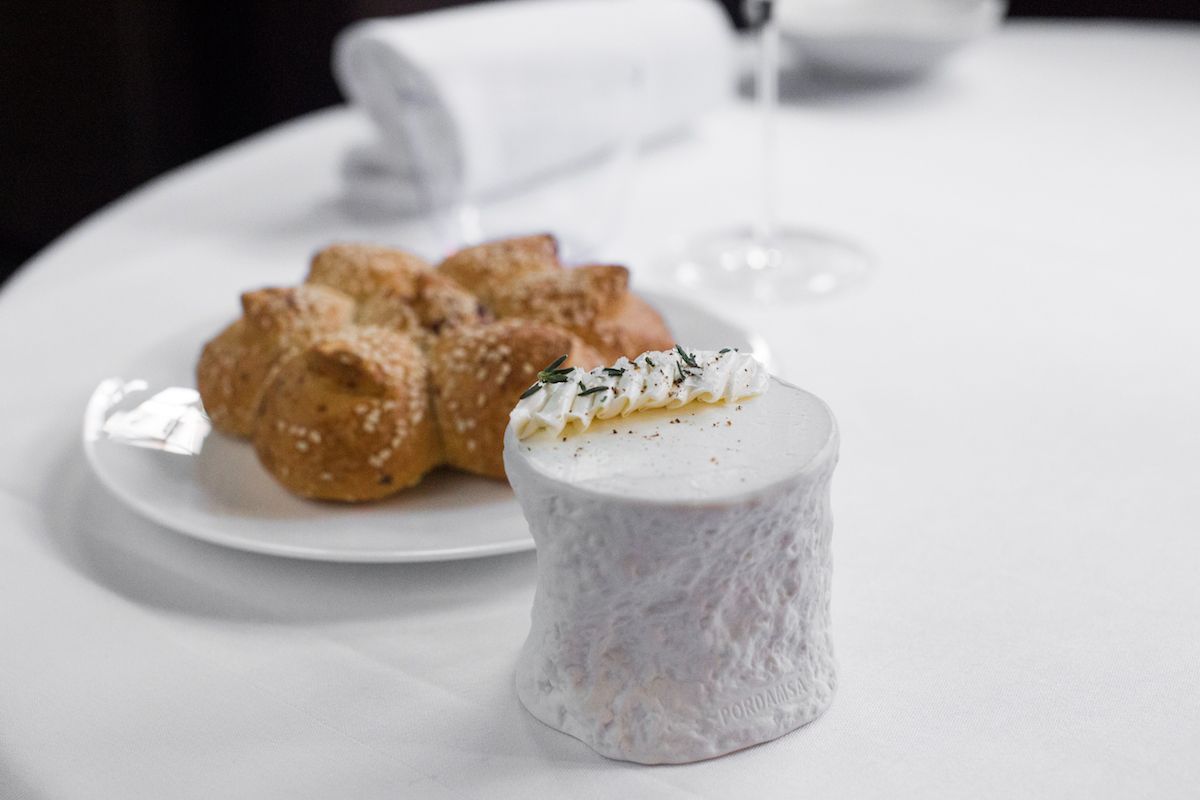 When cooked properly, veal sweetbreads need very little embellishment. In addition to some spinach puree and pomelo acidity, a golden sweetbread lounges on a mattress of raw squid sliced into ribbons, delivering archetypal flavour but sensational texture – like bucatini pasta. A daub of foie gras is technically fine, but comparatively insignificant bar the accompanying flavours of ginger, mango and apple.
Soon after reopening, Clement Leroy's lamb dish began to attract significant social media attention – in which two razor clams are sewn into the lamb's flesh before cooking. The original incarnation, with a wispy blonde puree crowning the pink flesh and clam eyes visually resembled Donald Trump, but has since been modified. Still stuffed with razor clam, the lamb is now joined by two exemplary fondant potatoes – seldom seen in restaurants this side of 1978, alas. Cooked in a seaweed crust, the lamb is marginally overcooked but still pink. The technicalities are skilful, but the permeating slivers of clam bring little flavour. The exact point of sewing them into the meat in the first place is unclear. A dish of medium-rare roe deer, Jerusalem artichoke, mushroom and bergamot, on the other hand, is a symphony of well-paired, seasonal appropriate ingredients each playing the same tune.
Marlon Abela has re-opened #Mayfair thoroughbred @thesquaremayfair with chef @clementleroy at the helm serving up the likes of this Kentish lamb saddle with seaweed butter and Savoy cabbage #newrestaurant #londonrestaurants
To finish, 'sweet white potato confit' contains at least two words that don't belong on a dessert menu. But it's 2018 and not only do vegetables 'bleed', they're beginning to dominate trendy restaurant desserts. Forget rhubarb crumble and carrot cake, chef Amanda Cohen's dessert menu at Dirt Candy in New York features celery cheesecake roll, onion chocolate tart and cucumber semifreddo pie. The Square's sweet white potato dessert is saved from becoming overzealously unpleasant by the acidic restraint of grapefruit, topped with a lattice of sugar manipulated into chicken wire. 'Harlequin' soufflé is less avant-garde, but perfectly risen and decorated with vertical red stripes. It tastes of vanilla and dark chocolate, without a single whiff of scrambled egg.
While the room is less comfortable than biking across the Australian Outback without a saddle, the staff visibly attempt to grasp two Michelin-star service with reduced pomposity, and they do a good job of it. Moreover, Chef Clement Leroy's cooking at The Square (for the most part) corners me into rediscovering my oft wavering affection for fine dining.
The Square can be found at 6-10 Bruton Street, London, W1J 6PU. 
RELATED
https://www.thelondoneconomic.com/food-drink/restaurant-review-indian-accent-london/16/01/
https://www.thelondoneconomic.com/food-drink/restaurant-review-ella-canta/14/11/
https://www.thelondoneconomic.com/food-drink/restaurants/review-holborn-dining-room/29/08/