Following the over-indulgent period that bids farewell to the previous year, Pho – the Vietnamese street food-inspired restaurant group, with 27 restaurants now operating across the UK – has launched a new health-conscious menu of vegan and low calorie dishes. Available in all of the brand's restaurants until the end of February, the new menu intends to offer diners a flexible approach to enjoying the restaurant's staple dishes, inspired by a growing demand for dishes catering for a diverse range of dietary choices. As a result, almost a quarter of the new menu's dishes are vegan and almost entirely gluten free, as accredited by Coeliac UK.
On the launch of the new menu, Pho Founder Juliette Wall said: "Vietnamese food is a naturally healthy option, but at a time of year when more diners are looking to achieve new wellness goals we wanted to create a limited edition menu that supports these resolutions – that means providing more flexibility and balance, while keeping the flavours, aromas and warming comfort that we associate with traditional Vietnamese dishes. We have created a special menu that offers variety, vibrancy and most importantly flavour, rather than focusing on restriction and dieting (although our nutritional guidelines stack up too!)"
Sceptical of carbohydrate substitutes, I was won-over by the new 'courgetti' pho, using spiralised courgette in place of traditional noodles, during a recent lunch visit. Though the courgetti deliver considerably less flavour than the dish's typical noodles, the courgette retains fair texture – much to my surprise. The chicken broth in the phở gà with chicken breast (£9.95), on the other hand, has supreme depth of flavour, over-compensating for what the courgetti somewhat lacks. In addition to the broth, cooked for 12 hours, the phở gà also comprises soft, shredded chicken, delivered by friendly staff with a tray of supplementary add-ons: sprigs of mint, coriander, Thai basil and perilla; plus fresh red chilli, lime and bean sprouts, allowing the dish to be customised to cater to personal tastes. All of this clocking up to just 257 calories.
The spicy green pho with tofu (£10.95) was another highlight, featuring long-braised vegetable broth in which coins of tofu act as a sponge for the broth with its welcome blow of chilli, without entirely submitting to the liquid. Elsewhere, the broth again harbours courgetti, as well as morning glory, green beans, pak choi, Thai basil and a squeeze of lime. A pho chin of beef brisket (£10.25) with butternut squash 'noodles' (or 'boodles', if you'd rather) is also available. What's more, various cauliflower rice bowls are also available, each topped with wok-fried Chinese leaf, radish, cucumber, pickles, peanuts, herbs and fresh chillies, with a choice of chargrilled pork (£10.75), crispy beef in betel leaf (£10.50), chargrilled chicken thigh (£10.25) or a vegan option of tofu and vegetables (£9.75).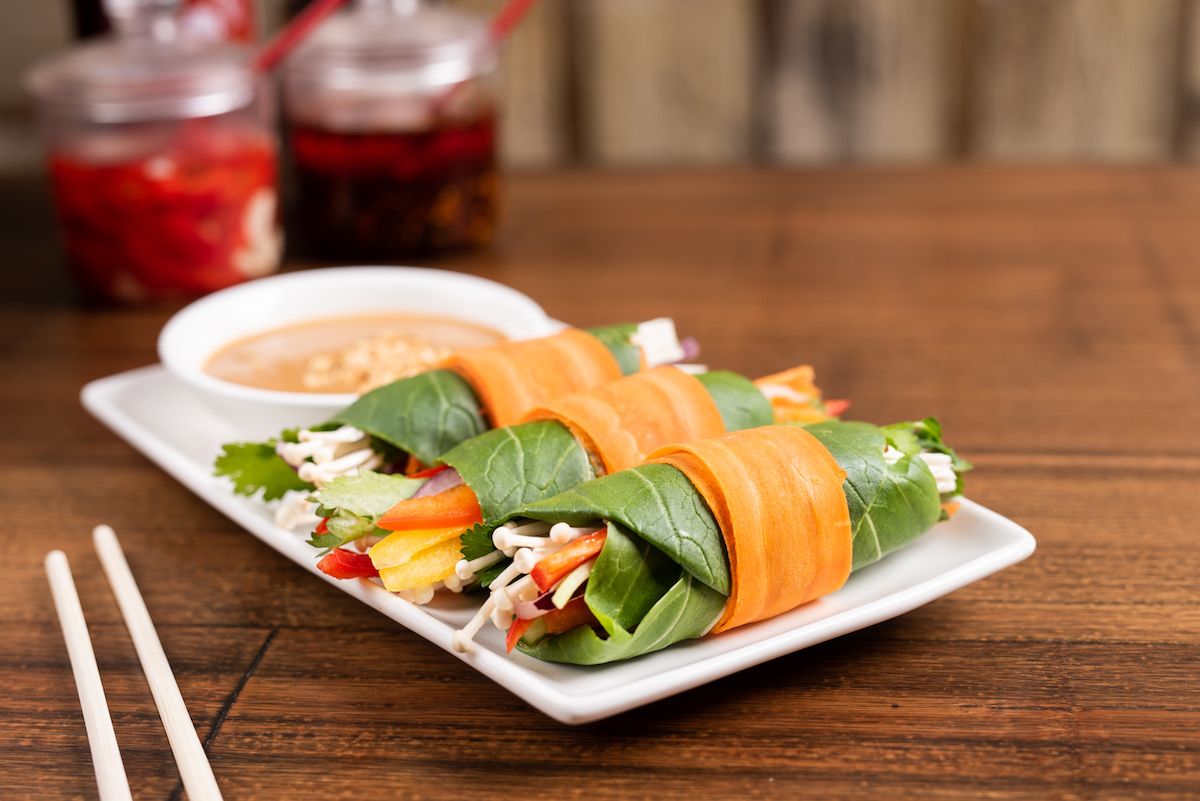 To begin, the new menu also features two new summer roll options. Lighter than Pho's renowned spring rolls – deliciously moreish and dredged with a craggy batter not unlike that which cloaks a deep-fried Mars bar – the spicy salad rolls (£4.95) are comprised exclusively of vegetables, thus both vegan and gluten-free. Served with a favourably coarse peanut sauce and wrapped in a carrot ribbon, the spicy salad rolls are lifted by perilla leaves, packed with leggy enoki mushrooms, red and yellow pepper, coriander and red onion which lingers in a sense far more amiable than those perfunctory late-night kebab cappers.
Desserts are available from the restaurant's main menu, served alongside the new promotional offering, but aren't necessary following the vast portions of warming pho. A selection of non-alcoholic cocktails is also available, plus a range of detox teas, ideal for continuing the general theme of health consciousness. Overall proof that resolute healthy eating needn't be despondently unfulfilling.
Pho Soho can be found at 163-165 Wardour Street, London, W1F 8WN.
RELATED
https://www.thelondoneconomic.com/food-drink/veganuary-parliament/09/01/
https://www.thelondoneconomic.com/food-drink/londons-best-vegan-restaurants/10/08/
https://www.thelondoneconomic.com/food-drink/crussh-to-launch-100-vegan-store-for-january-2019%EF%BB%BF/03/01/