Once upon a time, eating out as a vegan was an arduous task. With so few restaurants willing to take vegetarianism seriously, let alone veganism, many would be offloaded with all sorts of unexciting salads or dry, lacklustre nut roasts.
In 2017, however, veganism in the UK is more recognised than ever. Official statistics from The Vegan Society, in collaboration with Vegan Life magazine, suggest veganism has seen a 360 per cent increase over the past decade. The UK now has at least 542,000 vegans over the age of 15, compared to 150,000 just ten years ago. Similar research suggests the highest percentage of motivations for a vegan lifestyle in America are attributed to health and humanitarian reasons, compared to just seven per cent "wanting to follow a trend".
As a result, it's hardly surprising that so many entirely vegan restaurants are now operating across the city. These are some of the best ethical, healthy, vegan restaurants in London right now.
Cook Daily – Shoreditch
Just when you thought a shipping container complex in Shoreditch couldn't be any hipper… Cook Daily was set up by owner and Head Chef King Cook in 2015, serving an assortment of 'bowls'. Each dish is served in a container fashioned from recycled cardboard, generously filled with Southeast Asian-inspired concoctions. Most include brightly coloured vegetables, customisable with tofu of 'fake chicken'. Joining a collection of retailers and pop-ups at BOXPARK, the chef has previous experience working in a number of one and two Michelin-starred restaurants. All food served here is freshly prepared in the space's tiny on-site kitchen, with popular dishes included the 'High Grade' – stir-fried vegetables with hemp oil and sweet 'n' sour BBQ sauce, served over brown rice. The 'Full English', on the other hand, comprises tofu "egg" scramble, mushrooms, tomatoes, vegan sausages and house brown sauce. Another branch of Cook Daily has opened at BOXPARK Croydon.
Further information can be found at cookdaily.co.uk.
FED BY WATER – Dalston
In Dalston Cross shopping centre, on Kingsland High Street, FED BY WATER has a prominent focus on the nutritional importance of pure water. An Italian vegan concept restaurant, all of the food here is prepared and cooked in pure water. Additionally, FED BY WATER focuses on nutritional factors, health implications and environmental impact of food – driven by a holistic ethos towards food. On the menu, expect pasta dishes such as fusilli with green pesto (served at room temperature); or tagliatelle with aubergine, taggiasche, olives, capers, seaweed cream and samphire. Elsewhere, a number of pizza toppings are available with a choice of bases – 'normal', 'hempseed' or charcoal. FED BY WATER's vegan cheese and homemade charcoal or hempseed bread is also available to take home.
Further information can be found at fedbywater.co.uk.
Sanctuary – Fulham
In the heart of Fulham, vegan restaurant Sanctuary intends to be a global sanctuary (hence the name), free from cruelty. As well as employing a 100 per cent vegan team, the restaurant also donates a portion of profits to Mino Valley Farm Sanctuary – a haven for rescued farm animals in Northern Spain. A casual space, decorated with quirky animal photographs, Sanctuary claim to serve some of "the best burgers in London". On the menu, 'Detox-Burgers' include the likes of 'Chicken Nada' – a chicken-style burger with garlic mayonnaise, lettuce, 'cheeze', tomato and pickled cucumber; or 'Saving Nemo', a fish-style burger with tartare sauce, lettuce, nori and optional 'cheeze'. In addition to their vegan burgers, a range of vegan versions of Spanish tapas dishes; 'Detox-Hot Doggies'; 'Detox-Monster Salads'; and vegan fish and chips are also regularly available.
Further information can be found at v-sanctuary.com.
Manna – Primrose Hill
One of Europe's oldest gourmet vegetarian establishments, Manna celebrates its 50th anniversary this year. Having become 100 per cent vegan a decade ago, the restaurant's ethical menu has developed under the guidance of an array of international chefs, upholding a fine dining ethos, in the international tradition, but without meat or animal products. Elsewhere, Manna also promises to use only the highest quality, ecologically and socially responsible ingredients. All meals are freshly prepared each day, with a seasonally changing menu that may include the likes of maki rolls; leek and almond tart; or warm rainbow panzanella. Moreover, all of the wines and beers served at Manna are entirely organic and vegan.
Further information can be found at mannav.com.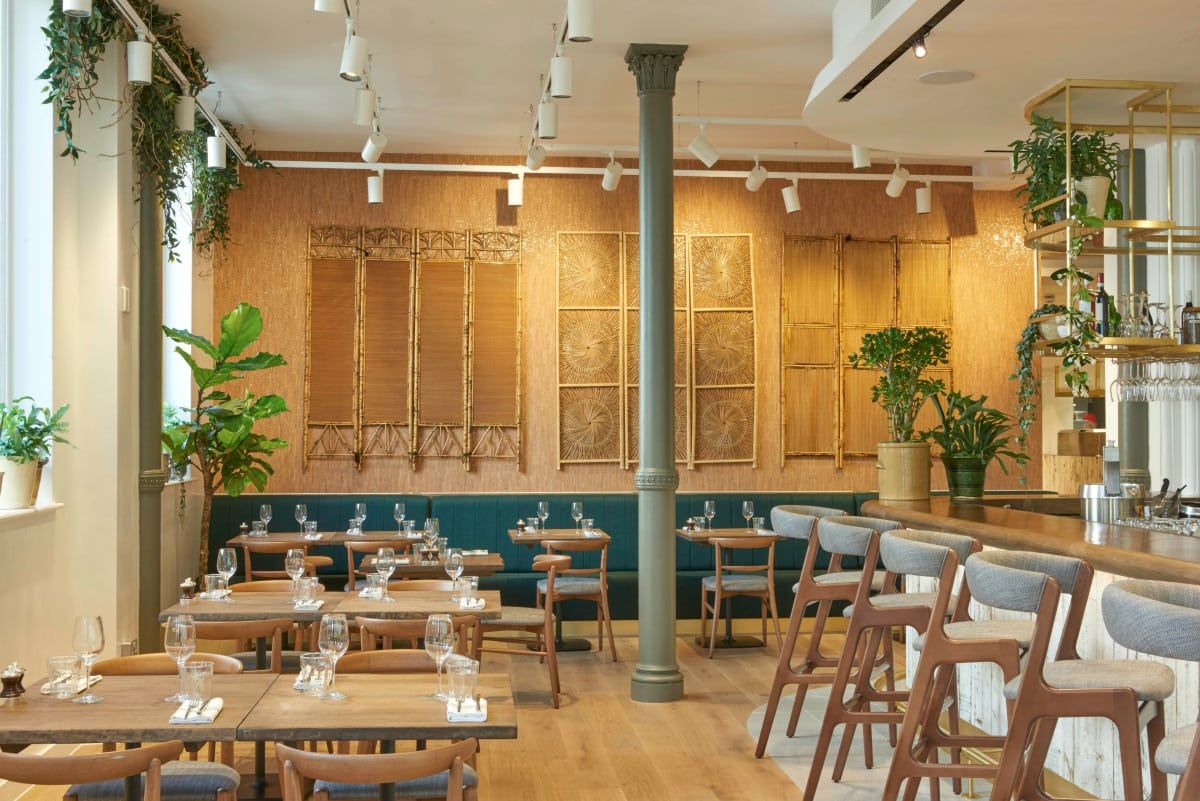 Farmacy – Notting Hill
At the top of the homepage on Farmacy's website, a Hippocrates quote reads: "Let food be thy medicine and medicine be thy food." At this Notting Hill restaurant, the mission is simple – to offer an array of delicious plant-based dishes from around the globe. Though the menu isn't quite exclusively vegan, most dishes are vegan-friendly, and all are vegetarian. Farmacy's breakfast, lunch and dinner menu is free from dairy, refined sugars, additives and chemicals. In a chic environment with a large bar and cosy booth seating, the restaurant hopes to offer something for everyone. The menu's key focus is healthy comfort foods, with all ingredients carefully sourced from local organic farms where possible. The signature Farmacy burger, for instance, features a millet, black bean and mushroom burger, served with garlic aioli and  goji ketchup. It is also available in either a wholemeal vegan bun, or a gluten-free bun.
Further information can be found at farmacylondon.com.
NAMA Artisan Raw Foods – Notting Hill
In addition to being completely vegan, all NAMA's food is 100 per cent wheat and gluten free. Just off Portobello Road, the space's sole aim is to promote wellbeing through nutrition – serving only 'raw food' that hasn't been cooked or processed in any way above 42°C. Here, instead of frying, boiling or grilling, much of the food is blended, marinated or dehydrated, with a prominent focus on fresh produce sourced daily from nearby farmer's markets in Notting Hill and Queen's Park. On the dinner menu, various pizzas and salads are joined by inventive dishes such as 'Fish & Chips' (seaweed and umeboshi marinated aubergine with a seed crust and sweet potato fries) or kohlrabi ravioli with cultured macademia, mushroom and spinach vegan cheese and yellow pepper coulis. In addition to the ethical raw food, all of NAMA's packaging is biodegradable and the cleaning products used are eco-friendly.
Further information can be found at namafoods.com.
British Dietetic Association confirms vegan diets can support healthy living for all ages