Chris Hobbs is a former officer of the Metropolitan Police who served for 32 years including targeting gang crime on Operation Trident
It is a sad fact of life that when responding to stabbings or shootings in London, police officers are very often on the scene before paramedics.
 A recent example was the horrific gang stabbing of four teenagers in Camberwell which left one of the victims disemboweled.
While the hands of police officers are frequently bloodied when tryng to save lives, metaphorical allegations of 'blood on your hands' are very much levelled at Prime Minister Theresa May for her strident criticism of stop and search when she was Home Secretary.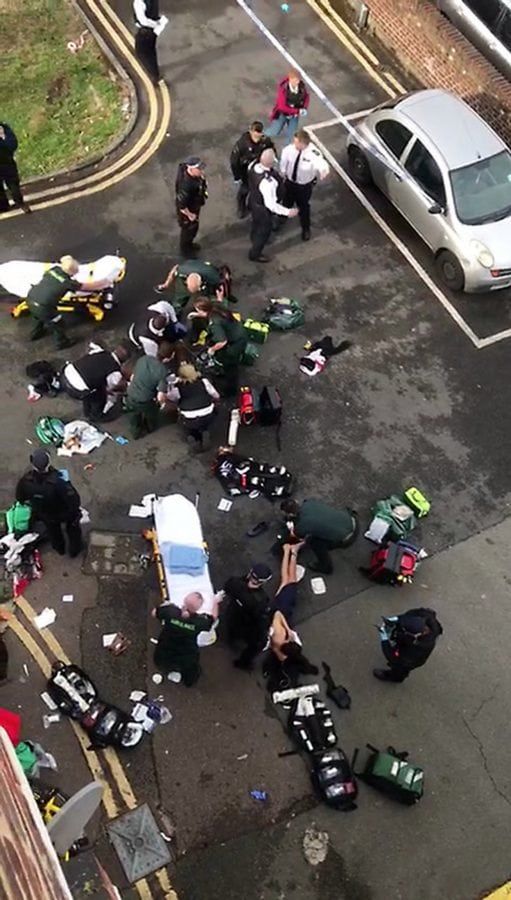 In fact, the last Tory election manifesto contained a threat from Theresa May to legislate if numbers were not reduced.
The simple fact is that every murdered street gun and knife crime victim would still be alive today if their assailant had been stop and searched before encountering their victim. 
The Met have taken hundreds of knives from the streets by virtue of stop and search and sweeps in the period when the shackles imposed by Theresa May were removed. 
How many lives were saved by these operations is unquantifiable but even if an exact figure could be quoted, it is unlikely that this would appease police critics.
Despite the surge in violent crime which frequently involves knives, firearms and even acid, criticism of stop and search still abounds and this criticism was even more strident before London's Notting Hill Carnival last weekend. 
The media, for some strange reason, made great play regarding the fact that a section 60 order in respect of stop and search, was to be implemented at Carnival despite the fact that section 60 has been implemented in previous years. Given events on the streets of London however, it was hardly surprising.
Despite the publicity surrounding stop and search and knife arches, 36 knives were seized by officers; each seizure is of course a potential life saver but the activists would never admit that. Doubtless the final figures in respect of arrests, seizures and crimes committed were affected by the abysmal weather on the Sunday.
Critics also conveniently forget that there is a major terror threat to the capital; an explosion or an 'active shooter' during Carnival would not only result in the deaths of those close to the incident but the resultant panic could well cause a disaster in those crowded streets that would dwarf Hillsborough.
However, despite keeping revelers safe, police officers were still subjected to unacceptable levels of violence from thugs with some being bitten and spat at.

30 officers were injured. 
In one case a police motorcyclist was rammed by another bike, the rider of which was arrested after a chase across London
Away from Carnival, London still had to be policed. In Harrow, police rushed to the scene of a large fight and found two stabbed teenagers. The incident may well have been a continuation of an ongoing feud between two outer north-west London gangs that has previously resulted in death and serious injury. Those gangs would ordinarily have been at Carnival.
In Camden there was a stabbing while a female returning from Carnival was injured at Caledonian Road station after being attacked with a bottle. Another stabbing occurred in Markhouse Road, Walthamstow.
Carnival or not, life in London goes on and sadly it also involved a filmed assault on two police officers called to McDonalds in Mare Street Hackney. 
meanwhile.. in hackney #NottingHillCarnival pic.twitter.com/5pkKcrOnPt

— Johnny (@ItssJohnnyy) August 27, 2018
Police were called via a staff panic button to a male attacking customers. 
The two officers were struggling with the suspect on the floor when a male emerged from a jeering crowd before twice running at one of the officers, kicking him viciously in the back on each occasion.
There was outrage from some but predictably the same paper which ran a piece accusing police of ruining the Notting Hill Carnival with their prresence decided to throw the spotlight on the actions of police rather than the male fighting customers or the cowardly attack on police officers.
BBC London news covered the incident and included for 'balance' a brief clip from Met Federation representative Ken Marsh, but it could well be argued that the remainder of the piece came close to implying that the attack on the officers was justified because of habitual police racism.
Policing of course continued outside London over the bank holiday weekend. In Hampshire an attack on an officer resulted in broken ribs, other officers were kicked and punched and one sexually assaulted. In North Wales seven officers were attacked with one having his nose broken. Another was spat at.
These were just two forces as across the England and Wales thinly spread officers, often single crewed with back-up miles away, did their best to cope with an ever-increasing volume of emergency calls.
It is however little wonder that officers are more vulnerable to attack than ever and reductions in police numbers are only part of the equation.
Shortly after the murder of two New York police officers in December 2015, New York Governor George E Pataki tweeted:
"Sickened by these barbaric acts, which sadly are a predictable outcome of divisive anti-cop rhetoric."
I replied saying that a similar situation exists in the UK.
Bile heaped on police by Theresa May during her time as Home Secretary and indeed constant belittling by politicians, including David Cameron, from both the left and right over the last few years – plebgate, porngate– has surely served only to encourage elements hostile to police.
Added to this are constant efforts by most of the press to find stories which denigrate police, be it sitting together for a cup of coffee or snatching a traditional few minutes on the bumper cars at the end of a long festival day. 
Front line officers will never forgive or forget The Sun's "Dim Blue Line" headline.
Then there are activists such as the Black Lives MatterUK who will continuously criticise 'racist'police but never praise them. This was their tweet after about a recent arrest before the bank Holiday weekend:

Little wonder then that this constant denigration coupled with the truly pathetic sentencing of those who attack officers can only embolden lawless elements to attack those on the fractured blue line.
Perhaps activists would like to nominate a police force anywhere in the world which we in the UK should emulate.
Finally, in relation to Carnival, perhaps an activist or indeed anyone who regards the police presence over the weekend as oppressive and unnecessary could answer this question. I've asked it on previous occasions but thus far there has been no response:
Do you agree that the following should apply at the 2019 Carnival? No pre-carnival raids, no stop and search, no dispersal or banning orders, no CCTV, no super-recognisers, no facial-recognition, no knife arches, a dramatically reduced level of policing and unrestricted entry to all comers?
(A longer version of this piece appeared in Guerrilla Wire.)