A green campaigner is facing up to two years in jail after he was found in contempt of court for breaching an injunction to prevent direct action against tree felling.
Activist Calvin Payne posted a message on Facebook this month encouraging "as many people as possible" to break the injunction.
The post was part of a city-wide campaign to prevent felling which has seen more than 5,000 trees cut down as part of a 25-year highways maintenance contract between a council and a private maintenance contractor.
The injunction obtained by Sheffield City Council, South Yorks., earlier in the year prevents protesters entering safety zone set up around trees being felled.
It also forbids people encouraging or facilitating anyone else to break the injunction, including through social media.
In the post on October 6, in order to prevent tree felling crews from working, Mr Payne wrote: "What I would really like is for as many people as possible to break the injunction on Monday morning."
Evidence supplied to the Sheffield Crown Court, South Yorks., also referred to another Facebook post by Mr Payne on October 10.
He wrote: "All trees still there.
"It has taken methods that may be illegal but there are bigger principles than upholding the law in play by now."
In response to another post on the same day hoping no one was prosecuted, Mr Payne said: "That's a risk we'll have to take – I no longer care.
"I'd rather do what's right than be what the powers that be see as well behaved and respectable."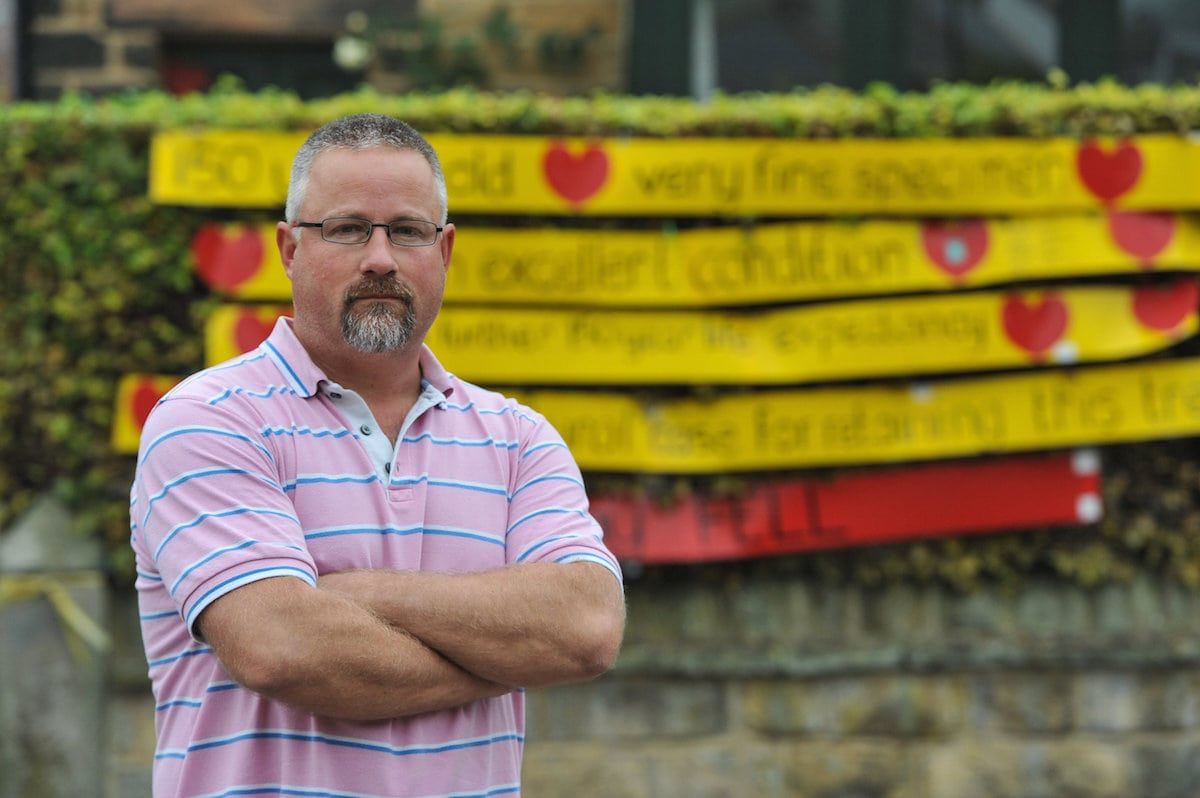 Speaking outside the court yesterday (October 27), Mr Payne said he did not regret his actions.
He said: "It reflects my genuine feelings.
"I've had a consistent position throughout and throughout two-and-a-half years.
"It didn't change when I was arrested, it didn't change when my case collapsed, it didn't change when I went to the High Court, it hasn't changed today.
"The law must decide what the law is.
"I believe we're in a pretty sorry state of affairs when preventing ecological destruction on our streets is against the law but the destruction itself is fully within."
Commenting on whether he was afraid of being sent to prison when the case resumes on Friday, Mr Payne said: "It's something I've been prepared for for sometime now.
"It appears that the one of the most substantive parts of the case – us being inside the barriers preventing felling is at least open to question."
Sheffield City Council's application included a number of other claims against Mr Payne about his alleged incursions into safety zones in other parts of the city.
Mr Justice Males said he would issue a written ruling on the remaining allegations early next week.
Calvin Payne appeared at the High Court in Sheffield along with two other campaigners accused of breaking the injunction, Green city councillor Alison Teal and Siobhan O'Malle.
The judge dismissed the case against Ms Teal while he said Mr Payne would be sentenced on November 3.
He will also hear the case against Siobhan O'Malle on the same day.
Sheffield has seen regular street protests and a series of arrests as contractors have removed thousands of roadside trees.
The dispute has its origin in a 25-year £2.2 billion private finance initiative agreement the council signed with contractor Amey in 2009.
The contract includes a huge programme to resurface thousands of miles of Sheffield's pothole-ridden road system and as part of this Amey is tasked with maintaining 36,000 roadside trees.
The contractor and council say the trees being removed are diseased or dangerous and all are being replaced.
But protesters say many of the trees and their root systems are simply getting in the way of Amey's resurfacing methods.
https://www.thelondoneconomic.com/news/activist-scales-iconic-150yo-tree-bid-save-felling-long-standing-tree-row-continues/16/10/
https://www.thelondoneconomic.com/news/arm-new-war-losing/24/10/