One of the world's most valuable coins has gone on sale today for a whopping £1.4 MILLION – and the legal tender has the Queen's head on it.
Only the most minted will be able to afford 'Discovery' – a 2kg gold coin is encrusted with four pink diamonds.
It is inspired by the Holey Dollar, the first official coin in Australia, and fuses the gold with diamonds in celebration of the country's natural resources.
Unveiled by Perth Mint, in Western Australia, it is legal tender and has been aimed at the "highest echelons" of the rare coin, art and diamond markets.
Perth Mint has valued the coin, which is 99.99 per cent gold, at a staggering (AUS) $2.48 million (£1.4 million) and pays tribute to the impact of the 19th Century gold rushes in Australia.
Hundreds of thousands of prospectors from around the globe had raced to Victoria's goldfields during the 1850s.
Gold fever returned in the 1890s when similar finds were unearthed in Western Australia, a region which continues to contribute a significant proportion of the world's gold supplies today.
Discovery's outer coin symbolises a sailing ship alongside a small rowboat ferrying hopeful diggers ashore, while a 19th century prospector pans for gold in front of miners' tents.
Bill Johnston, the Minister for Mines and Petroleum, said: "It gives me great pleasure to unveil an Australian coin which showcases our country's prized treasures and the talents of our craftsmen and women who have transformed them to form a collectors' item of such significance."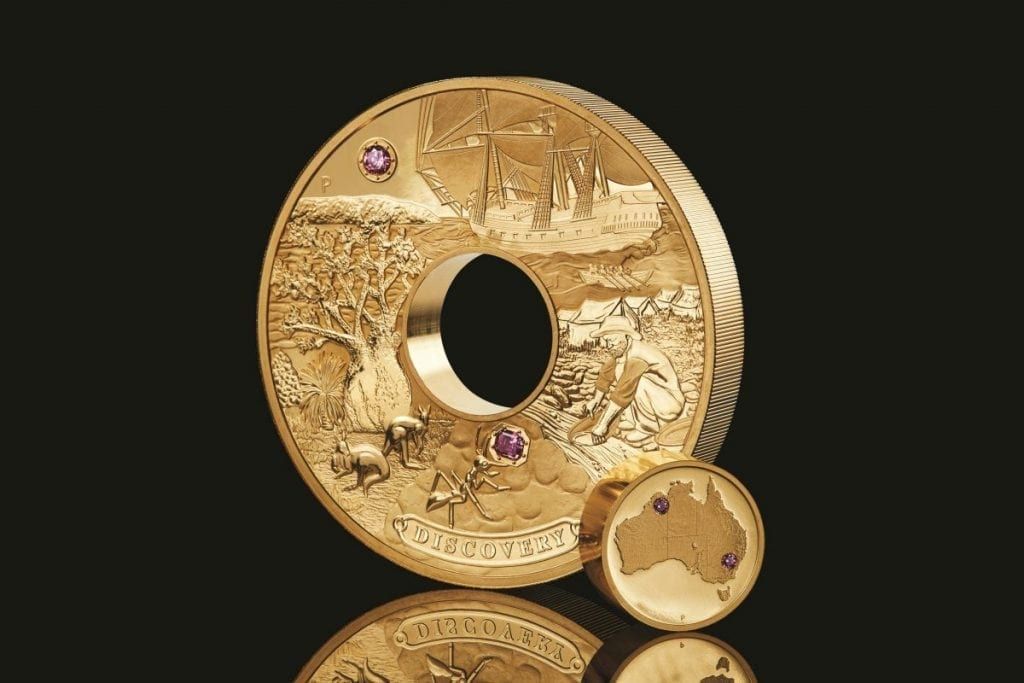 Each of the fancy pink diamonds in the coin's reverse is accompanied by an original gem identification and authenticity document from Argyle Pink Diamonds.
In the case of the two largest stones, a 1.02 carat emerald cut and a 0.88 carat round cut, they are also accompanied by a GIA Coloured Diamond Report issued by the Gemological Institute of America (GIA).
The Kimberley region, where the diamonds were mined, is characterised by an iconic boab tree, two kangaroos and a stunning round cut pink diamond representing the tropical sun.
To complement the external coin, the heart of the coin features an image of Australia with two additional pink diamonds marking the location of Ophir in the south-east, where gold was first found, and the Argyle Diamond Mine in the north-west.
Queen Elizabeth II's head is on the other side of both the external coin and the heart of the coin.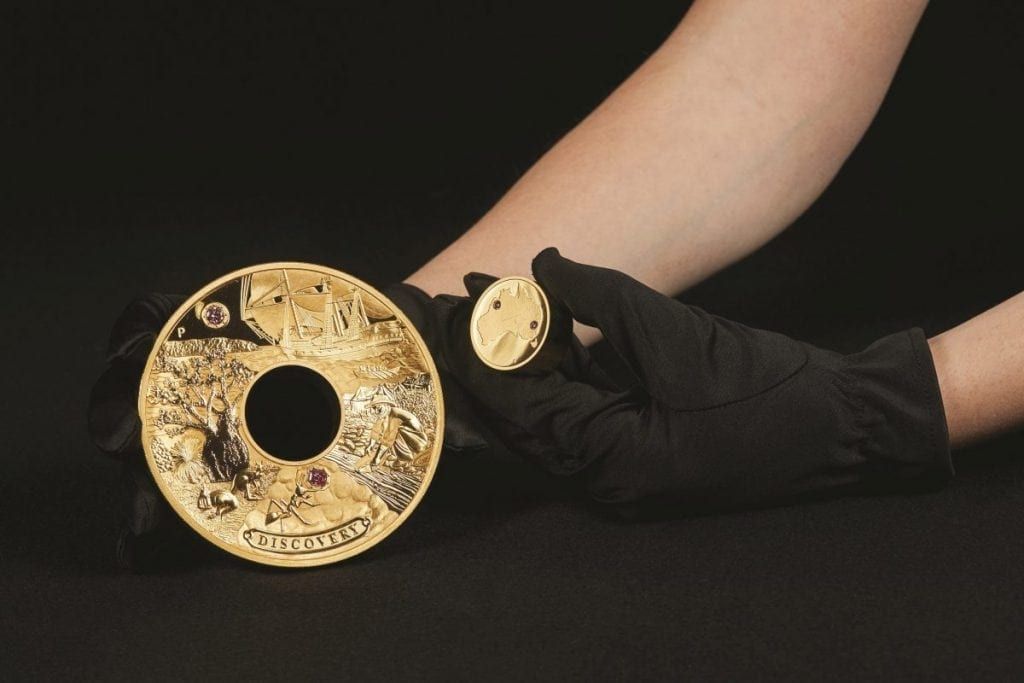 Richard Hayes, Perth Mint chief executive officer, said: "Released in response to the distinct increase in demand for exclusive luxury items, Discovery is just that, a collectors' item of distinction.
"The coin showcases rare pink stones handset in the most famed of precious metals, telling the inspirational rags to riches tales of mining for these prized resources."