Following the success of the first restaurant in Balham, Brother Marcus opened a second, larger restaurant in Islington during the summer. Renowned for an award-winning brunch, the new restaurant – tucked away on Camden Passage near Angel tube station – also serves a new evening menu with a focus on traditional Cretan flavours. Set up by friends and founders, Alex, Arthur and Tasos, the new menu uses recipes passed down through generations, honouring Tasos' Greek upbringing, merged with Brother Marcus' fresh, seasonal approach.
Moreover, a new Christmas menu will be served at the Angel site throughout December, featuring a family style feast intended to be shared amongst groups. Large plates of meat feature alongside innovative small plates, all served at the table decorated with crackers and candles. Priced at £45 per head (including a welcome glass of Prosecco), Brother Marcus' Christmas menu boasts a wealth of sharing dishes, all quickly served.
From the menu's 'nibbles' heading, traditional Lagana flatbread, baked daily at Brother Marcus, is accompanied by olive oil and a hazelnut-spiked dukkah herb blend. An entire 'burnt' aubergine is heavily charred then accompanied with tahini (arguably the vegetable's best friend), fermented mango and an egg cooked at 62 degrees celsius, thus cooking the egg white while barely cooking the orange, runny yolk which acts as sauce. Another vegetarian dish, fried cauliflower is bolstered with kassundi – a sauce typically prepared with fermented mustard seeds – and sweet golden raisins. Corn and haggis fritters showcase an unusual partnership of sweet corn and Scotland's prized savoury pudding, here manifested somewhat like meaty onion bhajis, albeit not dry and discerningly moreish.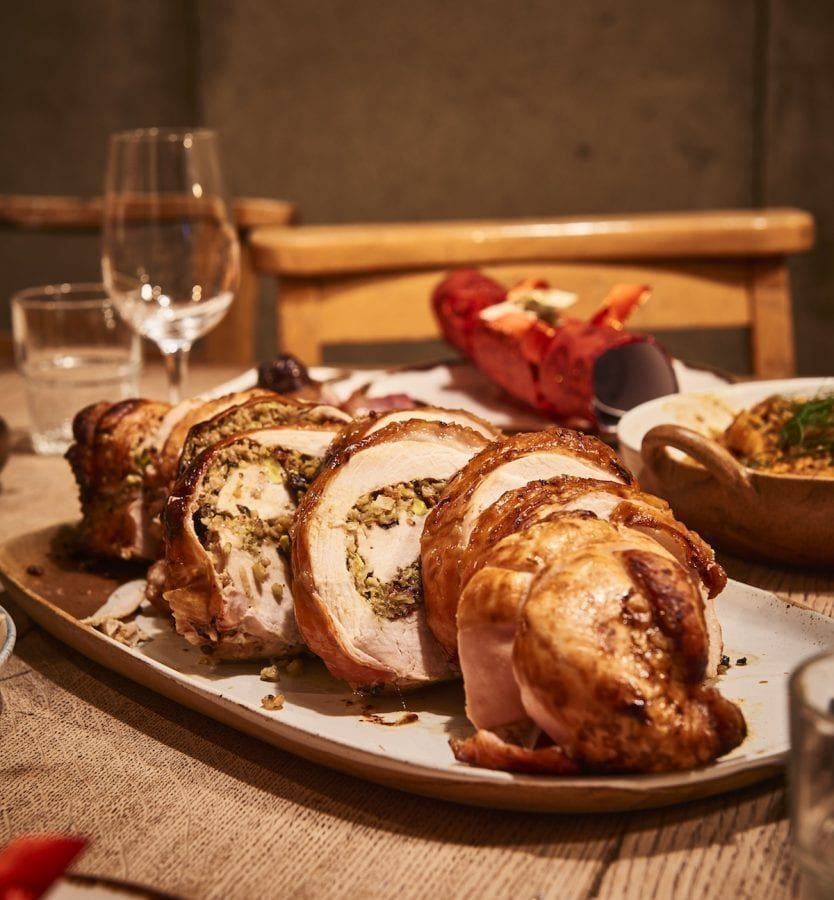 A Berber classic, pastilla also features on Brother Marcus' Christmas menu, stuffed with slow-cooked, shredded rabbit in place of traditional squab pigeon, wrapped in brittle filo pastry and embellished with Nora peppers and a generous seasoning of cinnamon. Token turkey roulade, on the other hand, features a boned, wrapped joint sated with a rich stuffing of Korinthian currants, pistachio and sage. Archetypally arid British roast turkey, this is not. Elsewhere, a large lamb shoulder is slow cooked with pomegranate and Persian lime; while an orzo pasta dish boasts well-cooked cuttlefish, lolling in a savoury sauce of tomatoes and spice.
On the side, kale is served with roast chestnuts and pomegranate; Brussel sprouts are roasted, as are skin-on potatoes joined by bacon lardons. Plump dates, erstwhile, are addictive, wrapped with streaky bacon and roasted. Finally, the menu's 'Heaven' section features a sole dessert of sticky blood orange cake, simply finished with Rakomelo (a Greek digestif) ice cream and walnuts for additional texture.
Brother Marcus, Angel can be found at 37-39 Camden Passage, London, N1 8EA.
RELATED
This festive Yorkshire pudding wrap has just gone on sale in Lidl