In 2006, the BBC premiered 'In Search of Perfection', a television series starring world-renowned chef Heston Blumenthal. Throughout the series, and the accompanying book, the world-renowned chef focussed on eight dishes, exploring their origins and (often outrageously) attempting to recreate the best possible versions of each dish, finely tuning each specific component. Of the eight included dishes, roast chicken with roast potatoes joined the likes of fish and chips, pizza and treacle tart. With this in mind, it's perhaps unsurprising that each element of the Sunday lunch offering at The Hind's Head – the chef's Michelin starred pub in Bray – seems so rigorously trialled.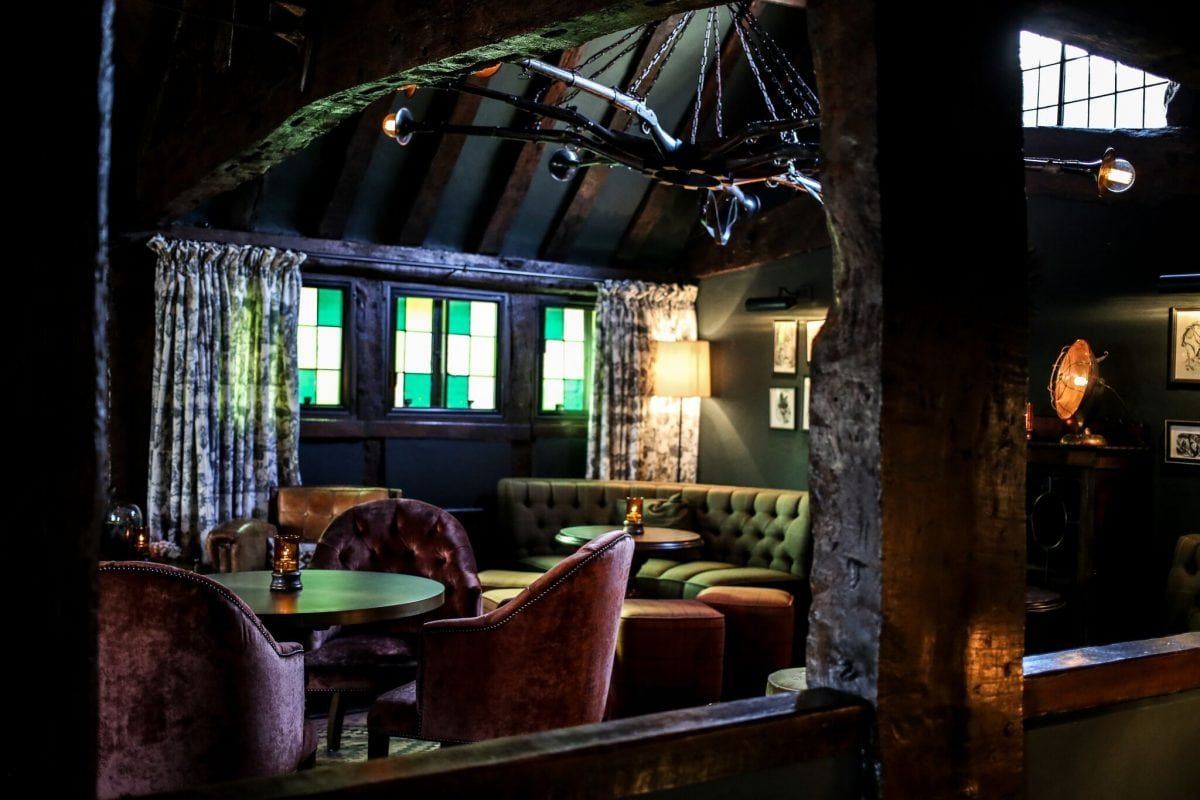 Last summer, the 15th Century coaching inn, acquired by Blumenthal in 2004, experienced a huge overhaul. Designed by Steven Saunders of Fabled Studios, the venue's new interiors encapsulate the building's rich history, assisted by some typically eccentric accents. Perhaps most noticeable is the demise of the original bar, now part of the restaurant. Upstairs, 'The Royal Lounge' has been transformed into a cocktail bar, however, evocative of a chic hunting lodge, filled with antique and custom-designed sofas, plus a smattering of subtle hunting ephemera and taxidermy. Here, a promotion offers the restaurant's famous Scotch egg and a revitalising Bloody Mary for £14. A quail's egg harbours a perfectly runny yolk, encased with unusually succulent, well-seasoned sausage meat and panko breadcrumbs.
Downstairs, the renovated ground floor space is considerably cosier than the previous incarnation, fitting the refreshingly modern service and deeply comforting food served – refined yet less fussy that The Fat Duck or Dinner, in Knightsbridge. The main dining area is now bedecked with plush oxblood leather banquettes and low-lighting against the reclaimed Grade II listed antique ceiling beams and open fireplaces. As for the food, the menu celebrates Heston's best of British. In addition to the a la carte menu, a Sunday lunch menu offers three courses priced at £44.
Lunch begins with pea and ham soup which challenges the gloopy, khaki liquid that's become so commonplace in Britain. The Hind's Head's soup is relatively thin, vibrant green and slightly sweet, redolent of fresh peas and spiked with smoky bacon lardons. This is served alongside one of the restaurant's much feted Scotch eggs. On to the mains, slices of Aberdeen Angus sirloin are cooked remarkably well: pink, but with the fat well-rendered and rampant in flavour from dry-aging. Elsewhere, roast potatoes are sizeable and golden, consummately crisp while fluffy in the middle, cooked in duck fat no less. A Yorkshire pudding is well-risen and clearly cooked to order, devoid of dry, staleness so common with pub roasts. On the side, a cast iron pot of buttery carrots, cabbage and squeaky runner beans accompanies, plus thick gravy (more of which will be brought to the table, if necessary) and ferocious horseradish cream.
Dessert showcases a revered classic at the Hind's Head – the famous 'Quaking Pudding'. Following a 17th Century recipe, a gently flavoured dome wobbles bewitchingly, harbouring generous notes of cinnamon and nutmeg, accompanied by refreshing slivers of compressed apple. A fine conclusion to a delightful lunch at one of the UK's best pub restaurants, conveniently accessible from London within the hour.
Header Photo: Tom Osborne
The Hinds Head can be found at High Street, Bray, West Berkshire, SL6 2AB.
RELATED
https://www.thelondoneconomic.com/food-drink/tle-meets-heston-blumenthal/08/05/
https://www.thelondoneconomic.com/food-drink/restaurant-review-dinner-heston-blumenthal/13/03/
https://www.thelondoneconomic.com/food-drink/review-sunday-roast-at-beef-brew-haggerston/25/10/