After finishing college, I was at something of a crossroads.
My father, the distinguished neuroscientist Sir Gabriel Horn, had understandably wanted me to enter into medicine but I wasn't so sure.
While it was something of an anathema to a dyed-in-the-wool Darwinist such as my father, I had always been drawn more towards matters of spirituality than science.
Fortune, perhaps, decided my future path for me. Out one day, thoughts of my future prospects continuing to trouble my mind, I came upon a group of Hare Krishna monks on a street corner, chanting joyfully in their vibrant saffron robes.
They handed me a pamphlet about their faith, which I willingly accepted. It didn't take long to read but at the end of it I knew exactly where my path lay.
"Philosophically disreputable" was my father's curt assessment of the International Society for Krishna Consciousness (ISKCON) but undeterred, perhaps partly in rebellion, I enlisted.
Going in, I didn't really have any firm notion of what a Hindu monk's life would entail other than it would probably 'beat work'.
Having never been much of a materialist, the fact that I would receive no wage and would own nothing more than the robe on my back didn't really bother me.
The realities of my new life, however, quickly proved that, if anything, I had committed myself to a highly demanding, not to mention sacred, vocation.
The 4am shake-a-leg start, followed by a bracing cold shower took a while to get used to, I'll admit, but as my body clock adjusted, I was soon more than happy and ready each morning to apply the sacred clay body markings and make the short stroll from the ashram (hermitage) to the temple.
Unlike with an office job, there was no hassle on what to wear. Attire was always simple: saffron robes for celibates, white ones for householders.
A weekly shaving of the head was, of course, de rigueur (Gillette blades only – no other type needed apply).
Once in the temple, I would pay dues to the deities – Lord Shree Krishna and His consort Radha – with songs, incense, flowers, lamps, and flat-out obeisances.
Then it was down to the serious business of transcendental meditation, always best in the quiet of the early morn, with a gentle recitation of the Hare Krishna mantra on prayer beads to elevate the mind.
After a lecture at about 7.30am – concerning the merits of Eastern wisdom and mainly sampled from the ancient Hindu tome known as the Bhagavat Purana, which details all the incarnations and famous exploits of the great and the good – it was time for a healthy, and strictly vegetarian, breakfast.
Duties followed, usually involving some kind of method for spreading the teachings from the Bhagavad Gita, the central scripture of the faith, about the soul's eternal relationship with Lord Krishna.
It might entail selling distributing blessed vegetarian food (I have one good friend who has been enormously successful garnering financial support for feeding the homeless in this regard) or merrily defying social convention by banging drums and singing "Hare Krishna" with gusto on the high streets.
In my case, I was able to extend my outreach through a rewarding association with the well-known Bhaktivedanta Players, visiting hundreds of schools with our epic Hindu dramas tailored to educational needs.
I loved writing and acting in these works. Some were performed at festivals and on a few occasions were even featured on the BBC World Service.
My main home was the temple of Bhaktivedanta Manor in Hertfordshire, bequeathed to ISKCON by Beatles legend George Harrison.
I saw him visit the temple on a few occasions, and got to dance and chant with him.
Likewise, Boy George. My claim to fame is being one of the Hare Krishna monks in his video for top 40 1990 hit Bow Down Mister. If you know exactly where to freeze the video, you'll see me beaming back!
But I didn't enter the habit for the chance to rub shoulders with celebrity, and most days, after an honest day's public consciousness-raising, I'd return to the temple and retire to the shrine for another ceremony or class, after a light bite to eat.
Naturally, there was no late-night carousing, Male and female devotees had separate ashrams and, after a stiff glass of milk, you settled down on your Lilo and rested before getting up again at 4am the next day.
A good night's kip was vital as late rising was not an option. Straggle to the temple and you'd find yourself back in the outside world and where you started before beginning your journey towards saintliness.
It was a tough journey, for sure. Not only with the duties, but also with the expectations, such as celibacy before marriage.
You have to bear in mind that we were a band of young Westerners and while we were aspiring for Eastern transcendence, the austere life was new and we were vulnerable to temptation.
Then again, don't knock it till you've tried it. According to Gandhi, it makes one very focussed.
Though I had become well-versed in the tenets of His unique message of salvation to all and sundry, I eventually felt that it was about time to succumb to temptation, and duly married.
I moved out of the temple while continuing to work for it in a more administrative role, but the financial demands that come with a family life meant that I would sooner or later have to hang up my robes for good.
I pondered how best to earn a living and recalled the many successes of my door-to-door selling of Hindu art for the temple.
I'd set upon revising this venture for while I had no qualifications to speak of, I knew that I could sell.
And I loved art. The business I developed was, essentially, a service providing all kinds of art for SME refurbs and SME directors.
My art business culminated in converting a 6000-square-foot abandoned William Hill premise into an art gallery-cum-events space in Hertfordshire.
It was great fun and attracted celebrities such as Ricky Gervais and boxer Anthony Joshua.
Throughout, I must add, I kept my hand well in with the theatrics, starting a theatre company of my own and touring a production of an old English translation of a 7th-century Sanskrit play in theatres in London and the home counties.
And I never gave up on my love of the Sanskrit language, which had furnished all those pearls of wisdom I had poured over in the monk days, and which continued to give life so much meaning.
I recall that on my annual pilgrimage to India, another part of a Hare Krishna's commitments, my ears had always perked up whenever I encountered references to Sanskrit dramas.
That said, I was always disappointed with the English translations I came across. They were very loose and made little sense.
Indian pundits clearly prized their playwrights of yore so I suspected that the fault was not in the plays but in their adaptation.
To confirm this, I read the Sanskrit originals and was elated to discover in those fine compositions the regular deployment of dramatic structure as we know it, but with all the unique flavours of the ancient culture that they had sprang from.
This, in turn, led me to attempt a translation of one of the most revered classic Indian spiritual dramas, the Vidagdha Madhava, written by celebrated 16th century Hindu guru, poet and philosopher Rupa Goswami
This romantic drama, which I have titled A Portrait of Lord Shree Krishna in English, has been somewhat overlooked, and not credited in the way it deserves to be.
Its inaccessibility may be due to how the world of the narrative is framed in a myriad of elaborate poetic metaphors.
Translators may find these attractive but they distract us from enjoying the true merits of the play as a play.
Since releasing A Portrait of Lord Shree Krishna earlier this year, I have been humbled by the feedback I have received, and I am delighted that this new English translation is bringing a whole new audience to the play.
In a way, I have come full circle in my journey. But in the same way that there's never a wrong time to start investing, I believe there's never a wrong time to be a Hare Krishna monk!
I confess that I can't tell you how eagerly I look forward to Saturdays, when I may join various alumni 'Harrys' back from my temple days and concertedly disgrace myself in the eyes of conventionalists by brazenly chanting "Hare Krishna!" on the street.
A Portrait of Lord Shree Krishna by Rupa Goswami and translated by Arjundas Adhikari (Maple Publishers) is out now on Amazon in paperback and eBook formats, priced £9.99. For more information, visit www.aportraitoflordshreekrishna.com.
Q&A Interview With Arjundas Adhikari
We speak to Andrew Horn, who under his Hindu name of Arjundas Adhikari has just released a new English translation of spiritual play Vidagdha Madhava, to find out more about his life as a Hare Krishna monk and his new direction as an author.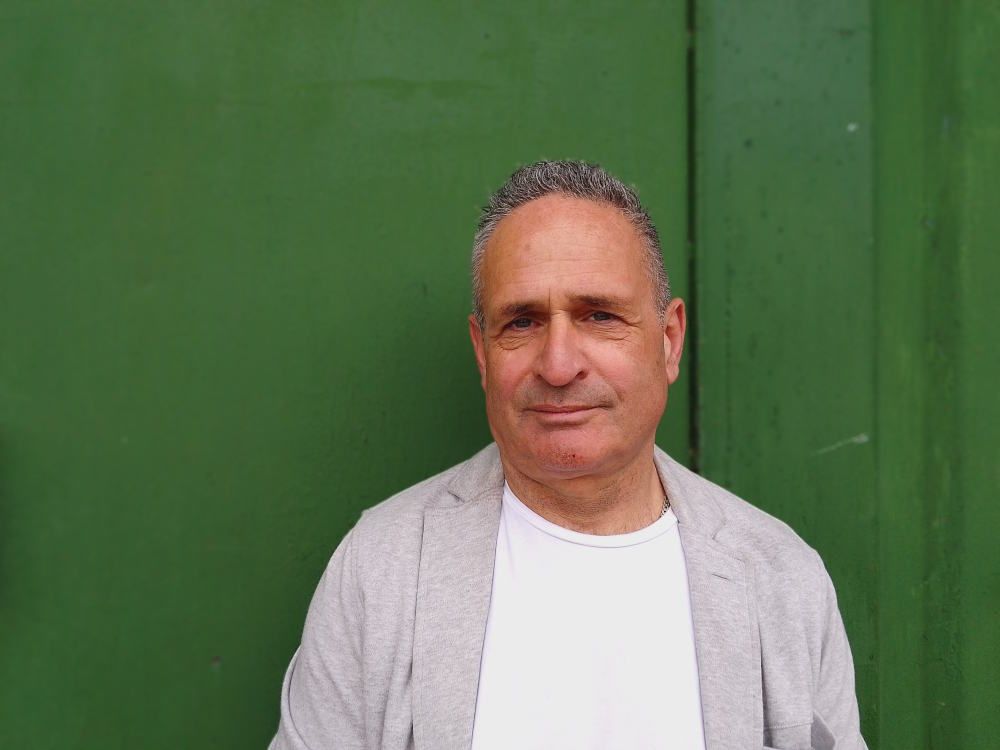 Q. Who exactly is Krishna, and why is he so important within the Hindu faith?
A. Krishna is God in person and is famous for His wise aphorisms, heroic nature, eternal youthfulness, handsomeness, thoughtful reciprocity, and love for everyone. Historians approximate He lived around 1000 BCE, whereas tradition dates His incarnating on earth at around 3000 BCE.
Q. While a monk, you met some celebrities attracted to the Hare Krishna movement, and even became involved in one of their projects. Can you tell us more?
A. Among those I have enjoyed personally dancing and chanting with, are (in no particular order) Alfred Ford (scion of Henry Ford's line), businessman Srichand Hinduja (he was a bit quiet), George Harrison, Boy George (I joined him on stage for his Top of the Pops performance of Bow Down Mister), pop star Hazel O'Connor (she married my dear friend, Kurt), pop star Poly Styrene (whom I almost wed), Indian cricket captain Sunil Gavaskar pop star John Richardson (of Sugar Baby Love fame & sometime Oxford Street warbler), international tennis coach Peter Burwash (a sterling chap), actor Sir John Mills (chanting only, no dancing), and his daughter Hayley Mills (dancing & chanting).
Q. Who is Rupa Goswami, and why has his writing endured across the centuries?
A. Rupa Goswami belonged to a disciple succession of teachers, wherein the teachings of the Vedas (sacred Sanskrit books) were passed from guru (teacher) to disciple in a line that is said can be traced right back to Krishna Himself. His professorship within the succession has something of the status of 'Regius' and his landmark works not only continue to be regarded as classics on the subcontinent but are also greatly lauded in academic circles internationally. One might say he was primarily a way-ahead-of-his-time Hare Krishna thought-leader with a very contagious, devotional fervour.
Q. Out of all the available Hindu literature, why did you choose Goswami's classic Indian drama Vidagdha Madhava to translate?
A.A lot of people already admire Indian philosophical literature. However, I feel Sanskrit dramas haven't yet garnered the interest they deserve, but could if they were rendered more accessible in translation. Since the themes of Vidagdha Madhava were already familiar to me, it was a no-brainer as to where I should begin to tackle the genre in earnest.
Q. What, in brief, is the storyline and point of the drama?
A. The narrative features the intense, conflicted love between Krishna's incarnation, and His fabulous consort Radharani, who both lived in the bounteous cowherder lands of Vrindavan, North India, many moons ago. Whilst moralising elders, jealous admirers, and incandescent spouses repeatedly appear to drive Radha and Krishna's relationship very close to the ragged edge of disaster, these perilous obstacles, in effect, serve to heighten the intensity of love between them. Being celestial consorts whose love (especially in separation) is said to constitute the highest spiritual ecstasy, Radha and Krishna's relationship (spoiler alert) prevails.
Q. How's the drama relevant to today's Western audiences?
A. As above so below. In a world where technology appears to be about to deprive us of any purpose for being, the Krishna legend is a cathartic affirmation of love and life.
Q. How much work went into the translation, and how does it improve on previous translations?
A. Three years. This translation treats the drama as a work intended for performance. Translations of A Portrait of Lord Krishna I'm familiar with somehow never elucidate its coherent, integrated structure.
Q. How challenging a language to master is Sanskrit?
A. 'Sans-krit' literally means 'well-made' and it is, indeed, very logically put together. The lettering is also straightforward to learn. Different inflections completely change the meaning of words, so to work from the original Sanskrit text is important, and one needs be mindful not to be distracted by flowery stock-metaphors.
Q. Who do you see your translation appealing to?
A. Readers young and old. Even Kermit the Frog of The Muppets, as he said in The Muppet Movie, indicates that anyone lost should try Hare Krishna.
Q. What can readers expect from you next?
A. Currently, I'm working on a translation of Rupa Goswami's sequel to A Portrait of Lord Shree Krishna, Lalita Madhava, which is of similar length.
Exclusive Excerpt From A Portrait of Lord Shree Krishna
A Portrait of Lord Shree Krishna is the ultimate resource for schools, youth groups, and acting clubs aiming to engage students and young actors in a culturally significant and artistically rewarding project. Rupa Goswami's play offers a rich tapestry of characters and emotions, making it a perfect choice for educational and theatrical endeavours. Here, we share an exclusive extract.
Krishna. [Sees Paurnamasi and approaches.] Namas te, good lady!
Paurna. Boy – dwell less on gopi-curves!
Krishna. [Amused.] You didn't need to say that, and as anyone observes, I don't touch winsome gopis …
Madhu. [Laughs.] We're pursuing one, though, aren't we?
Paurna. [Humorously.] Your manners are impeccable,
Krishna – You're Nanda's son;
You're brave – the village revels in heroic things You've done;
But, lovely as You are, why madden gentle Radha so?
Madhu. Wait, that's put the wrong way round – not sure why you don't know:
It's Radha maddens Him, good woman – makes Him go bizarre –
His crown, bugle and staff – all lost. He's no clue where they are!
Krishna. [Embarrassed.] The boy's absurd, it's sad, good lady – one thing I don't do – I don't dote on your gopis – if that's challenged, proof is due; Ask him, please, he knows it's so!
Madhu. It is, it is, good lady, No hint, or trace of saffron that He wears was on them lately!
You do see gopi make-up on Him sometimes – here and there…
Krishna. [Good-naturedly.] Can't be trusted, can you, dolt – can't take you anywhere!
Paurna. Come, but what the lad's said's true, brave boy, they all love You –
Gifted, handsome, and inspiring, and always surprising too –
They might be at home, but if the gopis hear Your flute;
Suffice to say, the upshot is they're dress-sense-destitute!
Madhu. Oh, never mind the flute, good lady, let me tell you this –
He steals the girls' clothes personally – when they go bathing – yes!
I've seen Him in broad daylight filch them – up and round His shoulder!
Krishna. [Frowns to check Madhumangala.] My flute-music, perhaps, good lady, has a unique nature;
But that could not affect your patient gopis, goodness knows.
Lal. Mantras, then? Or potions? What's the way You predispose?
A cunning rogue's passed on to You the methods that You own?
How do You rob good gopis of their happy lives at home?
Madhu. I'd say you're right, Lalita – use of mantras and so on;
Seen the demons, high as hills, He's battled with and won?
Hands down, and look at Him – as cool and placid as a lotus.
Lal. Brahman boy, your good friend burns. He isn't cool to us!
Madhu. Oh – cool, but starting fires as well, friend?
There's the gopis' claim;
That's plainly sorted with a touch – just so, and …
[Places his hand on Krishna's chest and removes it quickly.]
Hot as flame!
You're right, Lalita. Ouch! [Reflects.] Oh, but, Lalita, I forgot!
It's Her! Right in His heart, She is – Radhika's why He's hot!
His default's cool as moons – but not since Radha's come along.
Lal. Kind boy, be realistic – His heart's casing's diamond-strong;
How'd my friend gain access when She's delicate and tender!
Madhu. My friend feels for yours in the most tender way, you monster!
For Her, and Her alone – He never sleeps – gone all ascetic!
Krishna. [Bashfully turns away.] I wish that you'd grow up. It isn't funny. Any of it…
Lal. [Aside.] I like how this is going for my girlfriend.
Paurna. Krishna, listen – Seriously, no jokes – I want an answer to my question –
That river racing past the banks of household sentiments,
Past Religion Bridge, and hills of mounting moral judgments;
It's Radharani-river rushing madly down to You!
Who reached Kanhaiya ocean, but, then what's Kanhaiya do?
He rallies vicious currents of indifferent words – don't argue!
Now, what's the explanation?