by Pat Levy
Namibia, rarely featuring in news headlines, is a peaceful, settled country that finally shook off the blinkers of apartheid in 1990, and transitioned into constitutional democracy. 11 hours flight time with one stop, and a two hour time difference with the UK makes it a temping destination for the safari holiday you always promised yourself.
For its size, the population is tiny and lives largely in urban areas, leaving vast desert-like tracts for small farmers with a few sheep, goats or undernourished cattle, a satellite dish and a rusty truck. There are some big cattle farms, still owned by white landowners, and some amazing wildlife parks; some are private and others are state owned.
Two days at Okonjima, a short drive from the capital of Windhoek, should prove both an adventure and a wildlife indulgence. Okonjima is a private reserve which supports Africat, an organisation dedicated to preserving the lives of Namibia's big cats, mainly leopards and cheetahs. Many are collared so they can be readily radio tracked through the wildlife park.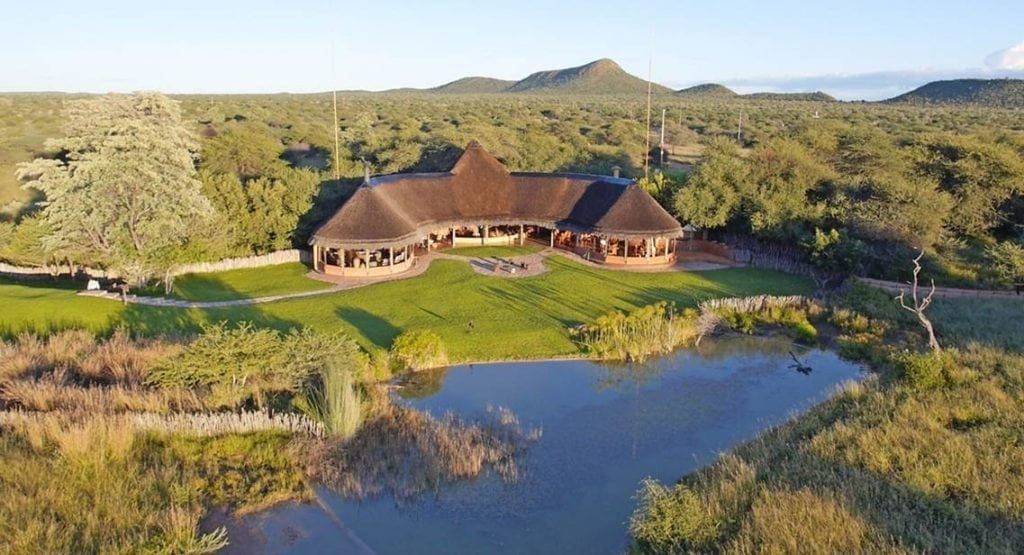 Accommodation ranges from camp sites and lodges in a protected area to Bush Camp which boasts upmarket huts tastefully designed, with huge widows set in the round, thatched bedrooms; the shower, toilet and washbasins coiling away like the inside of a Fibonacci snail shell.  Warthogs will take any food left unattended and hornbills need chasing away, honking their protest,  from your veranda.
Safaring
An early morning or late afternoon jeep ride will deliver an adrenalin rush when sitting precariously close to an animal that could tear your throat out if it wanted. A night walk at Okonjima will uncover the smaller creatures of the reserve. Or driving around any time of the day will bring springbok, warthogs, hyenas, giraffe, baboons and multi-coloured birdlife into view. Dedicated big-game spotters can be pretty sure of seeing four of the big five (the lion, elephant, buffalo, leopard, and rhino) with a keen eye and enough time, but there is so much more to enjoy.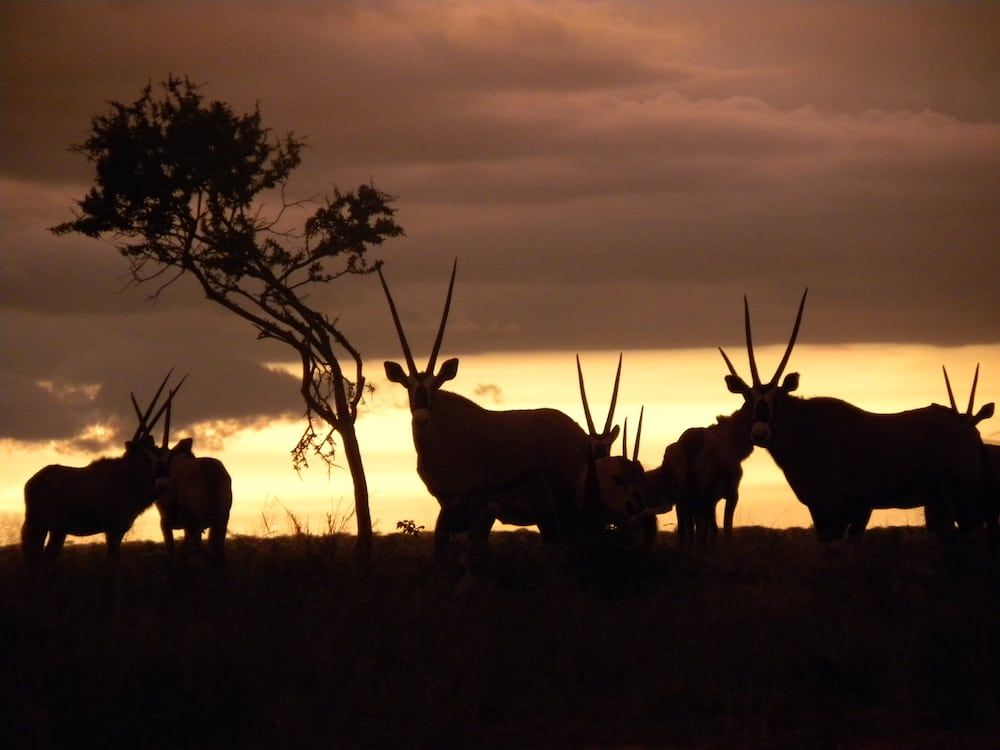 A drive over tarmac roads brings you to Swakopmund on the coast, a wacky place to enjoy urban creature comforts and be amazed by the folksy architecture. The town was founded by German colonists in the nineteenth century, whose descendants own a number of businesses, including the quality craft shops. The language is widely spoken.
Swakopmund sits at the edge of the Namib, the world's oldest desert. The most fun to be had here, besides dune surfing and quad biking, is to take a trip into brilliantly-coloured dunes at the edge of the desert with Tommy's Tours and Safaris. A whole morning is spent examining the tiny creatures which inhabit this apparently lifeless landscape: palmato geckos, scorpions, sidewinder snakes, shovel snouted lizards and Namaqua chameleons are teased out of its underground home and gently returned.
Swakopmund has attractive accommodation in Villa Margherita, a small boutique hotel with suites of rooms, each individually decorated. Just round the corner is The Delight , more modern in style with smartly attired  rooms with fridge and coffee machine. There's no evening meal, but breakfasts are delicious.
Ozondjou Trails Ugab Camp is another experience, not least because of the 245-km journey from Swakopmund, during which time you may begin to wonder if anyone actually lives in Namibia. With hundreds of kilometres of flat semi-desert and scrub, and gravel road surface shimmering mirage- like in the distance, elephant droppings reminding you that wild creatures live here. You'll also pass the occasional nervous giraffe dithering at the roadside, unable to decide whether to cross. The dirt track up to the camp is easily missed so even getting there is an adventure.
The camp sits on a high ridge overlooking the dry bed of the Ugab River where desert-adapted elephants mooch about, ripping great swathes of leaves from the green belt on the margins. The elephants aren't tagged so seeing them relies heavily on the tracking skills of the staff as the enormous jeep trundles through the dry sandy river bed. The few small farms scattered around the river are protected from the elephants by rock walls and corrals made from stakes but occasional encounters have made local people wary of their large, mostly laid-back neighbours.
An 11-night tailor-made itinerary to Namibia costs from £3,230 per person based on two people, including flights, accommodation and car rental. Book with Rainbow Tours (020 7666 1266).