Scientists have developed a skin-like material that can change colour – like a chameleon.
Researchers from the University of North Carolina at Chapel Hill (UNC) discovered the novel product through a number of tests on an experimental material.
Skin protects the body in a number of ways, including by rapidly stiffening in order to prevent injury.
The new discovery revealed an elastic material that can tense like skin, with the added ability to change colour.
In skin, a number of stiff collagen fibers prevents deformation, while a network of elastin allows it to recoil to its original form.
Scientists have now created a type of "bottlebrush" polymer that mimics these defensive properties.
Due to their large size and densely crowded 'side-chains', bottlebrush polymers are useful for a number of applications, including the creation of medical drugs and the creation of paint or creams.
In organisms such as chameleons, skin can change colour when the animal goes from a relaxed to an excited state.
Combining these two abilities — stiffening and colour change — into a single manmade material has remained challenging.
The experts discovered the changes in the distance between molecules affected how light is reflected off the material.
This resulted in the material morphing into a blue colour when stretched and towards a red colour when shortened.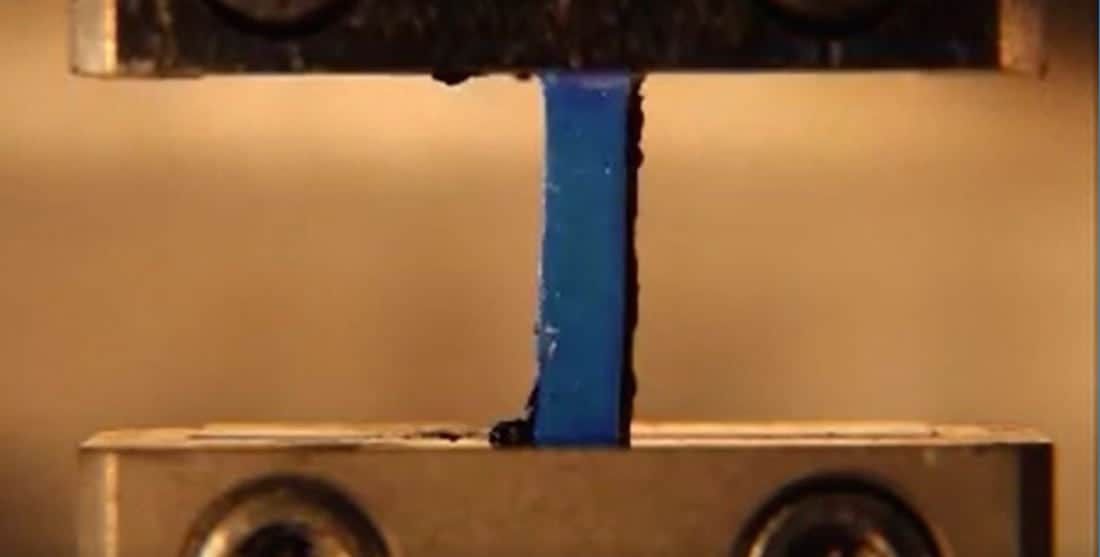 PhD researcher and UNC lab manager Mohammad Vatankhah-Varnosfaderani said: "Human skin is soft and compliant, but it can quickly become stiff when deformed to prevent injury.
"Chameleon skin can change colour when the animal goes from a relaxed to an excited state.
"Although these properties can be captured individually in synthetic materials, the combination of different dynamic responses is hard to control."
"When strained, the polymers stiffen like human skin and change colour, giving the materials a range of adaptive properties."
Experts suggest the material could be used to create a new type of dynamic camouflage.
The 'rigid-while-flexible and soft-while-stiff material' is hoped to find a number of commercial uses.
https://www.thelondoneconomic.com/news/reactions-and-pictures-tributes-to-professor-stephen-hawking-who-has-died-aged-76/15/03/