A slavery victim was told that his benefits would be slashed and threatened with jail if he didn't pay a historical fine for committing a crime he was forced into by one of the UK's biggest human trafficking rings.
The 51-year-old man, who was regularly beaten, starved and at one point forced to dig his own grave, was convicted of stripping a nightclub of scrap metal after being forced into it by the notorious Rooney family.
It is thought the travelling family, jailed for 79 years between them in 2017, kept his court appearance a secret from him.
The vulnerable man was unaware that he was fined £165 in his absence.
But he discovered the punishment when he applied for Criminal Compensation and informed that his benefits are being deducted to pay for it.
The slavery survivor also received a court summons and warned that if the fine isn't paid, he could be arrested and detained in custody.
The move has provoked fury from his family and the Human Trafficking Foundation who say he has been through enough.
His horrified sister, who cannot be named to protect the identity of her vulnerable brother, has written to Home Secretary Sajid Javid in a bid to have the fine and conviction quashed.
She said: "For over quarter of a century his liberty was taken from him. He was forced to live in a dirty tiny caravan, given limited food and plied with alcohol.
"He was beaten into submission regularly and was completely under his captor's control. When they told him to do something – he did it, terrified of what would happen to him if he didn't comply.
"Now his benefits are going to be docked and he has been issued with a court summons – it's an absolute travesty. Hasn't he suffered enough?"
Theresa May's flagship Modern Slavery Act of 2015 is supposed to stop victims from being prosecuted under a clause recognising forced criminality.
Under legal guidance given to prosecutors when taken into account offences committed by victims of human trafficking it states: "In considering whether a trafficking/ slavery victim has been compelled to commit a crime, prosecutors should consider whether any of these means has been employed so that the victim has effectively lost the ability to consent to his/ her actions or to act with free will."
In May 2017, 11 members of the Rooney family were jailed for 79 years after being found guilty of modern day slavery and fraud. The judge in the case said that this captive who now faces the traumatic possibility of being incarcerated again was held in "truly shocking" conditions for decades.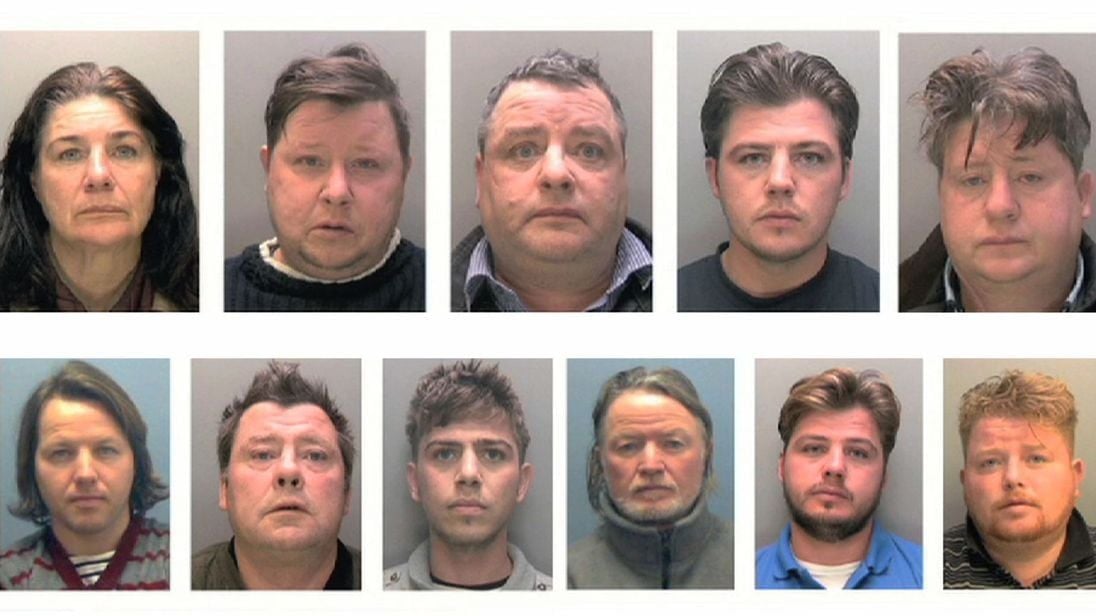 Operating from sites in Lincolnshire, they targeted victims who were homeless, had learning disabilities or complex drug and alcohol issues. The slaves who lived in squalid conditions in caravans in stark contrast to the Rooney's plush lifestyle were often paid in cigarettes and alcohol.
At the time, Judge Timothy Spencer QC, said the family were "chilling in their mercilessness" and told the head of the family, Martin Rooney Senior, that the gulf between the lives of his relations and their workers was "akin to the gulf between medieval royalty and the peasantries." He said the victims had been "stripped of their dignity and humanity, and confined to a life of drudgery" that they had no way of escaping.
The victim who was held in dire conditions, from the age of 22 and institutionalised by the Rooney family for 26 years was ordered to strip a redundant Leeds nightclub in October 2011 of any scrap metal.
The case was heard ten months later in August 2012 at the city's magistrate's court. In his absence he was given a two year conditional discharge and fined £100 for the offence, £50 for failing to appear at court and a £15 victim surcharge.
The money was never paid to the courts and the offence has only just resurfaced six years later after the victim applied for compensation through the Criminal Injuries Compensation Authority.
His sister believes at the time of the offence her brother was given a false name by his captors and due to him never having any control of his own money the outstanding fine was ignored by the Rooney family.
The victim received a letter in April this year stating his meagre benefits would be docked by £20 a month.
Last week he received a court summons and was warned that if the fine wasn't paid, he could be arrested and detained in custody.
His sister immediately tried to stop the unfair penalty and spoke to Lincolnshire Police who broke the slavery ring and supported her brother after he was freed in September 2014.
She said: "An officer there spoke to the courts in a bid to have the conviction and fine quashed – something he had successfully achieved with another victim, but in my brother's instance they refused which seems grossly unfair.
"He didn't commit the crime of his own free will – he was forced to do it and the consequences of him refusing don't bare thinking about. He emerged from captivity a broken man, dependant on alcohol with mild learning difficulties, countless physical injuries and Stockholm syndrome.
"Surely it's obvious my brother deserves help as opposed to being punished by the very system that should be making his life easier?
"But I have been told the only way this conviction and fine can be overturned is if my brother goes back to court with possible outcomes of bailiffs seizing his goods or a custodial sentence.
"That in itself is going to have a huge negative psychological effect on him. After everything he has been through he is understandably terrified of the courts. This will only aggravate his already very poor mental state and he will need yet more support and help to cope with the enormity of it all.
"The irony is that if bailiffs were to seize his goods they would struggle to finds any possessions that would amount to £165 as my brother has very little apart from his clothes and a guitar."
In April this year a twelfth member of the family, Joseph Rooney, was jailed for 11 years, after being extradited from the US following his arrest in March 2016.
The Rooney family are appealing against their convictions.
The victim's sister added: "I'm appalled we are now faced with this. The long term effect on my brother is devastating. The system that should be helping him is making him an even bigger victim."
Euan Fraser, from The Human Trafficking Foundation, said: "The shortcomings of the support, assistance and protection available to survivors of human trafficking and modern slavery in the UK are clear to see.
"It can be very difficult for survivors to access justice: few victims receive compensation or see their traffickers convicted, and unfortunately some victims are prosecuted for crimes they are forced to commit.
"There appears to be a lack of understanding and appreciation for the traumatic experience which victims of trafficking have endured, and the long-lasting implications for their physical and mental health."
UPDATE: After The London Economic contacted the Home Office and the Department for Works and Pensions (DWP), a DWP spokesman said that they had now put a flag on his claim to prevent any benefit deductions while they look into the situation.
A Government spokesperson later added "modern slavery and trafficking are despicable crimes, which see some of the most vulnerable people in society targeted by ruthless predators.
"Under the Modern Slavery Act, victims who were compelled to commit a criminal offence as a result of their slavery or trafficking situation have a statutory defence.
"We are urgently investigating this case and any potential deductions have been suspended"
By Michelle Rawlins