In the first two of a series of trials over the next few weeks, nine out of ten activists were found guilty of Obstruction of a Highway today (12 January 2018) at Stratford Magistrates Court.
Over 100 people were arrested in September 2017 outside the Excel Centre in east London, during the DSEI (Defence & Security Equipment International) arms fair, which takes place every two years. Likely the largest event in the world, the fair attracts international arms dealers from countries including Bahrain, Oman, Saudi Arabia, Pakistan and UAE.
Charges against most of the protestors against the 2017 fair were dropped, but the remaining 46 activists face trial throughout January and February. The first two groups were tried this week.
Critics of the arms fair have pointed out that exhibitors have previously been found to be promoting unlawful weapons, specifically in 2007, 2011 and 2013. These breaches were discovered by external bodies such as Amnesty International and other NGOs. Since 2015, DSEI has banned such organisations from the fair.
One of the defendants Angie Zelter read out a statement in court, saying:
"My own small action on the 6th September 2017 was inevitably short-lived and caused little disruption. But it was part of a whole week of disruption by hundreds of concerned citizens who felt very strongly that it was immoral and illegal to peddle weapons to people and countries involved in live conflicts and human rights abuses.
"The Defence & Security Equipment International is one of the world's biggest arms fairs, and the weapons sold here fuel the death, destruction and injustice perpetrated by militaries, police forces, private security companies (such as G4S) and at borders around the world."
She added: "I was aware that DSEI 2017, with full UK government support, was expecting a record number of 1,600 exhibitors from 54 countries to be selling their wares at the four-day fair, many from states currently at war or on the Foreign Office's own list of human rights abusers."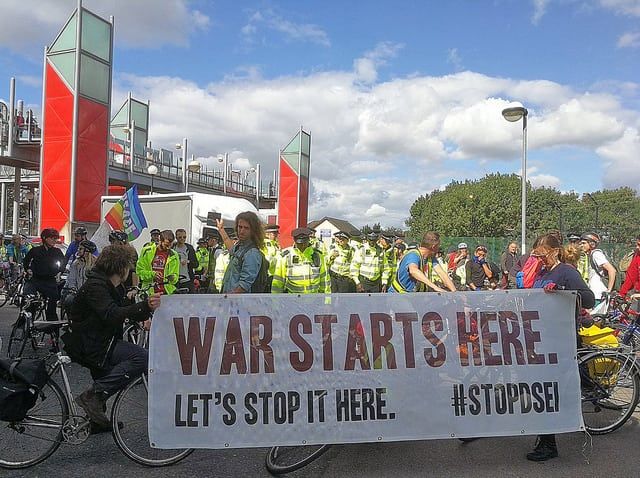 DSEI last year hosted military delegations representing a range of human rights abusing regimes and dictatorships: including Saudi Arabia, Qatar, United Arab Emirates, Egypt, Bahrain, Philippines, Turkey and Thailand.
Last year eight protesters were acquitted of trying to stop the previous DSEI fair in a court case that ruled there was "clear, credible and largely unchallenged evidence from the expert witnesses of wrongdoing at DSEI and compelling evidence that it took place in 2015".
Andrew Smith of Campaign Against Arms Trade said: "The policing at DSEI was totally inappropriate and very heavy-handed, with over 100 arrests for taking part in peaceful protests and direct action. The protesters rightly opposed the presence of human rights abusers and arms dealers. The way that the police behaved was bang out of order.
"London is a global city, with thousands of residents who have fled the same regimes that were attending DSEI. The police should have been looking at the despots, dictatorships and torturers that were in attendance, not intimidating and criminalising those that stood up to them."
London Mayor Sadiq Khan said in the past that he is "opposed to London being used as a market place for the trade of weapons to those countries that contribute to human rights abuses".
Raj Chada, a criminal defence lawyer at London law firm Hodge Jones & Allen who defended the protestors in court said: "These protestors are seeking to highlight that the DSEI arms fair continues to be held in London, with the Government's complicity. They support the Mayor that London's comments that London should not be the market place for regimes that contribute to human rights abuses.
"Despite today's guilty verdicts, they believe that most people will believe they acted reasonably to highlight this issue. Hopefully they will be seen as being on the right side of history."
Freya Colvin, another lawyer at the firm, said: "The demonstrators were exercising their right to freedom of speech and assembly by means of a 'sustained, ethical, pacified protest' to highlight the far-reaching and devastating impact of the arms trade."
MORE: 
Dozens of activists protesting UK's biggest arms fair face trials starting this week