This weekend McDonalds workers are celebrating winning their biggest pay rise in a decade after staff at restaurants in Cambridge and Crayford went on strike at the end of last year.
The high-profile #McStrike campaign was supported by Labour Leader Jeremy Corbyn followed similar successful campaigns by McDonalds staff in United States and New Zealand.
One staff member posted on social media: "WE WON THIS. Biggest pay rise for 10 years! If 0.001% going on strike can win this imagine what more can do!"
The strikes in September were the first action against the multinational in the UK to demand a wage of at least £10 an hour, an end to zero hours contracts and union recognition.
The fast food chain has now announced all pay grades are to receive a pay rise, with workers aged over 25 leaping from £8 an hour to £10 an hour. 16-17-year-olds will join on a minimum wage of £5.75.
The 40p per hour increase on McDonald's current pay of £7.60 is a 5.3% increase – bringing McDonalds pay above the official UK minimum wage which is set to increase from £7.50 to £7.83 in April.
President of the The Bakers and Allied Food Workers Union (BFAWU) whose members won the pay increase Ian Hodson said: "The BFAWU welcomes the raise in pay announced by McDonalds corporation it demonstrates that when workers stand together and take strike action that workers can win.
"We congratulate those who took strike action and stood up for fairness this increase is due to their courage and commitment to improve working conditions and the lives of those who work in McDonalds.
"Our members have faced injustices exploitative employment practices as well as low pay. On the 4th September after trying to resolve grievances our members took strike action calling on McDonalds to raise pay end it's use of zero hours contracts and its culture of bullying. By taking this action our members shone a light on an organisation that has led the race to the bottom not just in the UK but across the world.
"These courageous workers demanded to be treated with dignity and respect something that all workers deserve, and when you work for the second largest employer in the world which makes profits in the tens of billions you expect to be able to receive a wage that enables you to live.
"This pay rise is a step in the right direction for all of McDonalds workers but by no means is it the end of the campaign if just 30 workers can lift wages above anything McDonalds have raised in recent history or being forced to through legislation then imagine what we can do when thousands organise across McDonalds and what we will achieve.
"Our members are still demanding a real contract of employment a minimum wage for all of at least £10 and an end to the culture of bullying and harassment in the workplace."
But he later tweeted today: "It's no surprise to me but to many it will be to learn the amount of Tory party activists condemning McDonalds for giving workers a pay rise and the workers for asking for a pay increase. Speaks volumes of what they feel about working people outside of an election"
In contrast Labour politicians were quick to congratulate the #McStrike campaigners.
Labour leader Jeremy Corbyn tweeted: "Congratulations to McDonald's workers and @BFAWU1 for winning pay rises but the fight for £10 an hour is not over. We achieve more together than we can alone, which is why we should all join a trade union."
The shadow chancellor John McDonnell said: "I pay tribute to the #McStrike @bfawu1 young workers who took on McDonalds resulting in today's pay rise victory. It demonstrates the vital role trade unions play and the importance of joining a union."
Labour MP Laura Pidcock tweeted:
"Well done to the @bfawu1, the #McStrikers & all those who campaigned for a living wage in @McDonalds. I met a few of them in the summer & they are inspirational. The battle's not won, it goes on, but it shows the importance of good trade union organization"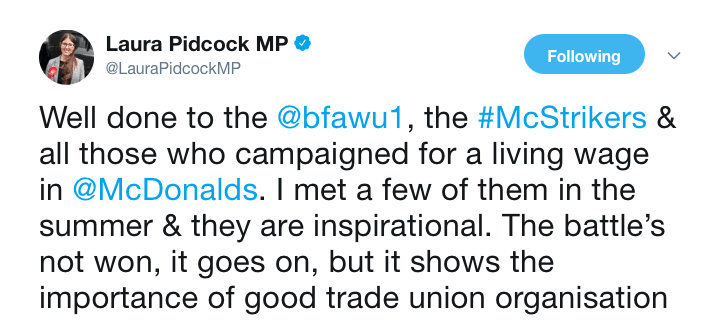 The Labour party has vowed to increasing the minimum wage to £10 per hour if in power.
The Conservative Government have said they will raise minimum wage to 60% of median earnings by 2020 – an estimated £8.56.
McDonalds confirmed the pay increase for all staff at company-owned restaurants, handing employees their biggest raise in ten years on January 22.
Franchises, which make up around 65 per cent of McDonald's branches in Britain, will continue to set their own rates of pay.
This sign was photographed by a McDonalds staff member: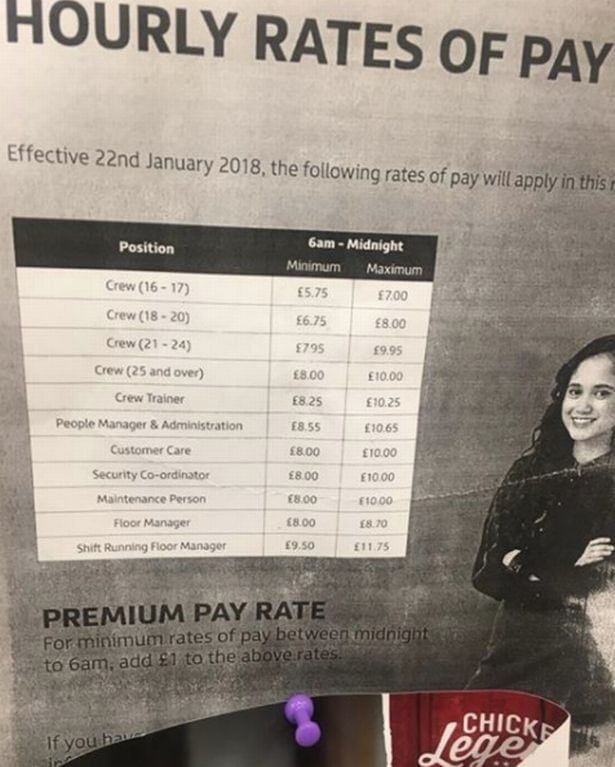 95.7 percent of McDonald's workers balloted by BFAWU voted in favour of the strike on September 4, last year.
According to the union, McDonalds had failed to end zero hour contracts as agreed earlier last year. This has been viewed by some workers as punishment for joining a union, and had seen employees struggle to meet their rent payments, some even losing their homes.
Frances O'Grady, General Secretary of the Trades Union Congress tweeted:
"Congratulations to the growing union of McDonalds workers standing together to win real change at work with @bfawu1 – And they're only getting started!"

RELATED:
£10 minimum wage pledge if Labour win next election
"Disturbing" figures show real wages dropped in 2017 proving Govt's economic incompetence