A restaurant has been fined £50,000 after it continued to use wooden "plates" which could not be cleaned – despite being served with an improvement notice.
Ibrahim's Grill and Steak House was first visited in October 2016 after an alleged food poisoning outbreak affecting a party of 14.
The steakhouse, in Acocks Green, Birmingham, was served with improvement notices by officers.
A number of issues of concern were found, including a high-level reliance being placed on the use of disposable gloves, rather than the washing of hands.
The cleaning of the premises was poor and sanitising chemicals were not being used in accordance with manufacturer instructions.
Wooden plates which were "incapable of being cleaned" were being used to serve the food.
The plates "were in such a damaged condition they could no longer effectively be cleaned and disinfected and presented a risk of contamination to food".
On a return visit in December 2016, environmental health officers found that whilst food handling had improved, the wooden plates were still being used.
The council said on Twitter: "Wooden plates could pose a risk of food poisoning to anyone eating from them."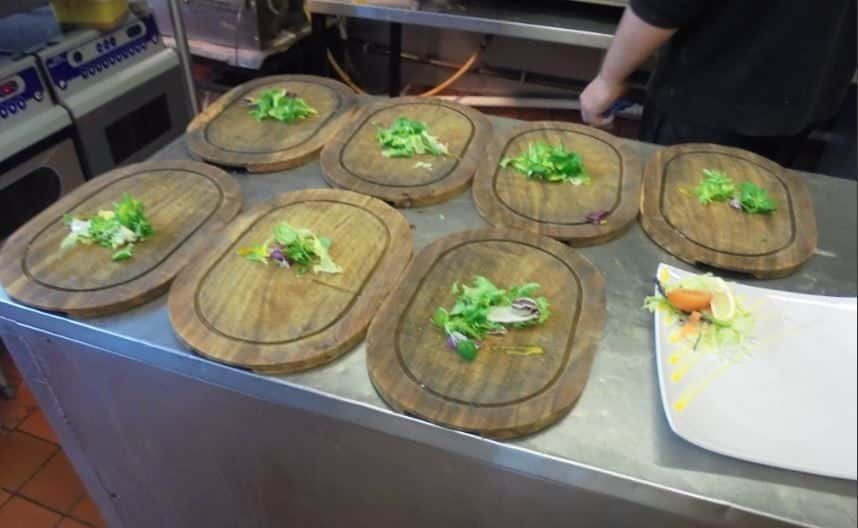 At Birmingham Magistrates' Court on Thursday (4/1) the company pleaded guilty and was fined £50,000 along with £670 costs and £120 victim surcharge.
Head of Environmental Health at Birmingham City Council Mark Croxford, said "It is completely unacceptable for businesses to put the health of people eating at their restaurants at risk.
"The owners were given sound advice which they chose to ignore.
"I am pleased magistrates supported our efforts with a large fine and hope advice we give on improving businesses to protect health will not be ignored in future."
The restaurant has a four-star rating out of a possible five on review website TripAdvisor, from 292 reviews.
Reviewer Naz A, who gave a four-star review, said: "There are a few improvements as the meat tastes like it need to be matured for longer for more flavour and I don't like the fact they serve the meat on a paper-thin sleeve like thing on top of the wooden platter, which always breaks apart so I'm sure I end up eating a bit.
"The chips are usually good but the veg is usually rotten or nasty so this is another aspect of improvement needed.
"To sum things up the food is good, not amazing, the service is good but there are a few improvements to make including the decor to make it stand out from the crowd."
Indian restaurant fined more than £20k after a customer found a COCKROACH in their pilau rice