A saucy prankster has got a 'God-fearing' village up in arms after secretly slipping steamy novels and porno literature into their community library.
The un-named joker placed the erotic books in a wooden box set up for residents of sleepy Cornholme, near Todmorden, West Yorks, to exchange reading material..
However the filthy donations sparked outrage from one resident.
The anonymous citizen pinned a note onto the green box which is sat upon a wooden pole next to the village noticeboard demanding it stop.
The printed note stated: "Whoever is placing the copys [sic] of pornographic literature in here, stop! Cornholme is a God fearing Christian village."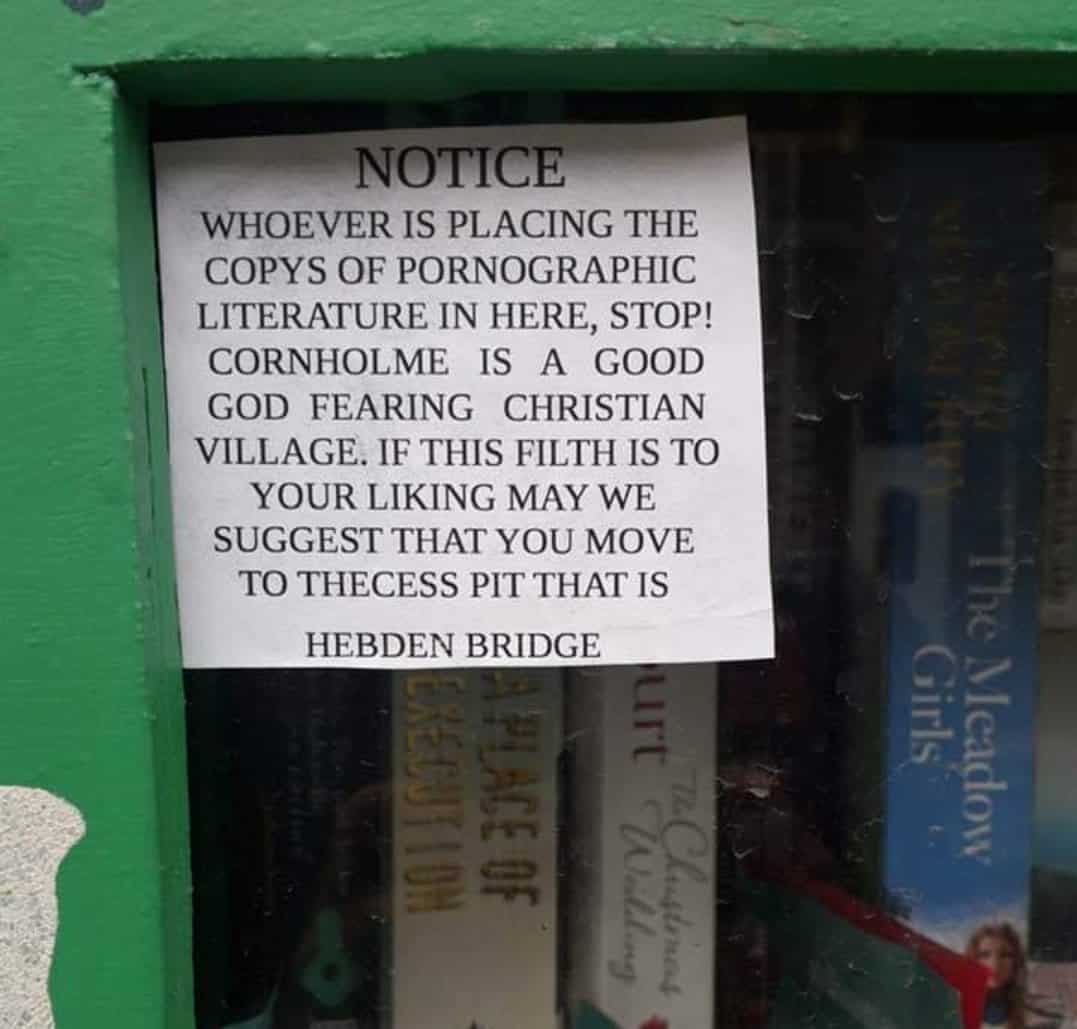 The writer then took a swipe at neighbouring and rival market town Hebeden Bridge just seven miles.
It added: "If this filth is to your liking may we suggest that you move to the cesspit that is Hebden Bridge."
The note has now gone viral and been shared more than 15,000 times on Twitter.
One commenter joked: "I'm liking the sound of Hebden Bridge."
While another quipped: "Much as I struggle in rural environments, nothing but support for the militantly queer cess pit of Hebden Bridge."
The note has since been stripped off.
Little free libraries can be found all across the UK, with many communities building their own cabinets or renovating old telephone boxes where people can exchange books.
Cornholme is a former milltown with a population of just 1,600.
Reactions
1.
No wonder house prices are booming #HebdenBridge pic.twitter.com/4rCgxDt17J

— ClaireEStorey (@ClaireEStorey) April 29, 2021
2.
Would love to live in Hebden Bridge – highest number of lesbians per head of population in UK – we are relatively rare species and unfortunately experience quite a lot of negativity ❤️?️‍?My town Leslie used to have the highest number of pubs per head of population in Scotland ??

— Laura Bennett (@LauraMayBennett) April 29, 2021
3.
Look at this den of iniquity and low morals: pic.twitter.com/1jR3UVqiFS

— Benjamin Johns (@theoreticalb) April 29, 2021
4.
The godless porn hub of Hebden Bridge ?

— Alfie Gallagher (Comms Open) (@AlfieGallagher) April 29, 2021
5.
Sodom and Gomorrah but with mills and crystal shops.

— Jane Samuels (@JaneSamuels) April 29, 2021
6.
All the housewives trying to dump their Fifty shades trilogies,haha

— Kate S (@katesaunders13) April 29, 2021
7.
Paid for by the Hebden Bridge Tourist Board.

— Nick Xylas (@nxylas) April 29, 2021
8.
"Cornhole was a good, God-fearing, Christian village. Until the day the Man From Hebden Bridge rode into town." pic.twitter.com/NjP7Htq79W

— Emily H Simon (@emilyhsimon) April 29, 2021
9.
The best thing I've read all day. Long live the People's Republic of Hebden Bridge… https://t.co/4DvVsXUxeK

— Adelle Stripe (@adellestripe) April 29, 2021
10.
I suddenly want a weekend in Hebden Bridge…. pic.twitter.com/DkglpgJGdX

— Paul Curtis (@paulcurtisart) April 29, 2021
11.
As a Hebden Bridge councillor I'd like to thank the people of Cornholme for help with our marketing campaign.

Please check out our local independent shops! If the Cess gets too much we have a soap shop! Cornholmes also lovely, what it lacks in Cess it makes up for in nice pubs pic.twitter.com/3kcdjtscpZ

— Josh Fenton-Glynn (@JoshFG) April 30, 2021
Related: Razor-sharp barbed wire installed across footpath in row with ramblers