Guess what? A toddler friendly hotel really does exist. Our lifestyle writer and mum of two Clair Hart, took her family to a boutique hotel that offers family time with a difference…
A toddler friendly hotel with a difference
Anybody with children knows that going on holiday or for a weekend away isn't relaxing. The moment you kiss your baby for the first time, you kiss goodbye to those luxurious Mr & Mrs Smith nights away.
Or that's what we thought until we stumbled upon Woolley Grange Hotel's 'Time for You' Toddler Break.
Woolley Grange, located in Bradford-on-Avon, a stone's throw from Bath, has come up with an ingenious toddler friendly hotel formula for tired parents pining for a little bit of relaxation and pampering.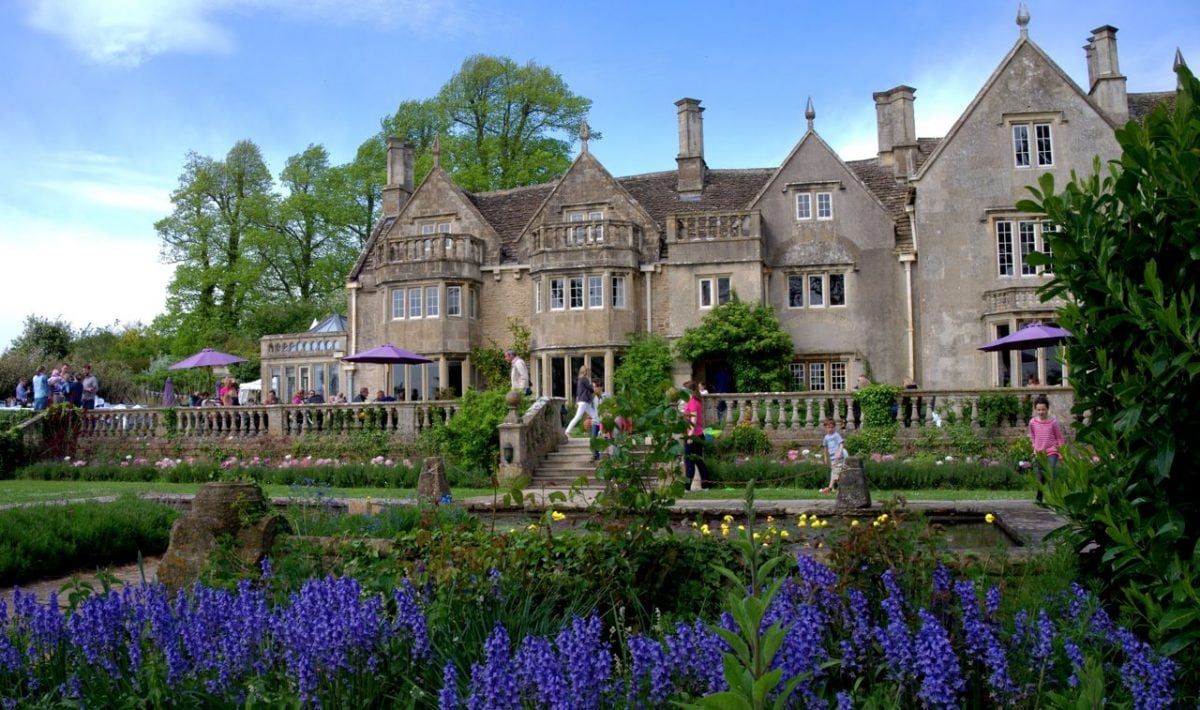 And breathe…
Relaxation is the overriding sensation as you walk through the doors of Woolley Grange, an old Bath-stone Jacobean manor house on the rural outskirts of medieval Bradford-on-Avon, near Bath.
On the outside, Woolley Grange looks like any other boutique spa hotel. But, walking through the entrance past muddy wellies, dog toys and board games – you immediately realise that this hotel has something different in store.
No formal reception, just a welcoming, cosy, yet beautiful and historic house filled with little nooks. Cosy fireplaces surrounded by families relaxing with their children. Couples snuggled up on sofas reading the latest magazines. Individuals stowed away in hidden corners with their feet up, reading a book. The friendliest of staff making sure you have everything you need to kick back and relax.
Aside from the numerous snugs and lounges, this hotel has a serious ace up it sleeves: childcare!
The hotel isn't just a toddler friendly hotel, it has a huge adjoining nursery, the 'Woolley Bears Den', with brilliant staff and everything your toddler could ever wish for. Every night that you stay entitles you to two hours of complimentary childcare.
Even with that in mind, Woolley Grange's two night 'Time for You Toddler Break' takes toddler friendly hotel breaks to a whole new level.
Time for You Toddler Break
Up to 8 hours childcare with the lovely team in the Woolley Bears Den.
60 minute (or 2 x30min) spa treatment of your choice in their luxury Spa.
Two course candlelit dinner on both nights whilst they do the baby listening (via an in-room intercom).
Friday morning lie in for mum and dad whilst the staff take your toddler of to the Woolley Bears Den for Toddler Breakfast Club.
Toddlers eat free with choices from their fresh and tasty children's menus.
14 acre gardens with lots for toddlers to enjoy, including the White Witches house, play shops, Rosie the pig and the flock of comical Indian runner ducks
Full use of swimming pool, sauna and spa (there is also a heated outdoor pool in the summer).
All the toddler equipment that you need, so no need to pack the kitchen sink.
How toddler friendly hotels should always be…
After checking in and exploring the beautiful grounds and spectacular walled garden, the kids wanted to explore the Woolley Bears Den. So, we checked them in for two hours of free childcare (included in the price). With toys galore, arts and crafts, my two and three year old boys were in their element.
My husband and I took this golden opportunity to head to a deserted snug and indulge in a little tipple in front of a roaring fire.
How often do you get to have quality time together during the day when you have babies? It was so lovely to get the chance to have some uninterrupted adult conversation and just do nothing.
Guests have the option to pre-book and pay for a babysitter if they want to go out and explore picturesque Bradford on Avon, or shop until they drop in nearby Bath.
Instead, we opted to grab the kids when the two hours was up and take them to 'high tea for the children' (this meant we could enjoy a romantic meal later on in the evening).
Toddler meal times
Feeding time at the zoo can be a torturous time in a restaurant, but not here. The boys' table was set up with their names, crayons, paper, plastic cups, plastic plates, plastic cutlery, bibs, drinking bottles. You name it; they had it ready to go.  We went for a sausage & mash combo as it's a guaranteed plate clearer at home.  The boys got a starter of hummus and veg dips, and opted for a fresh fruit salad for pudding.
After tea, we decided to explore the spa and pool. It had everything you'd expect to find in a luxury spa, as well as large family changing rooms and lots of floats to keep the kids entertained.
The water was lovely and warm and my husband and I took it in turns to try out the steam room and sauna.
When we headed back to our hotel room, we were blown away by the set up.  The bed guard was already on the bed, the potty was already in the room, and the tea station was fully stocked.  A member of staff also delivered warm milk to the room for the boys' bedtime.
We stayed in the Balcony Room, a beautiful room with a vaulted ceiling, deep luxurious bath, huge plush bed and, best of all, a separate connecting room for the children.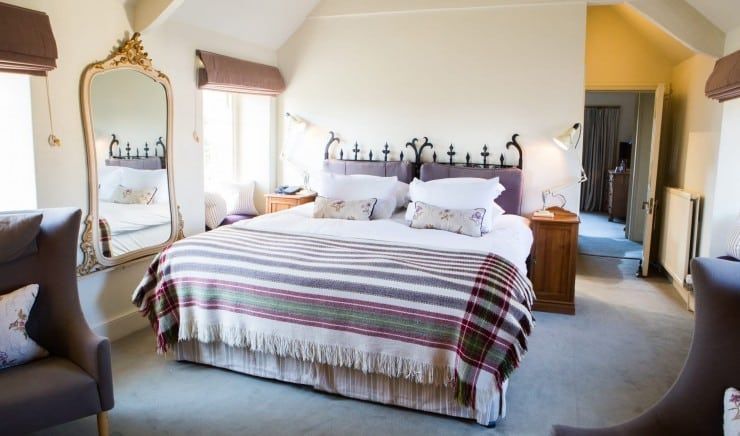 Toddler friendly hotel date night
Once the boys were tucked up in bed and the intercom all set up we headed off for our 'date night'. I even managed a full face of makeup and a leg shave before our dinner – a real treat!
As we headed down to the hotel it was amazing to see all the other couples' transformations from daytime parent mode. The ladies had taken the time to do their hair and put their glad rags on. Some even donned heels.  The men all looked relaxed and pleased to be out without the children.
It has to be said that Woolley Grange is worthy of a date night. The staff are attentive yet relaxed, the setting is special, and the food is utterly spectacular. Much of the ingredients are grown within the hotel's wonderful walled garden (which guests are free to roam). The head chef works closely with the head gardener to produce dishes made from seasonal ingredients, grown just outside. The food we enjoyed would be at home in a Michelin Star restaurant.
My husband and I were totally relaxed and discussed how it felt like we were on a pre-children date. We almost forgot that we had children, until one of the reception staff (monitoring the intercoms) came over and whispered that one of our children was stirring in the room. After dashing upstairs to tuck the youngest back into bed, my husband and I continued with the comfort of knowing that our children were being closely monitored by reception.
Toddler friendly hotel spa
The next day whilst the children were enjoying their childcare, we took advantage of our spa treatments. I went for a facial and my husband went for the back massage.
Half an hour just to myself.  Bliss. The therapist talked me through what she was going to do and then very quietly pampered me for 30 minutes.
I heard in great length how wonderful the back massage was.
The rest of the afternoon we spent wandering around the walled garden. My husband was getting some tips from Eliza, the head gardener whilst the boys were exploring the 'village' of twee Wendy houses, complete with a mini-shop.
Toddler friendly hotel special treat
Our evening followed the same format as the night before, but we were sufficiently relaxed to tuck into an extra couple of cocktails.
This made the next treat even more special. The children were collected from our room first thing in the morning and taken to 'Toddler Breakfast Club' where they were fed, watered and entertained whilst we enjoyed a rare lie-in.
After waking up naturally for the first time in almost four years, we meandered down to breakfast to revel in an extremely quiet full English omitted breakfast whilst reading the mornings papers. Not a child in sight.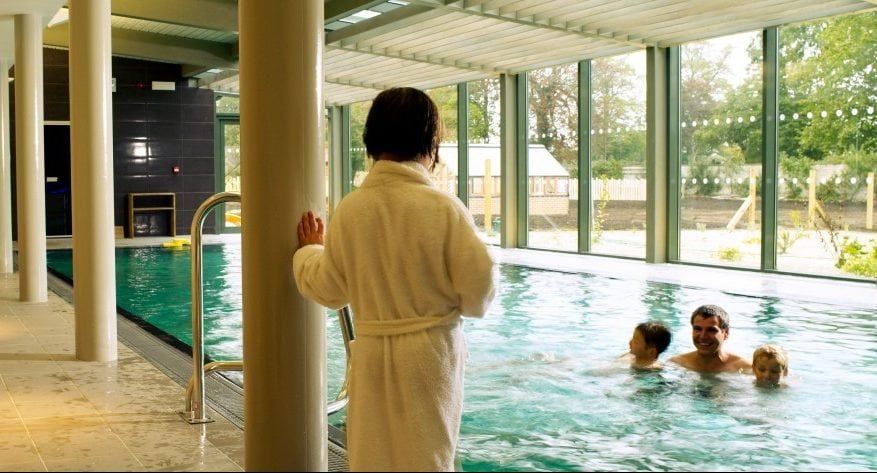 The best toddler friendly hotel in the world?
Overall our break was fantastic.  The perfect combination of family and couple time.  The hotel and grounds are stunning and the staff are wonderful. Nothing is too much trouble and you do get a sense that they genuinely like the relaxed, chaotic atmosphere that having children round you brings.
We're lucky enough to have stayed in some lovely hotels that state they are 'child friendly'. What they actually mean is, ' we will tolerate your children if we absolutely have to'.  This is not the case forWoolley Grange, they aren't just child friendly they are child encouraging.  If you forget something they have it. When you need something they get it. If you don't want something they get rid of it.
I'd like to stress that this is an independent review. I cannot recommend the 'Time For You' toddler friendly hotel break enough. Since we rarely find holidays relaxing since having children, we've already discussed doing this again (but as a summer holiday!). We will definitely be back.
More information about toddler friendly hotels
Woolley Grange is part of a family friendly hotel group, LFH.  LFH run a handful of child friendly boutique and spa hotels across the UK. Woolley Grange 'Time for you Toddler break' rates from £419 for a two night break in a Small Family Double.
Find more information about the package on offer here: https://www.woolleygrangehotel.co.uk/special-offers/time-for-you-toddler-break