Termini, with its direct train service to and from Fiumicino airport, was my first carnal glimpse of Rome – as is the case with most tourists. A modern part of the city, less charming than Campo Marzio or Vatican City; Termini doesn't sleep. Amid the nasal howl of sirens, burbling Vespas and suitcase wheels, Termini is littered with uncountable bars-cum-cafés-cum-coffee shops. Such cafés are accessible, ideal for a quick coffee, cocktail or snack before boarding the train to the airport (or somewhere far more exciting: Milan, Naples, Bologna, Vienna).
A collaborative project between drinks innovator Tony Conigliaro, renowned for revolutionising cocktails by taking a cheffy approach to mixology, and Marco Arrigo – head of quality at Illy coffee – Bar Termini opened in Soho during 2015. Serving a concise menu of constantly changing cocktails, coffee and Italian small plates, Bar Termini's concept is weightily inspired by these Italian railway cafés. Following the bar's rapturous success (currently ranked at number nine in the World's 50 Best Bars), another Bar Termini opened in Marylebone last Spring, quickly following Untitled in Dalston – another of Conigliaro's bars.
Just across the street from Selfridge's, Bar Termini Centrale occupies a larger premise with space for 40 covers. Here, the room is redolent of the 1950s with its pistachio green blanquettes joined by overhead luggage racks and a soundtrack of Italian hits from yesteryear. While not strictly typical of railway cafés, these interior flourishes cleverly transport customers to another (better) place. This romanticised typecast recalls the Roman streets traversed by Audrey Hepburn and Gregory Peck in Roman Holiday. On the menu, various pre-bottled house Negronis are worth shouting about, because "when in Rome…" Alternatively, there's 'Death in Venice' (a flute of Prosecco, Campari and grapefruit bitters) – a bitter, less alcoholic drink for those hoping for their post-lunch productivity to be less faltered.
As for the food offering, Bar Termini Centrale is currently hosting a Fat Tony's pop-up, before a permanent restaurant opens in a top secret South London location this summer. Founded by James French, Fat Tony's is inspired by the chef's extensive travels around Italy, having also undertook an apprenticeship at Michelin starred L'Erba del Re in Modena. At Bar Termini Centrale until the end of April, James' short menu champions classic Italian cooking and has a strong focus on pasta handmade on site, daily. An abridged menu is served at the beginning of the week, with the full menu available from Wednesday to Saturday.
By nature, the best Italian cooking is generally quite simple. Alas, many chefs use this as an excuse to disguise cooking so unremittingly cack-handed, it's an insult to Italian culture. James French's food, however, seems refreshingly authentic. A dish of griddled aubergine slices, for instance, has blackened ridges of deep, smoky char, lacerated by contrasting mint leaves and a hum of chilli and garlic. Balance is this dish's key, without any pretension or unnecessary ingredients. Similarly, well-cooked hunks of octopus have bite but don't demand to arrive at the table pre-chewed. This seared octopus is served humbly with new potatoes, parsley and a smackerel of spicy 'nduja. Although complete strangers in life, octopus and pig are the best of friends in death.
The pasta served at Fat Tony's is the main draw. Paper-thin ribbons of slightly al dente pappardelle are coated with a ragù favouring Longhorn beef. Once best known for their strength, this particular breed (named after its large, characteristic horns) has a high level of intramuscular fat, not unlike expensive Wagyu. The beast's shin is cooked slowly and tastes far superior to even the most prestigious cuts from other breeds. The texture is giving, but not pulpy or pitiful, with molten fat that enriches the ragù's deeply decadent sauce.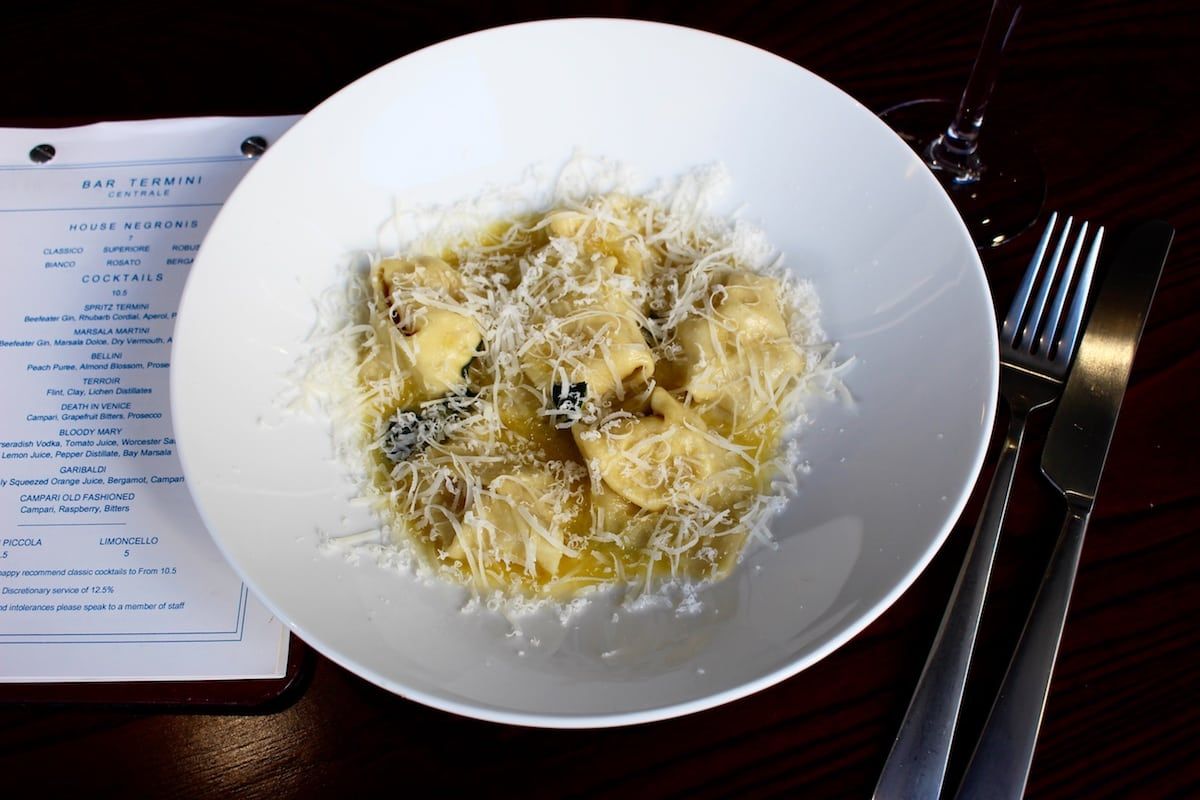 Torteloni, on the other hand, are packed with three cheeses: Stracchino, ricotta and parmesan. Envelopes of slender pasta ensnare a clever trinity. The flavour of Stracchino is bullied almost to complete submission by the overpowering parmesan, though its creaminess is unrivalled: texturally gratifying. Ricotta, on the other hand, is somewhat less mild and delivers a lactic twang alongside the parmesan, finally lashed with an insalubrious amalgam of butter and sage. To finish, grilled peaches are – once again – ubiquitously simple, albeit refreshing. An accompanying smear of crème fraiche has a feint miasma of soured yoghurt, but crumbled amaretto biscuits add pleasing textural depth to the dish.
Simple Italian cooking at its finest, with a prominent focus on up-to-the-minute pasta; if the dress rehearsal is anything to go by, Fat Tony's permanent opening will be a great success.
Fat Tony's at Bar Termini Centrale can be found at 31 Duke Street, London, W1U 1LG.
RELATED
https://www.thelondoneconomic.com/food-drink/restaurant-review-pastaio/01/02/
https://www.thelondoneconomic.com/food-drink/restaurant-review-flour-grape/13/02/
https://www.thelondoneconomic.com/food-drink/bar-of-the-week-untitled-bar-dalston/08/06/