In Shoreditch and its surrounding neighbourhoods, countless restaurants seem to come and go – occasionally without us even noticing. With so much competition, new local restaurant openings are arguably under more pressure than counterparts elsewhere in London. Here, a unique selling point is absolutely necessary.
Enter Plate – a bakery, bar, catering company and restaurant by Chef Arnaud Stevens. Situated above M by Montcalm Hotel – opposite Moorfields Eye Hospital – the restaurant suggests their speciality lies with 'great British produce, amazing flavours, simply put together'. The stakes are certainly high, but so is the pedigree. Chef and owner Arnaud Stevens comes from a long line of food hospitality. His great grandmother was a private chef at Chateau Angers, his great uncle a chef in Paris. Indeed, Chef Stevens himself has worked with renowned chefs such as Gordon Ramsay and Jason Atherton.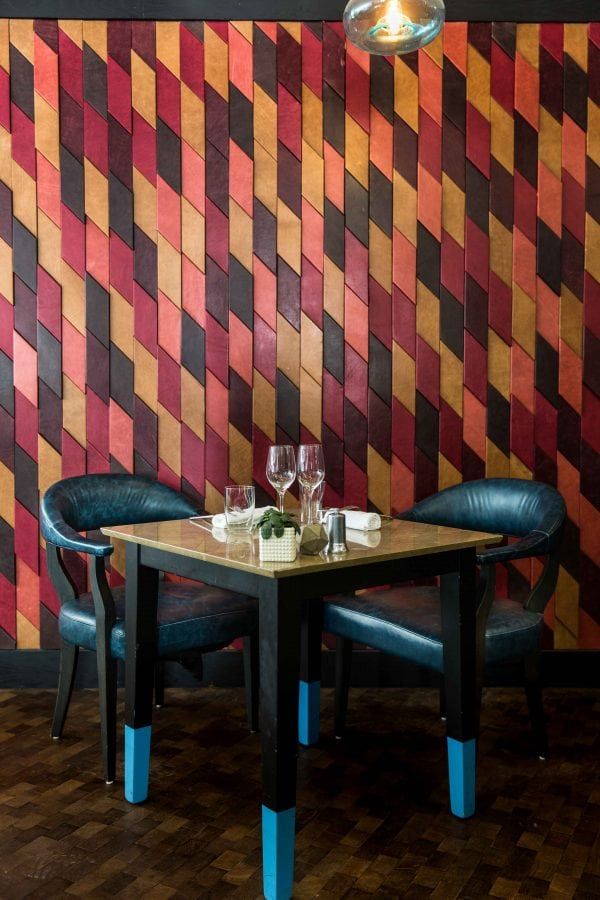 As a venue, Plate certainly has the look: floor to ceiling windows on both storeys letting in plenty of natural light, lounge chairs signalling the relaxed, yet classy vibe, the kitchen busy with the evening's service. Yet it just falls short. We enter unaware that Plate runs an all-you-can-eat wings and ribs offer for just £10 for an hour and a half during Thursday's dinner service. After waiting slightly too long to be seated (our table is ready, but staff appear to be swept off their feet), we take in the clientele – a mix of students chowing down on wings and ribs and guests from the hotel.
The staff are friendly and helpful, but the service is lacking. Particularly in terms of speed. The food is delivered quickly enough, but we wait unnecessarily for uncomplicated drinks (a beer and a glass of Chenin Blanc) from the downstairs bar and tables that have long been abandoned sit unattended with empty plates and glasses.
The menu itself is straightforward: a handful of options each for snacks and breads, starters, mains and sides. That said, each option sounds promising in its own way. Our waiter recommends Plate's signature bread flight (£7.50), plus starters of braised beef cheek and black pudding ballotine (£8); and Chalk farm sea trout (£8). The selection of breads (sourdough, brioche and Chef Stevens' signature marmite) is paired with a variety of whipped butters (salted, onion and chocolate). For reasons unbeknown, they're served in a trough. Vessel aside, the breads (still warm) pair nicely with the butters presented. The onion butter with marmite bread and the chocolate butter with brioche are enjoyable, though I'm not particularly excited by the plain butter.
The sea trout, served with gravadlax dressing, roe, cucumber cubes and pink peppercorn yoghurt is a delicate summer dish. The ballotine, on the other hand, is strong-flavoured and hearty, perhaps better suited to a winter menu. Served chilled, however, it is also light: an enjoyable summer's dish. The sea trout is the clear winner, nonetheless.
For mains, we decide on Chilton Farm rump of lamb (£25) and cornfed chicken breast (£16). I don't tend to order chicken in restaurants because it is so often overdone, but at Plate the chicken is cooked excellently: the meat succulent with crunchy skin. It's accompanied by confit carrots, garlic puree and a chicken jus with hints of curry. Again, this is a well-executed, well-balanced, seasonally appropriate dish.
The lamb dish, on the other hand, is a completely different story. While the meat is cooked well, the rest of the plate falls short. A dollop of 'tomato fondue' seems completely out of place with the meat yet works alongside a drizzle of basil dressing. Charred gem lettuce lets the dish down, however – gritty and stuffed with an unpleasant dressing.
For dessert, Kentish strawberries (£6.50) have an incredibly fresh scent, bolstered by the zing of elderflower sorbet and crunch of shortbread biscuits. Compliments to the pastry chef, as those biscuits are perfect: buttery and soft on the inside, yet still crunchy despite sitting underneath sorbet. The accompanying cream cheese mousse is forgettable though, and the dish arrives cloaked with an unnecessary pink peppercorn tuille – of sorts – aesthetically evocative of pink Perspex.
The banana, buckwheat speculoos, yoghurt and honeycomb dessert (£6.50), while well-balanced with richness of honeycomb and notes of coffee, is perhaps a little heavy for a 30-something degree London evening. That being said, I'd happily end dinner with this dish in front of a fire, later in the year.
While most of the dishes are well executed, dinner at Plate is somewhat confusing. From the decision to serve an all-you-can-eat offer aimed clearly at students in the middle of dinner service, to some of the dish designs, my feelings about Plate are similar to how I sometimes feel about Jazz. I can appreciate the sentiment, even if I can't quite understand it.
Plate can be found at 151-157 City Road, London, EC1V 1JH. 
RELATED
Vive le fried chicken revolution: In search of the perfect fried chicken
The Vurger Co to open a permanent vegan burger bar in London