The Square Mile has a different, prettier, face at the weekend. A playground for bumbling business men during the other five days of the week, this part of the city becomes unpredictably sedate at seven o'clock each Friday, as the wolves of Wormwood Street return to Kent and Essex. Come Friday evening, however, City Social springs to life.
A high-rise restaurant from chef-turned-restaurateur Jason Atherton, City Social has been operating from the 24th floor of Tower 42 for the past four years, awarded a Michelin-star within six months of opening. The restaurant's bar was re-launched last month, as a separate entity; Social 24. Coinciding with the overhaul, a brand new cocktail menu takes inspiration from famous London landmarks visible from the restaurant (The Shard, St Paul's Cathedral, Walkie Talkie). Executive chef Paul Walsh has also created a new food menu for the bar, including a three-course set Social Lunch Hour menu at £28.
A resident DJ blasts house music that's louder than the apocalypse on Friday evenings – invoking a festal, clubby atmosphere seemingly designed with the city's glossy elite in mind. The blueprint has been fruitful. Waiting for drinks to arrive, one merchant banker insists on photographing everything with the aid of flash, ultimately generating a thunderstorm of toxic wankery.
Once they arrive, the drinks are gratifying, though the service (although friendly enough) is sluggish. The space's eponymous 'Tower 42' (£12) is a modern twist on the classic Old Fashioned, taking 15 minutes to concoct. Bulleit bourbon and rye are mixed with house-made bitters and hop-infused sugar syrup enjoyable with the unusual addition of rye whisky. The 'Tate Modern' (£11), on the other hand, is a light, easy-drinking combination of refreshing Pisco, passion fruit, orange falernum and a lifting zing of lime. Just moments after the drinks arrive, we're escorted to a table in the main restaurant, for dinner.
A continuation of the bar service, leisureliness becomes a recurring theme through dinner. All members of staff are impeccably polite, but a flagrant disconnect between front of house and the kitchen hasn't been lavished with as much attention to detail as the room itself. At night, the space is low-lit, concealing the hyper-masculine myriad of brown. Still, I can think of worse surroundings in which to while away four hours. As the sun retires, London landmarks gradually illuminate as the Capital begins to glow radiant as the sun. The view is priceless.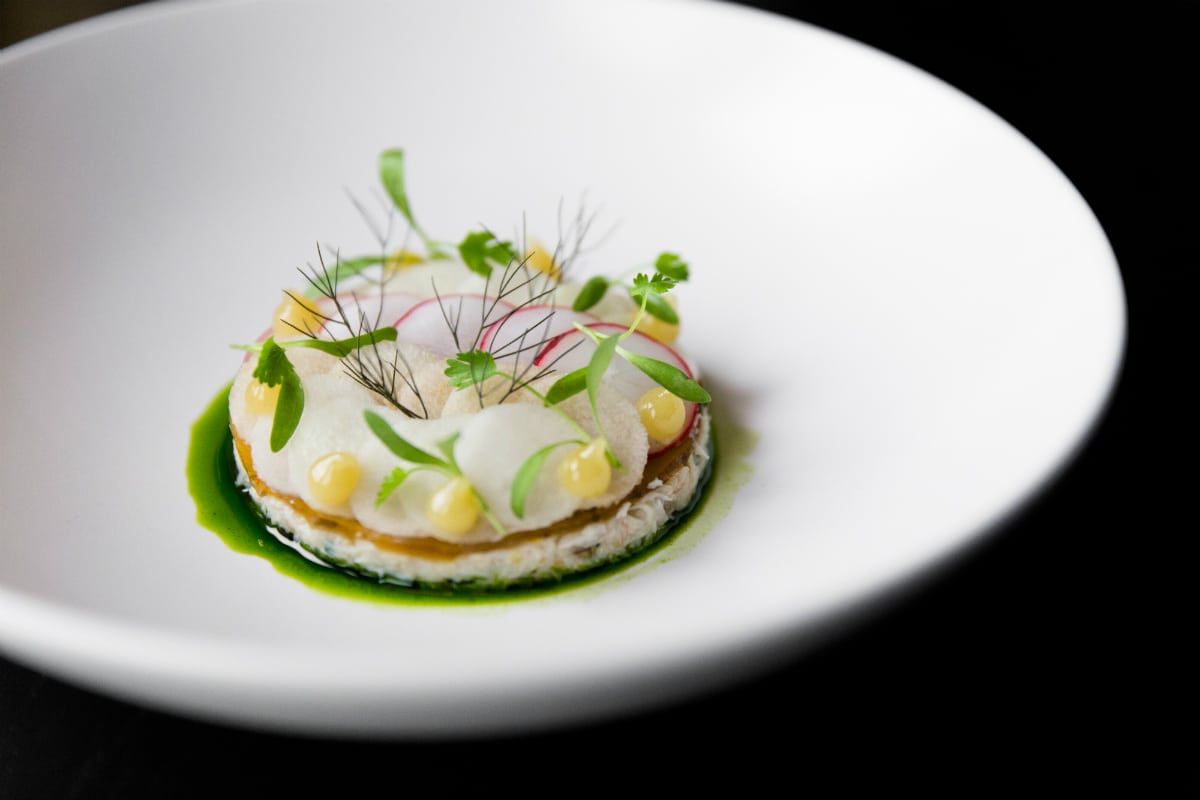 Dinner begins with a dish of Orkney scallops languished across a puck of cep fregola (cous-cous like pasta). The scallops are well-cooked and have natural sweetness well-paired with blobs of pungent black garlic and slivers of generously seasoned lardo. An enjoyable starter, if not borderline exorbitant at £18. Better still is a nugget of pig's trotter and ham hock, championing two criminally under-loved guises of pork. Slow-cooked, breaded and deep-fried – the croquette is insalubriously delightful, as is the accompanying domino of black pudding wrapped in crisped potato spaghetti. Additional globules of apple gel have unpleasant seminal texture but vaunt plenty of clean flavour, complementing the pork.
Considering the starters' portion sizes, pasta middle courses aren't particularly necessary, yet the warm fruit of the sea linguine comes highly recommended. Although definitively Italian, in terms of the dish's al dente pasta and miasma of battered octopus, prawns and razor clam; the dish is flooded with a creamy shellfish velouté that's categorically French in all its classicism and dairy-fuelled opulence.
City Social's duck main (£35) takes a loose nose-to-tail approach, using poultry from Merrifield Farm near Exeter. A slab of breast is cooked medium-rare, but the jewel in the dish's crown lies with the confit leg (served separately) and fragments of heart. Elsewhere on the plate, grilled baby leeks serve little purpose, while a smear of carrot reduction (although sweet and deeply flavoursome) conjures a visual evocation of 1970s dinner parties. The Lincolnshire rabbit, on the other hand, pageants plenty of technical competence. The saddle is deboned and wrapped into a ballotine alongside desecrated chanterelle mushrooms, each slice ensnared by layers of Parma ham. The cooking of the rabbit, in itself, is superlative, although generously seasoned with a blizzard of salt. This is served on a bed of spelt risotto, providing a welcome retreat from stodgy potatoes.
We finish with a pretty dessert favouring saccharine Gariguette strawberries dressed with a suggestion of Balsamic vinegar (£9.50). A sandy sable Breton biscuit acts as a bench for the strawberries, elegant crème fraiche ice cream and a borderline offensive substance deeply flavoured with peas and mint – sickly sweet with a texture redolent of supermarket own brand hair gel. Fortunately, the perfectly risen banana soufflé (£9.50) is plentiful to share (although you won't want to), finished with a rocher of smooth peanut butter ice cream which adds a new dimension of brilliance to the dish.
Dinner at City Social has its moments. The cocktails are impressive, although delivery is phlegmatic, the food showcases occasional flourishes of technical excellence and the service is wholly quite charming. The space also delivers an amiable sense of occasion to top the unspoiled views across the city.
City Social can be found at Tower 42, 25 Old Broad Street, London, EC2N 1HQ.
RELATED
https://www.thelondoneconomic.com/food-drink/restaurant-review-st-john/08/05/
https://www.thelondoneconomic.com/food-drink/bar-review-blind-pig/05/03/
https://www.thelondoneconomic.com/food-drink/restaurant-review-berners-tavern/07/09/