Pasta is big business in London restaurants at the moment, and it's hardly surprising. Across the pond, many restaurants are employing a fast-casual approach to pasta. Del Posto chef Mark Ladner opened Pasta Flyer, a fast-casual pasta restaurant, in New York last year; joining Casa Barilla in California and Grass in Portland, Oregon, amongst others. Closer to home, a number of Italian trattoria-styled restaurants primarily dedicated to pasta have opened in London, also adopting an unequivocally casual approach. During 2016, Trullo owners Tim Sidadatan and Jordan Frieda opened Padella on the edge of Borough Market. Almost two years on, the restaurant still demands long queues at unspeakable dinner hours. Others have since followed suit, including Flour & Grape in Bermondsey, Via Emilia, and Pastaio in Soho – Stevie Parle's most central restaurant to date – following the success of Dock Kitchen, Craft London, Rotorino and Palatino.
On first impressions, Pastaio (meaning 'one who makes pasta by hand') seems cleverly designed with the Instagram age in mind; from a colourful mural painted by artist Supermundane to the low-hanging pendant lights and terrazzo table tops acting as picturesque backdrops for plates of pasta, glorious in their simplicity. Here, costs are kept down by the efficient (but not rushed) service, allowing tables to be turned at a relatively swift pace, maximising the return on the restaurant's floor-plan. I don't particularly enjoy the uncertainty of no-reservations policies, or communal seating; but it's a small price to pay for a central London dinner with ample food, wine and a bill of less than £100 for two. Continuing into 2018, the 'no-reservations' policy is practically compulsory in Soho, partially contributing to the success of Hoppers, BAO and Barrafina.
Towards the end of last year, Business Insider published an article insisting fast-casual pasta restaurants "just won't cut it". McDonald's, it is not, but it's unlikely the writer has ever spent four hours on a Friday evening waiting for a table at Padella with the rest of us. The similar model followed by restaurants such as Pastaio and Padella has also attracted some criticism (namely from professional restaurant writers with very little knowledge of actual restaurants) but the notion has proven tremendously popular. Some might goes so far as calling it a "youthquake", but I'd rather catch my eye on a rusty nail.
So far as Stevie Parle's food at Pastaio is concerned, the menu seems like a natural progression from his Rome-inspired Palatino, opened in Clerkenwell last year. At Pastaio, all pasta is made on-site each day by the restaurant's Pastai. All long semolina pasta is extruded through bronze, while stuffed pasta is handmade with some of the best 'OO' flour available and eggs from Rodley Court Farm.
Struggling to decide on a reasonable amount of dishes (intent on ordering the entire menu), a bowl of plump Nocellara olives and Sardinian flatbread accompany a round of Prosecco slushies flavoured with peach and lemon, respectively. To follow, a fried sandwich filled with mozzarella, daubs of fiery nduja and a whisper of honey brings hope that fried sandwiches will become the new big thing in 2018. Across the table, a wedge of squash is roasted, with the skin on, joined by some seasonally-appropriate red cabbage, roasted hazelnuts for added crunch and a blizzard of ricotta salata. The dish is unequivocally simple, but sating – like all of the best Italian food.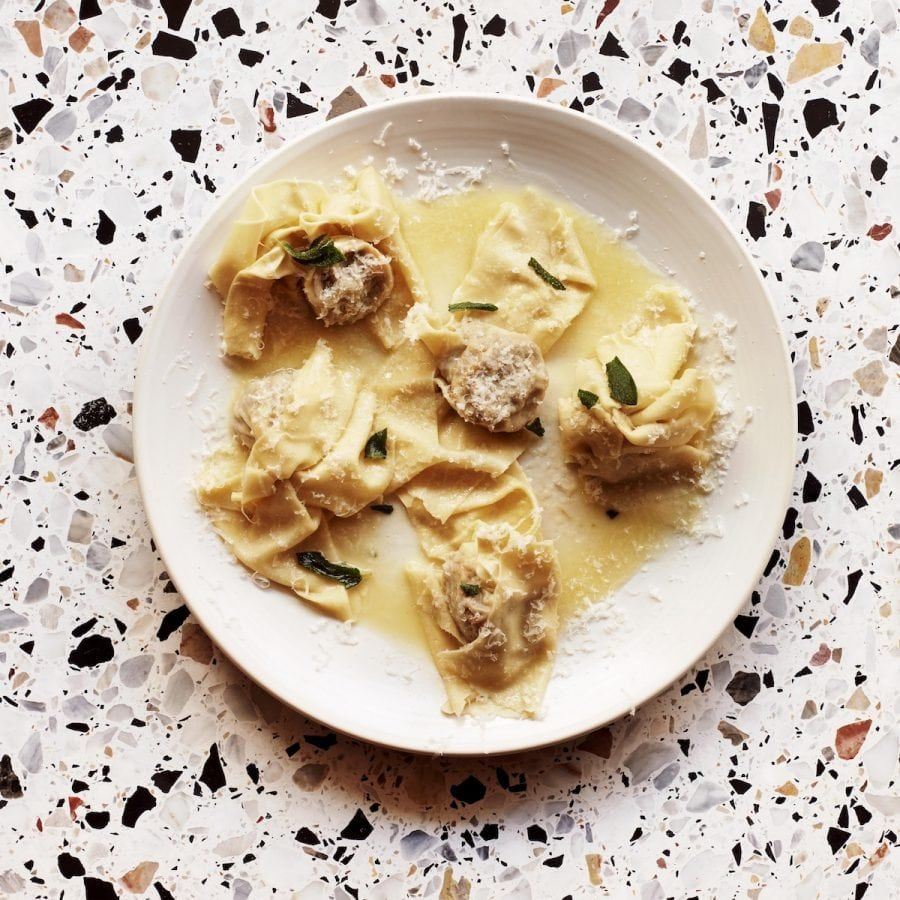 From the pasta section of the menu, Cacio e Pepe features thin straws of bucatini. Wetter than traditional, the cheese sauce remains glossy enough to coat each strand of pasta, showered with plenty of pepper. If I'm being really difficult, the pasta could do with being cooked more al dente, but the sauce's depth is sublime. Hives of Sardinian gnocchi (malloredus) are accompanied by another remarkable sauce: this time tomato based with unctuous, slow-cooked sausage and notes of fennel. Celebrating the severely underappreciated sausage, the sauce is rich and sapid, though the accompanying garnish of burnt croutons is relatively unpleasant.
The best pasta dish, of the three – five parcels of paper-thin agnoli are stuffed with a holy trinity of shredded pheasant, rabbit and pork, lashed with sage-heavy butter and fistfuls of grated cheese. At £12, the agnoli is the most expensive pasta dish on the menu, but it's also the single best pasta dish I've ever had the pleasure of eating. To finish, a fat cigar of cannoli is piped with ricotta, orange and pistachio nuts. The shell is fine, but the filling has an overzealous torrent of citric acid, overpowering the creamy ricotta. Instead, I'd recommend a swift Grappa or an extra portion of that superlative agnoli.
Pastaio can be found at 19 Ganton Street, London, W1F 9BN.
RELATED
https://www.thelondoneconomic.com/food-drink/restaurant-review-padella/28/09/
https://www.thelondoneconomic.com/food-drink/restaurant-review-palatino/19/04/
https://www.thelondoneconomic.com/food-drink/how-to-make-gnocchi-nutmeg-sage/11/09/