Vegetables are everywhere in 2018. Once considered the sole reserve of vegetarians and vegans, meat and fish-free cooking has become so revolutionised it's no longer a constant source of taboo for staunch meat eaters. At long last, mushroom burgers and slices of neoprene, masquerading as cheese, are becoming a thing of the past.
Tapping into London's long overdue appreciation of vegetable-centric cooking, Tom Oldroyd's eponymous Islington restaurant has launched 'Meat Free Mondays'. A pocket-sized space on Upper Street, Oldroyd serves a menu exclusively comprised of vegetarian and vegan-friendly dishes at lunch and dinner each Monday. The usual, daily-changing, a la carte menu is served throughout the rest of the week.
Having previously worked as Chef Director at the Polpo restaurant group, Tom Oldroyd left to open his own restaurant in 2015, having become a local favourite. In addition to accommodating one of the smallest kitchens in London, the tiny 35 cover space is cosy, rather than cramped, with a modestly decorated upstairs dining room lending a homely, independent atmosphere. Adding to the domestic charm, staff are friendly, informal, unobtrusive. Utilising the best of British seasonal and local produce, the food served at Oldroyd is deeply evocative of the Mediterranean, inspired by the chef's European travels; fitting for a Bank Holiday Monday hotter than the Devil. As is also the case at Polpo, dishes are generally 'cicceti' sized, intended to be shared – as is the law in 2018.
Dinner begins with a humble wedge of sourdough toast topped with an intentionally coarse paste of peas, broad beans and ricotta, augmented with a delicate whisper of mint (£5). The jewel in the dish's crown, however, is a fistful of young garlic cloves. A small dish of pea mousse (£4.50), on the other hand, is silky but slightly under seasoned. This is capped with radishes of varying sized and a smattering of dried mint – championing excellent produce unspoiled by wanton complication. A bowl of potato gnocchi (£9) is another example of this brilliant, simple, style of cooking. Shells of potato are lavished with thick green sauce rampant with wild garlic, harbouring a portion of roasted Jerusalem and Violetta artichokes. The dish is then finished with a blizzard of cheese (a vegetarian Parmesan substitute).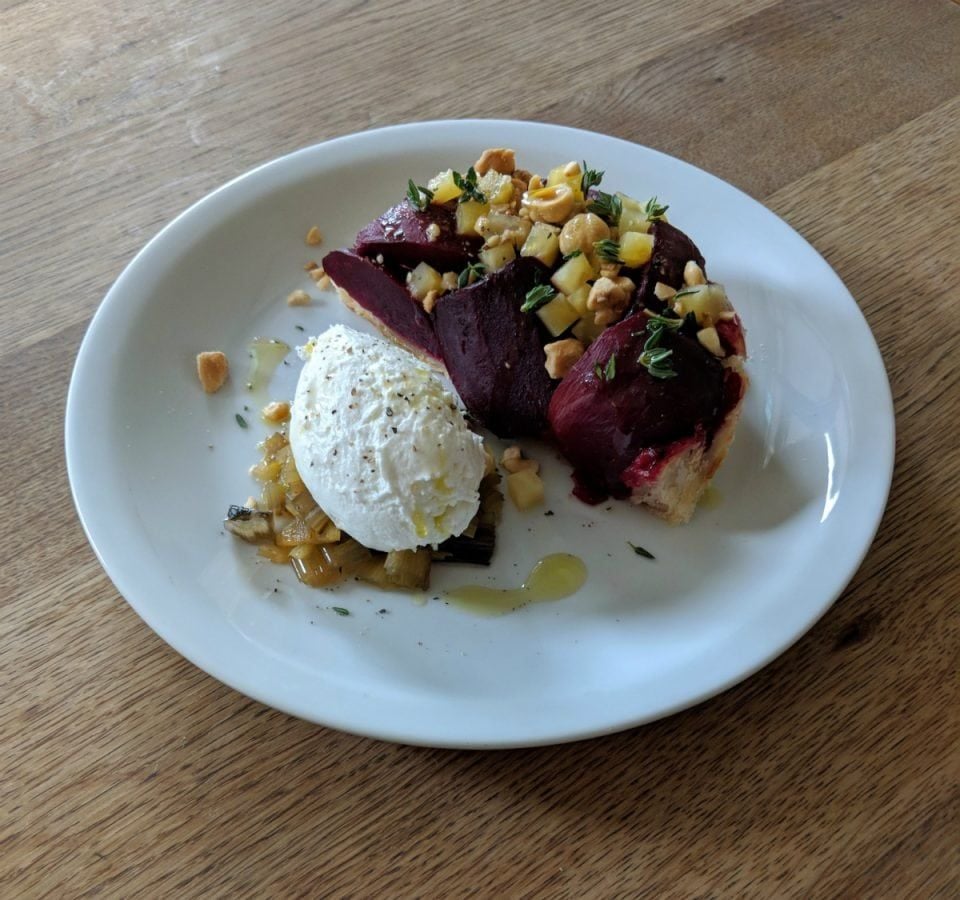 We order the fritto misto (£7) with apprehension, given the dish's tendency to be served oilier than my T-zone. This iteration is (mercifully) a complete anomaly – greaseless, crispy and rife with flavour. Courgette flowers, Violetta artichokes and wild garlic leaves are cloaked with a thin batter, well seasoned then deep-fried, served with a sauce comprising some more wild garlic. Tart fine stuffed with Heritage beetroot slices (£13) is the best thing eaten, with its unusually light puff-pastry case and 'hazelnut praline' topping adding extra depth of texture. On the side, a rocher of whipped goat's curd has lactic twang to counteract the sweetness of the beetroot, aided by the addition of tart, finely chopped rhubarb.
To finish, Oldroyd's lemon tart (£6.50) has profound, palate-cleansing sharpness, accompanied by a handful of saccharine Gariguette strawberries: a final flourish of the seasonally-appropriate, ingredient led cooking that's contributed to the restaurant's enduring reputation.
Oldroyd can be found at 344 Upper Street, London, N1 0PD.
RELATED
https://www.thelondoneconomic.com/food-drink/londons-best-vegan-restaurants/10/08/
https://www.thelondoneconomic.com/food-drink/vurger-co-shoreditch-restaurant/19/01/
https://www.thelondoneconomic.com/food-drink/cauliflower-steak-putting-the-debate-on-meat-imitations-to-bed/12/01/