After London, Venice has quickly become my favourite European city. Compact, charming and boundlessly beautiful – with its picturesque vistas, compendium of canals and Italo-Byzantine architecture. Ignore the American tourist complaints of "this damn curb ain't wide enough" or "what's with all these goddamn tourists?"; avoid being fleeced for €80 to ride a gondola around the canals – and it's almost impossible to avoid swooning over the city's serene pulchritude. And so, it's hardly surprising that restaurateur Russell Norman is so fixated on the City of Bridges.
Now a chain of nine restaurants, Polpo's conception was inspired by Russell Norman's various trips to Venice, modelled on classic Venetian Baracos – a Venetian version of food-focussed wine bars, or even pubs with the dreaded 'G' word prefix, if you like. Compared with Bologna or Florence, Venice's restaurants are generally quite underwhelming – with some of the worst restaurants being those with the most spectacular views (as is often the case in London, too.) The city's Bacaros, however, are generally regarded as the safest bet for something exciting to eat and drink. Suitably, Polpo's Beak Street address was once home to artist Antonio Canaletto during the mid 1700s. Now, the space is trendy but unpretentious, fronted with a small bar that introduced the long, narrow dining space with its low lighting, bare brick walls and candles that adorn each table.
As for the name – imagine if Burger & Lobster served neither burger or lobster; if KFC didn't serve chicken; or if TGI Fridays were to serve genuinely palatable food. The menu at Polpo (Octopus, in Italian) is completely bereft of its namesake: a case of false advertising almost on par with the push-up bra. After some pedantic grumbling, though, we actually ate very well indeed. To begin, we ordered a selection of 'cicheti' dishes while perusing the menu. Mushroom and truffle arancini were pleasantly greaseless with the earthiness of mushroom mercifully more prevalent than truffle, which so often overwhelms. Beef shin arancini were also free from residual oil, harbouring a stern red wine fullness.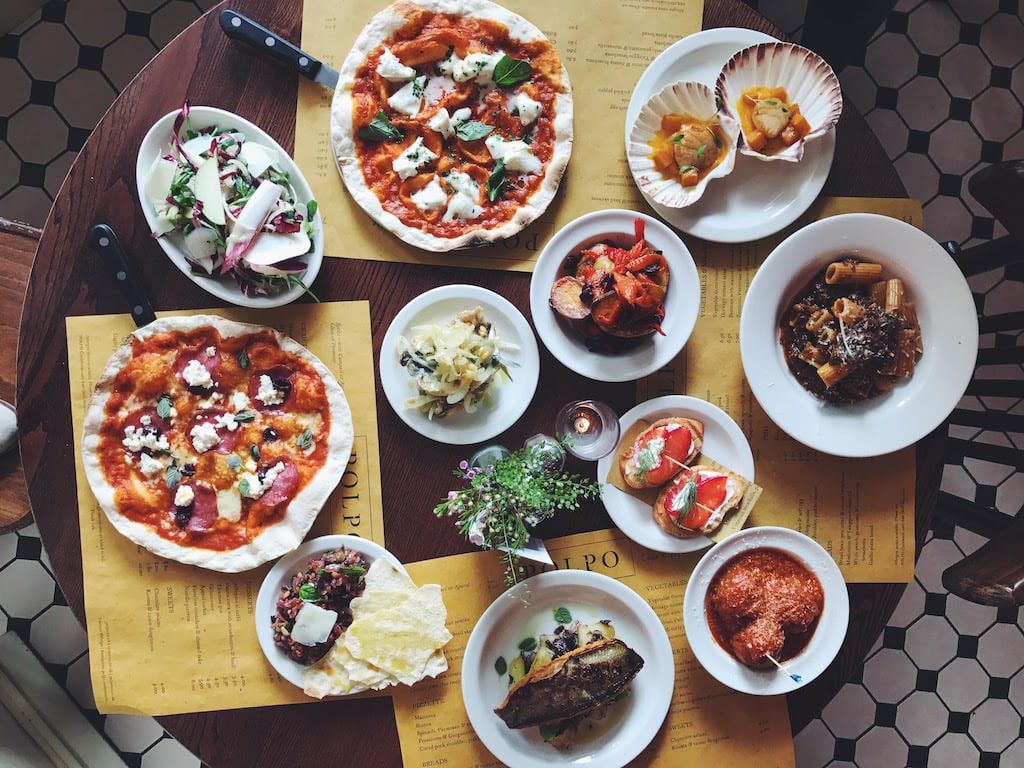 From here on, each of the dishes arrived rapidly – almost making it necessary to push two tables together to accommodate our food. Frito misto – an assortment of deep-fried fish – was well-prepared, but unexciting except for the brackish anchovies coated in thin batter. Meatballs were served in portions of four, considerably bigger than the miniscule spheres served in so many trendy Italian restaurants in 2017. Here, the meatballs were unexpectedly plump, like testicles plucked from misogynistic RAF propaganda posters. Pork and fennel's failsafe harmony was complemented further by an almost equal ratio of fat-to-meat, well cooked to melt on the tongue. Lamb and garlic meatballs were also delectable and had a refreshing flavour combination with the accompanying tomato sauce. Both sets of meatballs were the best thing eaten at Polpo.
A ragu of slow-cooked shin of beef had all of the opulent flavour expected from a properly cooked cut of meat that's so tragically under-loved in the UK. Rich with red wine (and a smattering of dark chocolate, I thought?) the ragu's unctuous texture worked especially well alongside thick tunnels of rigatoni that would have been otherwise objectionably al dente. Polpo's 'pizzette' selection presented some classic and less orthodox toppings. From the latter, the elegantly thin dough base suited the topping of paper-thin Prosciutto without a tomato base. The accompanying Gorgonzola cheese, though – no matter how delicious – did overpower the rest of the dish's comparatively subtle flavour.
To finish, affogato al caffe was unremarkable, more like an afterthought. Nutella pizzette, although arguably inauthentic, was far better and plenty for two. It was midway through dessert, however, (during a packed Friday evening dinner service) that two wheelie bins, more malodorous than Venice's canals in August, were dragged through the dining room. These passed our table (and many others) with less than six inches of distant space. By the time I'd collected my bottom jaw from the hell's waiting room, the same two filled bins were wheeled past once more. An unhygienic, unnecessary, and – most importantly – unpleasant practice; far too many restaurants are becoming guilty of this practice, so it would be unfair for Polpo to take the brunt of the criticism. Nevertheless, the very notion does need to be stamped out, here and elsewhere, with an unsmiling sense of urgency.
A love letter to the best of Venice, the service at Polpo is casual and friendly enough; the general ambiance is suitably charming; and the food served is generally delicious. Alas, the restaurant's poor waste disposal practice couldn't help but leave a bitter taste at the end of an otherwise enjoyable meal.
Polpo Soho can be found at 41 Beak Street, London, W1F 9SB.

RELATED
Holborn Dining Room serves some of London's most glamorous pies