A stone's throw from Smithfield Market, two of London's most outstanding Michelin starred restaurants (St. JOHN and Club Gascon) exist and thrive within this often overlooked part of Central London: especially so far as eating out is concerned.
I've recently reported on the boredom that can – and often does – accompany fine dining. Yes, the statement is one of those infuriating #firstworldproblems; but that not the point. The problem lies with all high-end restaurants (particularly the 60 restaurants in London with one Michelin star) constantly being pigeonholed into the same slot. Ultimately this means the fine, but glum and underwhelming, restaurants are generally extolled in the same breath as the genuinely brilliant. If only the Michelin guide would include a subtle disclaimer: "all Michelin starred restaurants are equal, but some are more equal (and considerably more tolerable) than others." Next year, perhaps.
While St. JOHN is so traditionally British, the restaurant is in many ways strikingly innovative. Club Gascon, on the other hand, is so unequivocally French; I half expect to see Asterix and Obelix at the next table, snarfing heaps of Gaulish roast boar. But Club Gascon's definitive French connection is no bad thing. Though finely-tuned haute cuisine isn't always the most exciting; French cooking is often the most insalubriously satisfying, when done properly. Here, Chef Pascal Aussignac's menu is decidedly classic, but never dated; flecked with subtle strokes of modernity, yet without a shred of wanton wankifery.
First opened in 1998, Club Gascon is situated in a Grade II-listed former Lyon's Corner House. Towards the end of last year, the restaurant re-opened with a brand new makeover. Tables are now strategically set with more space between each other, joined by opulent marble panelling and velvet upholstery in shades of blue, silver and gold (well, mustard).  Split into three sections – 'Gascon', 'Season' and 'Garden' – the a la carte menu reads like a love letter to south-west France, using classic ingredients and technique to deliver food that's generally ambrosial. Attention to detail at Club Gascon is also impeccable, from dinner's unexpected inclusions of intense lobster-infused butter, convoying linen-wrapped bread, to crispy grape canapés dusted with fennel seed and desecrated walnuts.
One of numerous foie gras starters demonstrates such skill, such balance, such culinary genius – it's easily the best thing eaten. A tranche of duck liver is seared masterfully, crusted with puffed grains for additional depth of texture and escorted by a smear of silky cranberry puree to offset some of the dish's richness. The balance of flavour is exceptional, but a godly Canelé, spiced with ginger and various spices evocative of Christmas, is the best thing on the plate. This is expertly paired with a glass of sweet Jurançon wine from Jean-Marc Grussaute of Domaine Larredya.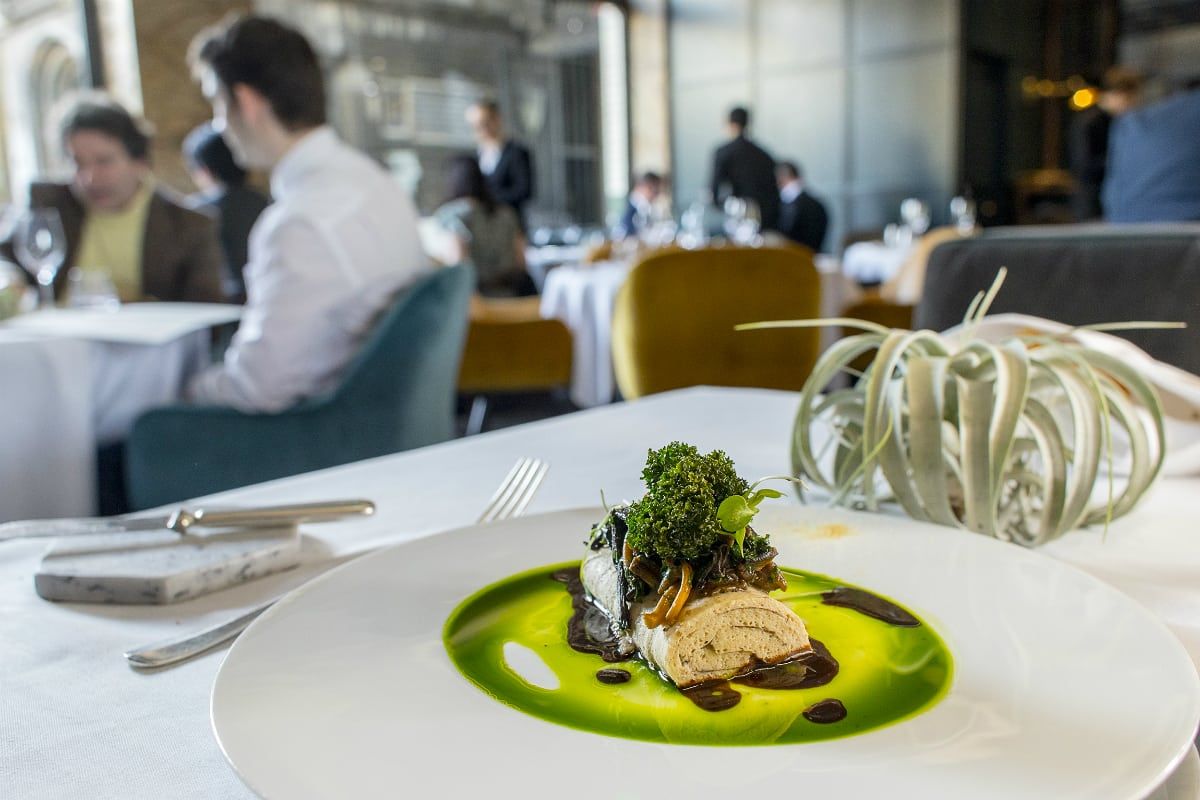 Across the table, cep pie – furled like a jam roly-poly – is just one of various meat-free dishes served at Club Gascon. Until recently, vegetarianism in south-west France was treated with levels of hostility equivalent to ordering a well-done steak; but this dish is a sign of the times. Granted, it's less endearing than the aforementioned, but – teamed with a fricassee of wild mushrooms, soft suet pastry and deeply-flavoured parsley oil – it's a fine celebration of cooking without flesh.
From a cornucopia of main courses, black pudding 'cappuccino' is, by far, the most contemporary. Here, a bowl of lightly cooked lobster is coated with liquid rich with black pudding; thicker than a broth, thinner than a velouté. A modern interpretation of American 'surf 'n' turf', the combination of decadent flavours showcased is absolutely sublime. Better still is a dish of grouse, perfectly pink and cloaked with an omnipotent sauce of Guinness and oyster.
To finish, Club Gascon's 'Choco Variation' combines luxurious flavours of Valrhona chocolate, black truffle, coffee and cardamom in a fashion that's not only expectedly decadent; it's also executed with clockwork precision. Moreover, a number of cheese-focussed desserts are also available, including a Savarin of scrambled Brillat. This is served on a thin slice of polenta cake and embellished with a generous shaving of fresh black truffle, flaked pistachio nuts and dots of both truffle honey and truffled vinaigrette. Needless to say, the dish is an absolute triumph. Faultlessly prepared, with striking balance between sweet and savoury, Club Gascon's Brillat Savarin has instantly become my go-to Death Row dessert.
In keeping with the food, the restaurant's evening service is charming and swish – leisurely paced, but plentifully efficient. Overall, the food is mostly outstanding, while dishes such as the crispy foie gras and the Brillat Savarin fill me with hope (and quiet assurance) that Club Gascon will continue to thrive for yet another 20 years.
Club Gascon can be found at 57 West Smithfield, London, EC1A 9DS.
On Monday 12th February, Club Gascon will host a tea-pairing dinner in collaboration with JING tea. A five-course tasting menu created by Chef Pascal Aussignac, Head Sommelier Julien Sarrasin and JING's Head of Tea, Tom Price, will include dishes expertly paired with matching teas, based on their unique flavours. Dinner costs £100 per person and can be booked via Bookatable.
RELATED
https://www.thelondoneconomic.com/food-drink/make-pascal-aussignacs-crepes-de-simone/05/02/
https://www.thelondoneconomic.com/food-drink/restaurant-review-the-square-mayfair/29/01/