Forget Peckham, Shoreditch and Dalston – one of London's most exciting neighbourhoods for eating out, at the moment, can be found in a considerably more central location.
Tucked between Islington, King's Cross and the square mile, Farringdon (commonly known as Clerkenwell) has always been deeply rooted in food history, but has – in the past ten years – finally become recognised as such an exciting cornucopia of brilliant restaurants, cafés and bars. Smithfield meat market, for instance, has operated continuously since the medieval period – now London's only wholesale market. Old and new, from Smithfield to Exmouth Market – these are the best Farringdon restaurants.
Macellaio RC
Literally meaning 'butcher' in Italian, Macellaio RC in Exmouth Market is fronted by an "old school" butchers, providing all of the menus meat produce. Here, the conceptual menu specialises in just two things: luxurious Fassona beef and controversial Bluefin tuna (cows of the sea). Fittingly, the dual fronted space's windows are decorated with hunks of aged beef and a huge, ominously lit tuna. All of the dishes on the menu are simple, but champion ingredients of impeccable quality. Feeling hungry? Taste both of the contrasting beef and tuna carpaccios, followed by an enormous slab of Fassona bone-in sirloin with its caramelised outer bark and marbled fat, plus the one-week aged tuna steak. The extensive wine list with pairings depending on how the steak are cooked – 'Blue to Burnt' – is also worth a mention, as is the vast selection of post-dinner Grappa.
Further information can be found at macellaiorc.com.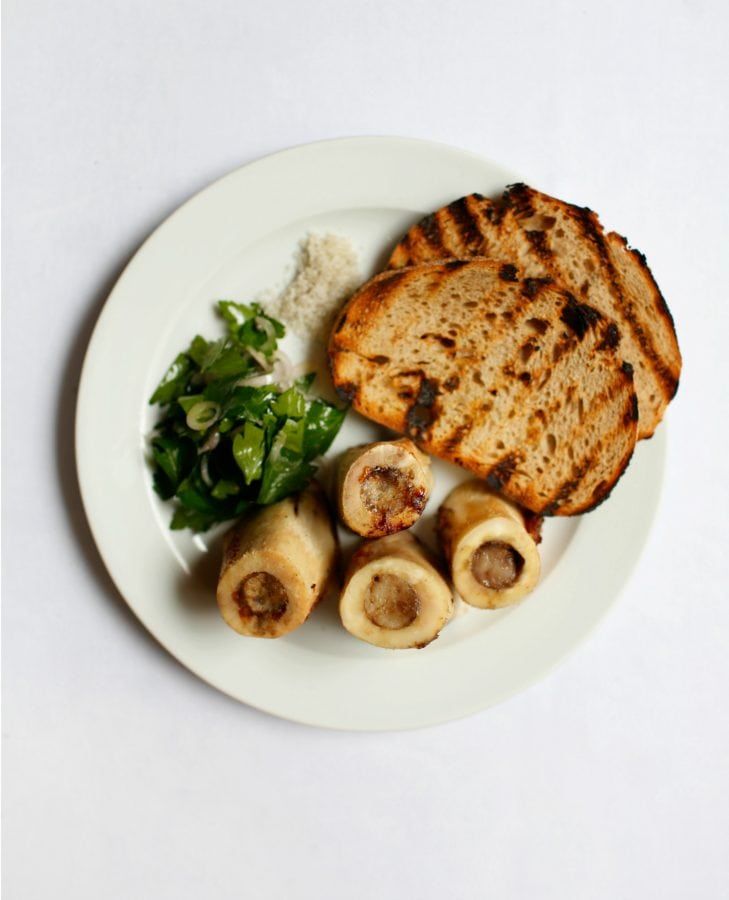 St. JOHN
Taking over an old smoke house just across the road from Smithfield Market, St. JOHN has been instrumental in championing nose-to-tail eating since opening in 1994. Arguably the best restaurant in London, Fergus Henderson's Michelin-starred St. JOHN serves a daily-changing menu that's unashamedly British. With a prominent focus on showcasing offal and lesser-loved cuts of meat, St. JOHN's Roasted Bone Marrow Salad is the only dish to have remained on the menu since opening – four centre-cut veal bones are accompanied by grilled sourdough toast and fresh parsley salad. Other menu highlights might include pig's head and potato pie; lamb sweetbreads, radishes and bacon; or – for the more faint-hearted – skate, bread and capers. To finish, St. JOHN also serves some of the best Madeleines outside of Paris.
Further information can be found at stjohngroup.uk.com.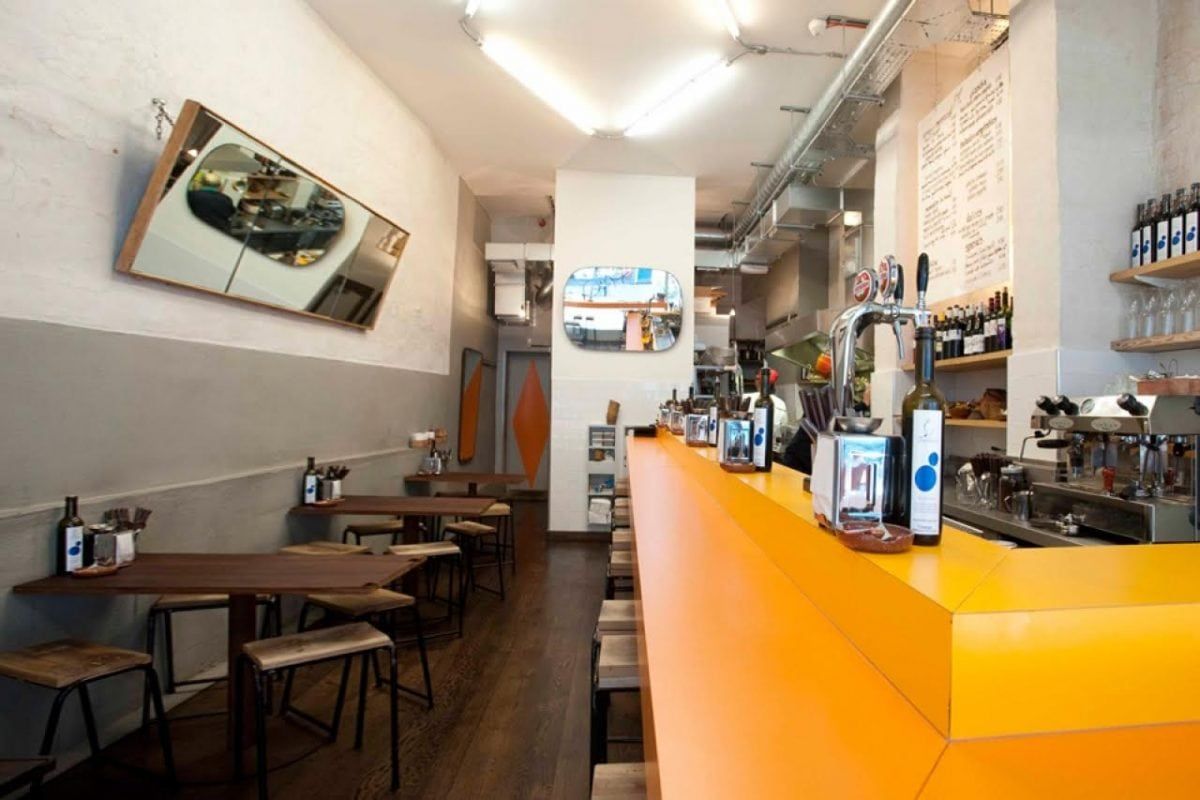 Morito
Opened by husband and wife team Sam and Sam Clark, Morito is a tiny tapas and mezze bar next to sister restaurant Moro on Exmouth Market. Given the space's size, reservations aren't accepted – but the food served makes Morito one of the few restaurants in London worth queuing for. Inside, the décor is simple and slightly cramped with a marigold-orange bar as the main focus, across which it serves a concoction of Southern Mediterranean dishes. The daily changing menu might feature Catalan calçots aggressively grilled and wrapped in newspaper, served with almond-heavy Romesco sauce; Iranian Borani with beetroot, crumbled feta cheese, walnuts and dill; or splinters of spiced lamb shank on a bed of aubergine puree, with mint, pine nuts and pomegranate. All of which are absolute must-try creations, best washed down with classic, unfussy cocktails.
Further information can be found at morito.co.uk.
Ibérica Farringdon
Just seconds away from Farringdon station, with a 15-meter bar and extensive wine list – Ibérica's popularity is hardly surprising. At the back of the venue, however, the dining room is ideal for lunch and dinner, with a menu of Spanish tapas from Executive Chef Nacho Manzano. Alongside the a la carte menu, with plenty of Ibérico pork and Spanish cheeses, Ibérica has two set lunch menus. The first, priced at £10 per-person, gives diners a choice between grilled Ibérico pork secreto with skinny chips, or sea trout with almond purée, pickled cauliflower and fresh tomato salad. The other offers a trio of tapas, for £15 per-person, with choices such as patatas bravas, fried chorizo lollipops, or cod Brandada.
Further information on Iberica Farringdon can be found at ibericarestaurants.com.
Berber & Q Shawarma Bar
Following the colossal success of Berber & Q Grill House in Haggerston – and that cauliflower –  founders Josh Katz and Mattia Bianchi opened their second restaurant last year. Berber & Q Shawarma Bar, in Exmouth Market, specialises in Levantine spit-roasted meat that's a complete departure from tawdry doner kebabs. Instead, the focus here is on high quality produce, in particular the refined lamb shawarma served with mejaderah (a Middle Eastern rice and lentils dish). Other menu highlights include Adana kofte with red zhug and garlic yoghurt; rotisserie chicken, and – of course – cauliflower shawarma with pine nuts and pomegranate
Further information can be found at shawarmabar.co.uk.
Anglo
Since opening last year, Anglo has been the subject of rapturous critical acclaim. Following the launch, AA Gill even gave the food at Anglo a coveted five stars in his Sunday Times review. With experience working in the kitchen of Raymond Blanc's Le Manoir, owner Mark Jarvis opened Anglo with the "desire to create a restaurant with all the elegance of fine dining, with none of the pretention". Here, Head Chef Jack Cashmore's menu has an emphasis on simple, refined dishes crafted with exceptional seasonal produce. An a la carte menu is offered at lunch, with a a seven course tasting menu at dinner (reasonably priced at £45). The menu changes daily and is comprised of simply titled plates that give nothing away. These might include 'Isle of Wight tomatoes + seaweed' or 'Creedy Carver duck with black garlic + elderberries'.
Further information can be found at anglorestaurant.com.

Polpo Smithfield
Heavily inspired by the bàcaros of Venice, Polpo (Italian for "octopus") now has nine outposts around England. The Smithfield restaurant, on Cowcross Street, is – like the Soho and Covent Garden sites – bedecked with blood red leather banquette seating and exposed brickwork, plus the addition of outdoor seating. While bookings for dinner at Polpo Smithfield are limited, the humble Venetian food is worth waiting for, especially if there's space at the bar to enjoy a pre-dinner glass of young Italian wine. Though most of the food is far too good to share, the menu is offers an extensive selection of small plates, plus five types of pizzette. Try the arancini, the pork and fennel meatballs, or octopus carpaccio, and prepare to be impressed.
Further information can be found at polpo.co.uk.
Luca
From the team behind The Clove Club, at the vanguard of London's dining scene, Luca opened in Clerkenwell towards the end of last year. Just up the road from St. JOHN, Luca was opened with the purpose of serving Italian food, using seasonal British produce. Everything from the venue's sage and blue colour palette, through to dishes such as spaghettini with Morecambe bay shrimps; rump of Angus beef with pancetta; or grouse ravioli with potato and whisky sauce, is designed to be evocative of Italy. Elsewhere, the bar is open all day, serving a completely different menu from the restaurant, with walk ins encouraged. Just please don't ever call it 'Britalian'!
Further information can be found at luca.restaurant.
RELATED
https://www.thelondoneconomic.com/food-drink/restaurant-review-morito-exmouth-market/01/03/
https://www.thelondoneconomic.com/food-drink/restaurant-review-macellaio-rc-exmouth-market/31/08/
https://www.thelondoneconomic.com/food-drink/londons-best-british-restaurants/20/07/