These adorable images show the very first steps taken by a five-month-old gorilla called Makari as he larks about with his playful troop of endangered primates.
Tiny Makari can be seen by visitors to Blackpool Zoo sitting up and moving around under the watchful eye of his mum Miliki and dad Bukavu.
The Western Lowland baby gorilla – whose name was handpicked by zoo staff over a Facebook poll – was born in September last year.
He joins up with his big brother Moanda, five, and older sister Meisie, seven, who are both are keeping a wide birth of the newest cheeky edition.
The zoo is home to six of the Western Lowland species as their endangered status is a result of habitat destruction and poaching for the bushmeat trade.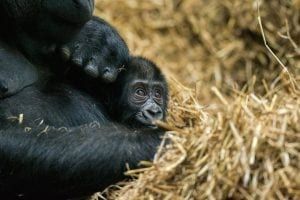 Acting Section Head of Primates, Simon Childs said: "When Makari arrived in September we were all over the moon.
"As it is Miliki's second baby we already knew she would be a great mother and she has certainly stayed true to form.
"She is also spending much more time with Bukavu since the birth, meaning the little one has lots of bonding time with dad.
"We have recently seen him wobbling cautiously over to his father to play with the hair on his arms, which Bukavu doesn't seem to mind.
"It's so wonderful to see the family all together, they are such a content group, which is testament to the great job all the keepers here do."
Western lowland gorillas hail from Angola, Cameroon, Central African Republic, Republic of the Congo, Democratic Republic of the Congo, Equatorial Guinea and Gabon.
https://www.thelondoneconomic.com/must-reads/abandoned-baby-otter-hand-reared-total-silence-can-returned-wild/30/01/
https://www.thelondoneconomic.com/must-reads/abandoned-baby-otter-hand-reared-total-silence-can-returned-wild/30/01/