Thought to have originated in northeast China around 2,000 years ago, kombucha is a fermented drink typically consisting of black tea and sugar – although the drink can also be made with green tea and with the addition of honey or various fruits.
Known as the "immortal health elixir" in China, kombucha has multiple health benefits, containing a colony of bacteria and yeast, each responsible for initiating the drink's fermentation process when combined with sugar. During the 1960s, kombucha became a big hit in California, touted as a New Age panacea for arthritis and psoriasis. Far more recently, the drink has become exponentially popular in the UK, renowned for its multiple health benefits. Due to the fermentation process involved in production, kombucha contains a wealth of healthy bacteria (probiotics) which line the digestive tract and support the immune system; absorbing nutrients and fighting infection.
Moreover, kombucha has also become popular amongst people who avoid alcohol, quickly becoming a viable alternative to wine and beer. Strictly speaking, kombucha does contain a trace amount of alcohol, as yeast consumes and ferments sugar to produce CO2 and ethanol. The drink is self-limiting, though, unlike beer or wine – both intentionally brewed to harbour a higher alcohol content. Kombucha typically contains less than 0.5 per cent alcohol, which is similar to that of a banana or a slice of marmite on toast.
Data from the Office of National Statistics suggests 30 per cent of people aged 16-24 are now teetotal, and those between 25-34 aren't far behind. A much larger percentage of the population are actively attempting to reduce alcohol consumption, constantly searching for regular alternatives. Until recently, dining out and choosing to abstain from alcohol would typically provide very limited choice. Set up by David Begg in 2015, after discovering kombucha in his quest for an interesting alternative to wine, Real Kombucha is attempting to challenge boring alcohol-free drinks lists, offering unflavoured, unsweetened kombucha containing only natural flavouring harnessed from the tea itself.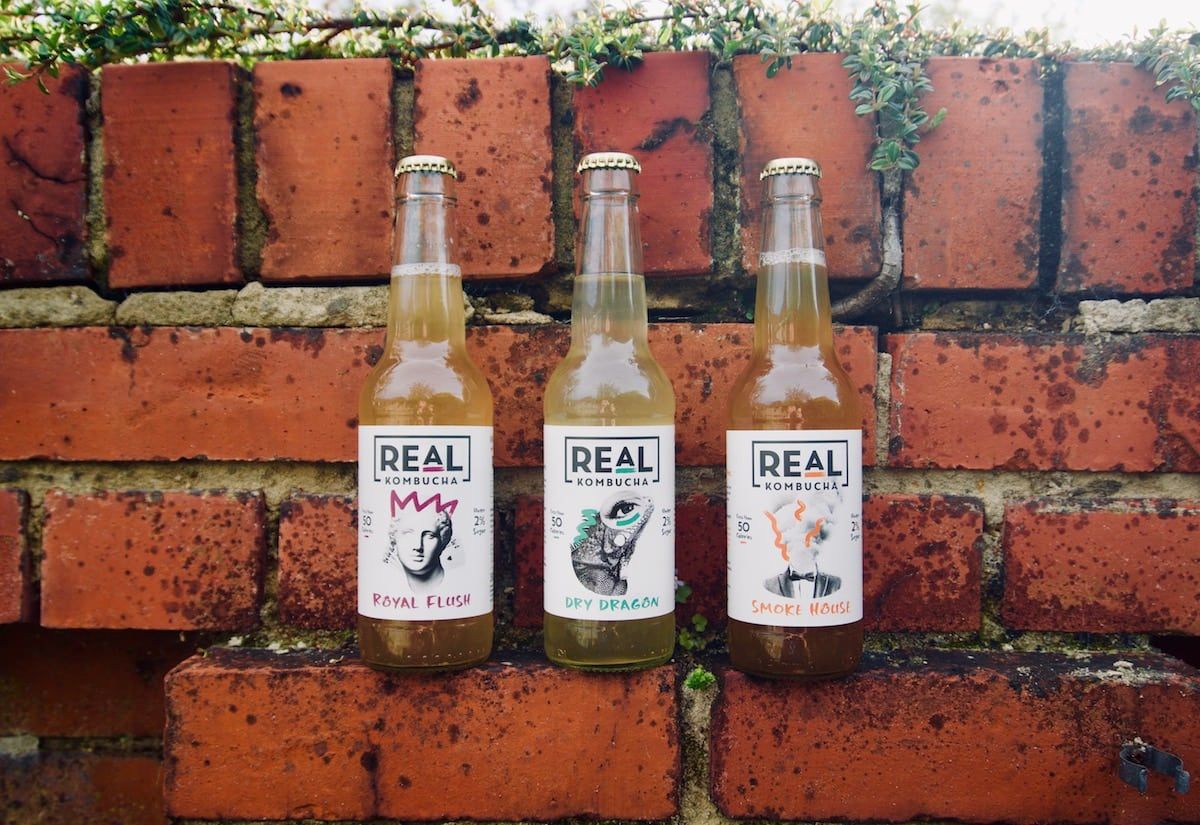 Whereas most kombucha brands concentrate on health benefits, Real Kombucha envisioned its potential as something different: a sophisticated alternative to wine. Gathering a team of specialists, master-brewer David Begg and his team experimented with 150 different teas to create fermentation at its finest. After almost two years in development, Real Kombucha moved from kitchen counter to a garage nano-brewery, eventually settling into a full-scale brewery in the Chiltern Hills.
Using only three ingredients: high-end loose leaf tea, sugar, and a specially grown kombucha culture, Real Kombucha boasts a range of three flavours (with fewer than 50 calories per bottle) each specifically crafted to be paired with food. These are currently served in over 30 Michelin-starred restaurants, including Heston Blumenthal's The Fat Duck, Simon Rogan's L'Enclume and Hakkasan. Some of these restaurants even offer 'Kombucha Flights', with sommeliers having worked alongside chefs to pair Real Kombucha with their tasting menus.
Of these flavours, 'Royal Flush' is brewed from First Flush Darjeeling: richly fragrant and fresh with prominent notes of white peach and rhubarb, ideally paired with fish. 'Dry Dragon', brewed with Dragonwell green tea, is light and fruity, pairing well with salads and fresh fruits; while 'Smoke House' is rich, rounded and has smokey top notes, unsurprisingly complementing robust meats, smoked food and rich, heavier desserts.
Now available in so many prestigious restaurants, The London Economic spoke to Real Kombucha founder, David Begg, keen to hear his thoughts on why kombucha has become so popular in top UK restaurants and bars.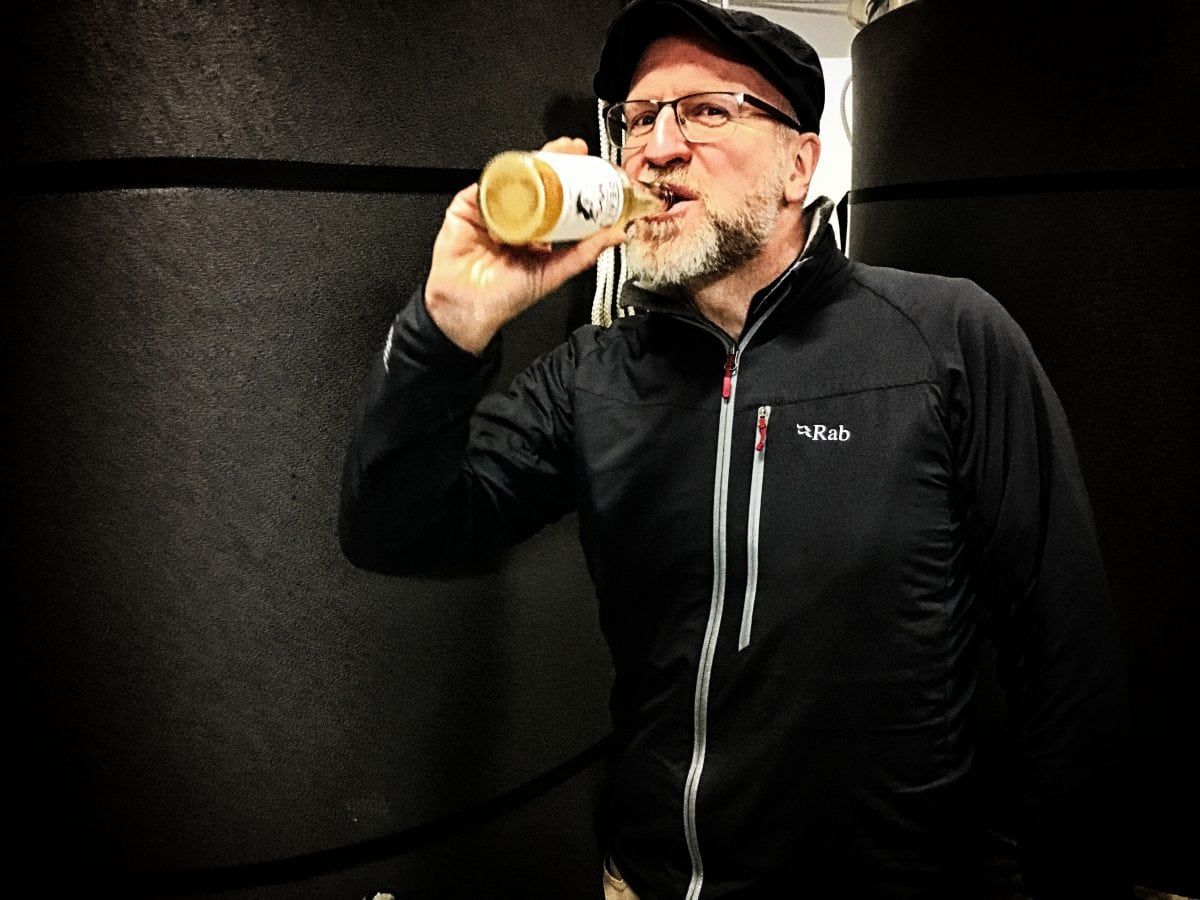 On increasing demand for kombucha as a wine alternative… 
"What we hear from all of the chefs, sommeliers and restaurateurs that we work with is that we are the only real non-alcoholic alternative to wine when pairing with food. I was quite surprised when I first heard this but I have now spent a lot of time looking for other alternatives without any luck.
"A few years ago, if you walked into a pub, bar or restaurant, the only non-alcoholic option would have been a Coke, Fanta or a glass of water. This is changing rapidly. Although a very big fan of great wines and very partial to a shot of an Islay [whisky], I very seldom drink. In the pub I end up taking a beer, or a small glass of wine in a restaurant because the only other option is water or a kids' soft drink. It's not much fun for non-drinkers out there.
Fundamentally, it is the complexity of a fermented beverage that enables good food pairing: the blend of acidity that cuts through fatty foods, tannins that help to counteract sweet foods, and sweetness that softens salty and acidic foods. These are all produced in the fermentation process of kombuchas in just the same way as wines."
"But, in fact, there are certain characteristics of kombuchas that take this even further. The heightened acidity of a well brewed kombucha can really offset fatty foods, but also has a really interesting effect when combined with certain meats and spices, much like pairing with a chutney. Also, smokiness is a flavour that is rare among wines, maybe only found in some South African wines. In a kombucha (especially our Smoke House variety) this pairs really well with salty and smoked meats, and even with chocolate.
"Virtually no other non-alcoholic drink can achieve this. Blended soft drinks are very sweet and uni-dimensional, and so detract from rather than building on the flavours in food. Shrubs do have the acidity, but are blended with fruits and spices and are often quite sweet so are better in the bar or on the terrace than at the restaurant table."
"We are now stocked in London's top bars, hotels and restaurants, including: Hix (Soho), Pharmacy 2, The Mandrake Hotel, The Lanesborough, Citizen M, Chiltern Fire House and Granger & Co."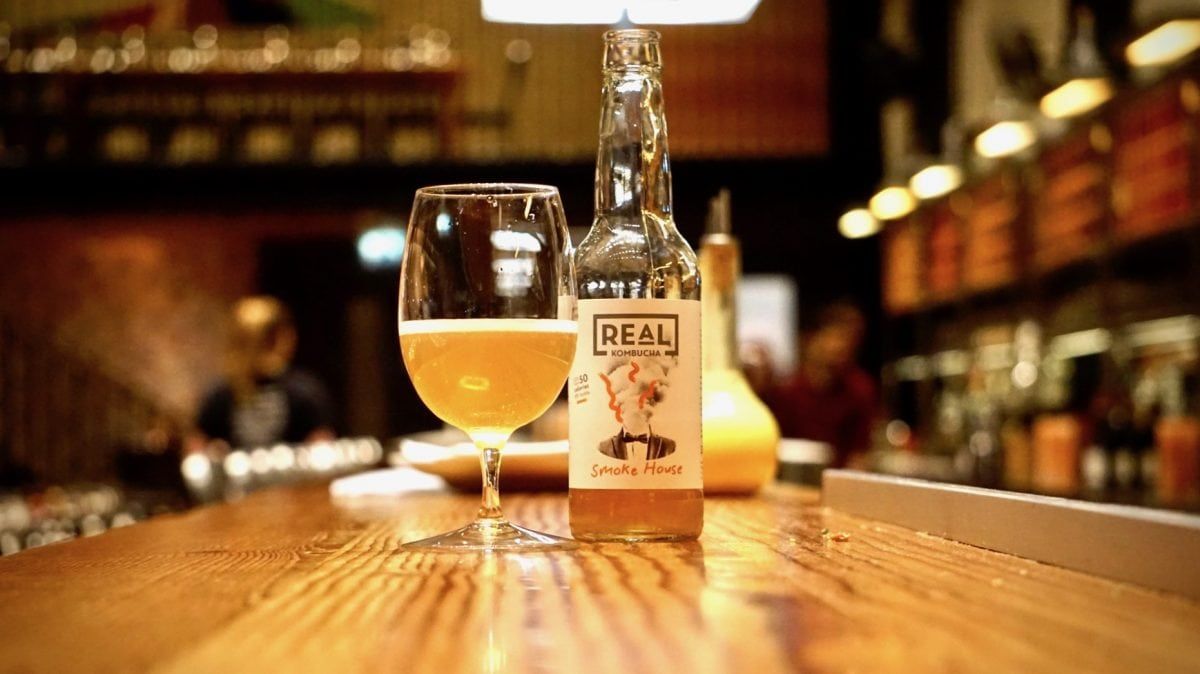 On the reasons for people moving to kombucha in bars and restaurants… 
"There seem to be various effects colliding that are causing big changes in drinking habits across the country. There is a much greater awareness of both physical and mental health, which is changing people's relationship with what they consume. This is particularly prevalent among the younger generation where teetotalism has reached almost 30%. If you are counting your calories, two pints of beer or two glasses of wine on an evening consumes around 20% of your daily calorie intake, so that is a lot less food you can consume.
"But social habits are also changing – again, particularly among the young. Whereas the pub was the main social hub not that long ago, social media has now taken over that position, so alcohol is no longer so central to social interaction. However, Instagram has also had a major impact: the fact that Thomas Cook is closing its 18-30 franchise is testament to this. In its announcement it alluded to the fact that the current 18-30 generation is now more interested in posting pictures of classy escapes than debauched parties.
Pressure on disposable income is also changing social and drinking habits. A shared bottle of wine each night can get quite expensive."
"But people are also trading up. Consumers have become more discerning in their tastes, preferring to consume less but better. Just look at the explosion in the gin market where you can now experiment with over 400 different brands and styles in bars such as the Holborn Dining Room. And the craft beer market is having a significant impact on traditional volume brewers such that the likes of Molson Coors and AB InBev are now buying up craft beer brands as fast as they can.
"Brewers such as ourselves are also catalysts for this change and what a change we have seen in the last couple of years! Hakkasan has recently launched an extensive non-alcoholic range to compete with its wine list. The Fat Duck now has its non-alcoholic flight, lead by our Real Kombuchas, alongside its wine flight. And many pub groups are now approaching us as they develop properly sophisticated non-alcoholic lists in an attempt to attract back customers who don't want the pressure to drink.
"With all this going on, it is going to be really interesting to see what the on-trade drinks market looks like in the next few years."
Real Kombucha is stocked in over 30 Michelin-starred restaurants. The full list of London stockists can be found here, also available online through boroughwines.co.uk and lightdrinks.co.uk. Further information on Real Kombucha can be found here.
RELATED
https://www.thelondoneconomic.com/food-drink/difference-coffee-co-interview/20/12/
https://www.thelondoneconomic.com/food-drink/isnt-it-high-time-tea-shops-gave-coffee-shops-a-run/20/03/
https://www.thelondoneconomic.com/food-drink/londons-best-new-restaurant-openings-july-2018/02/07/