With plenty of exciting restaurant launches constantly taking place across the Capital, we pick London's best new restaurants opening over the coming month.
The latest restaurant from JKS Restaurants (BAO, XU, Sabor), Brigadiers will open within the Bloomberg Arcade next week. An Indian barbecue restaurant and drinking tavern, Brigadiers will house two designated bars: Blighters and The Tap Room, with a whisky vending machine, on-tap cocktails, Champagne and punch fountains, and fast-pour pints from self-serve beer taps. As for the food served here, the menu will be broken into sections including: 'Beer Snacks & Bitings', 'Chhota Chatpata' and 'Anda, Rolls, Bun Kebab, Pao'; through to larger 'Steaks, Ribs, Chops' and 'Rotisserie & Wood Oven'. Signatures from across the menu include Chaat Masala pork scratchings, cod roe and green chilli Raita; Dry Tandoori Masala Beef Rib-eye Steak; and a Sikandari Kid Goat Shoulder with Lacha Parathas and Lacha onion. Brigadiers will also serve Indian-inspired roast dinners each Sunday, from 12-8pm.
Brigadiers is set to open on Wednesday 6th June and can be found at 1-5 Bloomberg Arcade, London, EC4N 8AR. 
ROVI – Fitzrovia
A new project from the team behind Ottolenghi, ROVI will build upon Ottolenghi's roots, but will have a different character. Here, the menu will have vegetables at its heart, with a focus on fermentation and cooking over fire. Jersey Royals will be smoked on hay; hand-dived scallops served with cucumber kombucha; peaches grilled over fire.
At ROVI, dishes will be available in different sizes, allowing added flexibility and choice. Dishes might include braised and smoked carrots with puffed black barley and pickled herbs; kohlrabi 'ravioli' with peas, broad beans and yuzu kosho; confit mussels with hay-smoked potatoes and cascabel oil; or onglet skewers with beef fat mayonnaise and fermented green chillies. A vibrant bar will serve cocktails based on seasonal spices, while the restaurant's dynamic low-intervention wine list will champion small producers. A small deli will also be open during the day, serving salads to take away, alongside freshly baked cakes and pastries.
Speaking on the launch of ROVI, Yotam Ottolenghi said: "The name, ROVI, is a little bit of NOPI and a little bit of Fitzrovia. We wanted to develop a new restaurant and bar with vegetables at the core, but treated a little differently. At ROVI, vegetables will be the main event, cooked on the grill. We'll mainly work with small batch suppliers and farmers, people who respect the environment and the produce, to bring the best quality food to our diners while supporting best-practice agriculture."
ROVI is set to open in June and can be found at 59 Wells Street, London, W1A 3AE.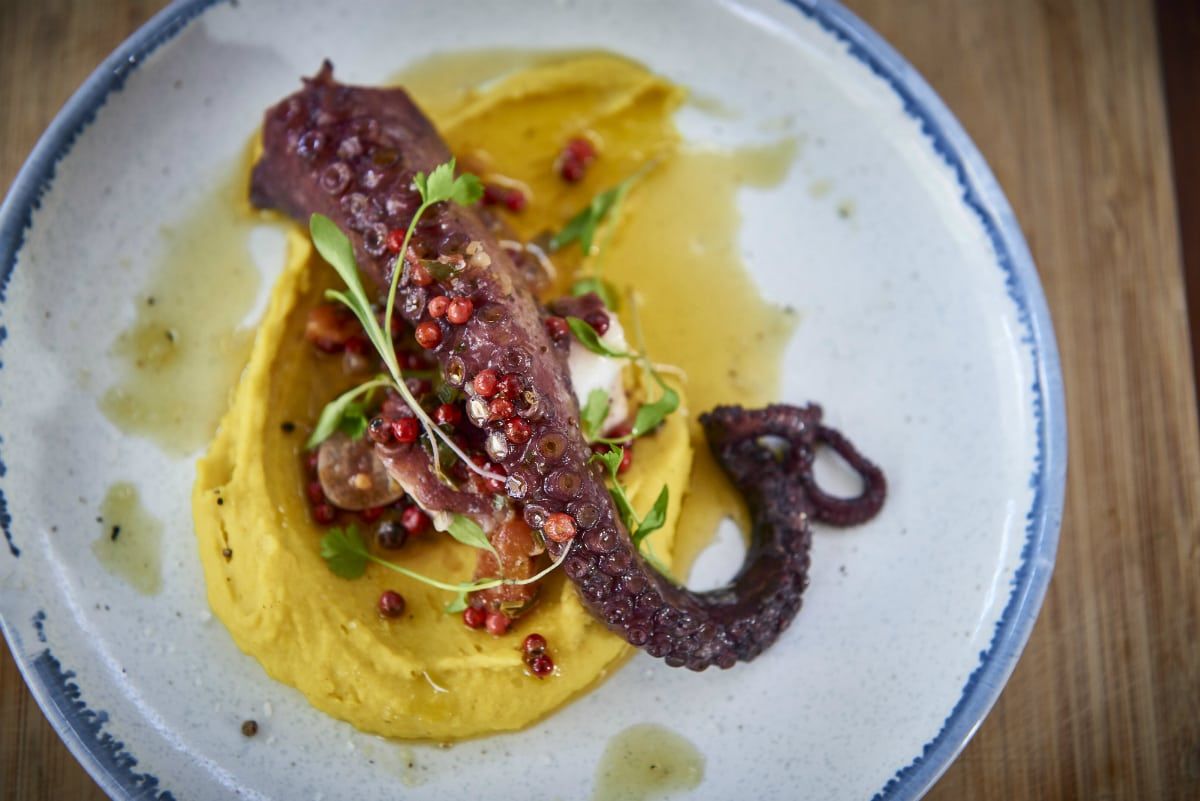 Brother Marcus – Angel
Following the success of the original Balham restaurant, Brother Marcus will bring their award-winning brunch to a larger space in Islington. A stone's throw from Angel tube station, the new restaurant will serve a brand new evening menu featuring Mediterranean inspired small plates with a particular focus on Cretan flavours, using recipes passed down through generations.
Designed to share, the evening menu will be split into four sections (Earth, Land, Sea, Snacks). On the menu, dishes will include the likes of fried feta with honey and sesame; grilled octopus with fava puree, pink peppercorn vierge and charcoal oil (photographed); chargrilled aubergine with mint, chilli, lemon zest tahini and pomegranate seeds; and cracked pork belly with a Metaxa and date glaze with apple labneh and walnuts. The dessert menu will feature dishes such as 'honey bombs' with cinnamon syrup and sesame; or sticky toffee and Metaxa pudding with dates and cream. Moreover, favourite dishes from the Balham restaurant will also be served here, including the 'Step Sister' – sweet potato, courgette and feta fritters with mashed avocado and spinach, crispy kale and a turmeric yoghurt topped with a poached egg.
Brother Marcus Angel is set to open in June and can be found at 37-39 Camden Passage, London, N1 8EA.
Following three successful years operating from at site in Neal's Yard, Native will move to a new, larger premises this month. Between Borough Market and Flat Iron Square, the new restaurant will have space for 60 covers and will continue to celebrate the principles that the original Native was founded upon: entirely British produce, zero waste and profound respect for the natural environment.
Embracing the ethos of 'what grows together, goes together', Native use locally sourced ingredients and support independent suppliers and micro farms. The new restaurant's daily-changing menu will feature familiar Native dishes such as fallow deer with caramelised cauliflower and carrot top salsa verde; and fermented truffle potato risotto with tamari and spenwood. The menu will also champion British game, changing with the seasons.
Native is set to open on Tuesday 5th June and can be found at 32 Southwark Street, London, SE1 1TU.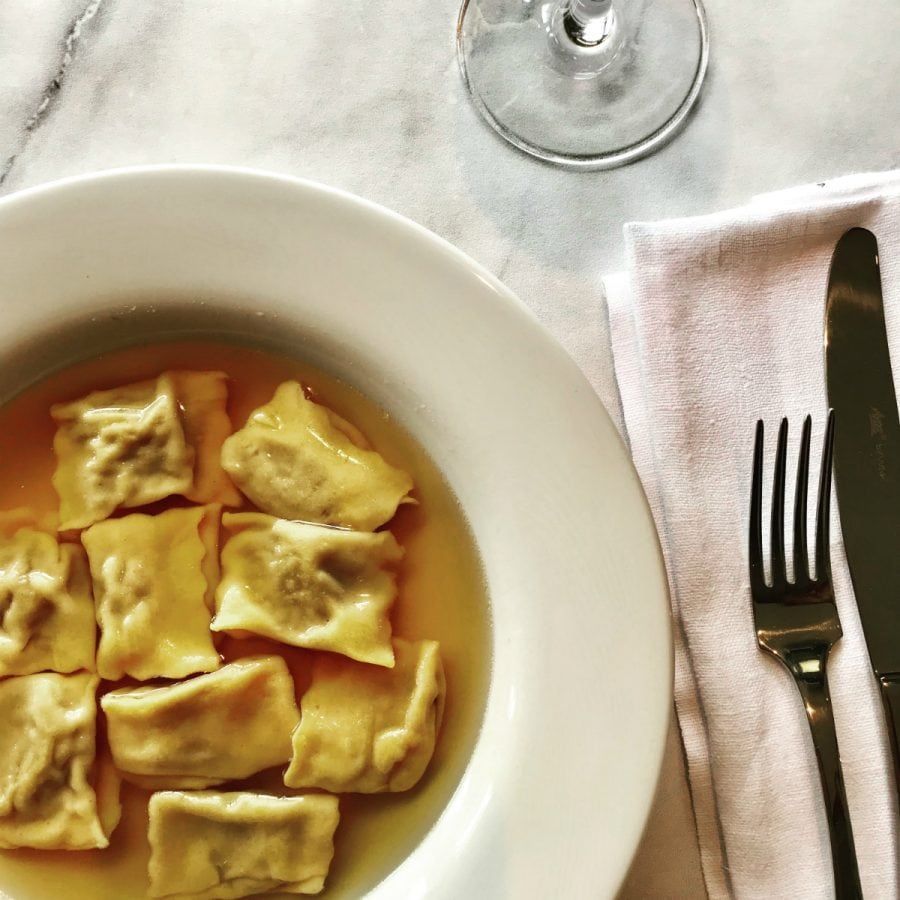 An all day fresh pasta restaurant just off Trafalgar Square, Bancone will take over the former Les Deux Salons site this month. With a bright, airy space, Bancone will have ex Locanda Locatelli chef Louis Korovilas at the helm. While pasta is the key focus here, particular attention will be paid to a range of ragús, stocks and sauces. The lengthy menu will feature dishes such as seasonal arancini; fried polenta with Portobello mushrooms and lardo; bitter leaves and parmesan 'snow'; spicy pork ragú with Pecorino and tagliatelle; and braised duck ravioli del plin with duck broth (photographed). Desserts will include a chilled Gianduja risotto with mascarpone; burnt blood orange with yoghurt and fresh honeycomb; or Gariguette strawberries and caprino mousse.
Bancone is set to open on Saturday 23rd June and can be found at 39 William IV Street, London, WC2N 4DD.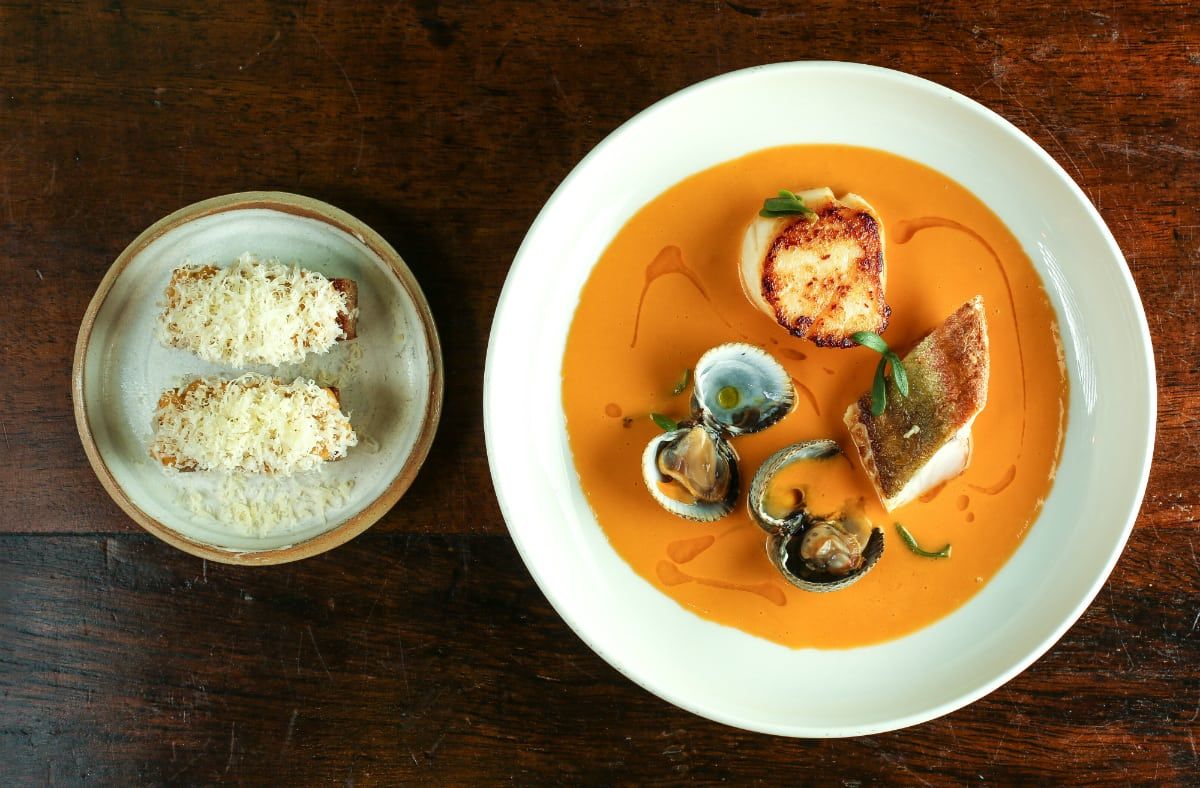 From the team behind Kitty Fisher's, Cora Pearl will open in Covent Garden later this month. Following the narrative of its Mayfair sister restaurant, Cora Pearl is named after a celebrated British-born courtesan, originally from Covent Garden. Here, the kitchen will be led by George Barson, having worked as head chef at Kitty Fisher's for the past 15 months. George will continue to head up both sites as executive chef. The menu at Cora Peal is set to feature dishes such as Shrimp Newburg; pig jowl and Montgomery cheese toastie; and confit pork belly with smoked quince. Desserts will include wild strawberry, Earl Grey ice cream and frozen sable; plus coffee, cardamom cake and milk sorbet.
Speaking on the launch of Cora Pearl, Chef George Barson said: "We have been creating our vision for Cora Pearl for some time now and we can't wait to see it come to fruition. The menu, cocktails and interiors have all been designed to encapsulate her slightly decadent era and we hope the spirit of Cora Pearl herself will bring something that is totally unique and theatrically fitting to Covent Garden."
Owners Tom Mullion, Oliver Milburn and Tim Steel added: "It's been a long time coming but we knew the building and the area had to be absolutely right for what we do, and we finally found that alchemy on Henrietta St. We can't wait to open the doors and let Cora Pearl work her magic."
Coral Pearl is set to open on Monday 18th June and can be found at 30 Henrietta Street, London, WC2E 8NA.
RELATED