Tired of Anglicised Chinese and Japanese food, Taiwanese cuisine has become big business in London. Always on the hunt for something new and exciting, the city's food fanatics became obsessed with BAO when it opened its first permanent site in Soho a couple of years ago – and rightly so. Since then, Shing Tat Chung, Wai Ting Chung and Erchen Chang have become the authority on Taiwanese food in London and steamed bao buns are available just about everywhere. Much to my dismay, however, Bao doesn't take bookings for less than four people, and I actively despise queuing for a table for dinner. So when the team behind BAO announced the opening of XU (pronounced 'Shu'), a proper sit-down, book-a-table restaurant on Rupert Street earlier this year, I couldn't contain my excitement.
Bordering Soho and London's Chinatown, XU occupies a split level space, intentionally designed to reflect "a reinterpretation of a stylised cinematic stage set of Taipei in the 1930s". Downstairs, the space is low-lit and cosy, while the upstairs booths resemble a 19th century opium den, or so I'm told. Aiming to further immerse diners into the world of Taiwanese cuisine and culture, the restaurant offers an exciting food menu, plus an extensive selection of rare and competition level Taiwanese teas served from a dedicated 'tea bar' on the ground floor. Entering XU, it's quickly apparent that tea is an important part of the restaurant's running, heavily inspired by co-founder Erchen's Grandfather.
Sitting at a compact table near the window, we spend a long time perusing the menu – unable to decide – before asking for a cavalcade of suggestions from our server. She competently recommends a selection of dishes she's sure we'll enjoy. Arriving first, "numbing" strips of discerningly phallic beef tendon are cooked to the point of complete submission on the tongue and flecked with fierce Szechuan peppers, whetting our appetites for a modern Taiwanese feast. An assured classic, sesame prawn toast is a rare breed of dish enjoyable even when executed defectively. At XU, though, cuttlefish toast is executed fabulously. Crisp, greaseless bread is topped with a blackened purée of cuttlefish and prawn, accompanied by whipped cod's mousse for dipping. Both taste exactly like the sea, and so they should.
Alongside Hoppers' eponymous dish, XU's taro dumplings have become Instagram's darling dish of the summer. Festooned with lurid green sauce that should come with a health warning (or a lead codpiece, at the very least), the steamed dumplings are stuffed with either Taiwanese sausage or sweet potato. The spiced sausage variety is unctuous and reminiscent of all the brilliant Cantonese dumplings on offer in London, but with Northern spicing. Another dumpling dish, two Xian Bing are thick-skinned, pan-fried and ensnare mounds of aged pork, not unlike a Far Eastern sausage roll. A good thing, obviously.
Another starter, 'beef pancake' is an iteration on classic crispy duck with pancakes, spring onion and cucumber so 2017 it should be accompanied by its own Instagram filter. Ribbons of shortrib are aged for 40 days, slow-cooked and served within a tomb of hollowed bone, also harbouring slippery bone marrow. This is intended to be served wrapped in pancakes with pickled cucumber, contrasting the beef's richness.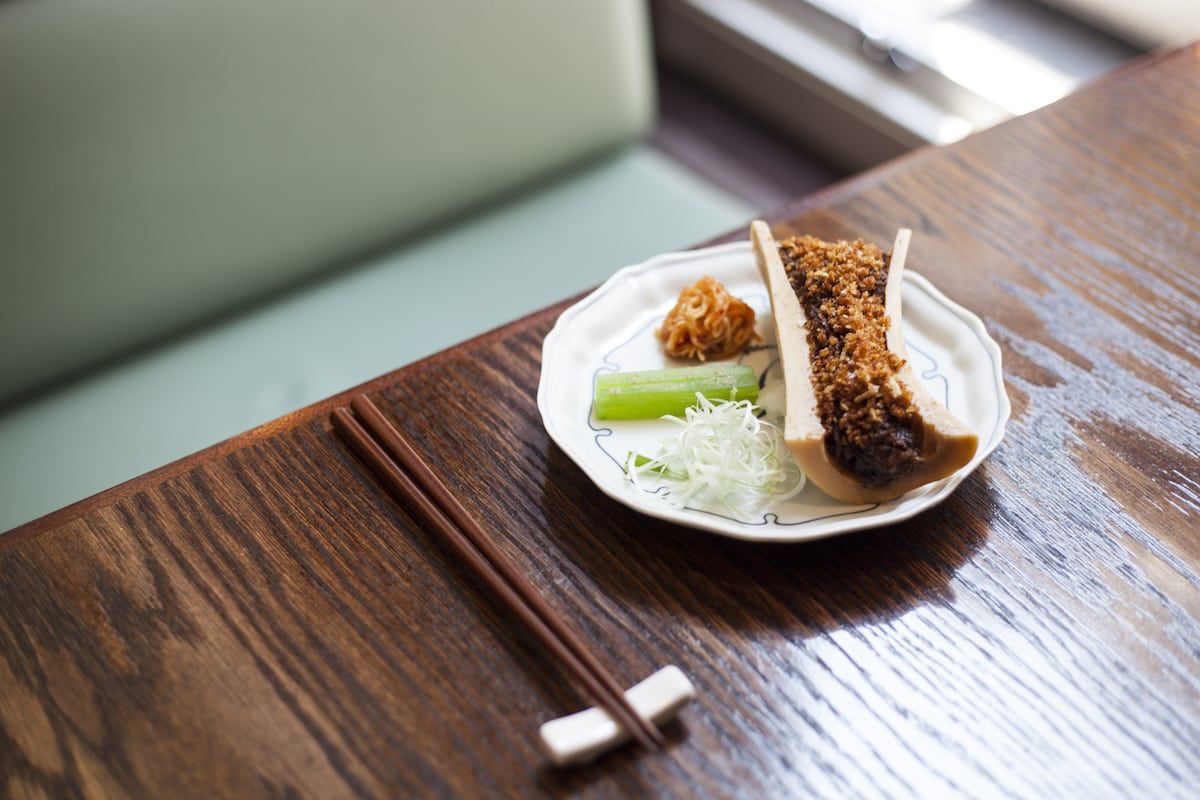 Next, chilli egg drop crab is a bona fide hero in a half-shell, standing tall above everything else eaten at XU. Both white and brown meat is embellished with a prevalent helping of red chilli and fermented shrimp, also rife with enough garlic to promise the prospect of a goodnight kiss completely inconceivable. While the cooking of the crabmeat is sublime, the flavour from egg drop sauce and chilli is sensational, complementing the sweet crab meat; enhancing rather than dominating. Elsewhere, collar of Iberico pork with Char Siu marinade is refined and disconnected from the Cantonese classic. Served pink, the pork's dressing is sticky and opulent, though some fattiness from the pig's acorn diet prevails. On the side, kale is available with lardons of soy-cured pork, amplifying the humble veg with divine palatability.
Just two desserts are available: ice cream and steamed Ma Lai cake. The cake is fine, though overwhelmingly dense. A pot of tea, however, is the most appropriate conclusion to a delightful meal at London's latest Taiwanese triumph.
XU can be found at 30 Rupert Street, London, W1D 1DL.
Photography: Carol Sachs
RELATED
https://www.thelondoneconomic.com/food-drink/restaurant-review-dumplings-legend/26/10/
https://www.thelondoneconomic.com/food-drink/restaurant-review-padella/28/09/
https://www.thelondoneconomic.com/food-drink/restaurant-review-madame-d/14/09/