The harrowing tales of slaves who were whipped and branded in 18th century Britain have been revealed in a new digital database of runaways that escaped from cruel merchants who grew rich on their labour.
Relatively little is known about the enslaved and bound people who lived and died in the UK hundreds of years ago. It is one of the greatest untold stories in history.
Now scientists have uncovered more than 800 advertisements placed by masters and owners in English and Scottish newspapers between 1700 and 1780.
They offered rewards to anyone who captured and returned the fugitives – often identified by scars from their thrashings.
The injuries mentioned in the brief ads make clear how often slaves – which included men, women and children – were beaten in captivity.
They were also forced to wear metal collars and had their faces branded.
Research assistant Nelson Mundell, of the University of Glasgow, said: "This project shows it wasn't an unusual thing to have slaves walking around the streets of villages, towns and cities the length and breadth of Britain.
"The adverts make for sobering reading as they describe scars and markings from whips or brands.
"It also shows on occasion slaves wore collars or other manacles, sometimes with the owner's name engraved on them, as was the case with an 18 year old fugitive called Ann who escaped from a house in Glasgow."

Runaway slaves inadvertently generated records of themselves in the ads. Otherwise they are all but completely absent from historical records.
The detailed descriptions are enough to open the window on their dreadful suffering with information on mannerisms, clothes, hairstyles, skin markings, teeth and skills.
Some were employed as sailors and dock workers as well as craftsmen, labourers and washerwomen.
One of the ads, from the Bath Chronicle and Weekly Gazette dated 16 March 1769, offered 'Twenty Guineas Reward' for his return or 'Five Guineas for such Intelligence' leading to his recapture.
Described as a "young negro" called Jeremiah or Jerry, it said he had a "large scar" on one of his wrists.
He was wearing a light-coloured "Great Coat, dirty Leather Breeches, and White Stockings, and wore a Curl behind, that match'd the other Part of his own woolly Hair; he reads and writes badly, plays pretty well on the Violin, and can shave and dress a Wig."
The ad continues: "As the said Negro knows his Master's Affection for him, if he will immediately return, he will be forgiven; if Freedom be what he wishes for, he shall have it, with reasonable Wages; if he neglects this present forgiving Disposition in his Master, he may be assured that more effectual Measures will be taken. He has been pretty much at Bath, and the Hot-Wells, Bristol, with his Master."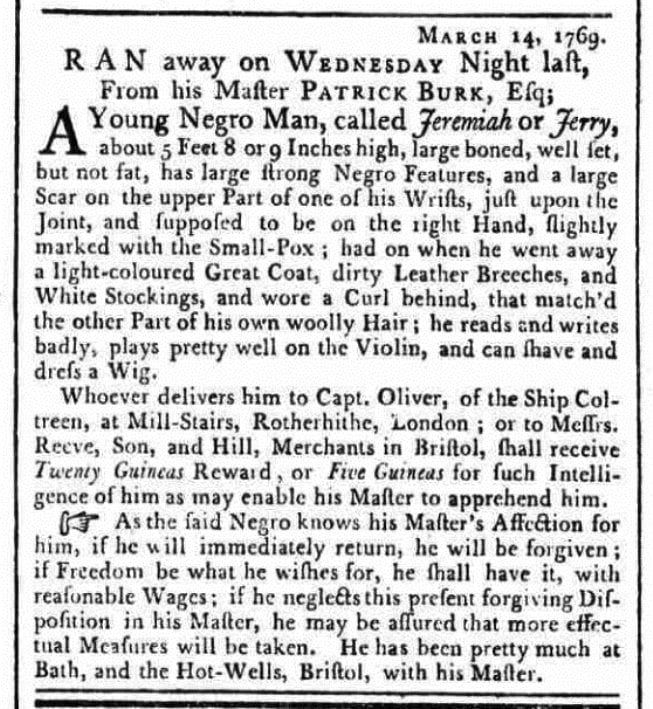 The database is a result of the university's Runaway Slaves in Britain project. It involved combing through tens of thousands of pages of newspapers to locate ads.
Only those on the run for at least a week would have enabled publication. They represent a far larger number as many masters did not place ads.
Most runaways were of African descent. But some were from the Indian sub-continent and a few indigenous Americans.
Simon Newman, professor of History at the university's College of Arts, said: "We do not have the words or sometimes even the names of bound or enslaved people who were brought to 18th century Britain.
"In many cases all that remains are the short newspaper advertisements written by masters who were eager to reclaim their valuable human property.
"These advertisements are important because they remind us that slavery was routine and unremarkable in Britain during the first three-quarters of the 18th century.
"This is made very clear by the placement of these newspaper notices offering enslaved people for sale or seeking the recapture and return of enslaved runaways.
"These advertisements appeared next to the mundane and every day news items and announcements that filled the pages of the burgeoning newspaper press.
"Slavery was not an institution restricted to the Caribbean, America or South Asia, and these short newspaper notices bring to life the enslaved individuals who lived, worked, and who attempted to escape into British society.
"This is an important resource for the understanding of slavery and telling the stories of the enslaved and slavery in Britain."
The ads paint a fascinating picture of those who ran away in an attempt to be free of servitude.
They cover all regions of England and mainland Scotland – providing a rich source of information about the slave trade in 18th century Britain.
The ads include information about the work of the enslaved and the lives, businesses and homes of their masters and mistresses.
The large majority were domestic servants and workers in the households of elite and mercantile families who had spent time in the British Empire's colonies or had links to it.
An ad in the Bath Chronicle from February 5 1763 placed by 'John Stone Esq of Chipenaam' tells of a 21 year old runaway slave called Gloucester.
It reads: "Slender grown, marked with a long scar down the middle of his forehead and speaks English tolerably well."
An advert from the Edinburgh Evening Courant dated 13 February 1727, from The Mitchell Library, Glasgow, offered a two Guineas Reward for the return of a teenage girl.
It stated: "… a Negro Woman, named Ann, being about 18 Years of Age, with a green Gown and a Brass Collar about her Neck, on which are engraved these words ["Gustavus Brown in Dalkieth his Negro, 1726."
Another ad was headed A BLACK SLAVE run away.
Offering a five guinea reward, it stated: "ON the 11th current there run away from the house of Col. Munro of Novar, in Rossshire, A BLACK SLAVE, a native of the East Indies, called CAESAR. He is about 25 or 26 years of age, about five feet four or five inches high, has long black hair, and was bred a cook."
Research from the project has already helped inspire a graphic novel entitled Freedom Bound and due to be published later this year and the award-winning short film '1745'.
The British were the first to abandon the slave trade. They did this in 1807 when there were still huge profits to be made, and they did it for mainly moral reasons.
By Ben Gelblum and Mark Waghorn