With plenty of exciting restaurant launches constantly taking place across the Capital, we pick London's best new restaurants opening over the coming month.
A neighbourhood pub with a difference, The Belrose is situated between Belsize Park and Chalk Farm tube stations (naturally, we suggest alighting at Belsize Park and walking downhill). A convivial space with an adjoining garden, the pub will serve an all-day menu of rustic Italian-inspired dishes as well as boasting an on-site microbrewery. Seating more than 80 covers, The Belrose's dining room will have an impressive clay oven which will take centre stage, serving pizzas showcasing local produce and authentic flavour combinations such as Tuscan sausage with Stichelton; or roasted peppers and smoked anchovy.
Elsewhere, a selection of charcuterie, cheeses and small plates will also be served, including roasted formaggio with smoked paprika and sourdough; or burrata, blood orange, fennel and hazelnut. Larger plates will include the likes of ribeye tagliata, and tagliatelle with oxtail ragú. Alongside the house IPA (brewed on-site) the drinks list at The Belrose will feature various beers, plus a selection of natural wines – some of which will be exclusive to The Belrose in the UK.
The Belrose is open now (soft launch until Tuesday 7th August) and can be found at 94 Haverstock Hill, London, NW3 2BD.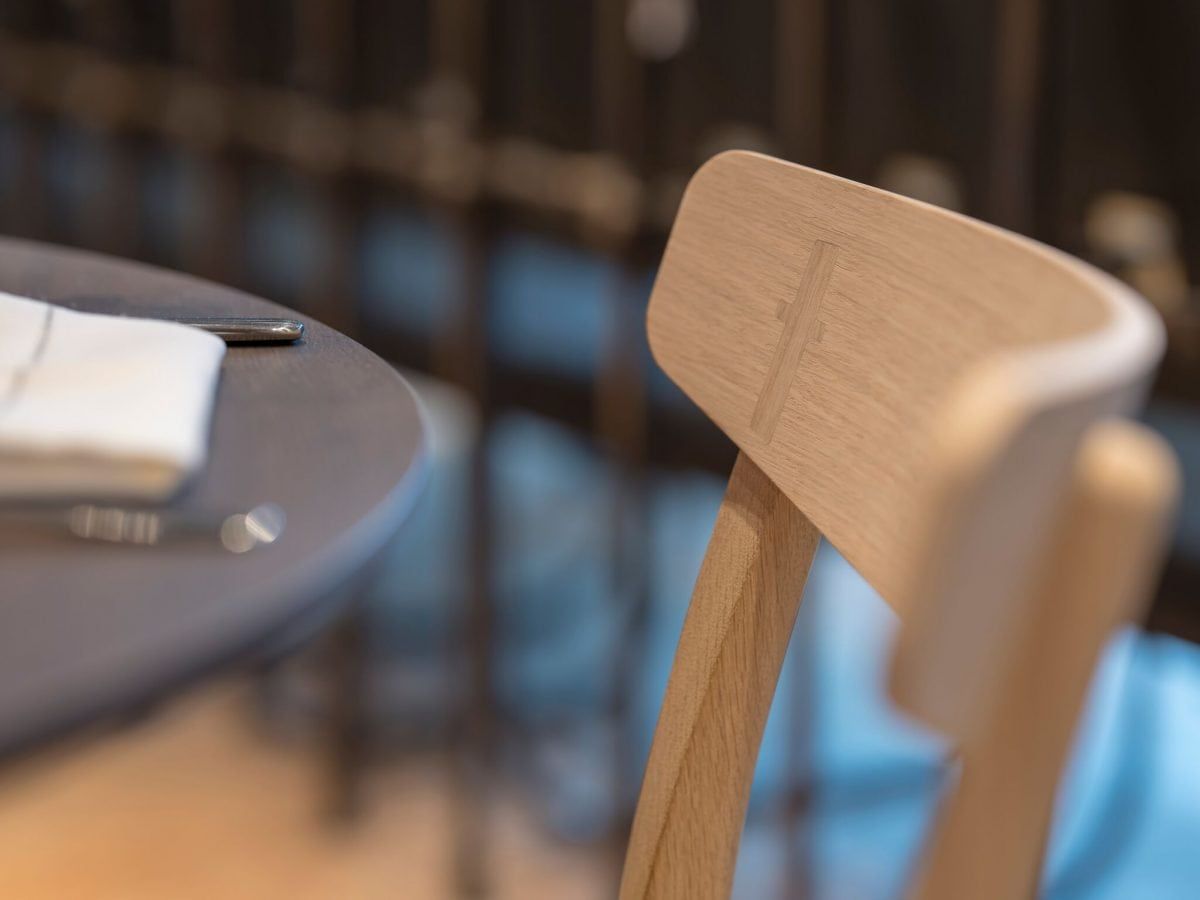 Borealis – Borough
2018 is a busy year for Soren Jessen. The Danish-born restaurateur will celebrate the 20th anniversary of his 1 Lombard Street, as well as currently preparing to open Borealis in Borough, following the success of Ekte Nordic Kitchen in the new Bloomberg Arcade. In conjunction with Fora – the office innovators developing new premium co-working spaces throughout London – Borealis will be a business in two parts. On the ground floor, a 120-seat restaurant and 'to go'/café area will champion classic Nordic cooking, while the building's fifth floor will have a private room and terrace available to residents (both commercial and private).
As for the food served, Swedish Head Chef Robin Freeman's menu will use traditional techniques such as marinating, curing, smoking and pickling. Dishes will include the likes of cured mackerel with juniper, orange, dill and shaved fennel; Frikadeller (veal and pork meatballs) with mashed potato, lingonberries and pickled cucumber; or roast cod with brown butter and roast cauliflower. Desserts will feature cinnamon bun ice cream with apple cider brandy; and Kladdkaka (Swedish chocolate cake) with whipped cream. In the café area, the all-day offering will include a selection of Danish pastries, a range of smørrebrød and coffee by Allpress.
Speaking on the launch of Borealis, Soren Jessen said: "Borough has become such a vibrant, exciting and energetic area of London – and what Fora have created with this new site, just 300 or so yards from Borough Market, is absolutely suited to the neighbourhood. We are delighted to partner with Fora to launch a restaurant, bar and several private events spaces within their new building – all of which are a celebration the very best of Nordic food, drink and design."
Borealis is set to open on Tuesday 7th August and can be found at180 Borough High Street, London, SE1 1LB.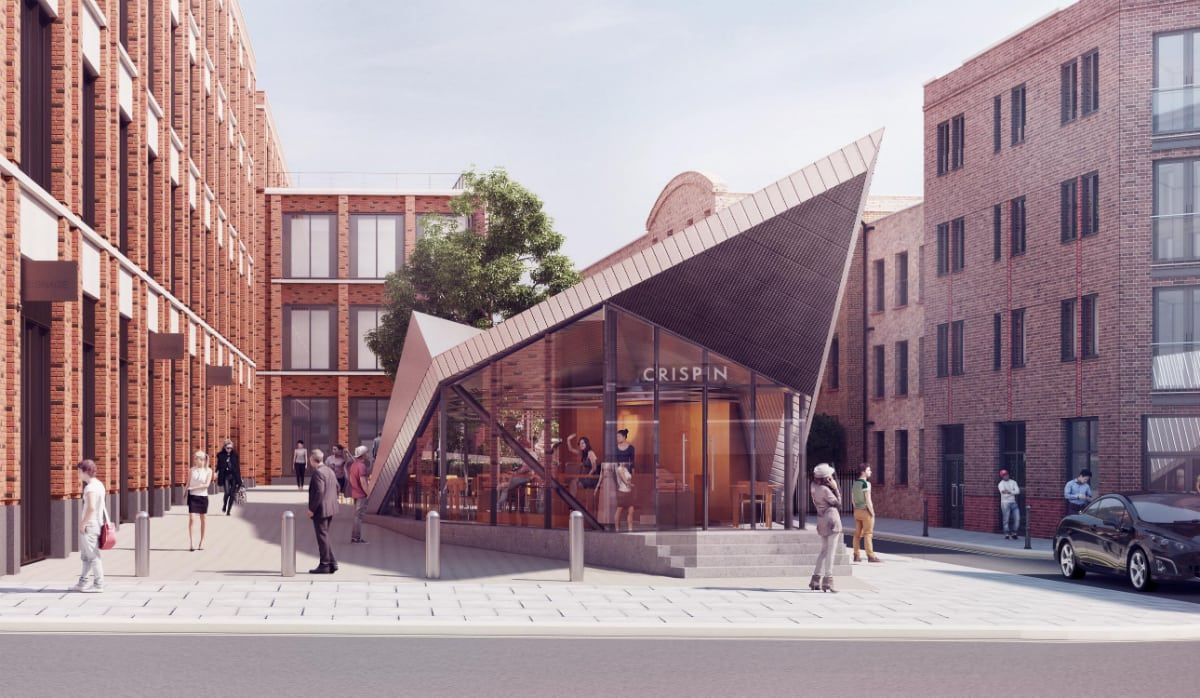 Crispin – Spitalfields
Occupying a purpose-built 'origami kite-like' structure near Liverpool Street, Crispin is the latest project from the duo behind Scotchtails – a gourmet scotch egg company – and Lundenwic coffee shop on Aldwych. Entrepreneurs Dominic Hamdy and Oliver Hiam's Crispin will act as an all day and night café, serving breakfast through to dinner and a bar snack menu.
Food served will be ingredient driven and will change seasonally, highlighting simple, honest dishes showcasing local produce. On the lunch menu, dishes will include a daily salad, soup and sandwich; each available alongside a selection of hot toasties such as 'Cheddar, hispi cabbage & chilli jam' and 'N'duja, Ogleshield & jalapeno'. Available from five o'clock from Tuesday to Saturday, Crispin will also serve a nightly dinner plate with a glass of wine for £10, alongside a seasonal bar snack menu. Moreover, coffee at Crispin will be sourced from Brixton's Assembly, while the café will work with Fernando Berry of Otros Vinos to create a wine list with an emphasis on natural and low intervention bottles.
Crispin is set to open on Monday 20th August (soft launch from Tuesday 28th August – Sunday 2nd September) and can be found at White's Row, London, E1 6EN.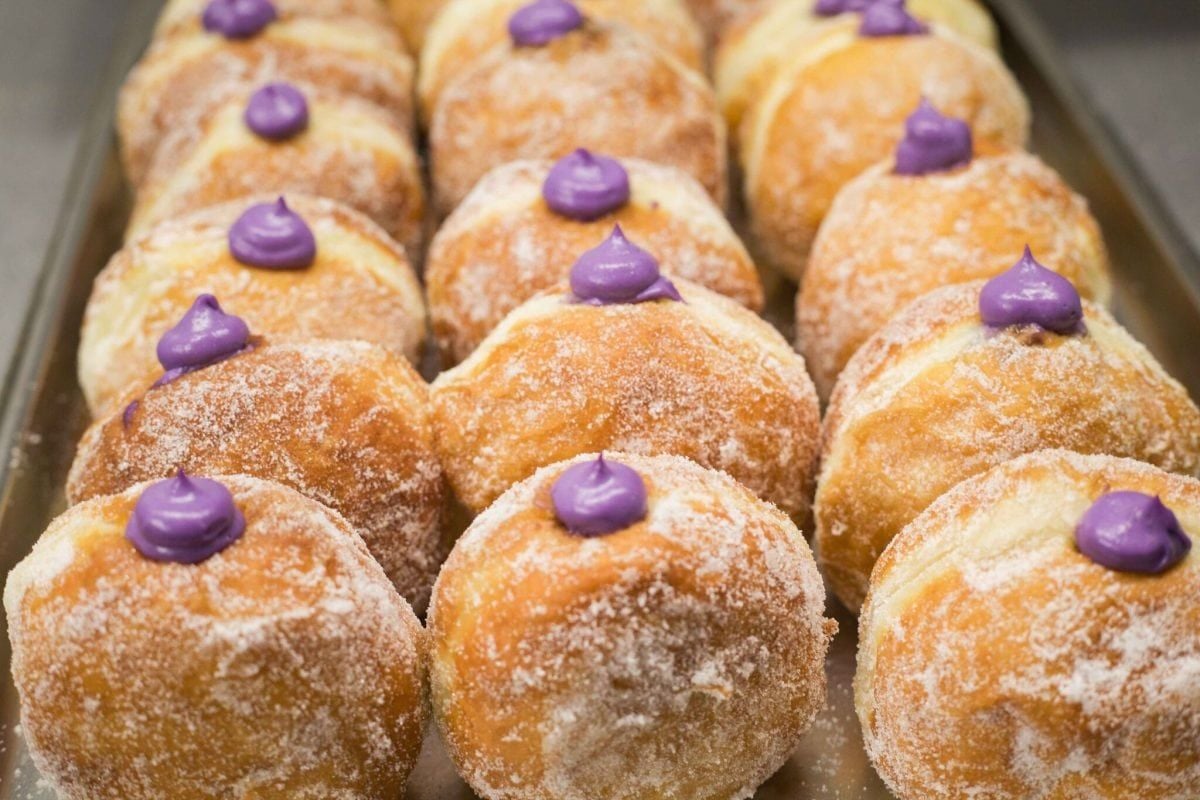 Following the success of their Camden site, Europe's only Filipino ice cream parlour, Mamasons Dirty Ice Cream, will open on Chinatown London's Newport Court. Named after the nickname ('dirty ice cream') used to describe ice cream sold by hawkers on the streets of Manilla, Mamasons will bring street-style ice cream to London, joining a growing line-up of local Asian dessert institutions.
Founded by second generation Filipino Londoners Omar Shah and Mae Maglanoc, the 20-cover parlour will specialise in Pan-Asian desserts. Here, the menu will include a range of ice cream flavours with Eastern influence, such as black coconut, and ube (purple yam from the Philippines). Mamasons' renowned 'Bilog' will also be served – a traditional Filipino milk bun (pandesal) filled with ice cream, toasted in a bespoke hot press and dusted with icing sugar. Everything served will be made fresh onsite daily, using authentic ingredients sourced from specialist suppliers. Moreover, the restaurant will have a specific focus on coffee, championing Kapeng Barako sourced from the Philippines' Mount Malaryat and the volcanic region of Miarayon.
Mamasons Dirty Ice Cream is set to open in August and can be found at 32 Newport Court, London, WC2H 7PQ.
A new project from Vittorio Maschio, a former director at Natoora – an ingredient supply business – Manifesto will be a 'seasonal' pizzeria. Opening on Northcote Road this month, the 30-cover restaurant will encompass a no frills approach to celebrating ingredient provenance, serving a pizza menu which will evolve with the seasons. Manifesto's Italian founder believes quality pizza "is a perfect setting for fine produce to be enjoyed, at a price that won't break the bank".
The menu will be intentionally short, with just six pizzas and one "Gourmet Special" each week. Moreover, dessert will not be served and the wine list will feature just two reds, two whites and one Prosecco. Starting at £6, the pizzas will be produced using the Biga-style technique, with dough proved for 48 hours, using flour from Molino Pasini – having produced flour of the highest quality for over 80 years. Instead of using standard mozzarella, Manifesto will source "fior di latte" from Puglia, produced entirely from local milk, juxtaposed to the significant amount of "mozzarella" found on UK pizzas, using pasteurised or powdered milk.
Manifesto Pizza is set to open in August and can be found at 148 Northcote Road, London, SW11 6RD.
RELATED
https://www.thelondoneconomic.com/food-drink/restaurant-review-the-ninth/24/07/
https://www.thelondoneconomic.com/food-drink/restaurant-review-kyseri/18/07/
https://www.thelondoneconomic.com/food-drink/restaurant-review-brigadiers/04/07/