A moral quandary has emerged on the culinary front concerning the length of time writers should wait before undertaking reviews. Where critics argue that they should get in early to ensure punters are well informed from the off, chefs debate they should be allowed time to get their feet under the table, so to speak, in order for the restaurant to be judged fairly.
It all started on the west coast of America. On the fourth evening of service, The Hollwood Reporter critic Gary Baum visited Vespertine – a shiny new restaurant in Los Angeles. After just one visit, a negative review of the "intentionally joyless" restaurant was published, raising various questions surrounding the ethics of reviewing such a new restaurant. Following numerous criticisms from some of the area's most influential food writers, The Hollwood Reporter quickly commissioned another feature in defence of the controversial restaurant review. Baum wrote:
"My editors and I believe Vespertine is worthy of a serious review – and, more importantly, potential patrons should have the service of a serious review – as early as possible. Not just due to its significantly high price and locked-in ticketing (although those are factors) but because its concept alludes to that of a performance. Stage reviews are timed to opening night and screen reviews to premieres. Consumers should be informed now, not weeks or months from now."
Closer to home, "Front Line Chef" Neil Rankin voiced his discontent towards a restaurant review by submitting a comment at the bottom of the article, last year. In response to Straight Up London's luke-warm review of Temper in the City – the follow-up to the chef's critically-acclaimed Soho restaurant. Rankin wrote: "You reviewed us on our soft launch with a 50 per cent discount? You massive, massive prick. The point of a soft launch is to iron out problems, hence the discount. Please go fuck yourself you unprofessional tosser. much love neil x".
Refraining from reviewing a restaurant during soft-launch has become an unwritten rule, but this whole fiasco raised the same important question. Soft-launch periods act as dress rehearsals, as is generally reflected through various discounts. But once a restaurant operation begins to charge full price, surely it demands to be treated as such, with immediate effect?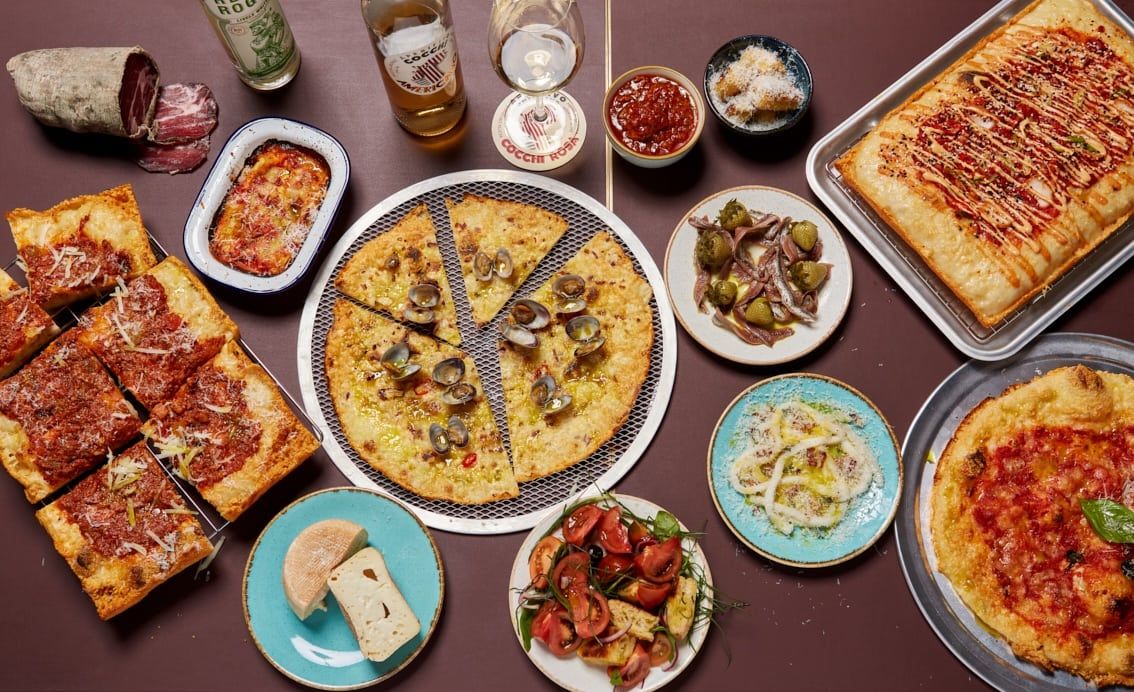 Quickly following the launch of the city restaurant, Neil Rankin opened another Temper in May, specialising in "wood fired pizzas, ragu, charcuterie, wine and vermouth." With space to accommodate 144 covers, the Covent Garden restaurant has a large open kitchen, centred around a wood oven, placated by bar stools.
Having read such scintillating praise for the Soho original, I visited the Covent Garden restaurant for dinner – having been officially open for two weeks. While the new development building remains somewhat soulless, the space and atmosphere seems refreshingly unpretentious – fun, even – in keeping with Rankin's enthusing menu. Soon after taking a seat at the counter, various waiters appeared to explain the menu's concept, up-selling various dishes. The cheese burger pizza and the £25 garlic bread (for three to four people to share) were particularly celebrated. Between two, we ordered a selection of starters and a Detroit-style pizza to share, hoping to experience a fair insight into the menu's unorthodox, bang on trend flavour combinations.
The menu read like a modern masterpiece but failed to meet expectations when set in motion. Tortellini filled with Saint-Marcellin cheese, for instance, were lightly breaded, deep fried and slathered with honey. Although the combination of flavours was deeply comforting, the tortellini were cold as the grave, with the typically creamy cheese having developed Rigamortis. Lardo carbonara is the restaurant's riff on traditional spaghetti carbonara; exchanging spaghetti for thin strips of cured fatback. A hodgepodge of egg yolk, lardo and parmesan, the dish's presentation suggested it had already been eaten: projectile vomited on to the plate from a great distance. The use of lardo in place of pasta was commendable, yet the entire dish was hindered by a cataract of sweet lemon gel, like concentrated Picolax. Rich Cabrito goat ragu was considerably better, served with a choice of bread of nuggets of fried polenta. Comfort food at it's most honourable.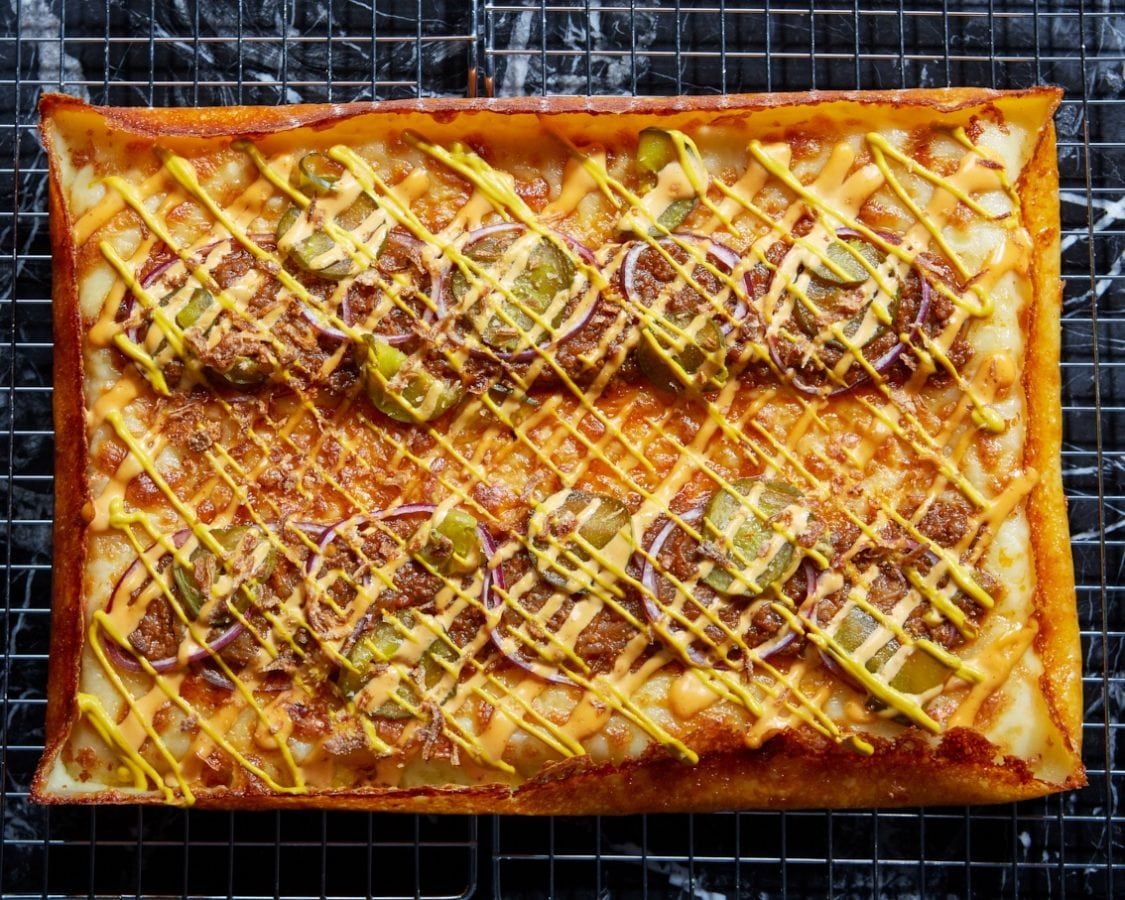 After some time had passed, a waiter appeared with the sad news that the kitchen was experiencing an issue with the Detroit pizza dough. Instead, the waiter insisted on serving two different pizzas, free of charge. Another hour passed and the pizzas still hadn't arrived. At ten o'clock, still hungry, I asked for the bill, paid for the food already eaten and left feeling deflated.
"We're only in our second week. Please do come back soon," our waiter implored. Disregarding the flagrant lack of contact between the kitchen and front of house, staff were beyond friendly; relentlessly apologetic for the thwarting experience.
A few weeks later, the Evening Standard published the first review of Temper Covent Garden, highlighting many issues similar to those experienced during my dinner visit. It provoked a more considered response from Rankin, who took to Instagram to say "we're not happy with everything we do and maybe never will be but we know our place and we know what needs fixing and we know without question what's going well". Allowing plenty of time to pass, we decided to put it to the test again.
The restaurant was less busy than during the first visit and the menus had been adapted. Less pizzas were available, many of which were accompanied by price reductions. The eye-watering £25 garlic bread had been scrapped. The Saint-Marcellin tortellini were served warm, embellished with a slither of chilli: significantly improved, yet the pasta was flabby, lending an overall whiff of Findus crispy pancakes. The Cabrito ragu was, on this occasion, dramatically under seasoned, swamped with an unappealing pool of cooking oil. Another pasta-free riff on a pasta dish, razor clams with fiery 'nduja struggled to find a middle ground between undercooked and unapologetically tough, with some shells irresponsibly served unopened.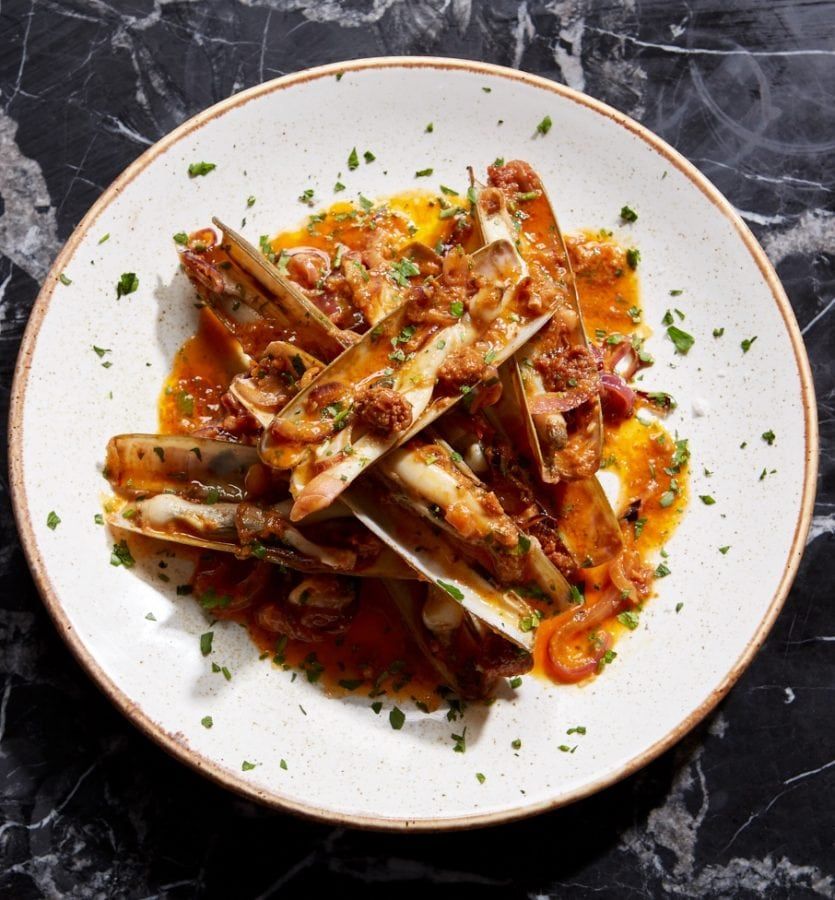 The cheeseburger pizza, on the other hand, challenged these previous calamities (now £14 instead of £18). With a spongy Detroit-style base, the deep-dish pizza was topped with aged beef ragu, pecorino cheese, lashings of American mustard and refreshing slivers of pickled gherkin. Though not necessarily remarkable, the pizza was certainly serviceable: an example of the comfort food that serves an exact intended purpose. Everything I'd expected from the restaurant. The same can be said of the soft cookie dessert filled with Nutella, topped with an inspired scoop of peanut ice cream.
Across the space of two visits, the restaurant appears to have, at least, embraced some positive change, showing how chefs and critics can be friend rather than foe. As well as having a "wider reach", as Rankin pointed out in his Standard response, food critics also have a breadth of experience and knowledge that the average punter may not posses, and so it is encouraging to see that criticisms had been taken on board constructively. Although Temper's 3.0 rating leaves a lot to be desired, it reflects a work in progress, rather than a cataclysmic write-off. Perhaps we'll pop back next month, surely they will have etched closer to a 5 by then?
Temper Covent Garden can be found at 5 Mercer Walk, Mercers Yard, London, WC2H 9FA.
RELATED
https://www.thelondoneconomic.com/food-drink/best-pizza-restaurants-london/05/02/
https://www.thelondoneconomic.com/food-drink/londons-best-new-restaurant-openings-july-2018/02/07/
https://www.thelondoneconomic.com/food-drink/restaurant-review-st-leonards/10/07/