With the term first recorded during the 10th century (in a Latin manuscript from Lazio, Italy), pizza has become one of the world's most popular fast foods. Though the term was invented in Gaeta, Lazio; Naples is widely considered the home of the modern version, as it is known today. Neapolitan pizza was even registered a Traditional Speciality Guaranteed dish by the European Union in 2009, by request of Italy.
Though traditionally Italian, few other foods have received such international acclaim. In New York, the borough of Manhattan has more than 360 establishments serving by the slice, plus countless additional pizzerias operating throughout the city. Here in the UK, we've come a long way from Pizza Hut and Pizza Express – with authentic Italian pizza now more accessible than ever. From strictly authentic two topping pizzerias, to less traditional outlets with fancy, new fangled bells and whistles: we pick the best pizza restaurants in London to coincide with National Pizza Day (Friday 9th February).
Pizza Union
With four sites – the original in Spitalfields, King's Cross, Aldgate and a brand new Italian pizza bar in Dalston – Pizza Union boasts some of London's best value. Open all-day (11am – midnight), Pizza Union focuses on authentic, 12-inch Roman-style pizzas – thin and crispy unlike thicker, soft-centred Neapolitan examples. Here, all pizza dough is fresh-made, hand-stretched and fire baked in a traditional domed oven. The bases are then topped with tomato sauce made fresh every day, using Strianese tomatoes from the slopes of Mt Vesuvius. Classic Margherita costs just £3.95, with additional toppings available for £1 each. The menu also includes toppings such as Fiorentina (parmesan, egg and fresh spinach) and Calabria (mascarpone, nduja and rocket), plus a dough ring with Nutella and creamy mascarpone to finish.
Further information on Pizza Union can be found here.
Homeslice
Starting life in the courtyard of London Fields Brewery, Homeslice is one of London's least fussy pizzerias, and it's all the better for it. With four restaurants operating across London (Neal's Yard, Fitzrovia, Shoreditch, City), Homeslice serves a selection of ten 20-inch pizzas for £20, and nothing else. Wine is served in tumblers – like in The Godfather films – and pizzas are served on paper plates. The colossal slices are far less evocative of children's Birthday parties than the plates suggest, however. Every ball of dough is made in-house using high protein German 405 flour, aged for at least 24 hours and cooked within the restaurant's own custom-built, wood fired oven. All of the sauces are also made in house, and cheese is sourced from both Neal's Yard and Naples. Toppings change regularly, but might include the likes of BBQ beef brisket with pickled carrots and celery; chorizo with corn and coriander; or spiced lamb with savoy cabbage and sumac yoghurt. What's more, without any unnecessary gimmicks – the sole focus here is on exceptional pizza; and so it should be.
Further information on Homeslice can be found here. 
L'Antica Pizzeria da Michele
After 147 years of operating in Naples, L'Antica Pizzeria da Michele opened its first international outpost in London last year. Often considered the best pizza in the world, and a local favourite in Naples, the restaurant on Stoke Newington Church Street demands long queues (like in Naples, but with queuing conditions obviously less comfortable). The end result is worth it though. Just two pizzas are served at L'Antica, which will delight purists. Classic Margherita is joined by marinara (tomato, oregano, garlic, a drizzle of olive oil and no cheese). Both pizzas are rustic, with an odd shape, and larger than the plates they're served on. Both are also slathered with an exceptionally rich tomato sauce: proof that less is, sometimes, more.
Further information on L'Antica Pizzeria da Michele can be found here.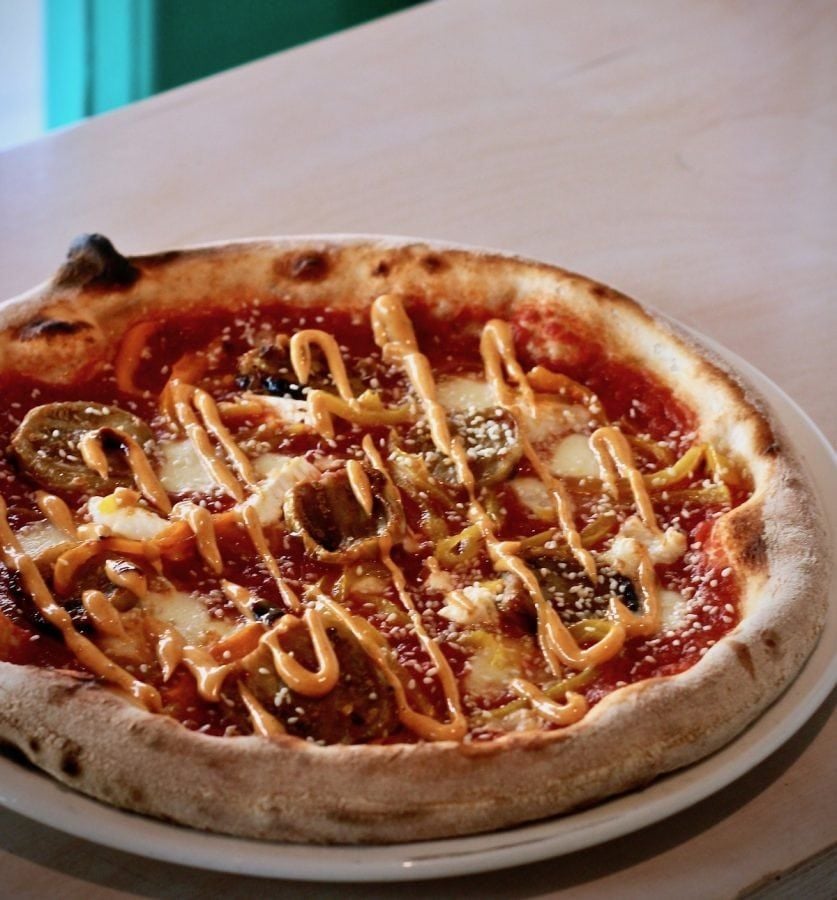 Four Hundred Rabbits
According to Aztec folklore, the Goddess of alcohol and a God that discovered fermentation produced many offspring, known as the 400 rabbit gods. A true celebration of fermentation, Four Hundred Rabbits – with south London neighbourhood restaurants in Nunhead and Crystal Palace – has a prominent focus on both sourdough pizza and craft beer. Passionate about using the best innovative and seasonal British ingredients for their toppings, Four Hundred Rabbits serves a rotating monthly special of one vegetarian and one meat pizza, available alongside their signature pizzas. All of these toppings are prepared with sourdough pizza bases, proved for 48 hours then quickly cooked in a wood-fire oven at approximately 400 degrees. These sourdough pizzas have a slightly chewy base, juxtaposed to crispy alternatives. To accompany, the restaurant also serves a regularly-changing selection of 12 draft schooners, cans and bottles of craft beer, plus a Negroni that's the cheapest available in the capital, at £4.
Further information on Four Hundred Rabbits can be found here.
Photo: Paul Winch-Furness
Pizza Pilgrims 
During 2011, Pizza Pilgrims founders James Elliot and brother Thom, ditched their desk jobs and embarked on a pilgrimage to Italy to discover the true art of pizza making. Returning to the UK six weeks later, the pair installed a traditional stone oven in their 'Pilgrims' van and set up a stall on Berwick Street, Soho. Seven years on, Pizza Pilgrims has become one of London's most popular proper pizza restaurants with seven permanent sites in London (plus one in Oxford). Here, the pizza dough is the brothers' forte; cooked over a wood-fire and tanned with air pockets around the crust. A number of white and tomato bases are available, with toppings such as aubergine Parmagiana; Portobello mushroom and truffle; and Nduja. The real demonstration of Pizza Pilgrims' superlative dough, however, is the cheese-free Marinara, simply consisting of basil-infused tomato sauce, oregano and garlic.
Further information on Pizza Pilgrims can be found here.
Zia Lucia
First opened in Islington, during 2016, Zia Lucia founders Claudio Vescovo and Gianluca D'Angelo have just opened a brand new restaurant in leafy Brook Green. Here the Italian restaurateurs' unique, unusual pizza doughs have contributed tremendously to the restaurant's reputation. Each slow-fermented for 48 hours, Zia Lucia's dough selection includes traditional white flour, wholemeal, gluten-free and a vegetable charcoal black base. Commemorating the new opening, the Brook Green restaurant is currently serving a 'Brook Green Dough'. These are each served with Italian toppings such as nduja, Spianata salami, truffle honey, burrata, gorgonzola, and a vegan butternut squash cream. Elsewhere, Zia Lucia's Negroni has become unsurprisingly popular since opening.
Further information on Zia Lucia can be found here.
National Pizza Day takes place on Friday 9th February. Further information can be found here.
Header photo: Charlie Mckay
RELATED