America is not the world.
And how on earth did they decide that our British comfort food includes MINCE ON TOAST?
The final straw should really have come when American 'grocery store' Trader Joe's claimed to have invented what's best known here as a sausage roll. While the original concept of wrapping meat in dough has been linked to Classical Greek and Roman eras, the humble sausage roll has – over the past 300 years – become known as a quintessentially English foodstuff. British food is often tarnished with an unfair reputation of being unexciting, with most of our internationally known 'national' dishes having elements borrowed from other nations, but we certainly know our stuff when it comes to the alliance of meat and pastry.
Another ill-conceived stereotype, American publication Eater launched this week and claimed that mince on toast is a "quintessentially British comfort classic". The article was published alongside a video of Quality Chop House chef Shaun Searley making mince on toast. Growing up in a working-class Butcher's family in and around London and the South East, I've never come across minced beef on toast, and according to the amount of Twitter backlash, I'm certainly not alone.
In Britain, you'll rarely hear people say "let's do lunch" — the phrase "mince on toast, Val?" is used instead

— John Gallagher (@earlymodernjohn) July 10, 2017
Mince on Toast: Definitely a British thing

— Dr Fern Riddell (@FernRiddell) July 10, 2017
https://twitter.com/timmaughan/status/884525979561062401
In Cornwall, they put the toast on the mince

— John Gallagher (@earlymodernjohn) July 10, 2017
Beans on toast is popular in the UK, as is melted cheese with lashings of Worcestershire sauce – with 'British classics' varying from region-to-region, though the concept of mince on toast is plainly bizarre. Apparently, it's a typical dish in New Zealand. Instead, for quite anybody so unfamiliar with British food: here's a complete guide to Britain's actual quintessential comfort foods.
Roast Dinner
The classic Sunday lunch typically includes a number of incremental counterparts, but none more important than the centre piece of roasted meat (generally chicken, beef, lamb or pork). As Brits, we'll argue to the death about which meat is best and how to cook the best roast potatoes. We can all agree, however, that gravy is a constant necessity, as are boiled or steamed vegetables. It's also completely necessary for plates to be piled with so much food that the idea of having anything for dinner will be less welcome than pineapple as a credible pizza topping.
Fish and Chips
Borrowing largely from a fried fish recipe introduced to Britain by Western Sephardic Jews, battered fish with fried potato chips is, perhaps, the most typical example of modern-day 'British cuisine'. Most popular at seaside resorts, for obvious reasons, the first fish and chip shop proper actually opened in London during the 1800s, selling "fish fried in the Jewish fashion". Cod is, by far, the most popular choice of battered fish, yet popular alternatives include haddock, rock, skate and plaice, covered in salt and vinegar. Accompaniments such as mushy peas, pickled onions or eggs are also popular, occasionally served with either gravy or curry sauce. Battered sausages, however, are not acceptable.
Spotted Dick
In 2009, catering staff of Flintshire County Council changed the name of this British dessert to 'Spotted Richard', in a response to a slew of juvenile jokes from visiting nations. Yes, the name is ridiculous, but of all the British puddings – and there are many – Spotted Dick is amongst the best-loved. The name's origins are largely conflicted, though, with the 'spotted' part alluding to the use of dried fruit, while latter is less definitive. In addition, a vast number of quintessentially British puddings are still enjoyed, namely Jam Roly-Poly, suet pudding and, of course, Christmas pudding soaked in rum or brandy.
Full English Breakfast
Simply referred to as a "Full English" or "fry-up", Britain's most internationally-known dish is generally served in cafés, occasionally available all-day. Bacon, sausage and eggs (fried, poached or scrambled) are the most crucial components, classically served with toast and a cup of tea or coffee. Other common items include baked beans, tomatoes, black pudding, 'bubble and squeak', hash browns, and even haggis in the most artery-clogging instances.
Chicken Tikka Masala
Legend has it that one of Britain's most popular dishes was invented during the 1970s in Glasgow, Scotland. Allegedly, the dish was the created after a bus driver had complained that his chicken curry ordered in an Indian restaurant was dry; inspiring the chef to add tinned tomato soup, yoghurt and a number of undisclosed spices to the dish. Generally mild, creamy and orange enough to make Donald Trump jealous (coloured with turmeric, paprika or food dye), chicken tikka masala isn't particularly reminiscent of traditional Indian cooking, although now popular all over the world as a quintessential British dish – for better or for worse.
Pie and Mash
Although enjoyed all over the country, the pairing of pie and mash originated in London. Available from working-class Victorian pie houses around south and east London (some of which still operate today), traditional minced beef pies and mashed potato were served with liquor (a sauce made with parsley, butter and water) instead of gravy, and stewed eels. Nowadays, all sorts of pies with savoury filling are enjoyed around the country, more often than not with in gravy.
Shepherd's Pie
A combination of pie and mashed potato, shepherd's pie, like cottage pie, was originally designed as a cheap dish made using leftover roast meat topped with mashed potato, popular amongst Britain's poor. Although less traditional, the addition of grated cheese is also widespread, as is Cumberland pie – dressed-up with a layer of melted cheese and breadcrumbs. A true British classic, the dish has been tampered with by various chefs and is served in many restaurants (The Ivy's version is amongst the best in London). Alternatively, slow-braised ox cheek is a delicious alternative to mince, simple enough to make at home.
Scotch Egg
Inspired by Mughlai 'Narcissus meatballs', iconic London department store Fortnum & Mason claims to have invented Scotch eggs during the 1700s. Best known and loved as picnic food in the 21st century, Scotch eggs typically feature a hard-boiled egg encased in sausage meat and breadcrumbs and deep-fried. In addition to this particular classic, a number of regional variations exist. One of the best things to come from the increasing plague of 'gastro-pubs' is the number of Scotch eggs that now harbour a soft boiled egg with a rich, oozing yolk. Elsewhere, the 'Manchester egg' variation uses a pickled egg wrapped in pork sausage meat and black pudding, the 'Worcester' variation's egg is pickled in Worcestershire sauce, while more recent experimental incarnations use either haggis or chorizo in place of sausage meat.
Toad in the Hole
Many American's claim to have invented what's best known in the UK as a 'Yorkshire pudding', but Britons will (rightly) argue otherwise. Especially showcasing the jewel in the crown of any Sunday roast, 'toad in the hole' dates back to a similar dish served in the 1700s. Previous incarnations have included pigeon, beef or lamb's kidneys, yet sausages have been the most common filling for many years. The traditional English dish is simply baked in the oven and best served with thick onion gravy.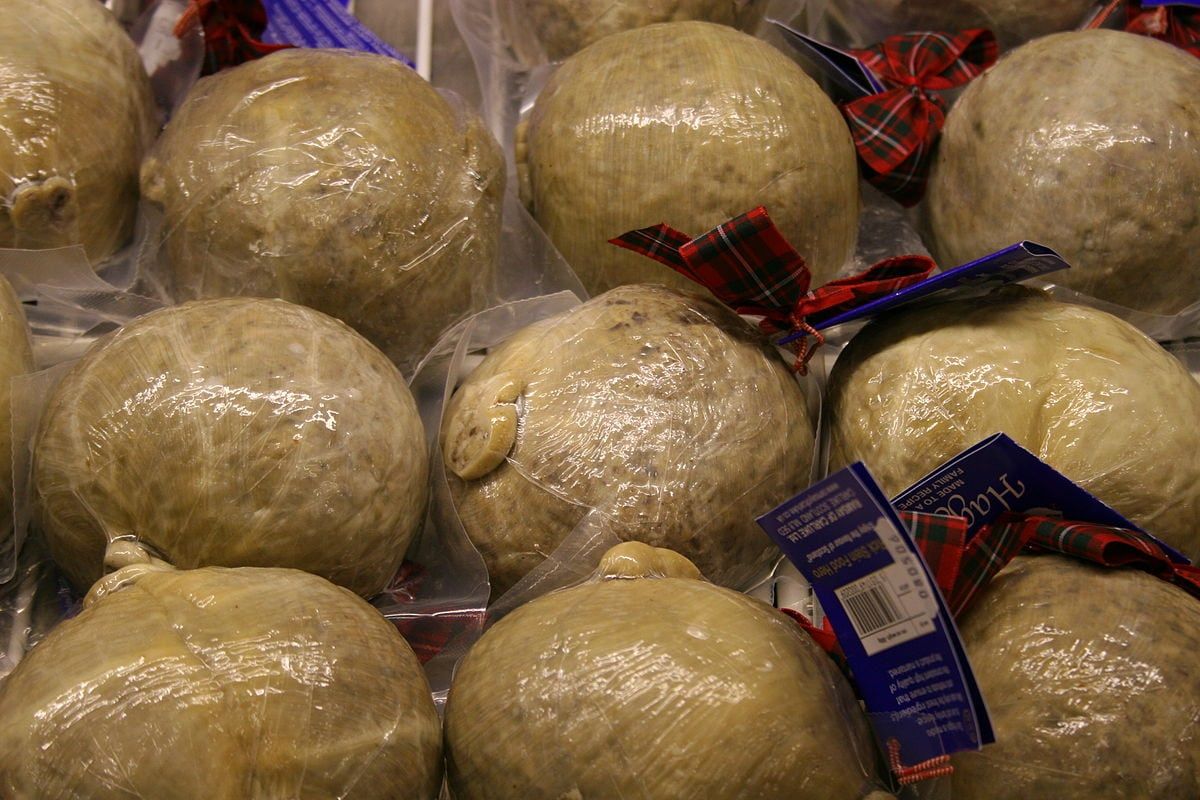 Haggis, Neeps and Tatties
On paper, haggis sounds undesirable. A savoury concoction of sheep's pluck (heart, liver and lungs), onion, oatmeal, suet and salt usually contained within an animal's stomach – haggis is as Scottish as Robert Burns or battered Mars bars. Most famously served with mashed 'neeps' (turnips and carrots) and 'tatties' (potatoes), delicious with a whisky sauce; haggis is also popularly served in fish and chip shops, north of Hadrian's wall, battered and deep-fried, with chips.