Dubai is a shopper's paradise. With an endless array of stores, boutiques and market stalls spread across the city's vast landscape, it's no surprise that millions of visitors flock here every year to indulge in some top-notch retail therapy.
The shopping scene in Dubai is second to none, but this also means that the sheer amount of shops to choose from can occasionally be overwhelming. That's why we sat down with city break experts, Destination2.co.uk, to find out just where to find the best designer shops in the emirate.
The Dubai Mall
First on our list has to be the world famous Dubai Mall. Located in Downtown Dubai, this is the largest shopping mall in the world by total area, and features a vast selection of stores. The mall is completely indoors, meaning that shopping here gives visitors a welcome break from the Middle Eastern heat outside.
Despite its immense size, the mall is surprisingly easy to navigate, and you'll be able to find your way using a wide array of interactive maps and visitor desks. The mall houses too many designer stores to list here, but you'll be able to find all your favourites, including Agent Provocateur, Chanel, Christian Louboutin, Dior, Givenchy, Gucci, Louis Vuitton, Moschino and Versace.
If you're feeling peckish, the Dubai Mall houses some of the very best restaurants in the city – even fussy eaters can find something to suit their tastes here.
Once you've finished shopping within the mall, step outside and witness the magic of the Dubai Fountains. Located at the base of the tallest building in the world, the Burj Khalifa, these fountains provide the perfect after-shopping entertainment. Watch in amazement as the world's largest choreographed fountain system shoots water up to 500ft in the air.
Mall of the Emirates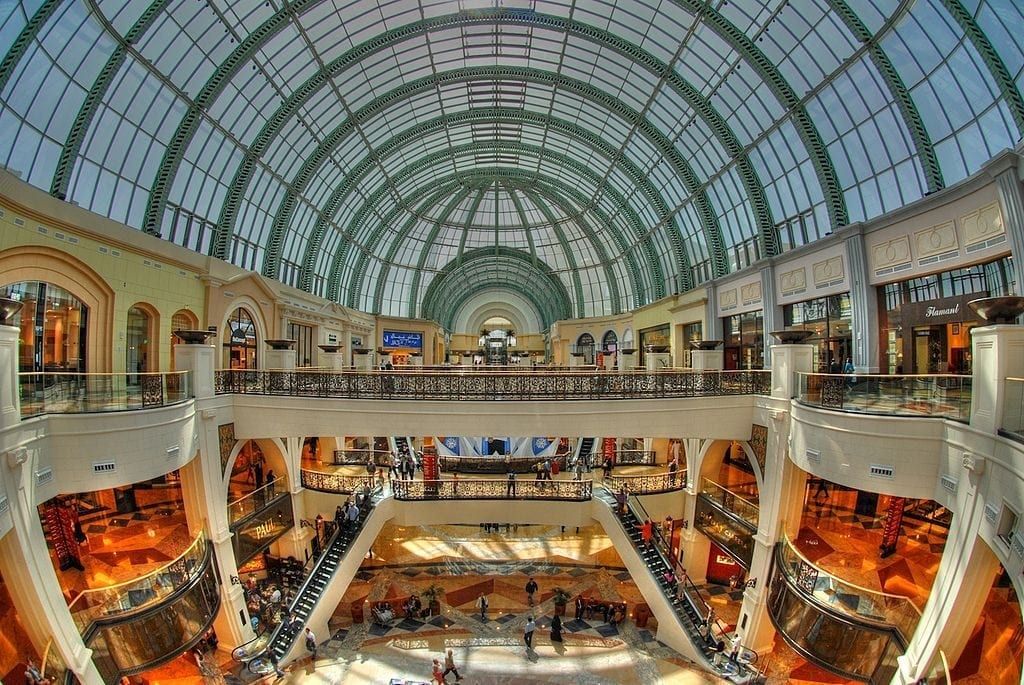 The Mall of the Emirates is one of the most popular shopping malls in Dubai, and with over 600 stores open for business, it's little wonder. Again, the vast majority of this mall is indoors, so you won't be breaking a sweat whilst you shop.
Most of the world's well known designer stores can be found here, including Alexander McQueen, Dolce & Gabbana, Emporio Armani, Polo Ralph Lauren, Red Valentino, Tiffany & Co and Tom Ford.
The Mall of the Emirates houses over 100 eateries for you to choose from should you fancy a break from shopping. There are a range of options, catering to all tastes, including restaurants, cafes and fast food establishments.
Jumeirah Beach Road
If you're looking for a slightly different shopping experience to the two mentioned above, try Jumeirah Beach Road. This cosmopolitan coastal road is the perfect place for indulging in some retail therapy, and is home to lots of designer stores and boutiques.
There are several malls on Jumeirah Beach Road. The Sunset Mall is the best for international designer brands though, and here you'll find the renowned Rivaage boutique, featuring designs from Vera Wang, House of Harlow and Badgley Mischka, among others.
There are a wide variety of eateries on Jumeirah Beach Road, with many spread out across the area. For a chic cafe, head over to The Village Mall, where you'll find the exquisite Shakespeare & Co Cafe, where you'll find a delicious array of pastas, crepes, finger foods and sandwiches.
Tips for shopping in Dubai
Here are some handy tips that will enable you to have a stress-free shopping experience in Dubai:
Most stores in Dubai open at 10am. Aim to arrive at this time, as this is when the malls tend to be the least busy.
The customs in the UAE differ from the UK. It may be hot outside, but it's important to respect local customs and cover your shoulders and legs when inside a mall.
Dubai is full of luxury, internationally-recognised designer stores, but for a more authentic Middle Eastern experience, head over to the world-famous souks and get your bartering hat on!