By Sean Sheehan
When it comes to a holiday in South India many people think of a beach retreat in Goa, which is a little enclave of Western delights, perfectly attuned for adventurous Europeans of the mildest persuasion. Then again, it seems a shame to travel such a distance to experience a slightly altered Marbella, especially when the spice of life is no less accessible and waiting to be discovered on the east coast in the state of Tamil Nadu: ancient temples, a resort on the coast, surfing, the French-inflected Puducherry, still affectionately as Pondi (its older name was Pondichurry), and excellent hotels in Chennai, Mahabalipuram and Puducherry.
A good plan, after arriving in the morning in Chennai, is to take an easy and comfortable trip into town with Blacklane and acclimatise to being in the hot Indian subcontinent.
The Crowne Plaza Adyar Park is in the south of the city and opposite a good store where you can pick up those items you forgot to pack. The hotel is a little resort in itself with a pretty pool set in a garden of bougainvillea and frangipani, a spa with dedicated ayurvedic treatments, a hair stylist, a variety of restaurants and – if homesick already – an English-style pub called Westminster. Good fun for a meal is On the Rocks, where you cook your food yourself on ferociously hot stones. Another restaurant, Dashkin, is one of the city's most prestigious Indian restaurants serving authentic south Indian thalis to the sound of traditional instruments. The buffet breakfast combines western fry ups with masala dosas and more.
The Hilton Chennai, has the virtue of being close to the airport as well as being a well-run hotel in its own right. Amenities include a 24-hour eatery to suit all tastes, a superb Indian restaurant called Est and a rooftop pool where a dozen laps will dissipate jet lag and prepare your body and mind for the onslaught of Chennai's insanely busy traffic. The recently refurbished  Courtyard Marriot is a small  hotel by comparison and with comfortable bedrooms and a 24-hour restaurant serving above-average breakfasts it suggests itself as a reliable place for a short stay.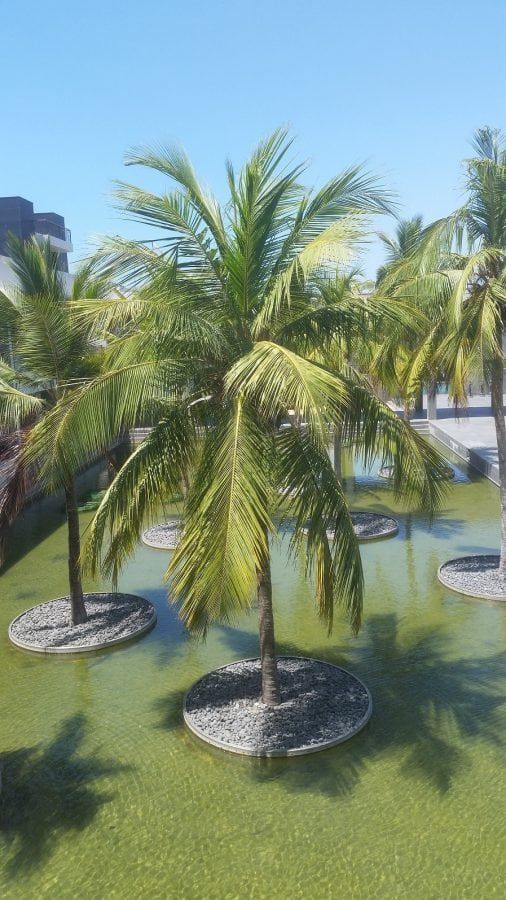 An air con bus or taxi will bring you to Mahabalipuram, about an hour or so south of the city depending on the traffic. Here you can visit World Heritage-listed ancient carvings and temples, shop for crafts and stay at the wonderful InterContinental Chennai Mahabalipuram Resort, a huge resort looking a little like the love child of Gotham City and Nirvana. The brooding entrance and austere reception give no indication of the paradisal space within: serene water lily ponds, an open air pool and gracious all day dining in the multi-cuisine Melting Pot restaurant. There are tennis courts and yoga classes, access to the beach and scuba diving, surfing and kayaking classes.
Another bus/ cab ride south brings you to Puducherry, the star of this stretch of coastline. The French created a colony here in the seventeenth century and part of the city retains a Gallic flavour. Like Chennai, the city centre is a hive of activity with motor bikes and tuk tuks weaving haphazardly through pedestrians and bigger vehicles and the occasional water buffalo but away from the main streets the French quarter is a relative haven of calm. Many of the old colonial buildings remain, those painted grey belonging to a local ashram. An educational couple of hours – a mixture of humour, gossip, history and politics – can be had wandering the streets with one of the guides from Storytrails.
Puducherry has some remarkable places to stay, some utilizing original Indo-French architecture while others are modern buildings designed in that style. In the French Quarter is the Palais de Mahé with 18 rooms and looking as if French colonials once lounged here on planter chairs in its shady verandas. High-ceilinged rooms, bathrooms which combine colonial style with modern luxury and long colonnaded verandas overlooking a lap pool. A spa, rooftop restaurant and poolside bar can keep you happily indoors in the heat of the day while its closeness to the seafront makes it a good location for evening strolls along Beach Road.
Still in the French Quarter is the more modern looking La Villa Shanti, an original French colonial building with an extension consisting of 15 well-designed modern rooms. The bedrooms are built around an inner courtyard, graced with clinging vines and palm trees and serving as the main dining room. The rooms are more modern in design but pay tribute to the colonial style with open verandas and simple polished concrete walls and floors, set with mosaics and decorated with hand-drawn murals. It it also close to the sea front which is splendidly closed to traffic after 6pm each evening. Dinner at Villa Shanti is a fine affair with innovative dishes using locally caught seafood enhanced by innovative touches such as betel leaves in the salad or lobster wrapped in banana leaf. A sister hotel, La Villa, is equally attractive.
Just outside the French Quarter but set in a quiet side street is the smaller and more personal Maison Perumal. Once a Tamil family home, this house has been carefully restored and extended giving an insight into the lives of the people who once lived here. Two internal courtyards filled with tall sheltering tropical plants form the reception and dining area and their walls are decorated with work by local artists. Friendly, helpful staff sweep away your luggage and welcome you with garlands of flowers. The ten rooms overlook the courtyards which are filled with light from the stained-glass windows and provide simple accommodation. Daily menus made up of fresh local produce are put up on a blackboard and Western palates unused to fiery Indian flavours are readily provided for by the kitchen cooks.
Returning to Chennai for the journey home, two places can be recommended for afternoon or evening entertainment. The Flying Elephant restaurant at the Park Hyatt offers a fun evening from a set of  kitchens serving everything from handmade pizzas to mezze to Thai and, of course, Indian dishes. Afterwards you can lounge over a drink at the blessedly quiet poolside tables or join in the fun when the bar downstairs turns nightclub.   The Spectra restaurant at the Leela Palace offers a spectacular champagne Sunday brunch and an entire afternoon could be devoted to the enjoyment of bites from around the world: Japanese, Indian, Western grills, Chinese and South East Asia. There is even a dedicated children's dessert table. The restaurant overlooks placid gardens with a lagoon and the Bay of Bengal beyond.
Daily flights from London Heathrow to Chennai via Delhi with Jet Airways costs from £368 per person; for more information and to book flights: www.jetairways.com or call 0808 101 1199