At least 300 people have been arrested in Brazil after thousands of ex-president Jair Bolsonaro's supporters stormed Congress, the Supreme Court and presidential palace then trashed the nation's highest seats of power.
Authorities, including the federal district's civil police which tweeted the arrest numbers, were investigating following scenes of chaos and destruction reminiscent of the January 6 2021 insurrection at the US Capitol.
The protesters were seeking military intervention to either restore the far-right Bolsonaro to power or oust the newly inaugurated leftist Luiz Inacio Lula da Silva.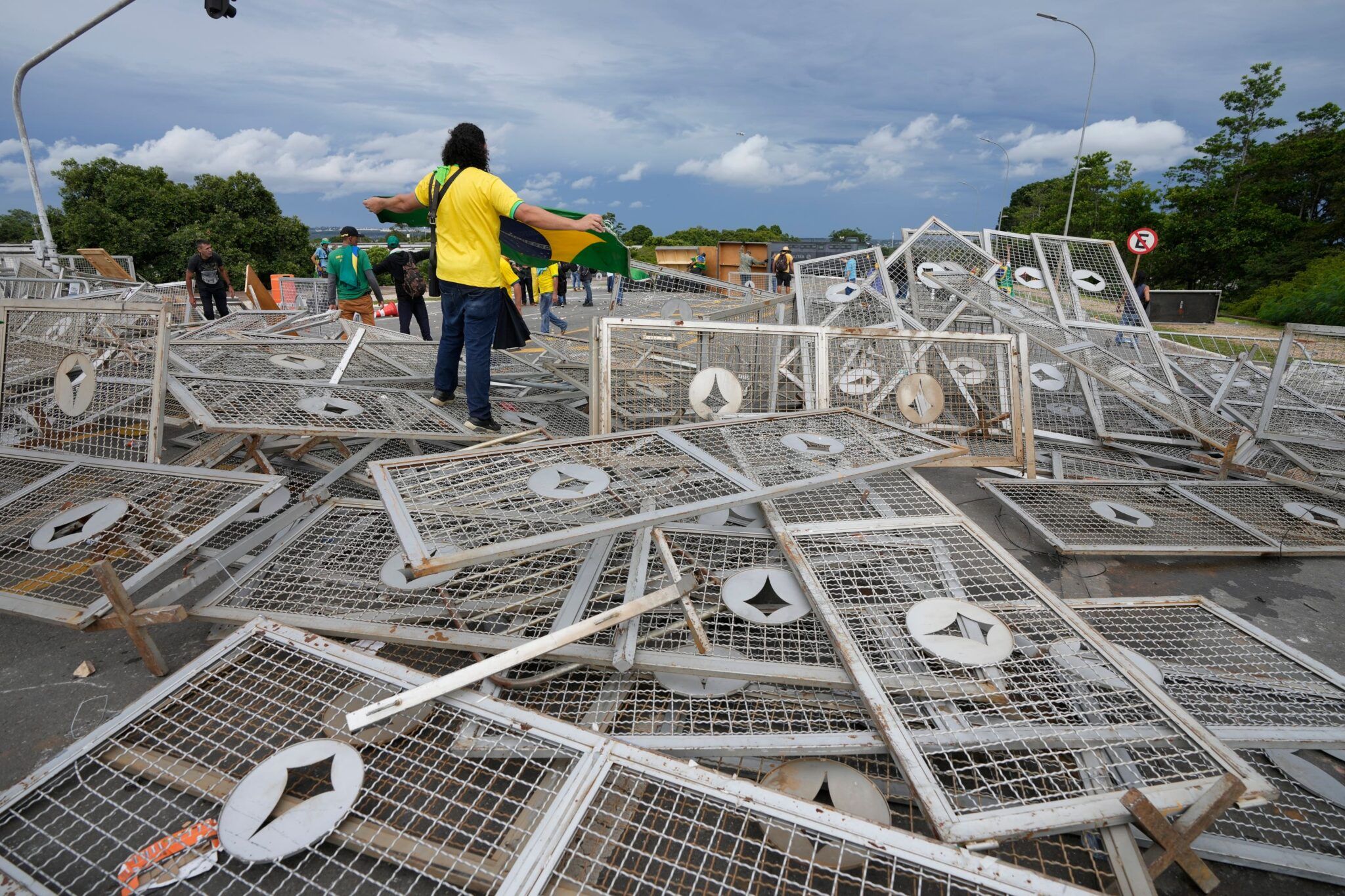 Rioters donning the green and yellow of the national flag on Sunday broke windows, toppled furniture, hurled computers and printers to the ground.
They punctured a massive Emiliano Di Cavalcanti painting in five places, overturned the U-shaped table at which Supreme Court justices convene, ripped a door off one justice's office and vandalised an iconic statue outside the court.
The monumental buildings' interiors were left in states of ruin.
In a news conference late on Sunday, Brazil's minister of institutional relations said the buildings would be inspected for evidence including fingerprints and images to hold people to account, and that the rioters apparently intended to spark similar such actions nationwide.
Justice Minister Flavio Dino said the acts amounted to terrorism and coup-mongering and that authorities have begun tracking those who paid for the buses that transported protesters to the capital.
"They will not succeed in destroying Brazilian democracy. We need to say that fully, with all firmness and conviction," Mr Dino said.
"We will not accept the path of criminality to carry out political fights in Brazil. A criminal is treated like a criminal."
In the months that followed Mr Bolsonaro's October 30 electoral defeat, Brazil was on edge – leery of any avenue he might pursue to cling to power.
He had been stoking belief among his hardcore supporters that the electronic voting system was prone to fraud — though he never presented any evidence.
And his lawmaker son Eduardo Bolsonaro held several meetings with Mr Trump, Mr Trump's longtime ally Steve Bannon and his senior campaign adviser, Jason Miller.
Results from Brazil's election — the closest in over three decades — were quickly recognised by politicians across the spectrum, including some Bolsonaro allies, as well as dozens of governments.
And Mr Bolsonaro surprised nearly everyone by promptly fading from view.
He neither conceded defeat nor emphatically cried fraud, though he and his party submitted a request to nullify millions of votes that was swiftly dismissed.
US President Joe Biden tweeted that the riots were an "assault on democracy and on the peaceful transfer of power in Brazil" and that he looked forward to continue working with Mr Lula.
In a news conference from Sao Paulo state, Mr Lula read a freshly signed decree for the federal government to assume control of security in the federal district.
He said that the so-called "fascist fanatics," as well as those who financed their activities, must be punished, and also accused Mr Bolsonaro of encouraging their uprising.
Mr Bolsonaro repudiated the president's accusation late on Sunday.
Writing on Twitter, he said peaceful protest is part of democracy, but vandalism and invasion of public buildings are "exceptions to the rule". He made no specific mention of the protesters' actions in Brasilia.
Unlike the 2021 attack in the US, few officials would have been working in the top government buildings on a Sunday.
And videos showed limited presence of the capital's military police. That led many in Brazil to question whether the police had ignored abundant warnings, underestimated their abilities or had been somehow complicit.
Related: Sunak's BBC blunder: PM refuses to say if he uses NHS or goes private